MICHIGAN: is shrinking from 14 to 13 seats, and w/ a new citizens' commission, few incumbents are safe. Somewhat ironically, *Dems* might have more to lose switching from the current GOP gerrymander (left) to a more compact plan (example, right). Here's why...
In 2018, the GOP gerrymander crumbled and Ds picked up two suburban Detroit seats,
#MI08
and
#MI11
. But now, every seat needs to expand. And w/ two Black majority seats to preserve (
#MI13
and
#MI14
below), there may not be enough blue turf left to protect all four suburban Ds.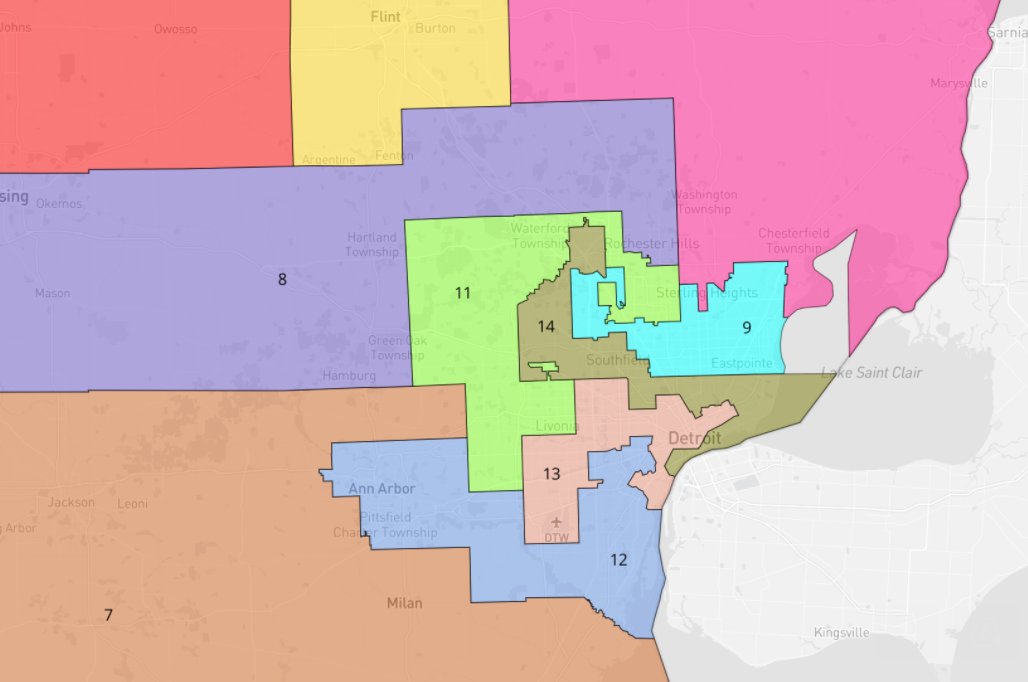 For example, it's possible
#MI09
Rep. Andy Levin (D) &
#MI11
Rep. Haley Stevens (D) get thrown together (below), and
#MI08
Rep. Elissa Slotkin is forced to run in a swingy, much more Lansing-centric seat. In the words of one House Dem, "I'm worried we've outkicked our coverage."
Another major concern for Dems:
#MI05
Rep. Dan Kildee (D), whose Flint seat has been trending R and voted for Biden by just 4%.
#MI05
needs to pick up about 100k residents and he's surrounded on most sides by heavily pro-Trump territory.
A big decision for the commission: where to put Ann Arbor. If it's in a district similar to Rep. Debbie Dingell (D)'s current
#MI12
, she'd be safe. But if it's moved to, say, Rep. Tim Walberg (R)'s
#MI07
, both of them could be forced to run in highly competitive districts.
Bottom line: don't get me wrong, a commission map is certainly preferable for Dems vs. the GOP drawing the map all over again. But, w/ the delegation tied 7D-7R, there could still be more downside risk for Dems. Michigan is *very* high-stakes, w/ a ton of uncertainty.