B R Ambedkar : A man who divided India for ever. These divisive seeds were sown in the late 1920s, and what we see today is those plants bearing fruits. Expect more such mindless protests, vandalism & rioting in future. After all 22.5% of India is reserved for them.
#BharatBandh
https://twitter.com/zorbatb/status/948161852801871872
Pseudos in India are celebrating
#AmbedkarJayanti

today, and they should for Ambedkar is an epitome when it comes to pseudoism. Imagine someone to abuse Hinduism day in day out & still remain a Hindu so that he could fight elections on a reserved seat. That's BR Ambedkar for you.
The propagandists these Pseudos are. They want you to believe that Ambedkar started writing one day, and when he finished India had a Constitution ready. Heard of a certain gentleman named B N Rau? Have you ever seen his statue anywhere in India, holding Constitution in his hand?
There already was a Draft (Constitution) in existence when the Drafting Committee (Under the chairmanship of Ambedkar) was set up. While historians/politicians will conceit the fact, it was B N Rau who put in all his experience, knowledge & research to draft our Constitution.
The CA's resolution setting up the Drafting Committee, under the chairmanship of Ambedkar, declared that it was being set up to scrutinise the draft of the text of the Constitution prepared by B N Rau (Constitutional Advisor). Have you ever seen/read any politician crediting Rau?
And not just Rau, how about crediting members of drafting committee like GB Pant, K M Munshi, AK Iyer, NG Ayengar, Md. Saadullah, DP Khaitan, Madhav Rao & TT Krishnamachari? Why such scorn for these gentlemen? Is it because they wouldn't garner votes of a community like Ambedkar?
Ambedkar deserves a statue, not at the parliament, but in front of RBI's building in Mumbai. With his book (The problem of the Rupee), and not the book of Indian Constitution in his hand. Ionical, much like how his fans like to address him -BabaSaheb. Baba & Saheb together?


How laughable is to think that he had a scorn for people who'd call Gandhiji as Mahatma, while he gleed silently & without any remorse when he was called BabaSaheb by his followers. Since we celebrate hypocrisy in India,
#AmbedkarJayanti

is a perfect way to remember the great...
Ambedkar's hypocrisy must be studied in detail. A man who was on a mission to destroy Hinduism as a religion would continue being Hindu till he was politically active. Reason is simple. Be it be the 1937 election,1946, 1952 or 1954 bypolls he fought on a reserved seat. Ideology?
Who defeated Ambedkar in 1952 LS Elections? A Dalit who was a personal secretary to Ambedkar, before he turned a rival. What was it about Ambedkar that his closest associate turned rival? NS Kajrolkar in his speeches exposed the venomous approach of Ambedkar towards Hinduism.
As much as we credit Gandhiji for Poona Pact, and from saving this country to be bifurcated in three parts (third being Dalitastan), there's one more man who deserves equal credit. P Baloo had persuaded Ambedkar to agree for Poona Pact & let go his demand for separate electorate.
Palwankar Baloo was a Dalit icon & revered by all, specially for his heroics in England (1911 series) where as a spinner he took 114 wickets (Avg 18). He faced atrocities all his life but was always opposed to separate electorates for Dalits & thus chose Gandhiji over Ambedkar.
Why is Ambedkar celebrated so much while the real heroes like Rau & Baloo don't even find a mention in our History books. Why is that even Marxist historians prefer to glorify Ambedkar over others despite Commies opposed him tooth & nail? Simple, all of them have common enemies.
Be it be Communists or Ambedkar followers or the Christian Evangelists or Wahabi Jehadists, they believe they have a common enemy in the philosophy of Hinduism. These imbecile thugs have joined hands to disgrace, belittle & disrespect Hindu belief system and Hindus in general.
The hatred we see these days against Hinduism finds its roots in Ambedkar's writing. What else do you expect a man who made a living out of his hatred for Hinduism. Historians won't tell you that Ambedkar was elected to CA from Bengal by Muslim League after he lost in Bombay.
Ambedkar writes - "I shall be satisfied if I make the Hindus realise that they are the sick men of India & that their sickness is causing danger to the health and happiness of other Indians." Despite such hatred remained Hindu so that he can fight elections on the reserved seats.
Prof Jakob De Roover writes - "If there is one piece of evidence that establishes the intellectual and ethical bankruptcy of India's ideologues on all sides of the political spectrum, it must be their glorification of Ambedkar's thought."
Ambedkar announced that he will leave Hinduism for the first time in 1935. Wonder why did he take 21 years to conclude his resolve. Did he procrastinate his conversion so that reap benefits of Poona pact & remain in galleries of power by getting elected from the reserved seats?
In 2006 (50 years after Ambedkar converted) Mayawati declared, "It is not about me becoming a Buddhist. I could do it today but it would be just me. We have to spread the faith for which absolute majority at the Centre is a pre-requisite." The hypocrites these Ambedkarites are.
Come 2007 and Mayawati was seeking Brahmins support to win UP elections. She wanted to counter the Rajputs support to SP. She was successful, and everyone was talking this new social engineering. Like Ambedkar, She too won't leave Hinduism till the time She's active in politics.
While people still question (rightly so) Gandhiji's silence on Bhagat Singh's death sentence while he signed Irwin Pact, it is blasphemy to ask Ambedkar's role during the Quit India Movement. While Gandhiji was languishing in jail, Ambedkar happily served as Viceroy's EC member.
At a time when people laid their life without even thinking twice in the service of motherland, here's a anglicized gentleman who in his tailored suits would champion the cause of Dalits in his speeches & dine with the Britishers while Gandhiji was fasting unto death in jail.
Govt. has by now published 14 volumes of the speeches & writings of Ambedkar. Out of the total 9996 pages, 7371 pages contain his speeches & writing up to 1946. Not one article, speech or passage in which Ambedkar can be seen (even by inference) arguing for India's Independence.
Theis anti-India agenda isn't new, neither is this Dalit - Jehadi combine a new alliance. Ambedkar was opposed to the idea of free India, and was an advocate for two nation theory in his later years. This hatred for Hindus today has its primitive roots in his writings & speeches.
While people say Ambedkar never asked for a position in Nehru's cabinet & it was offered to him, Truth is it was Ambedkar who lobbied for a position in Nehru's cabinet through Babu Jagjivan Ram & asked him to persuade Gandhiji for his inclusion. Let truth be told, again & again.
When Ambedkar was busy with his propaganda & inflating anti-Hindu sentiments through his books, it was Gandhiji who actually worked on ground for upliftment of Dalits. From instituting organisation like Harijan Sevak Sangh to publishing various newspaper dedicated to Dalit cause.
In 1936, Ambedkar self published his book, Annihilation of Caste. While admirers may argue that this is one of his best work, What I fail to understand is how publishing a book in English (in 1936) which was full of anti-Hindu propaganda served any cause for upliftment of Dalits?
When freedom struggle was at its peak post the Martyrdom of Bhagat Singh, Sukhdev & Rajguru, Ambedkar was busy convincing the Britishers how Dalits too should get separate electorate & recognized for Communal award alongside Muslims. Divisive to the core, that's Ambedkar for you.
From Ambedkar to Mayawati, all leaders who have championed the cause of Dalit upliftment have only betrayed the community. Yes, hatred propaganda works while you are trying to establish yourself as a leader but how & when has it helped the cause? Dalits today live in despair.
People criticised Mayawati when she got her Sandals ferried on a chartered plane but I won't blame her. She's just following the footsteps of Ambedkar who'd get his suits styled by the fashion stylist of the then Lt. Governor of Bombay. Did he ever care for his fellow Dalits?
And I mention clothes because it was in Madurai, 1921 during Non-cooperation movement that Gandhiji decided he would wear clothes that the peasants of India did then. And he never regretted this decision ever. But Gandhiji's philosophy was different & Ambedkar had his own agenda.
Krishna Keshav Ambedkar, Sayajirao Gaekwad III & Dr. Sharada Kabir, what's common among these people apart from the fact that they all played a significant role in Ambedkar's successful career? Two of them were Brahmins & One Maratha. But didn't Ambedkar hate upper class Hindus?
Dr. Sharda Kabir (Savita Ambedkar) or Mai as everyone called her later, was blamed for Ambedkar's death by family members & followers. Nehru had to give up to the demands of these people & he appointed a committee to investigate Ambedkar's death. All this because she was Brahmin?
A follower asked Ambedkar, why did he marry a Brahmin lady? Ambedkar replied, "I don't know whether this is a right or wrong decision, but I would certainly advise against marrying Brahmins." Glorified as a reformer but the truth is he was nothing more than a rabid Hinduphobe.
While I see so many Hindus (and rightly so) getting offended by the comments of Audrey Truschke, I'm still to hear a word by the same set of people against the likes of Ambedkar & EVR. Ambedkar in his book Riddles of Hinduism has vilified & vehemently mocked both Rama & Krishna.
In 1987, Govt. of Maharashtra published the works of Ambedkar, including his book Riddles of Hinduism which ridiculed Hinduism, callous insinuations were made on Hindu Gods.
In 1988, Govt. of India banned Satanic Verses which is a fictional account subjected to magic realism.
What's common in these cases apart from Congress being in power both at Centre & State, is the fact that in India you'll be termed a true reformer or thinker only & only if you can ridicule Hinduism & Hindu Gods. Ambedkar started this & his followers relish doing it even today.
Ambedkar who hated Hinduism & held caste system responsible for his hatred, wasn't shy using the same caste analogy to express his hatred for Gandhiji. In the attached excerpt, Ambedkar has callously abused & maligned all Baniyas just because he hated Gandhiji. What a shame!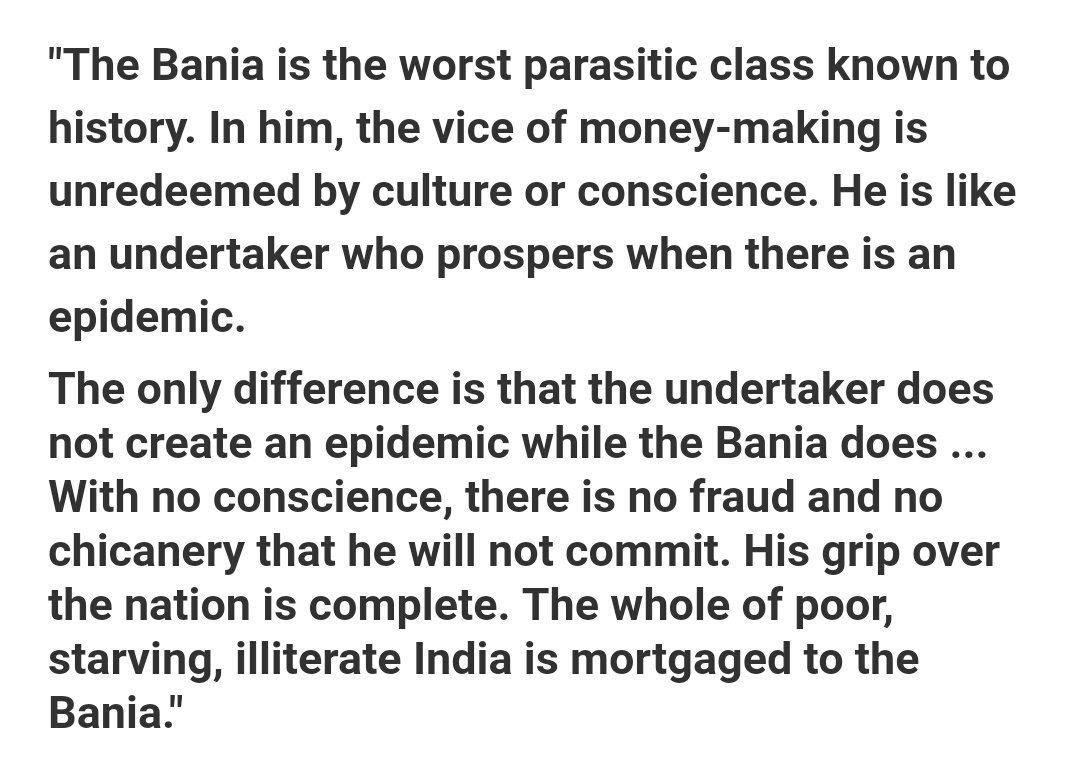 The way Ambedkar described Baniyas (To justify his rational for hatred towards Gandhiji) isn't new. Churches in West had used similar analogy to propagate anti-Semitism. One must read how Shakespeare described Shylock (Jew Moneylender) in his famous drama, Merchant of Venice.
While converting to Buddhism Ambedkar took 22 vows. Not surprising that 8 (1-6, 8 & 19) out of those 22 vows were anti-Hindu in nature. While Ambedkar justifies his choice with the rationality of the Buddhist religion but these 8 vows narrate a different story all together.
While Historians have always mentioned that Ambedkar didn't participate in the freedom movement for he was busy fighting for social justice, no one has ever refuted his anti-freedom & pro-British speeches yet. One can understand non-particaption but how could one oppose freedom?
There are two significant speeches which clearly demonstrates his anti Freeze stance. The first one was Ambedkar's speech at the Round Table Conference, where he's subtly hinting how Dalits aren't opposed to British Rule & how they should be rewarded with separate electorate.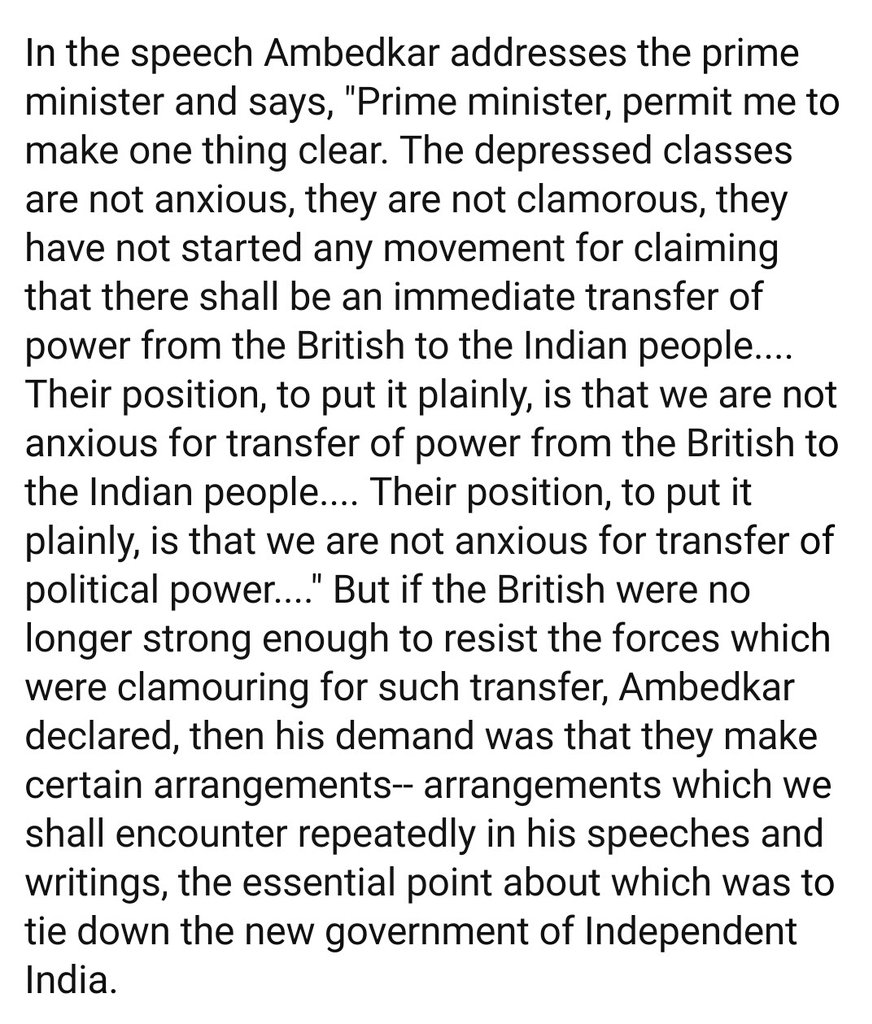 The second one was some 15 years later when India was destined to get freedom in a year or two & the Cabinet Mission Plan was set up. Here's Ambedkar writing to AV Alexander (Member, Cabinet Mission) on 14th May, 1946 explaining how Dalits have always fought for the Britishers.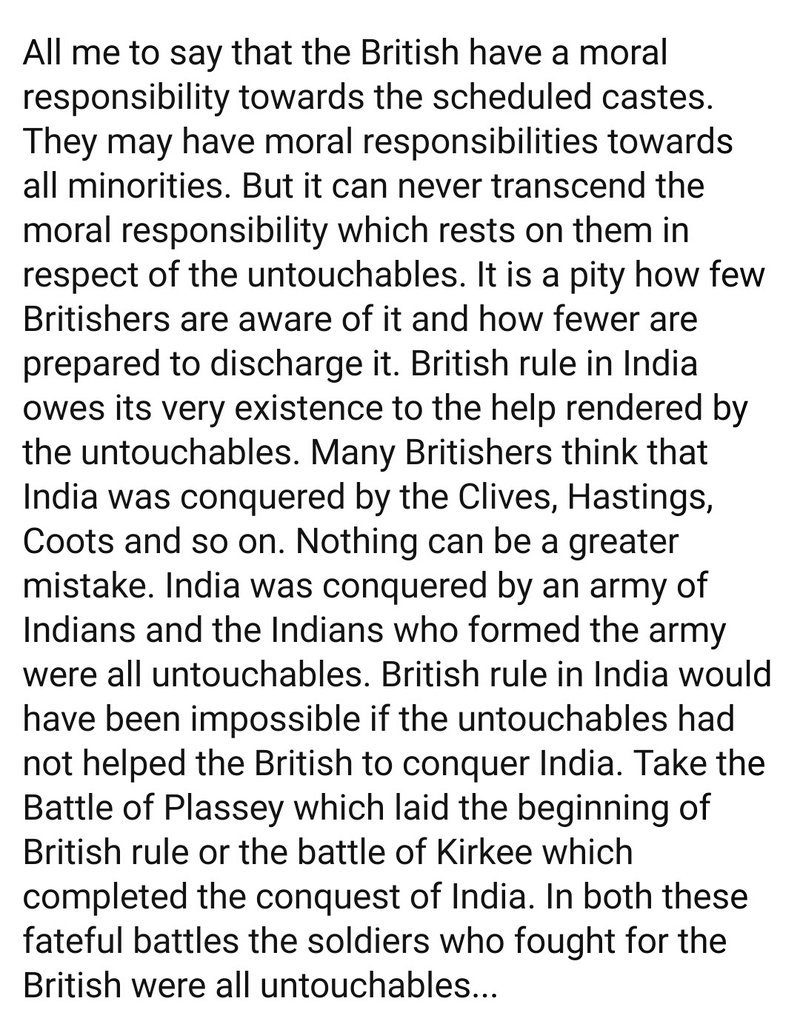 Imagine a Doctorate scholar (from world's most prestigious universities) calling on the most oppressed section (rarely literate) of the society 90 years before (25th Dec, 1927) to burn an old scripture (Manusmriti), which he envisaged would eradicate Caste System. What fallacy!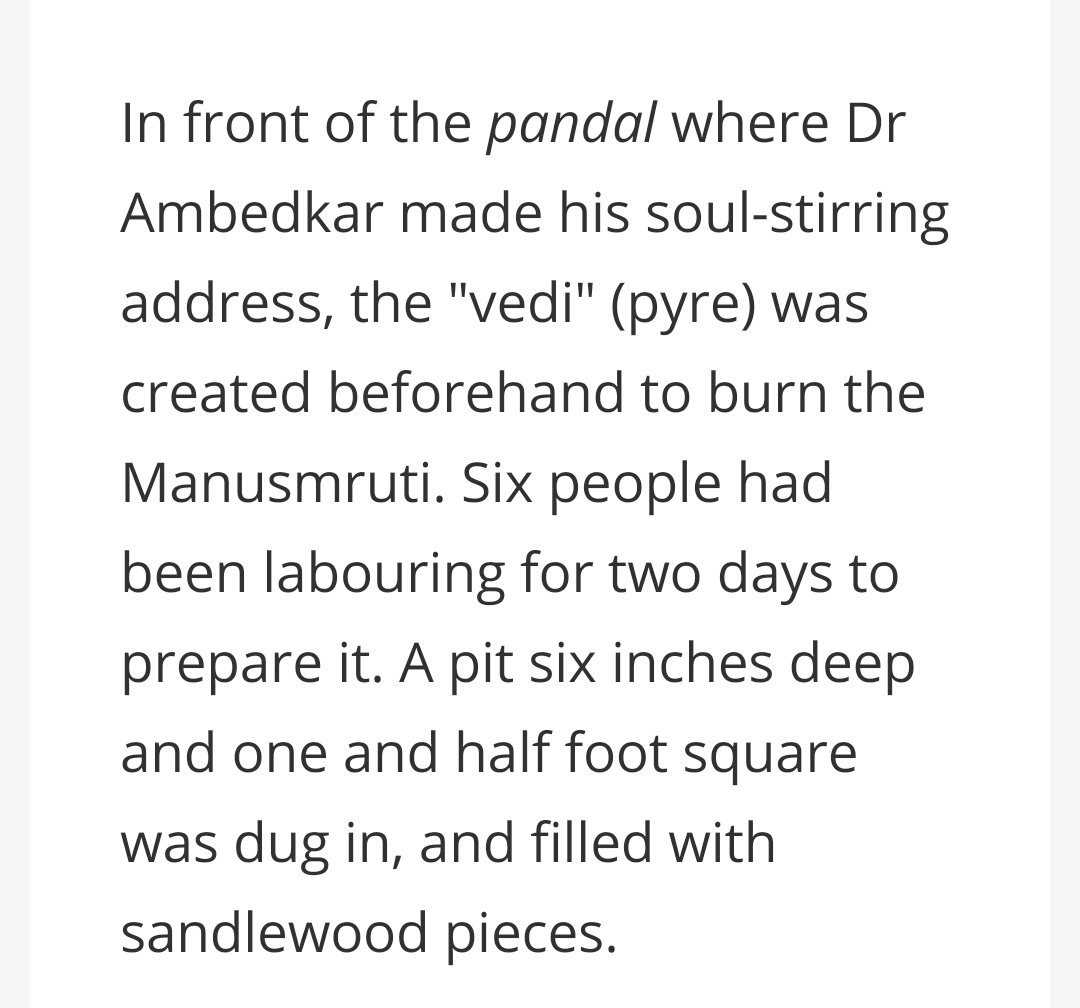 German poet Heinrich Heine, who wrote in his 1820–21 play Almansor the famous admonition, "Where they burn books, they will also ultimately burn people." How true are Heine's words in today's context. Ambedkar had foreseen this, and burning of Manusmriti was planned accordingly.
"The depressed classes welcomed the British as their deliverers from age-long tyranny and oppression by the orthodox Hindu." Ambedkar opposed Congress's call for complete Independence (1929, Karachi Session) in his speech at the first session of AIDCC, on Aug 8 1930, in Nagpur.
It was really gracious of Gandhiji to ensure Ambedkar was a part of Nehru's Cabinet post Independence. For a man who didn't even believe in India as a nation (His speech in 1939) to be entrusted with a cabinet ministry in free India? Ambedkar is an epitome of hypocrisy in India.
There are two interesting trivias with the famous Manusmriti burning episode.
1 Ambedkar had a Brahmin associate, Gangadhar Neelkanth Sahastrabuddhe who moved the resolution to burn Manusmruti.
2 At the event, the only photo placed was of Gandhiji.
Hypocrisy the Ambedkar way!
Can you hate someone beyond his death? Ambedkar's hatred for Gandhiji had no boundaries. On the death of Gandhi he expressed, "My real enemy has gone; thank goodness the eclipse is over". He equated the assassination of Gandhi with that of Caesar & the remark of Cicero (contd..)
(contd...) Cicero to the messenger – "Tell the Romans, your hour of liberty has come." He further remarked, "While one regrets the assassination of Mahatma Gandhi, one cannot help finding in his heart the echo of the sentiments expressed by Cicero on the assassination of Caesar."
Such hatred for Gandhiji, that you celebrate his death, the same man you pleaded to for a position in cabinet two years ago? Politicians wouldn't say, Historians may never mention but India is yet to see a man as hypocrite as Ambedkar. An excerpt from the diary of Indrani Devi...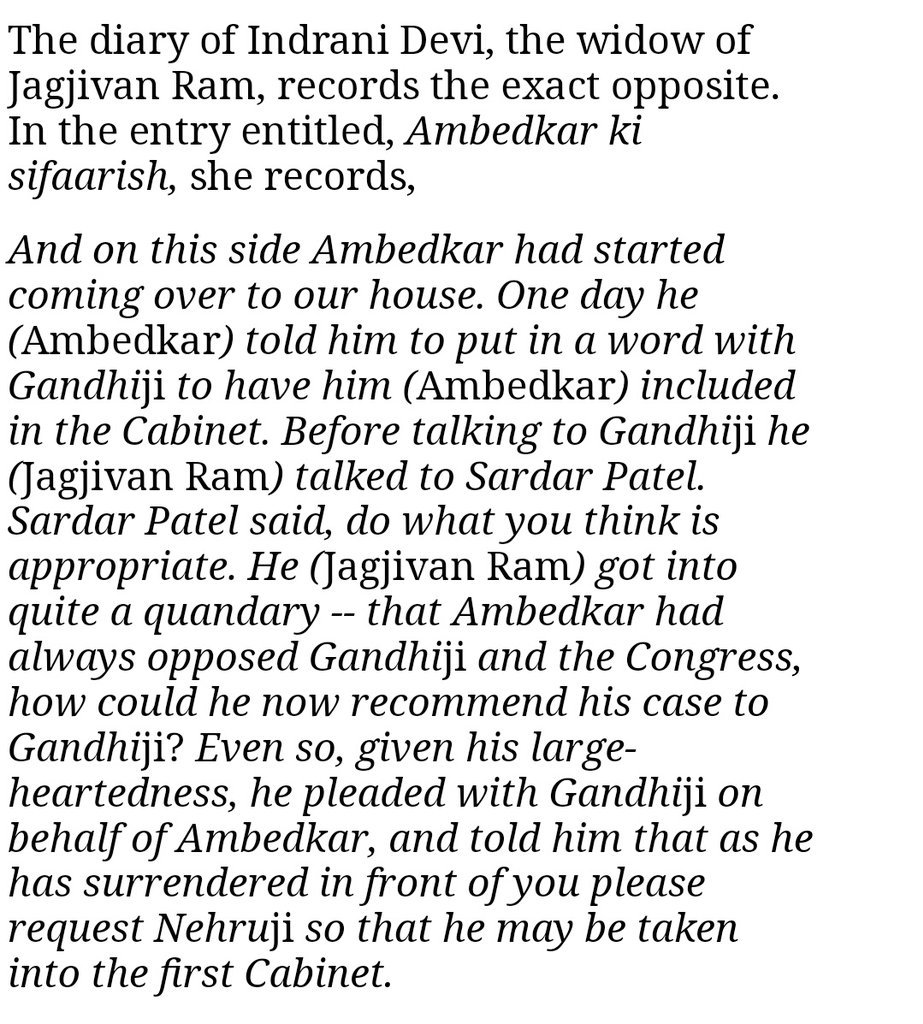 Why's this outrage against Jinnah's poster at AMU? Have never seen even a protest against Ambedkar statue and there are Lacs of those statues across India. How can you blame Jinnah for being a British stooge or the one who didn't fight for India's freedom & not question Ambedkar?
From opposing the formation of Muslim league to fighting Lokmanya Tilak's case to Lucknow pact to Home Rule Movement to opposition of Khilafat Movement, Jinnah was at the center of the freedom movement till late 1920s. On the contrary Ambedkar always opposed the freedom movement.
While Jinnah left India to settle in London & practice law, Ambedkar at the same time was trying to divide India on caste lines. He almost succeeded but then India was blessed to have Gandhiji & Poona Pact was signed, and the dream of Dalitastan shadowed off like a winter mirage.
Every political party today wants to own the legacy of Ambedkar, & disown Jinnah in the same breath, Specially Congress. The Historians would obscure the fact that Jinnah was in Congress till 1920 & Ambedkar was never a part of Congress or any party which fought for freedom.
Can you see Ambedkar in between Netaji & Manmohan Singh? Did any Ambedkarites oppose this, or did any News trading organization find this worth a news? Why does Jinnah not feature in any Congress poster? Politics of convenience, always, and by everyone.
https://twitter.com/zorbatb/status/424083518092615681?s=19