Supreme Court Bench led by Justice UU Lalit hearing a plea challenging Rajasthan High Court's decision to upload State's decision for conversion of several gram panchayats to municipalities.
#SupremeCourt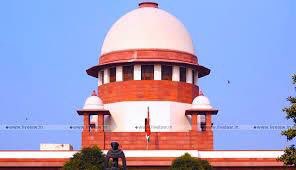 Sr Adv Saurabh Kirpal makes submissions regarding natural justice.
Bench: Where is element of natural justice here.
Kirpal states there are judgements in this regard.
#SupremeCourt
Bench: Where were all these points urged before HC.
Kirpal: They were all in my writ petition but weren't considered.
#SupremeCourt
Bench: You could have asked that as the grounds weren't considered in lead case, consider it afresh.
#SupremeCourt
Bench states that the issues were not urged before the Court.
Bench: Where is the affidavit of the counsel that he wanted to urge these Points before HC but wasn't allowed.
#SupremeCourt
Bench: How do we adjudge the HC order on issues that weren't even presented before the high Court.
Bench: Are you suggesting parameters in first notification weren't ex facie complied with at all.
#SupremeCourt