#CentralVista
This is for the people who spread fake information on a transparent initiative to build Inspiring modern facilities for Indian govt offices.
Central Vista was originally designed 100 years ago in 1920 by famous British Town Planning Architect - Edwin Lutyens.
The only objective that time was to build a home for India's Viceroy and all "revenue collection" office buildings as per British Monarchy structure.
Including Parliament building, entire central vista area has many buildings older than 100 years.
the need for new parliament building was raised by many MPs in the last 25-30 years. There was an attempt even in 2012 during UPA government. This was the time when Delhi was already facing common wealth games scam and this proposal didn't proceed further.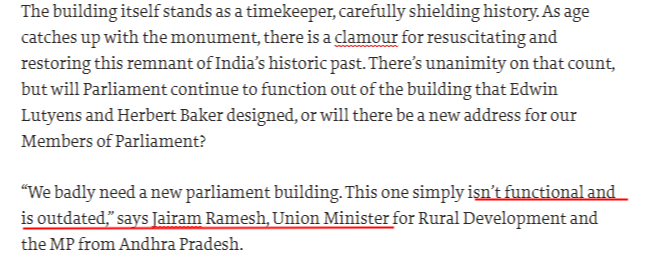 Current facilities has following serious concerns

Not Earthquake proof

Not Disabled Friendly

Fire protection systems are not fully implemented

Emergency exits not available

30/50 Ministry offices spread all over delhi

No private offices for all MPs

Not possible to add even single additional seat in Lok sabha

Joint sessions of Loksabha & Rajyasabha are conducted using plastic chairs

Toilets and Floors need complete overhaul as drainage wasn't planned well
Preparation of plan for central vista started in the year 2019 and first draft was published in 2020.
The new design took inspiration from some of world's famous government office complex like Australia and France.
The new plan provides

Entire re-structuring of existing central Vista including long term preservation plan for current parliament building

Loksabha with 1000 seats capacity

Rajyasabha with 500 seats capacity

Office for all MPs

All 50 Ministries with 50,000 Employees will have offices in same area

Earthquake resistant

Fire safety equipment

Modern Digital Facilities with many conference rooms for each ministry

Large Museum on India's Independence

India gate to have modern visitor facilities

Metro Station

India park opposite to India gate on the banks of Yamuna

New home for Vice President and Prime Minister

Prime Minister office
The prime minister office is just one of the many facilities that's being built under Central Vista project.
So far contract was given only for ₹1,338 cr to develop the Avenue area near India gate.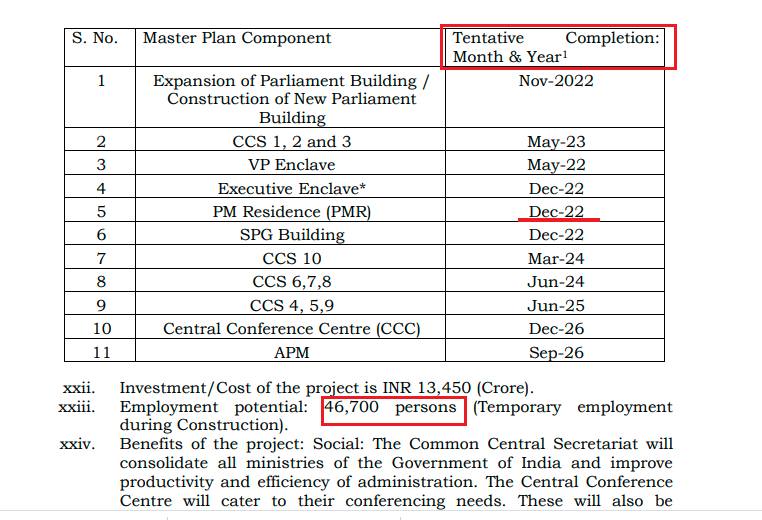 If there is reorganisation of Loksabha (in terms of members, now 543 based on 1971 census, max-552 & it was 500 in 1950), there will no space for additional members.
The proposed LS+RS seating will be Two members/table.