__THREAD__
| Events leading to Operation Zarb-e-Azb & how Pakistan gave a final chance to TTP for peaceful end of hostilities |

In 2014, peace negotiations with TTP were announced by then PM Nawaz Sharif, although previous attempts to engage TTP in dialogue had failed. In an...
...address to the National Assembly on 29 Jan 2014, he stated that terrorism must be defeated either by talks or force and he was giving peace a last chance. The government announced its negotiating team first. TTP announced their five-member team on 1 Feb 2014. They did...
...not name any representatives from their ranks and instead nominated four pro-Taliban politico-religious figures to present their views. The fifth nomination was Imran Khan (current PM) which caused a lot of comment. A spokesman for the TTP Shahidullah Shahid, told Agence...
...France-Presse news agency:

"The Committee members will hold talks with their interlocutors in the government's team on our behalf and put forth our point of view."

The first session of talks was held on 6 Feb 2014 at Khyber Pakhtunkhwa House in Islamabad between the...
...two negotiating teams and lasted for about four hours. The TTP's negotiating team comprised of three persons out of the five nominated earlier. These were Maulana Sami ul Haq, Maulana Abdul Aziz and Professor Ibrahim Khan of Jamaat-e-Islami. TTP called for implementation...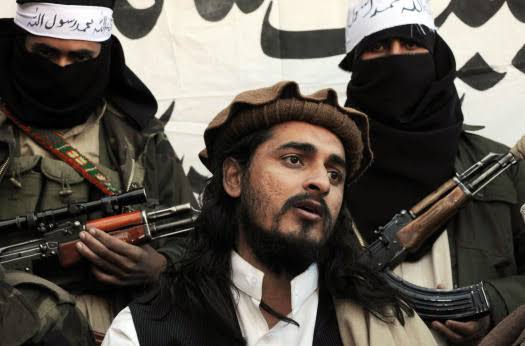 ...of Sharia in Pakistan; the Government of Pakistan demanded the cessation of hostilities, insisting that talks be held within the framework of the Pakistan's constitution and it's scope be limited to the insurgency affected areas. Negotiations suffered a set back after the...
...execution of 23 FC soldiers by TTP on 17 Feb 2014. The soldiers had been held by the TTP since 2010. On 1 March 2014, TTP announced a month-long ceasefire aimed at reviving the stalled peace talks, which was considered to be a positive development by the government.
On 8 June, negotiations were irreversibly damaged by a terrorist attack on Karachi Airport for which the TTP claimed responsibility. 34 people were martyred including personnel of the security forces and all ten terrorists. Reports of beheading of FC soldiers, locals and...
...others by TTP were frequently received from Waziristan. Suicide bombings in major cities were traced back to North Waziristan, mainly to Miranshah and surrounding areas where presence of suicide bombing compounds were reported. In some clips which surfaced on social...
...media, TTP was seen dragging dead bodies of some unknown people behind cars in Miranshah Bazar by tying their feet with ropes. In first half of 2014, the average death toll of innocent people at the hands of TTP had increased, with bomb blasts in different cities of...
Pakistan after regular intervals; all of which were tracef back to North Waziristan.
In 15 June 2014, Government of Pakistan announced the end of cease fire and launch of a major military operation named "Zarb-e-Azb". The aim of the Operation was to eliminate this last bastion of terrorists from Pakistani soil and was named after one...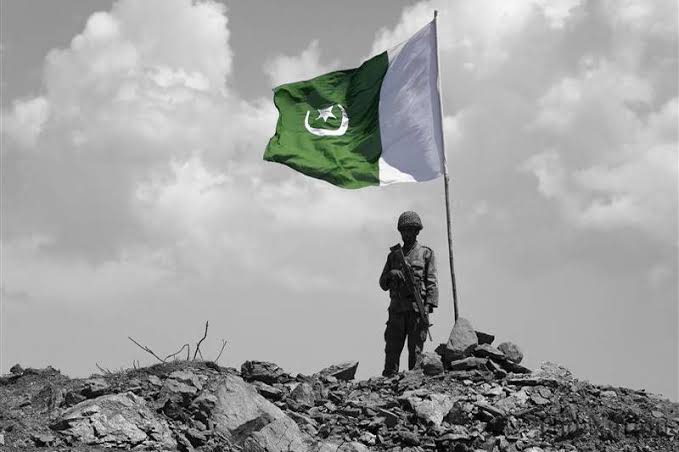 of the swords of the Holy Prophet Muhammad (PBUH), which literally means, "Strike of the Sword Azb".
The combat troops encircled terrorists core areas in towns of Mir Ali, Miranshah & Boya-Degan. Last mentioned used to be known as the Pentagon of Terrorists. The Operation was conducted primarily by ground troops of Pakistan Army supported by artllery, armour & combat aviation.
15 June 2014, was a historic and proud day for Pakistan. On that day was launched Operation Zarb-e-Azb; national endeavour undertaken by the Pakistan Army with the full support of the entire nation. The first phase of the operation began by targeting militant training...
...facilities, hideouts and other infrastructure in North Waziristan. Hideouts in Boya-Degan and Datta Khel were targeted, since foreign and local insurgents linked to the Karachi airport attack were confirmed to be present there; an ammunition dump was...
...also destroyed. As many as 140 militants (mostly Uzbek) were reportedly killed, including the mastermind of the Karachi airport attack Abu Abdur Rehman Almani. North Waziristan's borders with neighbouring tribal agencies were sealed by physical deployment of troops so...
...as to block the movement of terrorists. Troops cordoned off the terrorists bases (including those in the towns of Mir Ali and Miranshah). Surrender points were established for terrorists wishing to give up their arms. Aerial surveillance of the area was conducted. Afghan...
...security forces were requested to seal the border on their side to prevent milltants from escaping across the border. After Miranshah was brought under control, a ground offensive was launched in Mir Ali (second-largest town in North Waziristan) and the...
...nearby Boya-Degan areas. The operation proceeded as planned and by 19 July 2014, the terrorist's command and control system in North Waziristan had been destroyed. By 3 September 2014, Pakistan Armed Forces had cleared 88 Kilometres stretch of...
Road Khajuri-Mirali-Miranshah-Dattakhel and Road Ghariom-Hallar. Major towns of Miranshah, Mirali, Boya, Degan and Dattal Khel areas which were considered the core strongholds of terrorists were also cleared.
The initial phase of Operation Zarb-e-Azb was a resounding success in all its dimensions. By December 20 15, ISPR summed up the situations as,

"One and a half years after the launching of operation Zarb-e-Azb, phenomenal success has been achieved. Last pockets close...
...to Pak-Afghan border being cleared. Terrorists back bone broken. Main infrastructure dismantled. Nexus with sleeper cells largely disrupted. Intelligence Based Operations (IBOs) continue to bust remaining sleeper cells. 3400 terrorists killed. 837 hideouts from where they...
...were carrying out terrorist activities destroved. 488 officers and soldiers were martyred and 1914 injured in Operation Zarb-e-Azb."
These are some of the recoveries made during Operation Zarb-e-Azb. Most of these weapons, IEDs/bombs, ammunition etc were recovered from Miranshah Bazar, which had huge compounds to store these. TTP used the same for their terrorist activities and blasts in different cities.
243 tons of explosives enough to make IEDs/bombs for 15 years were recovered during Operation Zarb-e-Azb in North Waziristan.

Here is one such IEDs making factory of TTP in Miranshah, North Waziristan.
IED making factory and torture/prison cell of TTP recover during Operation Zarb-e-Azb.
IED making factory and torture/prison cell of TTP recover during Operation Zarb-e-Azb.
IED making factory and torture/prison cell of TTP recover during Operation Zarb-e-Azb.
This is one of the compounds where suicide bombers were prepared by TTP in North Waziristan. There were hundreds of other such cells of TTP. All these were dismantled during Operation Zarb-e-Azb.
This is one of the compounds where suicide bombers were prepared by TTP in North Waziristan.
IED compounds recovered in North Waziristan during Operation Zarb-e-Azb.
This is the place in Miranshah where VBIEDs (Vehicle Borne IEDs/bombs) were prepared by TTP. They used the same vehicles to carryout suicide attacks/blasts in different cities of Pakistan and also to target convoys/locations of security forces.
Recoveries of weapons and ammunition made in Miranshah Bazar, North Waziristan during Operation Zarb-e-Azb; including huge amount of foreign currency.
Success in Operation Zarb-e-Azb was achieved because of the support & sacrifices of the people of Waziristan. They suffered at the hands of TTP earlier and later left their homes during Operation Zarb-e-Azb. Massive respect for the people of Waziristan.
The soldiers & officers who lost their lives while fighting against terrorists during Operation Zarb-e-Azb are the real heroes of this nation. They sacrificed their lives so that this nation remain in peace.

After Zarb-e-Azb, 80% terrorist activities declined all over Pakistan.
Miranshah, North Waziristan now.
The unsung heroes who martyred in Waziristan while fighting against terrorists. We owe this peace to them.
The mountains of Waziristan which were once occupied by TTP terrorists.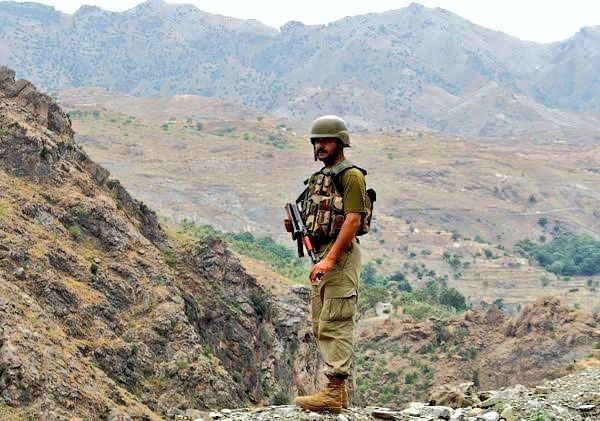 People ask, why was operation Zarb-e-Azb launched in Waziristan?
This is the answer. They beheaded soldiers and innocent people and then played football with their heads in Waziristan. They made the life of people of entire Pakistan hell by doing suicide blasts...
...in cities, mosques, schools, bazars, ceremonies and wherever they got the opportunity.

They killed innocent people for nothing. They had started a "fitna" which was state's responsibility to eradicate.
This is nothing. Because of the sensitivity of content, I can't post some clips here in which TTP terrorists used to behead humans alive. Then place their heads in the middle of Miranshah Bazar, North Waziristan for people to see. TTP was a "fitna" which had to eliminated.
These are some of the officers of Pakistan Army who martyred while fighting against TTP terrorists in Waziristan. They sacrificed their lives but got us rid of the barbarians who used to behead our people in Bazars & Chowks.