Today on 61st Gujarat Foundation Day, our tribute to martyrs & participants of Mahagujarat Movement.15 to 18 martyrs lost lives in movement. Freedom fighter & writer Indulal Yagnik led Mahagujarat Movement agitation on 8th August 1956.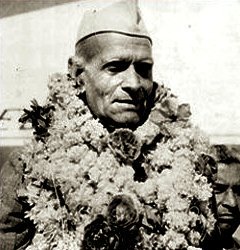 Congress-led bilingual Bombay state Government used brutal police power to suppress Mahagujarat Movement. Four students Punamchand, Kaushik, Suresh & Abdul of Mahagujarat Movement died in police firing at Congress Bhavan at Lal Darwaza area in Ahmedabad on 9th August 1956.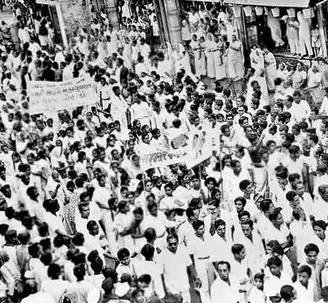 In 1958 AD Mahagujarat Janata Parishad tried to erect 4 martyrs monument at Congress Bhavan in Ahmedabad but Congeress-led bilingual Bombay state Govt removed it.On 1st May 1960 Gujarat State created from Bombay State after long struggle & agitation by Mahagujarat Janata Parishad
Notable participants of Mahagujarat Movement: Indulal Yagnik,Dinkar Mehta,Vinodini Nilkanth,Sharada Mehta,Ashok Bhatt,Buddhiben Dhruv,Ravishankar Maharaj,Brahmakumar Bhatt,Prabodh Raval,Harihar Khambholaja,Dinkar Amin,Ramniklal Maniyar,Ranjit Shastri,Markand Shastri,Dinsha Patel.
The first Governor of Gujarat was Nawab Mehdi Nawaz Jung (1894-1967 AD). His term of office was 1960-65. (left photo).The first Chief Minister of Gujarat was Dr.Jivraj Narayan Mehta (1887-1978 AD). His term of office was 1960-63. (right photo).
There were 7 capitals of Gujarat in past-Dwarka, Junagadh, Valabhi, Bhinnamal, Patan, Ahmedabad & Champaner. Present capital Gandhinagar is 8th capital of Gujarat.
Rulers of Gujarat in ancient age- Yadavs 5000 BC, Maurya,Greek,Shak & Gupt 800 years (319 BC to 470 AD),Maitrak 318 years (470 AD to 788 AD),Solanki 302 years (942 AD to1244 AD),Vaghela (another branch of Solanki ) 60 years (1244 AD to 1304 AD).
Rulers of Gujarat in middle age: Delhi Sultnat 100 years (1304 AD to 1404 AD), Gujarat Sultnat 168 years (1404 AD to 1572 AD), Delhi Mughals 186 years (1572 AD to 1758 AD), Maratha 60 years (1758 AD to 1818 AD).
In the modern age, British East India Company & British Crown ruled Gujarat for 129 years from 1818 AD to 1947 AD.
In ancient time north Gujarat was known as Anart, south Gujarat was known as Lat, Saurashtra was known as Surashtra and seacoast area was known as Anoop.
In 9th & 10th century Gujarat's names:Gurjar Desh,Gurjar Bhoomi,Gurjar Mandal,Gurjartra,Gurjaratta & from 11th century Gujarat in Arabic."Gujarat" word first used in 11th century by Persian traveller Al Birooni in his book "Tarikh Ul Hind".It is Arabic form of word "Gurjaratra".
1045 years ago famous Arab scholar & traveller Ibn Haukal visited Gujarat in 976 AD. He wrote a description of 10th century Gujarat in his book. His description is useful to know the ancient history of Gujarat.
In ancient time, some areas of Gujarat were known by name of the river flowing through it. Such as Saraswat, Shvabhra(Sabarkantha) & Mahey(Mahi Kantha).
In ancient time area around pilgrimage place known as Kshetra: Modhera-Dharmaranya Kshetra, Vadnagar-Hatkesh Kshetra, Khambhat-Kumarika Kshetra, Bharuch-Bhrugu or Rewa Kshetra, Surat-Tapi Kshetra & south area of Surat was Aprant Kshetra capital of which was Shuparak(Sopara).
No history of Gujarat is known for period from end of Yadavs to 319 BC. Known Gujarat history begins from rule of Maurya dynasty of Magadh. Gujarat history is divided into 3 time period (1) Ancient age-from B.C. to 1300 AD (2) Middle age-1301 to 1800 & (3) Mod.age 1801 to today.
Regions of ancient Gujarat are mentioned in Puran.Vaivaswat Manu's grandson Anart ruled Gujarat.From his name, Gujarat was known as Anart. Yadavs rebuilt Kushsthali.Afterwards, it was known as Dwaravati or Dwaraka. Gujarat was part of the great empire of Haihay dynasty of Yadavs.
In ancient time from 319 BC to 500 AD for 800 years Gujarat was ruled by Maurya, Greek, Shak & Gupta kings.Maurya & Gupta were of Magadh-Bihar.Magadh-Bihar's Maurya & Gupta dynasty noted rulers of Gujarat: Chandragupta Maurya,Emperor Ashoka,Chandragupta,Samudragupta & Kumargupta.
149 years ago the first census of Gujarat was taken in 1872 AD. As per this census population of Gujarat was 9129722. Census was based on religion & castes.
My ancestors came to Gujarat with Lord Shri Krishna from Mathura 5000 years ago and settled in Barada mountain range near Dwarka. I have lived 70 years of my life in Saurashtra, Kutch & North Gujarat & experienced the culture & customs of people of these regions. I love Gujarat.