A thread on compulsory licensing:

Covaxin Intellectual Property is the only "Indian" IP with approval as of now. Covishield is the IP of AstraZeneca sub-licensed by SII. AstraZeneca is British-Swedish company that itself has an exclusive license of the IP from Oxford University.
Now, coming to India's situation: While actions under Section 92 or 100 of the Patents Act (compulsory licensing) can be undertaken, this is not the Panacea to scaling up the manufacture of Covaxin.

(yes, that's a pun, see next tweet)
The barrier is rather the facilities required to manufacture Covaxin, which is the requirement of Biosafety level-3 production facility, which only Bharat Biotech and Panacea Biotech have in India.
Both these companies are already in talks:
https://www.livemint.com/science/health/covaxin-may-take-at-least-2-months-to-scale-up-11618510545822.html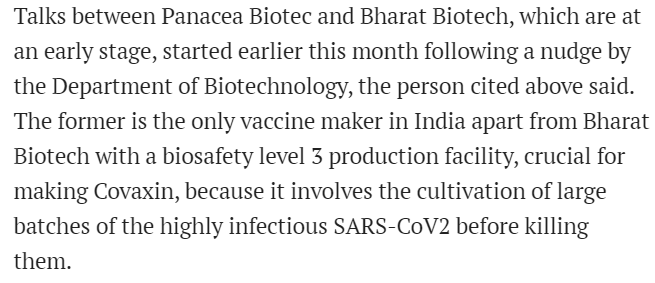 However, the bottleneck of requiring a biosafety level-3 production facility means that it will take a year for the production of the vaccine.
https://www.hindustantimes.com/cities/mumbai-news/haffkine-gets-maharashtra-govt-nod-94-crore-grant-for-covaxin-101619638059512.html

Two Central PSUs are also set to manufacture the vaccine, albeit only by August-September and only in comparatively lower amounts (10-15 Million doses a month)
https://www.biotecnika.org/2021/04/bharat-biotech-gets-65-crore-grant-from-government/

Compulsory licensing will not solve any of the problems that we face in scaling up the manufacture of Covaxin in an instant. Panacea biotech can get a license to manufacture the item - but talks to this end was already underway.
There is no reports regarding the possible production capacity of Panacea is not available for Covaxin - either way, it will take at least a month or two for the facilities to be set up.

(BTW, Panacea will be manufacturing a 100 million doses of Sputnik-V per year)
There are no instant solutions to the vaccine shortage. It will unfortunately take time for the production to scale up and for mass vaccinations to kick into high gear.
A variety of vaccines are at various stages of production, clinical or bridging trials. This will all take time, however.
(
https://chhit.substack.com/p/erooms-law-might-be-broken-partially
)

The TRIPS waiver if it comes through, will only be post-June, and even then, there are practical difficulties in instantly scaling vaccine production.
There are no easy answers, only that which requires time and patience, and that is the reality.

Compulsory licensing isn't the antidote to our vaccine shortage that it might appear to be.