Delhi High Court will be hearing the Covid-19 oxygen shortage case alongwith related issues.
Sr. Adv. Abhishek Singhvi seeks to intervene in the case on behalf of the state of Rajasthan.

Sr. Adv. Anil Grover seeks to intervene for the state of Haryana.

Court directs for the applications to be placed on record.
Court: We will be hearing the matter after the other Board is over.
#BREAKING
Court is informed by Adv. Santosh Kumar that the Delhi govt order which had set up 100 Covid-19 beds in the Ashoka Hotel for judges and judicial officers has been withdrawn, pursuant to the court's order in its suo motu case.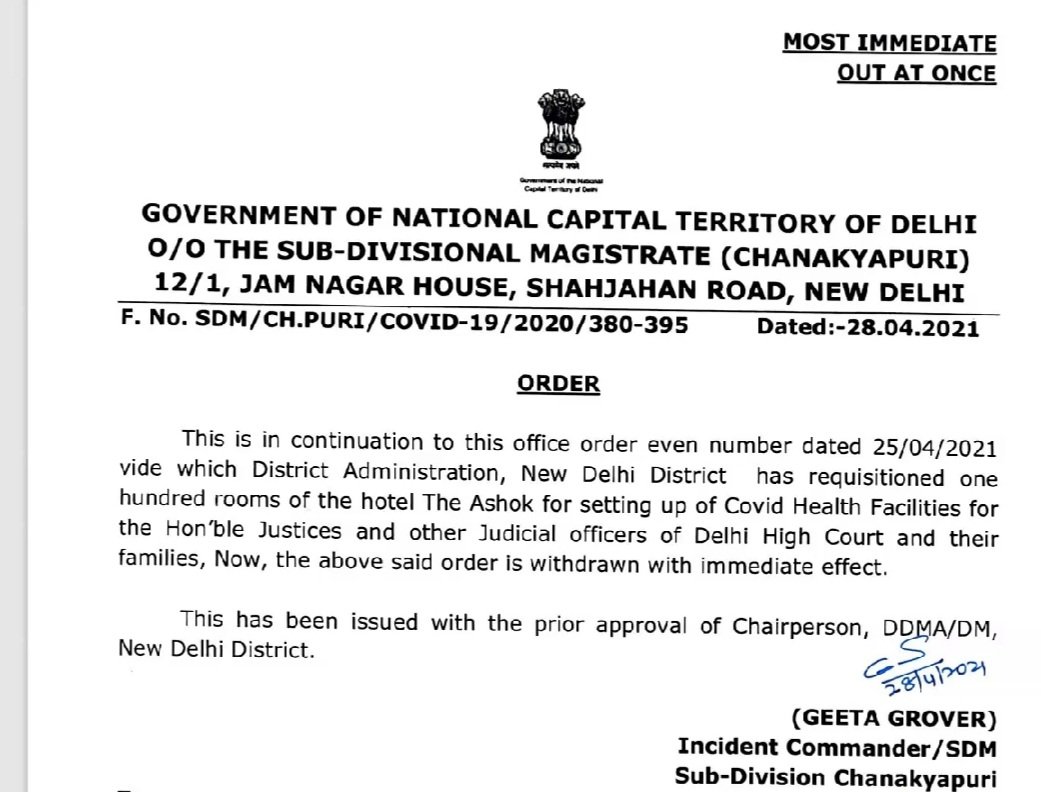 Hearing begins.

SG Tushar Mehta: In principle we had submitted that no Amicus is needed in the matter but that wasn't against Sr. Adv. Rajshekhar Rao as such.
Mehta: We've had a meeting with Mr. Rao and all the other officers.

Rao begins submissions.
Rao: What is the status of the two plants which are to be operationalized by tomorrow - that is one thing to be looked at.

Mehta: This should've been obvious but it wasn't, it seems - when we talk of allocation to UP, it means Noida and Greater Noida.
Court: Also, people from other nearby areas are also coming to Delhi. There is a scramble, people are coming anywhere for oxygen - to be in the right place at the right time.

Mehta: The 40 MT mentioned is for infact Noida and Greater Noida.
Court: People from neighboring states are coming into Delhi, for better facilities, it being a national capital. They should not and better not be shunned.
Court: Mr. Mehra, would you like to tell us, what about the 8 (oxygen plants) which were to be made functional?

Mehra: Yes, My Lords, before that may I take My Lords through yesterday's order - that what was expected to be done and what's been done de hors the court's order.
Court: Mr. Mehra, we had asked for a tabulated format. You haven't submitted that which is why the Amicus..

Mehra: Yes My Lords but if court's orders can be bypassed by the Central and State Govts, what is the point of passing them?
Court: Which part of the order?

Mehra: 1. Suggestions were to go (not verbally, but in writing) on tankers and reducing transport time, to the Central Govt, who had agreed to have the same examined.
Mehra: The same has not been done, but deflections have been made on the oxygen plants setting up point. So you don't see what you are supposed to do, but deflect towards us.

Court: You're going in a tangential way.

Mehra: No, it's an articulate way. I need to say this.
Mehra: Whatever I'm saying is coming from the top bureaucratic brass. The Central govt has failed Delhi and the country. We have been here for 8 days, and Central govt has just been skirting off any specific orders by the court, with personal reassurances that I will look into it
Mehra: Please do not allow them to shift the goal post. I have never, Delhi govt, has never shirked off responsibility. We have been present, apologized where we have been wrong.
Mehra: I have never raised the pitch to this level, but there is a complete lack of sensitivity. This is not about getting oxygen from the air, they can't just go on making their allocations on paper with no oxygen reaching Delhi. I am not going to stop today.
Mehra: We are not going to be mute spectators merely because they are the Central Govt. Everyday Art.21 is being violated.

Mehta: There is no point being hysterical.

Mehra: I am not going to stop, don't interrupt me.

Court: Let him continue.
Mehra: We never asked for 490 MT, but 700 MT. Not even 490 MT has reached us till date.
Mehra: I have been very patient and respectful of my Ld. Senior colleague till date.

Mehra refers to a chart placed before court about bed availability.
Sr. Adv. Rahul Mehra represents the
@AamAadmiParty
led Delhi Government.
Mehra informs Court that they are augmenting 15000 more beds by next week and therefore would need another 280 MT.

Mehra: This is not the requirement given by us. We need to augment beds as that is the requirement but we are being allocated only 490 MT.
Mehra: My Lords may please pass an order today, and not allow the Central govt to get away with personal reassurances, because a single Law Officer cannot manage this alone.
Mehra: We need oxygen and not paper orders. This is not rhetoric, as a state, non-manufacturing one, we need all the help we can. There are enough Good Samaritans going of their way to do everything they can for people they don't even know, but we need State to step in now.
Mehra: It is scientifically proven that only oxygen can save Covid patients. There is no other way. We need 3 figures - 1. What is India's oxygen generating capacity, as Centre has taken over all assets to deal with this pandemic?
2. What is the allocation amount to different states, it has been allocated by the Centre and rightly so, but what is the amount? We need to know this.
From 300 MT, we have come up to 431 MT in the past week, and we are so thankful to My Lords for this. We have risen to the occasion as Indians.

3. What is it that every state has asked, and why is it that despite excess capacity, they have not been allocated what they've asked?
Mehra: We can't be thinking as Delhi, Punjab, Haryana - this is the biggest problem that the country has ever faced - we need to think as India. I am sorry if I've hurt sentiments.
Mehra: Wrt PSA plants 2 are already operational, 2 were to be operational by 30th April, for the rest all permissions have been given already from the Delhi government. I'm not pointing fingers, but PWD stepped in and said we need certain changes. Again approval given by us.
Mehra: Today everybody needs oxygen plants, later he was deflected to another state. We need to look into this together, today if Delhi needs oxygen, please give it, if anyone else needs, please give it.

10 PSA plants have been given to Delhi from the PMCares fund.
Court: What is the status on these plants?

Standing Counsel Satyakam submits they have given a 53-page document to the court today, asks if it has been placed.
Mehra reads out parts of the document.
Mehra: 8 plants are only awaiting installation, for which vendors are needed.
Court takes note of the two plants which are to be ready by tomorrow, one of which is Safdarjung.

Mehra: Satyakam please take instructions if installation has started.

Rao begins submissions.
Rao: One thing I need to flag is that Madhya Pradesh's allocation from certain plants can be re-diverted to Delhi. Instead of getting from Rourkela.

Further, Mr. Mehra, Delhi has consistently been asking for 700 MT but got 490 MT.
Rao: Without getting adversarial, need to point out that Maharashtra and Madhya Pradesh have been getting more than what they've asked for. Of course, Maharashtra may be because it has the largest number of cases.
Rao: Also, you may be making n number of beds but without oxygen they're pointless.
Court: Actually with Delhi, the bottleneck is with the cryogenic tankers' non-availability.

Rao: Of course, My Lords. We can approach at 3-levels.
Rao: My concern was augmenting new plants without getting so much into who is at fault. Second is we can look at civil societies who are ready to set up oxygen generating plants - refilling is not so much of a problem.
Rao: Then, testing is an issue, we don't have the real numbers. Basis that, some people may not need cylinders, concentrators are enough. We can keep fighting about oxygen but that's not going to help till we get our act together.
Rao: Also, some people don't need either. Basic care is enough.

Now the problems being faced on ground - there is an absolute lack of information. If we could have all the information in one place, about hospital beds, Remdesivir, etc so people aren't running helter-skelter.
Rao: Further, if we could have this information tabulated in one place zone-wise, we could ensure that people from Gurgaon aren't left running to Rohini.
Court: Okay, now we may get back to the SG.

Mehta: We are passing through a crisis situation, so getting hysterical should be avoided. This, I'm telling myself more than anyone else.
Mehta: We have augmented supply of oxygen from wherever possible. Suppose there is a huge, unprecedented surge which we are experiencing today, then that will have to be dealt with as well.

Yes, Delhi has demanded 700 MT, but the actual qty coming is 330-350 MT.
Mehta: This is actually sufficient for Delhi.

Court: You have yourself laid down the number of beds, ICU beds. You will have to explain the MP situation mentioned by the amicus. People close to us are not getting beds with oxygen. People in Haryana, others too.
Mehta: But My Lords, we can't allow ourselves to get carried away.

Court: You will have to explain, if one state has demanded x, and other y but the other is getting more you need to explain, why?
Mehta: My Lords, if they are being given more it is because of a surge there. Also, we are doing what we can to help Delhi. They are unable to pick up the allocated amount and Centre is helping the state. It is not NDA helping AAP but Centre helping the State.
Mehta: 90% of our time is spent in firefighting the Delhi situation.

Court: Mr. Mehta you have to explain why Delhi is still stuck at 490 MT.