[Allahabad High Court] A bench led by Justice Siddhart Varma heard the suo moto case (574/2020) on the Covid crisis in Uttar Pradesh. A Letter Petition was also heard along which contended that the referral system (CMO reference) before admitting a patient is arbitrary.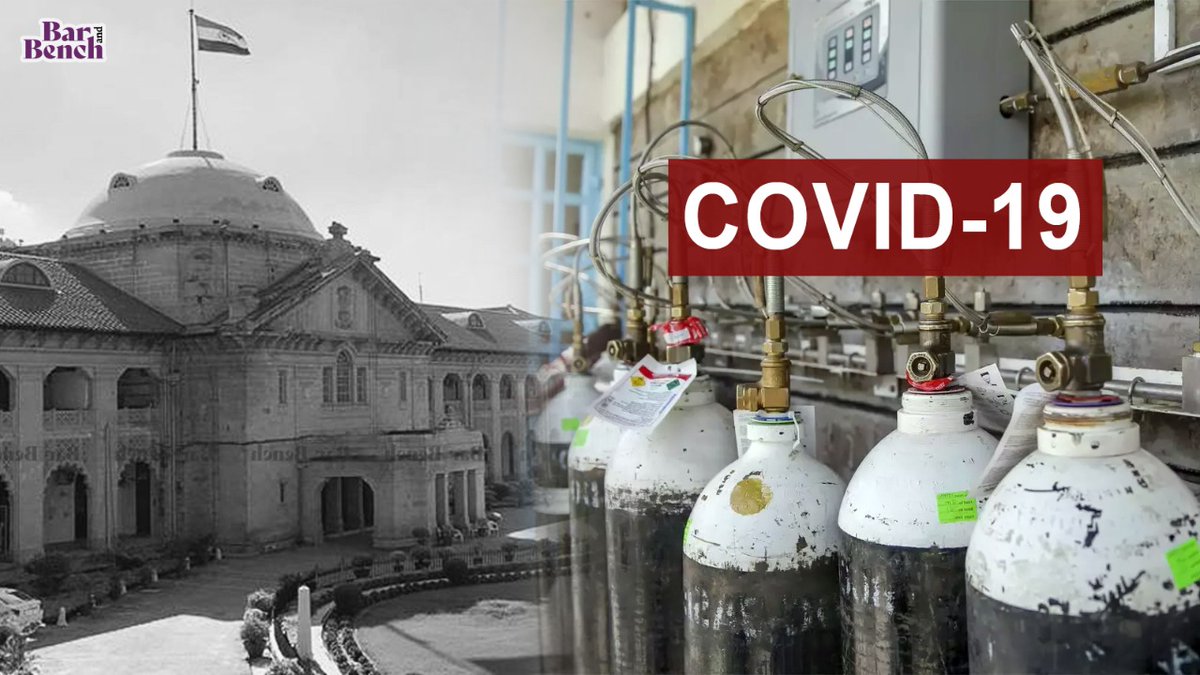 J.Varma: What is this Referral letter?

Adv Anuj: If you have to be admitted into a private hospital or covid facility, you need to have a referral letter. I have personally suffered because this referral letter was not issued.

J. Varma: Mr. Goyal (AAG), please look into this.
Anuj: Now private hospitals are allowed to take 90% beds on their own, but in govt hospital, private and government medical colleges will continue to take 70% beds only after this CMO reference (referral letter)
#COVID19
#allahabadhighcourt
Anuj: In a district like Chandauli or Bahraich, where there is only one district hospital which is providing the facility of oxygen and these people have the luxury of Apollo or Vedanta, there are running from pillar to post to get these reference letter.
J. Varma to AAG: Is it possible that oxygen can be served at home?
AAG: We have filed the annexure after doing a detailed study and the doctor has strongly advised not to do it.
#Covid
#UttarPradesh
Justice Varma: (AAG) Mr. Goyal look if there can be a system like one in Delhi where the availability of beds can be monitored online.
#COVID19India
Justice Varma: We want to help AAG, with all the possible efforts. What we want from Mr. Goyal is to give ears to us and take our directions to the concerned authorities.
#Covid19
#allahabadhighcourt
Justice Varma: Mr. Goyal please look into this CMO reference and resolve this issue.

AAG: I will look into it and convey it to the highest authorities and get back to you.
Adv Anuj: "Even if the reference letter is issued, there is no guarantee that the bed would be issued. There are families where the whole family is positive and they are asking their relatives to get the referral letter from the CMO officer."
#allahabadhighcourt
#COVID19
AAG: Everything depends on the public, if they want to get tested then they can visit L1 hospitals. The thing is, that they don't want to go.
J. Varma: I have two servants, who went to these L1 hospitals, who recently called up and told that there is no electricity, no hygiene and not even a proper toilet. There are mosquitoes, no bulbs, no sanitization, if they don't die from covid, they will die from dengue.
If even our servants are not being treated well, then how can you expect general public to visit these L1 hospitals?

: Justice Varma
AAG: Notes down all the aspects which are raised:

1. The mechanism which should be followed in these hospitals.

2. Logistics.

3. Care and protection.
AAG: "We need to strengthen the existing system rather than altering the mechanism. We have a rapid response team, consisting of doctors, emergency team, who are working on this. We need to strengthen the mechanism."
Justice Varma to AAG: I again request, if things are not in control then impose a two week lockdown. Please suggest it to your policy makers. It is blowing out of proportion, that is the first thing it seems.
#allahabadhighcourt
Justice Varma: There is a shortage of doctors, there is a shortage of staff, oxygen, there is no L1, L2. Everything is good on paper, but the fact is that there is shortage. With folded hands, we request you to exercise your discretion.
#allahabadhighcourt
#uttarpardesh
AAG: We will get back to you with all the aspects as discussed above. We will instruct the concerned persons regarding the logistics and protective care in various hospitals.