TODAY IN HISTORY
THE AICP-END BLOG
Contact Me:
[email protected]
TODAY IN HISTORY @ THE
http://AICPENDBLOG.COM
@
http://WORDPRESS.COM
SPRING SESSION 2021
BLOG POST #3,882 AT THE AICP-END
DAYS UNTIL ELECTION DAY 2022: 561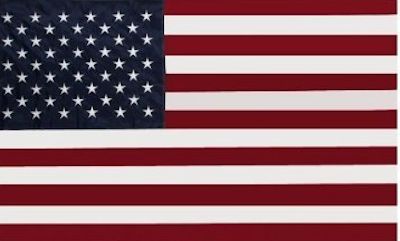 117. TODAY IN HISTORY—TUESDAY, APRIL 27, 2021: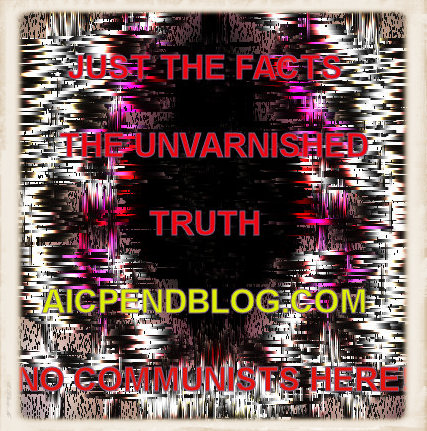 DAY NINETY-EIGHT OF THE BIDEN REGIME
President Ulysses S. Grant; U.S. Supreme Court Associate Justice Stephen G. Breyer; U.S. Attorneys General Eric Holder and Loretta Lynch; U.S. Secretary of State John Sherman; U.S.
Senator Cory Booker;  WBA Heavyweight Boxing Champion Greg Page; Badfinger featuring Pete Ham, Charlie Watts-Jim Keltner Project, King Crimson featuring Gordon Haskell, and KISS featuring Ace Frehley:
- 1296 Friday: Edward I of England defeats the Scots fighting for independence at the Battle of Dunbar.
- 1509 Tuesday: The 216th Roman Catholic Pope Julius II excommunicates the Italian state of Venice from the church.
- 1521 Wednesday:  Portuguese explorer Ferdinand Magellan met his end at the hands of angry Filipinos.
- 1565 Tuesday: Cebu City, the first Spanish city in the Philippines, forms.
- 1773 Tuesday: The British Parliament passes the Tea Act, one of the things that would set the colonists of New England and the North American Colonies off; this would begin the road to the start of hostilities culminating in the Revolutionary War.
- 1777 Sunday: The only land battle in Connecticut during the Revolutionary War, the Battle of Ridgefield, took place, resulting in a limited British victory.
- 1805 Saturday: During the First Barbary War, an American-led force of Marines and mercenaries captured the city of Derna, on the shores of Tripoli.
- 1813 Tuesday: The Battle of York took place in Upper Canada during the War of 1812 as a U.S. force defeated the British garrison in present-day Toronto before withdrawing.
- 1822 Saturday: The 18th President of the United States, Ulysses S. Grant, was born in Point Pleasant, Ohio, on this date.  He would serve as commander-in-chief from 03-04-1869 to 03-04-1877.
- 1848 Thursday: France frees the last slaves in its colonies worldwide.
- 1857 Monday: Austria prohibits the Jews from establishing further congregations in the southern part of the country.
- 1861 Saturday: After Virginia secedes from the United States, West Virginia secedes from its parent state.  Meanwhile, President Abraham Lincoln suspends the right of habeas corpus.
- 1865 Thursday: The steamer Sultana exploded on the Mississippi River near Memphis, Tennessee, killing more than 1,400 people, mostly freed Union prisoners of war.
- 1880 Tuesday: Francis Clarke and M.G. Foster patented the electrical hearing aid.
- 1897 Tuesday: The federal government dedicates President Ulysses S. Grant's Tomb.
- 1898 Wednesday: The 35th U.S. Secretary of State John Sherman, a Republican, left office on this date.  He served under President William McKinley from March 06, 1897 until today.
- 1915 Tuesday: During World War I, Ottoman Turkish forces under the command of Mustafa Kemal Atatürk launch a counterattack against Allied forces.
- 1937 Tuesday: The U.S. Social Security Administration makes its debut payments of benefits.
- 1938 Wednesday: King Zog I of Albania married Countess Geraldine Apponyi de Nagy-Apponyl.  She was the first American woman to become a queen.  Elsewhere, a colored baseball appeared in a baseball game.
A game between Columbia and Fordham universities in New York City used a yellow baseball.
- 1940 Saturday: SS Chief Heinrich Himmler orders the construction of the Auschwitz Concentration Camp to begin, the destination for millions of Europe's Jews and others designated unfit for habitation in Nazi-occupied Europe.
- 1941 Sunday: German forces occupied Athens during World War II.  German motorized units, armor, and infantry marched through the streets to throngs of silent people.
- 1942 Monday: Famed session rock drummer, Jim Keltner, is born in Tulsa, Oklahoma, on this date.  Elsewhere, Canada orders conscription of military-aged males for overseas during World War II.
- 1943 Tuesday: The Soviet Union breaks off contact with the Free Polish government in Great Britain, intending to put its own Polish leadership in charge of Poland once it's liberated.
In North Africa, the British continue pushing the Germans into a corner in Tunisia from which they cannot extricate themselves.
- 1944 Thursday: Fighting in New Guinea continues with U.S. troops capturing the main airstrip at Hollandia from the Imperial Japanese units defending it.
- 1945 Friday: Italian partisans capture Benito Mussolini and other Italian Fascists to hold for trial for crimes against the Italian people.
Elsewhere, in the fight for Berlin, Soviet forces are able to capture the airfield at Tempelhof cutting off any further air escapes by desperate Nazi leaders trying to flee the city.
Fighting continues around Spandau and from the north, another Soviet army is battering its way into the city.
- 1946 Saturday: The SS African Star went into service, which became the first ship equipped with radar.  Elsewhere, Gordon Haskell—future guitarist/vocalist with King Crimson[i]—is born in Verwood, Dorset, England, on this date.
- 1947 Sunday: Pete Ham—future guitarist/vocalist with the British rock band, Badfinger[ii]- is born  on this date in Swansea, Wales.
- 1950 Thursday: South Africa passes Group Areas Act, which segregates the races from one another.  Meanwhile, Great Britain recognized the state of Israel on this date.
- 1951 Friday: Future KISS[iii] guitarist, Ace Frehley—is born in New York City on this date.
- 1953 Monday: The United States offered $50,000 and political asylum to any Communist pilot that delivered a MIG jet.
- 1961 Thursday: The National Football Association officially recognizes the NFL Hall of Fame in Canton, Ohio.
- 1965 Tuesday: R.C. Duncan won a patent for "Pampers."  Elsewhere, broadcast journalist Edward R. Murrow died in Pawling, N.Y., two days after turning 57 years old.
- 1967 Thursday: Canadian Prime Minister Lester B. Pearson officially opened Expo '67 on today's date.  Meanwhile undefeated heavyweight boxing champion, Rocky Marciano, retires from the sport.
- 1968 Saturday: Vice President Hubert H. Humphrey declared his candidacy for president, less than a month after President Lyndon Baines Johnson said he would not run for re-election.
- 1969 Sunday: In Washington, D.C., future U.S. Senator Cory Booker is born.  A future Democrat, he would enter the world's greatest deliberative body (or so they claim) on October 31, 2013 representing the state of New Jersey.
- 1972 Thursday: Apollo 16 arrives safely back on Earth from exploring the Moon.
- 1973 Friday: Acting FBI Director L. Patrick Gray resigned after the press revealed that he had destroyed files removed from the safe of Watergate conspirator E. Howard Hunt.
- 1975 Sunday: North Vietnamese infantry and armor encircled Saigon on this date.  Although panic grips much of the populace of South Vietnam's capital city, South Vietnamese troops are determined to hold out for as long as they can.  Had not the Democrats in the U.S.
Congress prevented President Gerald R. Ford from rushing in military supplies so the ARVN troops could fight on equal terms, this humiliating defeat would never have occurred.  However, the Democrats being the pro-communist scum they are left the South to its fate.  Evil.
- 1978 Thursday: Convicted Watergate defendant John D. Ehrlichman was released from an Arizona prison after serving 18 months.
Elsewhere, 51 construction workers plunged to their deaths when a scaffold inside a cooling tower at the Pleasants Power Station site in West Virginia, fell 168 feet to the ground.
- 1982 Tuesday: The trial of John W. Hinckley, Jr., who had shot four people, including President Ronald Wilson Reagan, began in Washington, D.C.  The trial ended with Hinckley's acquittal because of insanity.
- 1983 Wednesday: Nolan Ryan passes the strikeout king, Walter Johnson, by achieving 3,509 career strikeouts in Major League Baseball.
- 1986 Sunday: Soviet Authorities order the evacuation of Pripyat a day after the Chernobyl nuclear accident.
- 1987 Monday: The U.S. Department of Justice prevents Austrian Chancellor Kurt Waldheim from entering the U.S. due to his service to the Nazis during World War II.
- 1992 Monday: The Republic of Serbia and its lone ally, Montenegro proclaimed the new Federal Republic of Yugoslavia in Belgrade and 12 other former Soviet Republics won entry into the International Monetary Fund and the World Bank as Russia collapsed.
Betty Boothroyd became the first female Speaker of Britain's House of Commons.
- 2004 Tuesday: U.S. forces fighting in Iraq kill 64 jihadists in and around Najaf in some fierce fighting as well as take out a piece of antiaircraft artillery.
- 2005 Wednesday: With the U.S. House Ethics Committee evenly divided, on the House floor, a vote of 406-20 rescinds controversial GOP-imposed rules that had taken effect in January and slowed things to a crawl.
The Democrats DETEST any kind of ethics investigations unless they are in charge and launch them against their enemies.
- 2006 Thursday: Construction commences on the new Freedom Tower for the new World Trade Center in New York City.  In other news, the Chi-Coms never rest in their efforts to subvert other countries and the nation of Nepal is in the midst of a fight with Maoist thugs.
However, the rebels agree to a three-month truce with the newly elected government.
- 2007 Friday: The Pentagon announces that the CIA has arrested an al-Qaida thug- Abdul Hadi al-Iraqi- and instead of f**king around with him in the courts sent him straight to Guantanamo Bay.  Good riddance.
Elsewhere, Chechen rebels in Shatoy get lucky and shoot down a Russian Mi-8 military transport helicopter killing at least 20 Russian soldiers.  Doesn't matter- Putin will get you guys…
- 2008 Sunday: News begins to break about a scumbag named Josef Fritzi in the town of Amstetten, Austria, had a special cellar in his house where he imprisoned his daughter Elisabeth from the age of 18 onward for the next 24 years.
He raped her and fathered seven children with her, three girls and four boys.  By the time the authorities discovered what this monstrous scumbag had done, he was age 74.  The trial was swift and he received a life sentence.
We're sorry, the Austrian government should have shot this POS.
- 2009 Monday: A 23-month-old Mexico City toddler died at Texas Children's Hospital in Houston, becoming the first swine-flu death on U.S. soil.  Meanwhile, a strong earthquake hammered Mexico, rattling nerves among residents already tense from a swine flu outbreak.
Elsewhere, former WBA heavyweight champion Greg Page died at home in Louisville, Kentucky, of positional asphyxiation.  He was 50 years old.  Over the course of his pro-career, he amassed a record of 58 fights, 48 wins (17 Kos), and  1 draw.
Finally, one of President Barack Hussein Obama's Air Force One jets, a Boeing 747, and an F-16 fighter jet panicked New Yorkers as they circled over lower Manhattan and the Statue of Liberty for what turned out to be a photo op.
Many people believe this to have been staged, the president committing a heinous practical joke above a city scarred from the 9-11 Attacks eight years before.  What a POS.
- 2010 Tuesday: The U.S. Senate investigates the banking firm of Goldman-Sachs due to their making BILLIONS of dollars during the collapse of the housing market.
- 2011 Wednesday: Powerful tornadoes raked the South and Midwest; according to the National Oceanic and Atmospheric Administration, more than 120 twisters resulted in 316 deaths.
- 2012 Friday: The wives and children of the dead terrorist thug, Osama bin Laden suffer deportation from Pakistan back to their homes in Saudi Arabia.  Meanwhile, in the People's Republic of China, blind dissident Chen Guangcheng escapes house arrest and goes on the lam.
The authorities are going nuts and the dragnet is on…
- 2013 Saturday: U.S. Supreme Court Justice Stephen G. Breyer breaks his shoulder on a fall from his bicycle and is taken to the hospital by ambulance.
Meanwhile, in Karachi, Pakistan, members of the so-called 'religion of peace,' Islam, launch a terror attack killing 10 and injuring at least 25 people.
- 2014 Sunday: The high court in Egypt dishes out some stiff sentences to pro-Mohammed Morsi rioters- 11 of them this time- of anywhere from 5 to 88 years in the slammer for running amok and rioting in the streets.
- 2015 Monday: The 82nd U.S. Attorney General Eric Holder left office on this date.  A Democrat, he served under President Barack Hussein Obama from February 03, 2009 until today.  His successor, Loretta Lynch- the 83rd U.S.
attorney general assumed office today and served until January 20, 2017.
- 2016 Wednesday: Unlike other European countries, Austria says "F--- this" by limiting asylum claimants into their country and also reserves the right to reject people at their border.  Of course, human rights groups go haywire claiming this is an afront to all humanity.
Austria, we're with you, Germany and Angela Merkel are NOT your friends.
- 2017 Thursday: Julius Younger, American virologist who helped create the Salk polio vaccine dies at age 96 in Pittsburgh, Pennsylvania.  Meanwhile, President Donald J. Trump softens his stance on NAFTA by saying he 'seeks to renegotiate it.'
- 2018 Friday: North Korean dictator Kim Jong Un meets with his South Korean counterpart, President Moon Jae-in to 'end the Korean War and to rid the Korean Peninsula of nuclear weapons.'  Meanwhile, German leader Angela Merkel makes a one-day trip to Washington, D.C., to meet…
…with President Donald J. Trump.
- 2019 Saturday: Our 'beloved' Pope Francis, the 266th Roman Catholic pontiff, donates half-a-million bucks to 'help' migrants trying to reach the U.S. border via caravan who are stranded in Mexico City.  Let them remain there.
Meanwhile, a shooter opens fire at a synagogue in Poway, California, managing to slay one and wound three before being taken down himself.   God bless the victims.
- 2020 Monday: Thanks to the reopening of some states, the Stock Market has a great day.  The DOW Jones Industrial Average closes up 358.51 at 24,133.78; the S&P 500 closes up 41.74 at 2,878.48; and the NASDAQ closes up 95.64 at 8,730.16.  Excellent.
Meanwhile, the Wuhan Virus Crisis, the one the Chinese claim is 'not theirs but came out of the United States' continues causing problems.
Global statistics show that currently, we have 3,002,303 confirmed cases what with 208,131 confirmed deaths and 878,813 confirmed recoveries.
In the United States, we have 1,005,934 confirmed cases what with 56,329 confirmed deaths but 112,913 confirmed recoveries so things are looking good- most places.  California's confirmed cases rest at 44,792 and at 1,755 confirmed deaths.
The Chinese continue lying about their numbers.  Elsewhere, people continue to speculate about North Korean thug dictator, Kim Jong Un, who has been absent from world view for the past two weeks.
Many speculate he contracted COVID-19 and is near or at death whereas others claim he is on a 'holiday.'  We shall see.  Finally, apparent Democratic Party 2020 presidential nominee Joseph R.
Biden remains mum on allegations he sexually abused a staffer back in the 1990s when he was a senator.  Say it ain't so, Joe!
- 2021 Tuesday: Stick around…
BEVERLY CARRICK ORIGINAL ARTWORK OF THE DAY: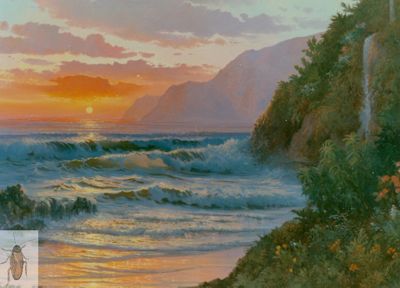 This artwork is #0447 a 30" x 40" original oil painting by Beverly Carrick, which, she entitled, "Maui Magic."  It is among her more beautiful works and is available for sale.
At her Website, you will see not only more original oil paintings but also lithographs, giclees, prints, miniatures, photographs, and even her award-winning instructional video entitled, "Painting the Southwest with Beverly Carrick."  Beverly has been painting for more than 60…
…years and known around the world for both the beauty and timelessness of her artworks.  Hanging in private and public galleries and followed by many fans encircling the globe—her works instill awe because of her artistic brilliance and personal beauty.
We urge you to go to her Website NOW and view her work.  It is possible that you will find something you like and will want to buy it for yourself, a friend, a loved one, or a neighbor!  You will not be disappointed so please: do yourself a favor and go there IMMEDIATELY!
Thank you, the American Institute of Culinary Politics-Elemental News of the Day!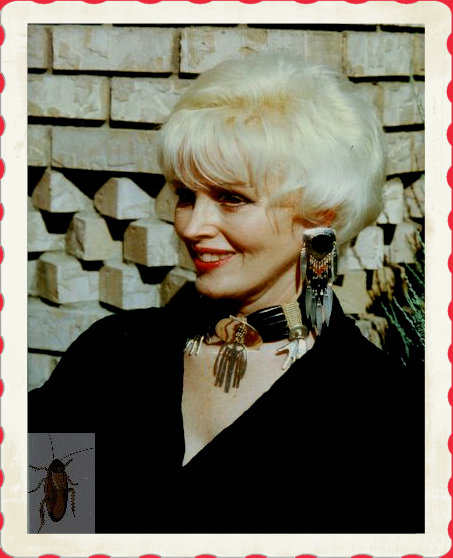 Beverly Carrick: The World's Greatest Artist (1927-2012)
Pictures #0001-1495
ALBUM OF THE DAY AT THE
http://AICPENDBLOG.COM
: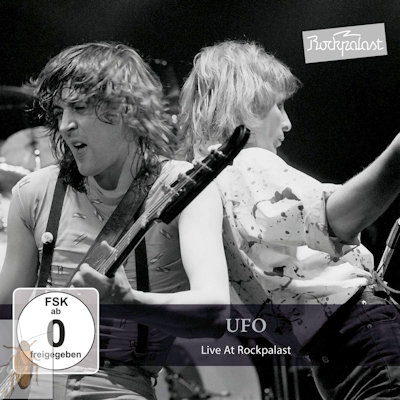 UFO returned on January 06, 1981 and delivered their next studio album: "The Wild, the Willing, and the Innocent."  Once again, the British rockers delivered an excellent effort and once again, had ALMOST the same lineup as their previous studio album:  Phil Mogg (vocals), Andy…
…Parker (drums), Paul Chapman (guitars), Pete Way (bass), and Neil Carter (keyboards/rhythm guitar/saxophones) in place of Paul Raymond who had gone to play with- Michael Schenker.
The album we have for you today: "Rockpalast: Hardrock Legends 1," came out on October 17, 2018 (although earlier versions are available) and features 12 smoking red-hot tunes plus a disc of the show.
We enjoy this album and understand that you will, too, seeing as how you're longtime fans of the American Institute of Culinary Politics-the Elemental News of the Day and know our history of presenting nothing but the absolute best in rock music- please, seek this one out and…
…add it to your collection- you will be glad you did.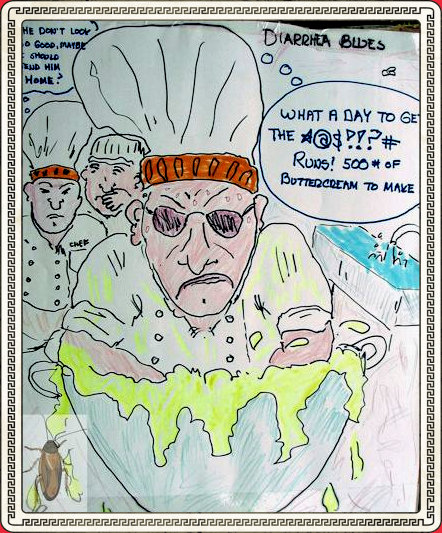 The above icon is the "Trademark of Quality and Symbol of Integrity/Logo" of the Magnolia Hilltop Brewers and of What's Cookin' Productions.    The AICP-END Blog copyrights this article © 04-27-2021, all rights reserved.  Total Word Count: 2,541.
The American Institute of Culinary Politics-Elemental News of the Day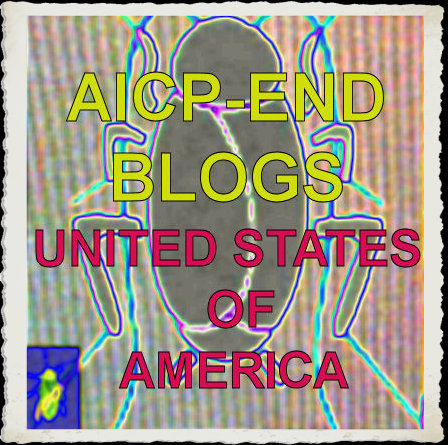 The Stinkbug symbol on CDs, DVDs, and Books means "approved by the American Institute of Culinary Politics-Elemental News of the Day" as well as adjusted or edited by the photographic editor
Original Beverly Carrick Artworks, Beverly Carrick—World Famous Artist, President Ulysses S. Grant, U.S. Secretary of State John Sherman, President Ronald Reagan, U.S. Supreme Court Associate Justice Stephen G. Breyer, U.S. Senator Cory Booker, U.S.
Attorney General Eric Holder, U.S. Attorney General Loretta Lynch, President Lyndon Baines Johnson, Vice President Hubert H. Humphrey, John W. Hinckley, Jr., Il Duce Benito Mussolini, Acting FBI Director L. Patrick Gray, John D.
Ehrlichman, BIG BANKS, Goldman-Sachs, Gordon Haskell, King Crimson, Pete Ham, Badfinger, KISS, Ace Frehley, Charlie Watts & Jim Keltner, H1N1 Swine Flu, Albania, King Zog I, Roman Catholic Church, Pope Julius II, Pope Francis, WBA Heavyweight Champion Greg Page, Moses Scharbug…