Delhi High Court to soon begin hearing plea concerning COVID-19 situation in the national capital.
Hearing to take place before Justices Vipin Sanghi and Rekha Palli.
#DelhiCovid
#COVIDEmergency
#COVID19
@CMODelhi
@MoHFW_INDIA
@HMOIndia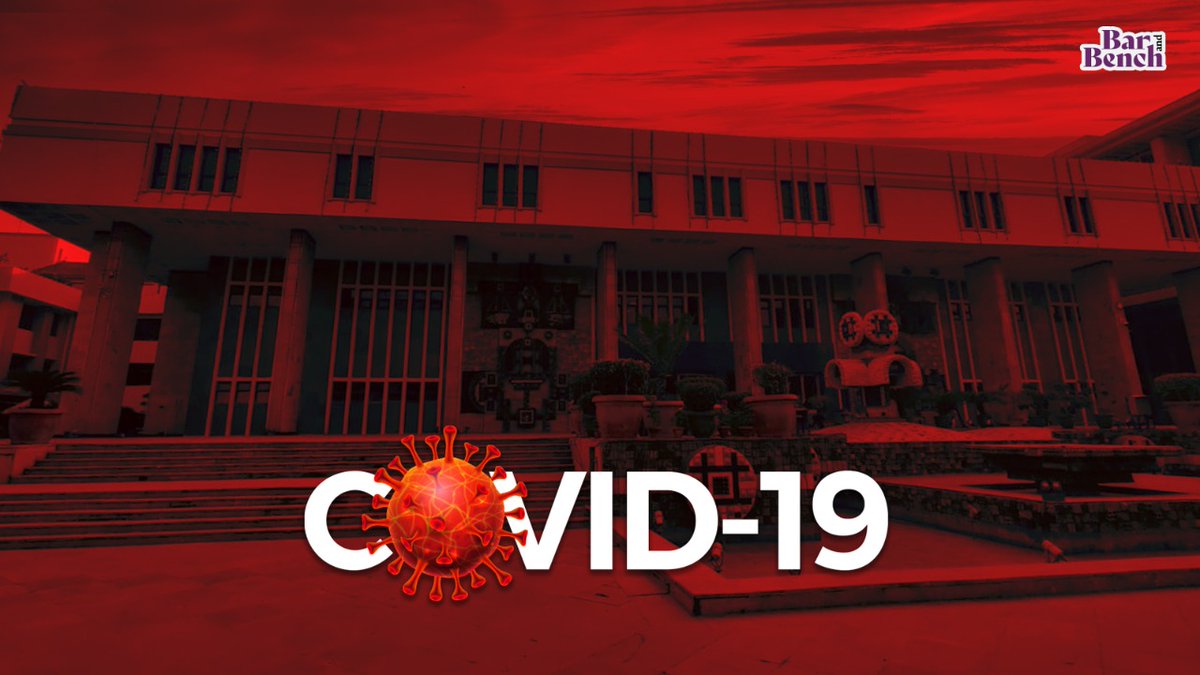 The plea also looks into the aspect of oxygen shortage in hospitals treating COVID 19 patients.
#OxygenCrisis
#COVID19
Counsel mentions an application concerning COVID-19 testing.
Solicitor General Tushar Mehta: It is wider and safer to rely of wisdom of State governments in this matter. State is in best position.
#COVID19
SG Mehta says there are various administrative issues also that are taken care by the State Government.

SG Mehta asks counsel for share a copy of the plea with him and Rahul Mehra and the same would be looked into.
Court also observes that testing labs have constraints such as staff shortage, strict times.
Court says it has already passed directions to Customs for priority clearance of imports related to COVID testing.
#COVID19
Court suggeste SG Mehta to call for status reports from various quarters.
Even for the highest executive, to know whether it is working or not, data is important: Court
Position is this that the fire fighting on hourly basis by virtual control room is required to be done on daily basis. It is not end.. the dusty should work itself. Nature of problem is such that dynamics might change: SG Mehta
I read news reports. State govt has done exemplary things. I've chosen not to file an affidavit. Just placing orders. Affidavits may give an impression of adversarial litigation : SG Mehta
State has very positively responded to Centre suggestions. We are in the process of ironing out.. difficulties of Delhi citizens: SG Mehta
480MT alloted quantity to Delhi.. even if we supply 340 MT, situation would become better ..even contemplating increasing over 480 MT: SG Mehta
SG Mehta adds that augmentation of oxygen supply for medical use is going on on war footing.

Empty tankers have also been airlifted, deployed special trains : SG Mehta
Substantially something is done : SG Mehta as he reads a communication from Centre.
Delhi govt has hardly been able to arrange any tankers.. they are requested to take action in this regard: SG Mehta reads as he clarifies that it is not adversarial.
Alternative arrangements for left out hospitals not done by Delhi govt : SG Mehta reads
State govt should consider creation of an effective war room.. : SG Mehta reads.

There is now a system.. a war room. It needs to be continued and made functional .. it is a very welcome step: SG Mehta
Delhi govt has decided to depute on official with each hospital.. the supply chain would be smoother : SG Mehta
They have taken this letter very positively : SG Mehta
SG Mehta shares letter from Health Ministry to all State governments.
Rational use of oxygen is the burning need of the day : SG Mehta

Kerala, Tamil Nadu was successfully implemented : SG Mehta
GOI is not going by AAP govt or left govt.. we are for the citizens.. Kerala, Tamil Nadu have done an excellent job : SG Mehta
All States are directed that wherever we have allocated oxygen, no other State would come in the way : SG Mehta refers to a letter
Se procure at a national level. In consultation with States, we allocate.. : SG Mehta
SG reads another letter on targetted and prompt action.
SG Mehta shares allocation plan of various States.
Sometimes Maharashtra records highest. Today Bangalore has spiked. We have to redistribute in a way that they are taken care of. This is a need based exercise: SG Mehta
#Oxygen
SG Mehta refers to more central government communications.
We directed State govt to undertake audit on daily basis and undertake training : SG Mehta reads a letter on rational use of oxygen without taking away the discretion of doctors.
Sometimes a patient requires 3 hours.. and is given 5 hours. It is a matter of informing them that there is a scarcity. One has to be given what is needed so that there is no wastage: SG Mehta
The Delhi CM wrote this letter to an industrialist (Sajjan Jindal).

Procurement has to be be at national level else there will be complete chaos. State govt can procure tankers but not tankers : SG Mehta
So this request can be considered to be request for tankers and not oxygen filled tankers : Court

Yes, this letter is for tankers... : Senior Adv Rahul Mehra for Delhi govt, clarifies that request for oxygen was if they have any spare oxygen after centre allocation
Even spare has to come to Central Government : SG Mehta
You were given free hand to ask for tankers. This communication to Mr Jindal can be treated as request for tankers. If there is any source that centre has not tapped, you can tell. They may take that into consideration while allocating : Court
We are only talking about supply and movement of tankers: Mehra
If any supplier has 800MT extra oxygen, that must also come to the Central government : SG Mehta
If States start procuring in own way, there will be no extra. Whatever you have, has to be surrendered in national interest: SG Mehta
I would urge that if they have extra capacity, the court may direct Centre to take that also : SG Mehta
If there is excess with Centre and we find out oxygen is lying in some plant, we will ask Centre to hand it over to Delhi : Mehra
None of us should dramatise by ending every sentence with human lives : SG Mehta

Centre has moved heaven and earth. Without your personal intervention, this would not have been possible: Mehra
Long and short is that this request is for tankers.. and so far as oxygen is concerned, we will say Centre will look into it and procure it and distribute it equitablly : Court
Centre can make an appeal to all industrialists who may be willing to come forward: Court

Centre has issued direction that whoever has oxygen, each drop will come to it for medical use. Jindal cannot have any additional capacity: SG Mehta
SG Mehta points out a communication sent by Delhi govt to suppliers.

In the letter, Delhi govt asks suppliers to show cause why action should not be taken against them for not following High Court order.
Senior Adv Sachin Dutta for Jaipur Golden Hospital: I got 3.6MT. I was supposed to get at 5 pm. I didn't. I'm normally in touch with my supplier. Supply chain is disrupted by Delhi govt.
Enormous sos calls were made. They arranged something from AIIMS but it was (some minutes) late. There is shortage and uncertainty. Delhi govt doens't understand the Supply chain : Dutta
Yesterday the Minister said hospitals are unnecessary SoS.. how long after patient dies should hospitals issue SoS: Dutta
Inox has tie up with hospitals: Court

Inox was our supplier: Dutta

Today this is not a normal situation : Court
Supply is not hospital wise but entire Delhi. So whatever supply are coming form inox should then it go to these 27-28 hospitals and not all 140 : Court
Whatever is killing me equally is the uncertainty: Dutta
Inox should directly send me the dispatch note. The bureaucratic machinery of Delhi govt has completely failed: Dutta

Mr Dutta endeavour since yesterday has been to malign and politicise : Mehra
Let me deal with my supplier. let them not come in the way : Dutta
As suggested by Home Secretary, best solution that I'm giving that that Delhi govt should have a joint meeting of hospitals and suppliers: SG Mehta
I don't wish to score any point. Hold a virtual meeting. How to put a system in place. They will exchange ideas, suggestions. You work out a scheme : SG Mehta
SG Mehta raises issue of storage of oxygen in hospitals which do not have capacity to do so.

Hospitals without this infrastructure.. bigger hospitals have buffer stock. Right now we have enough if distributed properly: SG Mehta
If postions remains as it is, we have enough for hospitals in Delhi : SG Mehta
Adv Alok Aggarwal for Maharaja Agrasen: Prob is we are not aware of how much we will get and when. It would reduce the anxiety of hospitals. We can report to nodal officers.
We can have only those patients that we can cater to. My people arrange a tanker. We sent messages saying we can assist.. you allot to us what we want: Aggarwal

Aggarwal says there should be one person who would be responsible for facilitating transport of tanker for oxygen.
We can try and help to the best extent. It shouldn't be that we are offering help but they are not : Aggarwal

Aggarwal says that tanker has now been taken over by another State.
If communication were sent, share it before us. If State government ignored your offer, that is something which is very serious : Court

I sent mesages to Mr Vidhuri.. : Aggarwal

Send it to us : Court
Please accept the help that businessmen are willing to give you. We will only use the allocated quantity: Aggarwal
There is a suggestion. I know people are arranging and offering tankers in other States. Let Mr Mehra consider designating an officer for this purpose: SG Mehta
Ms Rasika Chaubey from Central Government: No state govt needs to go scouting for oxygen. We maintain data on real time basis.
We maintain data in a very granular way: Chaubey.

We are on tankers not oxygen: Court
Senior Adv Viraj Datar for Shanti Mukand : I have 96 patients on oxygen support. I'm having to turn away patients. I've sent WhatsApp, calls. My buffer stock will also run out
From a supplier we have become transporter. Why should I be asked to transfer from Air Liquide : Senior Adv Rajiv Nayar for Inox
For a third party, State should supply : Nayar
Out of 45 serviced by Inox, first Delhi govt says you supply 17 then made it 24. Supply 125 tons. As per Center, it is 85. What do we do : Siddharth Jain from Inox
We've asked for directions on supply to left out hospitals. We are getting SoS calls from hospitals. Please appreciate the supplier's stand as well.. State govt should either tell suppliers to send or arrange.. we can't sleep. We neee some directions: Jain
My factories are working 24*7. When my truck leaves, it is working like a milkman. Our trucks are diverted midway : Jain
Why would I not want to give oxygen. It is my business. Nobody has complained except for Delhi hospitals. I wonder why : Jain
SG Mehta says Chief Secretary should join.
Chief secretary couldn't join last time. Today he is at PMO: Mehra
I can ask him. Mr Mehta can put in a word that he be relieved (from PMO): Mehra
I had a conversation with him. If there is a direction of the court, he will be here : Mehra
This allocation from suppliers.. : Court

We have attempted to all address all concerns.. issued on 24-25th: Mehra
PMO meeting is over : SG Mehta
Let him come : Court
Mehra reads the order.

Order is on allocation to hospitals.
Because of crisis and sos calls , a lot of swapping is happening.. Inox has entire chain in place.. since 50% capacity (of Inox) is gone to others, everybody is looking for tankers: Mehra
Allocation is based on 490 MT. But actual supply is based on actual delivery: Mehra
Suppliers may pick up oxygen from any other manufacturers as per the allocated amount : Mehra
Inox is the best placed oxygen supplier. On humanitarian basis or GOI order basis, if Inox can, they should pick up oxygen : Mehra
You have your chain of tankers. This additional duty of transferring from Air Liquide, you are in the position to? Is it doable by you? Then we would request you to do it : Court to Inox
Please co-operate if you can supply from other plants : Court
We are more than willing to take on this natonal service. Yesterday we located our tankers at Bhiwadi. Tankers were taken by Govt of Rajasthan and I'm unable to provide the service : Jain
Delhi allocation is going down and UP and Rajasthan are going up. All transport tanks are going there. I don't have excess supply chain: Jain
I'm willing to provide .. but I'm requesting for help : Jain
I'll pick up from Panipat but I need clear directions on whom to supply in Delhi : Jain
Request Delhi govt to ask other suppliers also to step up : Jain
You don't seem to be taking into account the established supply chains . They were supplying to Delhi. You've made it 85MT. Why should their tankers be held up inspite of your order : Court to SG Mehta
You intimate us. Criminal complaint can be registered. HM says treat oxygen tankers like ambulances: SG Mehta to Jain
We fail to understand. We asked you to consider reworking allocation.. all that was not done. 21 lives have been lost: Court

Not because of non supply by me : SG Mehta

But not reaching Delhi: Court

It is not my job : SG Mehta

It is both your jobs : Court
I don't wish to make it adverserial. Please put your system in place : SG Mehta

Same can be said about you.. : Court
Once you make allocation, they should be workable: Court

I'm not an expert. I don't have details of all national probelms: SG Mehta
Ms Sumita Dabra from Central Government: 140 at Panipat is now 170

Let's talk of Inox .. Delhi doens't have tankers. You are giving allocation which doens't have tankers: Court
Air Liquide Panipat is 170MT. Several companies are picking up.. sending tankers to pick up oxygen. Inox has come to bring to Delhi: Dabra
We are looking at Delhi stocks and supply. Stocks with hospitals were 400 and above. They get depleted and replenishment comes from supplies.. some suppliers, refillers have not been able to get data: Dabra
All this is.. it's all jumbled kind of reply: Court
We are not suggesting you only supply to Delhi. But look at the problems. Knowing Delhi doens't have tankers and Inox was the main supplier: Court
It's not just Inox that supplies to Delhi : Dabra
I don't think it is correct exercise of 226 : SG Mehta
Piyush Goyal from Central Government: Delhi govt officials said they did not get any distress calls. What went wrong is that on Thursday and Friday, there were directions by Delhi govt officers to Inox
They forgot to consult the suppliers. The remaining 28 hospitals including Jaipur Golden, there was no tie up .. I could not sleep at all that night. There was no proper system is place. Next day be spoke to CHief Secretary and it was set right : Goyal
Delhi govt officials have worked hard in the last two days. We got four new tankers from Linde and we reached out and arranged for Emergency supplies. Today also a lot of supply is coming : Goyal
Tanker for Roorkee was also arranged. Yesterday a system with GPS tagging was also rolled out, says Goyal
When they go back to fill up, we keep getting real time location. Physically also, staff is placed on borders to check location. Delhi govt officials are working : Goyal
We expect Centre to use their power. Tanks should not have been obstructed: Court

Consequences will follow. If any supplier faces this difficulty, please leave on email to central government: SG Mehta
Court says there should be one officer for this purpose.

Please put it on website: Court

We'll give it to suppliers: SG Mehta
Another counsel says a group of hospital who relies of oxygen cylinders was not supplied oxygen.
Supplier totally refused: Counsel

We have information that they are being sold in black market: Court
We are also apprehensive : Mehra
Mehra takes the court through Delhi govt order.
We have distributed pro rata wise allocation: Mehra
Allocation is greater than current demand if 490 comes in.. : Mehra
Every hospital can function if they know what they have for the next three days: Mehra
Mehra reads order on reporting of supply of oxygen.
It is fallacious to say that Delhi govt has woken in the last two days : Mehra
I've been personally doing this last night (sending SoS calls on Twitter to the Delhi govt official): Mehra
No sane person would like to act against people who are lifeline of city. All we are asking is how much are you providing, to whom, what time, who is the driver: Mehra
Basixc info is definitely called for. That should come. When are so pressed, if you increase paper work every two hours.. twice a day should suffice: Court

We are receiving so many SoS calls: Mehra
Let it be twice a day.. you are not receiving as many SoS calls for whatever reasons,.. supply is less or occupied beds are less : Court
Mehra says there is one more order.

Order is to all suppliers, asking them to give day wise projections.
Order is for the time being till the allocated amount actually reaches Delhi.
Our officers are only on fire fighting situation: Mehra
Driver will drive or keep answering the calls: Court on direction to give driver's number

Driver has an assistant. We'll bring that change: Mehra
We are yet to reach the optimum of 490. We can only come to the allocation of 300.. suppliers should say they can send additional the next day. They have committed timelines: Mehra
We are only here as a facilitator: Mehra
Root of the issue is supply is 309 and demand is greater. Fact is there is short supply. What we need on fourr hour basis from Delhi govt is how much of 490 will come in : Jain
Court says Delhi govt doesn't know.
It should not be that one hospital gets larger supply and another gets nothing : Court
Per day requirement is worked out. 490 has not come in. We don't know when it would. You going to supply what is allocated.. you should be in a position to say.. instead of 250, I'll do 200 or 260. It shouldn't be that this is violated : Court
We don't have to increase your paperwork.2 hour update can be reduced but intimation has to come (for transperancy).. supply shouldn't be at the cost of another hospital: Court
We are happy to sit with Delhi govt : Jain
Let us allocate hospitals to each supplier : Jain
I will give uninterrupted supply if given clear directions: Jain
We have lots of people who are down with COVID. We are short staffed. If we could get manpower : Jain says Delhi govt should depute one official at the site.
Chief Secretary, Delhi govt joins.

I request court to put questions and not Mr Mehta.

When the Court calls, an All India level officer should come : SG Mehta
Need of the hour is.. how is it being managed and distributed. Some orders have been issued. Everything that appears logical may not be practical. You can have a meeting .. : Court
Have a meeting today itself if possible. Work out a way.. best people who know how to work a system is people who have been working the system: Court
The bottom-line is that all officers and most people in Pvt sectors are trying to help .. people are doing it as humanitarian services.. make it reasonable: Court
Kindly have that meeting today itself.. work out how you want to.. today a lot of hospitals are not taking admissions: Court
Where do the patients go. People will die at home. Due to lack of certainty, hospitals are on the tenterhooks: Court
People take him (Inox) with our suppliers (and have a meeting) : Court

CS Delhi : we have been having meetings. But we'll have a comprehensive meeting.
They have existing contracts...it would be better if suppliers are allowed to supply to hospitals they have been. Of course allocation would vary : Court
He is one of the finest officers. He is the most pro active person : Mehra
We are doing what we ought to do. As a govt, I don't need to highlight it over and over again: Mehra
Mehra thanks SG Mehta for making certain calls.

As a State, I need to thank him.. both govts have worked overtime: Mehra
We have taken initiatives for augmentation of tankers. Proposal has come in writing from a maker. 18 tankers.. proposal has been placed. They will come in 3 batches..if Indian Airforce can facilitate: Mehra

We don't have to pass an order. Make a request at Govt level: Court
Mehra asks for green Corridor once tankers reach from outside India.

SG Mehta says that order is already there.
Tankers are coming through road from JSPL. That will also help us. All out efforts are being made by Centre: Mehra
Mehra says custom clearance, duty waivers can be provided.

It is done for all States. We are fighting it as a nation : SG Mehta
With respect to availability of tanker through Maharaja Agrasen, Court asks CS to take a call.

Counsel raises issue of distribution of cylinder.

Court observes that it was informed that one oxygen cylinder was for one lakh.
Oxygen cylinder is your baby.. you have power under the Act. If someone is indulging in black market, that person has to be taken to task : Court
Centre has gone out of the way.. any State or UT wanting to import, we said reach out to us : Goyal
It has to be done departmently.. we don't want to get into it : Court
We have made provisions for running of trains : Goyal
JSPL is coming by train. It has been allocated as a special case : Goyal
We are not a post box that you put in your request here.. : Court on Mehra's queries with respect to tank imports.
Court begins recording the order.
RT PCR testing:

We have already directed centre to take steps to prioritise clearance of customs.. :Court

Adv Rakesh Malhotra says there are shortage of kits.

What can we do. Labs have to see. Please interrupt if absolutely necessary: Court
..and all that is required to set up steps. Mr Sharma brought to our notice the direction to custom officers. SG states that Cneter would call for report. Let report be called for as to how many such import are pending and how many are held up. Let it be placed.: Court
SG Mehta says let this order be not passed.

We should at least know what the numbers are : Court

I've nothing to hide.. monitoring something that is being looked into.. is not required..PM himself is ..it is not necessary for the court : SG Mehta
Then it becomes an open forum. Everybody starts discussing.. : SG Mehta

Sensitisation doens't translate...once you call for figures, it facilitates: Court

We have an issue in it becoming part of court record. The court may see : SG Mehta

Okay, you give in sealed cover: Court
Oxygen supply:

Court records submissions and communications between authorities/persons.
Court records the Delhi communication sent to Sajjan Jindal.

Delhi govt also has certain apprehensions: Mehra

We are trying to help you : Court
Court records SG Mehta's submissions on the letter and that distribution of oxygen is with the Central government only.
Mr Mehra states that communication was in context of Supply of cryogenic tankers, Court records

We permit GNCTD to pursue the communication and procure the tankers. Oxygen supply has to be on Center's direction: Court
Court records Maharaja Agrasen's submission on request to GNCTD on procurement of one tanker not being responded to.

Let Mr Agrawal, hospital interact with the CS, Delhi : Court
It's not as if their supplies were stopped: Mehra

We are not attributing motives. Fact remains that there has been a lapse. It can be rectified: Court
Mehra urges Court to record submissions on utilisation of excess oxygen.

You bring excess capacity to their notice : Court

Central govt knows about each industry: SG Mehta

We don't have to note anything : Court
Court records submissions on point of supply by Inox.
Court records submission on tankers being held up by Rajasthan.

SG Mehta assures strict action would be action: Court

Immediately it was brought to our notice..and it was immediately released : SG Mehta

Some responsibility has to be fixed: Court
Goyal makes submissions in this regard.

Rajasthan has its own concerns.. we have bene following up. We don't know if it has been released: Goyal
We hope and expect Rajasthan to honour the order passed by Centre and this court. Intervention in the matter of supply of oxygen would tantamount to endangering 100s of human lives. Serves no purpose to anyone to obstruct : Court
Since Centre is mindful of the needs, States should inform the Centre: Court
Mr Mehta you have to ensure that tankers at released.. at political leadership level, this has to be sorted : Court
Court records submissions on supply, distribution of oxygen.
Compliance required to be made by suppliers are every two hours, court records.
Court records submissions on holding a meeting with stakeholders.
The CS is present and agreeable to call a meeting today itself with stakeholders : Court
Meeting shall be held today itself at 5 pm. Without waiting for copy of order, intimation be made to all : Court
Whatever resolution is arrived at, should be placed before the Court by tomorrow: Court
Court records submission that refillers are not providing information.

We direct all refillers to remain present during the hearing tomorrow. We direct them to comply with our order and present information to GNCTD: Court
Refillers to ensure that all supplies are accounted for else strict action would be taken, Court records..
We informed that GNCTD is in the process of importing 18 cryogenic tankers. 4 tankers have been arranged by GNCTD. We are hopeful that with infra been augmented supplies to Delhi would improve : Court
Senior Adv Malvika Trivedi points out the order passed by Court on acute shortage of COVID medicines.

We made suggestions.. : Trivedi

All suggestions are welcome: SG Mehta

You may send to Health Secretary, ICMR : Court

And GNCTD: SG Mehta
Trivedi urges Court to look at the suggestions.

We'll look at it tomorrow: Court
Mr Mehra, please look into the needs of whoever is there : Court
#OxygenShortage
All the modalities, protocol..you iron out when you meet with the CS at 5 pm : Court to hospitals
In the meeting, hospitals know their problems, officials know their logistical issues..agenda should be decided. They must come up with a concrete system that works without interference: SG Mehta
Compliances also have to be a reasonable way.. keep it minimal. Don't try to unnecessarily complicate: Court
We'll take it up tomorrow: Court

Hearing ends.