TODAY IN HISTORY
THE AICP-END BLOG
Contact Me:
[email protected]
TODAY IN HISTORY @ THE
http://AICPENDBLOG.COM
@
http://WORDPRESS.COM
SPRING SESSION 2021
BLOG POST #3,878 AT THE AICP-END
DAYS UNTIL ELECTION DAY 2022: 563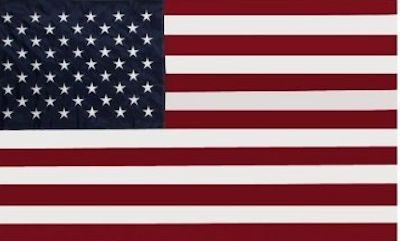 115. TODAY IN HISTORY—SUNDAY, APRIL 25, 2021: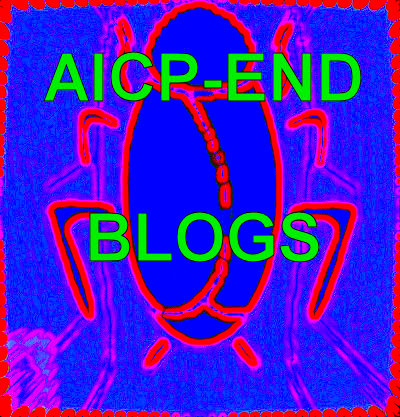 DAY NINETY-SIX OF THE BIDEN REGIME
U.S. Supreme Court Associate Justice William J. Brennan; U.S. Attorney General George Henry Williams; Acting U.S.
Attorney General Dana Boente; Russian leader Boris Yeltsin; Creedence Clearwater Revival featuring Stu Cook, and Tom Petty and the Heartbreakers featuring Steve Ferrone:
- 1507 Thursday: Germany produced a world map in which cartographer Martin Waldseemueller used the name, "America" for the first time to describe the North American Continent in honor of Italian navigator, "Amerigo Vespucci.
- 1607 Wednesday: At the Battle of Gibraltar, a Dutch fleet decimates the combined Spanish-Portuguese fleets.
- 1660 Sunday: English Convention Parliament votes to restore Charles II to the throne.
- 1684 Tuesday: The creator of the thimble received a patent on this date.
- 1792 Wednesday: Highwayman Frances J. Pelletier becomes the first man put to death by the Guillotine.
- 1846 Saturday: The opening stages of the Mexican-American War commence as conflict begins over the disputed border of Texas.  The outcome of this war would fix the border between Texas and Mexico at the Rio Grande River.
- 1859 Monday: Groundbreaking for the Suez Canal commences on this date.
- 1862 Friday: During the Civil War, a Union fleet commanded by Flag Officer David G. Farragut captured the Rebel city of New Orleans.
- 1875 Sunday: The 32nd U.S. Attorney General George Henry Williams left office on this date.  First a Democrat and then a Republican, he served under President Ulysses S. Grant from December 14, 1871 until today.
- 1881 Monday: France occupies both Algeria and Tunisia on this date.
- 1898 Monday: The United States formally declared war on Spain.
- 1901 Thursday: New York Governor Benjamin Barker Odell, Jr., signed an automobile registration bill, which imposed a 15-mph speed limit on highways.
- 1906 Wednesday: In Newark, N.J., future 90th U.S. Supreme Court Associate Justice William J. Brennan is born.  Nominated by President Dwight D. Eisenhower to fill Associate Justice Sherman Minton's seat, the Democrat served from 10-15-1956 to 07-20-1990.
- 1915 Sunday: During World War I, Allied soldiers invaded the Gallipoli Peninsula in an unsuccessful attempt to knock the Ottoman Empire out of the war.  The Russian Black Sea Fleet comes to the aid of their allies by shelling Turkish forts on the Bosporus.
On the Eastern Front, the Austro-Hungarians are making progress in the western Ukraine.  On the Western Front, it appears that the Germans are getting the upper hand in the Second Battle of Ypres.
- 1916 Tuesday: German zeppelin raids hammer the eastern British coastline while the RAF launch raids on German positions in occupied Western Europe.  Elsewhere, fighting between the Brits and Turks rages in Greece.
- 1917 Wednesday: The Turks continue tightening the noose around the Mesopotamian city of Kut where a large number of British and Indian troops are huddling, hoping their fellow troops will somehow manage to extricate them.  Starvation continues.
- 1918 Thursday: Heavy fighting continues in Western Europe as the Germans continue pressing their attacks against a crumbling British and French defensive force.
The Germans send tanks into battle for the first time having learned from the lesson the British and French inflicted on them with their introduction of armor.
On the Eastern Front, German and Finnish troops are making gains against the Russians who are preoccupied with their civil war while in the Crimea, German and Austrian troops continue their drive towards Sebastopol.
As long as the Russians won't completely come to terms with the Central Powers, their opponents are not going to give them room to breathe.
- 1925 Saturday: The people of Germany elect former General Paul von Hindenburg to the presidency.
- 1927 Monday: To quell an uprising in Morocco, Spain sends 20,000 troops to force an end to it.
- 1928 Wednesday: For the first time in recorded history, a blind person used a Seeing Eye dog.
- 1940 Thursday: Fighting continues in Norway as the Germans continue solidifying their gains and pushing the Norwegians and British troops back.
- 1941 Friday: With the war all but over in Yugoslavia and Greece, Adolf Hitler issues Fuhrer Directive 28, the airborne invasion of the island of Crete with which to strangle British shipping to their forces in North Africa.
- 1942 Saturday: Fighting to control the so-called 'Burma Road' continues between Allied troops and the Imperial Japanese.  On the Western Front, the Luftwaffe continues its bombing raids up and down the eastern coast of Great Britain.
- 1943 Sunday: Fighting in the Warsaw Ghetto continues as the Jews are determined to trade their lives for more of the German and Lithuanian police troops trying to round them up and deport them to concentration camps sprinkled across Poland.
The fighting is fierce with both sides giving no quarter.  Jews captured by the Nazis are shot where they stand while Jews use Molotov cocktails and homemade bombs to kill German troops and set ablaze their vehicles.
- 1944 Tuesday: The United Negro College Fund incorporates on this date.  Elsewhere, in World War II, the Luftwaffe carries out nighttime bombing raids against British shipping in Plymouth and Portsmouth.
- 1945 Wednesday: During World War II, U.S. and Soviet forces linked up on the River Elbe, a meeting that dramatized the collapse of Nazi Germany's defenses.  The Russians also finish their encirclement of Berlin on this date and prepare for the major battle to come.
The Americans launch the last Boeing B-17 attack on Nazi Germany.  Meanwhile, Stu Cook, future bassist of the rock band, Creedence Clearwater Revival[i], was born on this date in El Cerrito, California.
Finally, delegates from about 50 countries met in San Francisco to organize the United Nations.
- 1950 Tuesday: Chuck Cooper becomes the first black man to play in the National Basketball Association.  Elsewhere, Steve Ferrone—drummer with Tom Petty and the Heartbreakers[ii] 1997-present—was born in Brighton, England, on this date.
- 1952 Friday: The Minneapolis Lakers beat the New York Knicks, four games to three; to win the 3rd National Basketball Association's Finals and their second win.  Game 7 saw the Lakers win by a score of 82-65.
Elsewhere, the American Bowling Congress approves the use of automatic pinsetters.
- 1953 Saturday: Sen. Wayne Morse ended the longest speech in U.S. Senate history.  The speech on the Offshore Oil Bill lasted 22 hours and 26 minutes.
- 1954 Sunday: During the infamous Mau-Mau Rebellion in Kenya, British troops surround and arrest 25,000 suspects in Nairobi.  Meanwhile, Bell Laboratories announced the prototype manufacture of the first solar battery.
Elsewhere, the fight at Dien Bien Phu continues with today being the first official day of the monsoon season.  Cloud cover prohibited close air support and paratroop drops while troops on the ground on both sides had to wade through water knee-to-waist-deep in the trenches.
Bunker positions and strongpoints filled with cold water and wounds began to fester even more.   Still, French forces cling to hope of either a rescue/breakout mission from the south or that the United States will enter the struggle on the side of the French.
Meanwhile, communists prepare their forces for the upcoming third phase of the battle, the one with which, they hope to win the battle and to then drive the French from Indochina for good.
- 1959 Saturday: The St. Lawrence Seaway—linking the Great Lakes to the Atlantic Ocean—opens for business on this date.
- 1960 Monday: The USS Triton completes the first submerged circumnavigation of the world.
- 1961 Tuesday: The federal government granted a patent to Robert Noyce for the integrated circuit.
- 1962 Wednesday: The U.S. spacecraft Ranger crashed on the Moon on this date.
- 1965 Sunday: In the 19th NBA Finals, the Boston Celtics beat the Los Angeles Lakers 4 games to 1.
- 1967 Tuesday: Colorado Governor John Love signed the first law legalizing abortion in the United States.  The law limited abortion ONLY to therapeutic ones that required unanimous agreement from a panel of three physicians.
- 1971 Sunday: 200,000 anti-Vietnam War protesters march on Washington, D.C.  On the other side of the globe, the nation of Bangladesh underwent establishment.
- 1972 Tuesday: Polaroid Corp. introduced its SX-70 folding camera which ejected self-developing photographs.
- 1975 Saturday: Terrorists blow up the West German embassy in Stockholm, Sweden.
- 1976 Sunday: Chicago Cubs centerfielder Rick Monday rescues the American flag from two fucked-up fans trying to set it on fire at Dodger Stadium.
- 1979 Wednesday: A peace treaty between Israel and Egypt goes into effect.
- 1980 Friday: President Jimmy Carter announces the botched rescue attempt of the American hostages held in Iran.
- 1982 Sunday: In compliance with the Camp David Accords, Israel finishes its withdrawal from the Sinai, handing it back to Egypt.
- 1983 Monday: 10-year-old Samantha Smith of Manchester, Maine received a reply from Soviet leader Yuri V.
Andropov to a letter she'd written expressing concern about possible nuclear war; Andropov reassured Samantha that the Soviet Union did not want war, and he invited her to visit his country, a trip Samantha made the following July.
- 1990 Wednesday: Astronauts aboard the space shuttle Discovery place the Hubble Space Telescope into orbit on this date.
Unfortunately, NASA later learned that the telescope's primary mirror was flawed, which resulted in the reinstallation of corrective components to achieve optimal focus.
- 1993 Sunday: Russia elects Boris Yeltsin as its leader.
- 1997 Friday: The Seattle Mariners' Ken Griffey, Jr., hits his 250th home run.
- 2004 Sunday: Hundreds of thousands of Pro-Death marchers take to the streets in Washington, D.C., in protest of President George W. Bush's Pro-Life policies.
- 2005 Monday: In Thailand, a Finnish citizen finds himself in deep trouble in a country that seemingly makes pedophilia a legitimate business as his accusers claim he has abused 445 boys and possibly more.  Wow.
Elsewhere, people from the countries that fought at Gallipoli during World War I from both sides convene to remember the 90th anniversary of disaster for the Allies and of victory for the Central Powers.
- 2006 Tuesday: Following an exhaustive investigation, Philippine authorities charge 48 people with rebellion in the attempted coup against President Gloria Macapagal-Arroyo that occurred back in February 2006.
Elsewhere, cocky jihadist thug, Abu Musab al-Zarqawi appears unmasked in a terror tape, laughing at the 'American-led crusaders' and blasting President George W. Bush by name.  The POS would get his.
- 2007 Wednesday: Here is a strange story: at the Mt. Everest Base Camp, Chi-Com authorities arrest FOUR Americans who were supposedly protesting AGAINST Chi-Com occupation of Tibet as well as against the upcoming Beijing Olympics.  Sounds crazy, we know.
Still, Tibet should be FREE.  Where the hell is the United Nations?
- 2008 Friday: Thanks to the Israeli blockade around the jihadist Gaza Strip, the United Nations UNRWA is halting attempts to get 'aid' to the Palestinians due to fuel shortages.  Meanwhile, Palestinian leader Mahmoud Abbas is meeting with President George W.
Bush even as Fake News reports continue to claim the Bush administration is secretly encouraging the Israelis to continue building settlements around the country but especially within Jerusalem.
- 2009 Saturday: In the midst of a mysterious swine flu outbreak that has killed at least 68 people and sickened more than one-thousand others, Mexico declares a national emergency and calls for help in combatting the disease that somehow made its way out of the People's…
…Republic of China.  Meanwhile, in the NFL Draft, QB Matthew Stafford of Georgia is the first pick of the Detroit Lions.
- 2010 Sunday: Brilliant scientist Steven Hawking warns his fellow Earthlings that maybe contacting extraterrestrials is not the wisest thing to do.
Elsewhere, in Kunduz Province in Afghanistan, an ongoing investigation is launched into who in God's Name is poisoning schoolgirls.  At least 80 girls have been poisoned and the only ones who would do such a barbaric thing are the Taliban who pull a Sgt.
Schultz saying, "We know nothing, we know nothing."  Opposed to girls and women receiving education of any kind makes them the prime suspects in this ongoing search for the truth.
- 2011 Monday: On a mission to destroy Muammar Gaddafi's forces, NATO jets fly over Tripoli and knock out three television stations.
Meanwhile, as Nigerian troops continue fighting with Boko Haram jihadists in the northern part of the country, human rights groups are wailing that '500 people have been killed at least and God knows how many more injured.'   Elsewhere, Iran claims that yet another cyberattack…
…has been launched against their country.
- 2012 Wednesday: South Korea announces that following the discovery of a case of Mad Cow Disease, NO more American beef will be sold in their country.
Elsewhere, the Cook County Circuit Court rules as 'unconstitutional,' a law recently slapped on
http://Amazon.com
and other Internet businesses and must be overturned.
- 2013 Thursday: All living former U.S. Presidents, including George W. Bush and current President Barack Obama, are present for the dedication of the George W. Bush Presidential Center in Dallas, Texas.
Elsewhere, New York City Mayor Michael Bloomberg announces that the FBI had given him a terror briefing, letting him know that the Tsarnaev Brothers next target after the Boston Marathon bombing was the Big Apple.
- 2014 Friday:  China updates its environmental laws, providing additional legal framework for addressing violations; the laws were last changed in 1989, prior to the nation's accelerated growth and rate of environmental degradation.
Elsewhere, North Korea- up to their old tricks as usual- detains American tourist Mathew Miller Todd, a 24-year-old tourist, because he was 'acting rash' while passing through customs.  WTF are you doing there in North Korea, son?
- 2015 Saturday: The 100-year anniversary of the failed Gallipoli landings by ANZAC forces during World War I occurs on this date.  For the Turks, it was a victory and for the British, Australians, and New Zealanders, it was a bloody disaster.
Elsewhere, following the death of Freddie Gray in Charm City, aka Baltimore, Maryland, protesters are running amok in the streets leading law enforcement to arrest at least a dozen violent rioters.  Can't we all just…get along?
- 2016 Monday:  In the beautiful Mexican vacation town of Acapulco, police find themselves in a running gun battle with Mexican cartel gangbangers.  The shootout goes on for two hours but amazingly, only one gunman was killed with no police casualties other than a minor wound.
However, in another part of town, cartel bangers attacked a federal police base in the city with no effect, all because the police scooped up a high-ranking cartel boss known as "The Donkey."
- 2017 Tuesday: Acting U.S. Attorney General Dana Boente stepped down from his post today.  A Republican, Boente served under President Donald J. Trump from January 30, 2017 until today.
Elsewhere, the USS Michigan, a guided missile submarine, docks at the South Korean port of Busan as tensions continue to rise between the United States and Kim Jong Un's North Korea.
- 2018 Wednesday: Sacramento County, California, sheriff's deputies arrest Joseph James DeAngelo, a former California law enforcement officer, believing him to be the infamous Golden State Killer.
This slime ball committed a string of violent crimes between 1973 and 1984 and eventually was convicted of at least 13 murders, 50 or more rapes, and at least 250 burglaries.
Apparently, he committed his crimes in at least three different crime sprees between the years mentioned.
- 2019 Thursday: Former U.S. senator and Vice President Joe Biden announces his bid for the 2020 Democratic Party's White House presidential nomination.
Elsewhere, the Ukraine passes a law stating that ONLY Ukrainian will be the language of everything in their country and NO Russian bulls**t.  Of course, the 'Russian separatists' are horrified at such a horrendous law.  (We need an English-only law in the United States…)
- 2020 Saturday: Speculation continues to swirl around North Korean leader Kim Jong Un- is he or is he not still alive?  He purportedly had some sort of cardiac issues but no one knows for sure.  We continue to await further developments.
Meanwhile, on the COVID-19 battlefront, the world reports 2,892,508 cases this Saturday what with 202,455 deaths but at least 815,658 confirmed recoveries.
In the U.S., the number of confirmed cases rests at 956,375 confirmed cases what with 53,928 confirmed deaths but 102,340 confirmed recoveries.  Some states such as Georgia and Colorado have announced re-opening of their economies and we await further developments on this front.
Back to COVID-19, the communist Chinese continue sticking with their bulls**t statistics that they have but 88,423 confirmed cases what with 4,632 confirmed deaths, and 81,725 confirmed recoveries.  Pay no attention as communists like jihadists always lie.
- 2021 Sunday:  Stick around and discover the truth along with us…
BEVERLY CARRICK ORIGINAL ARTWORK OF THE DAY: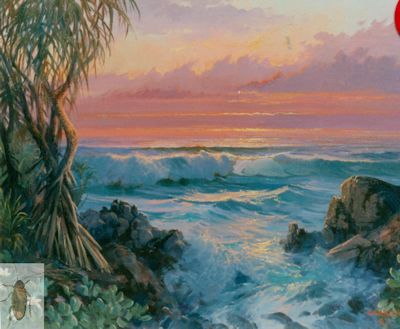 This artwork is #0445 a 18" x 24" original oil painting by Beverly Carrick, which, she entitled, "Keanae Coast."  It is among her more beautiful works and is available for sale.
At her Website, you will see not only more original oil paintings but also lithographs, giclees, prints, miniatures, photographs, and even her award-winning instructional video entitled, "Painting the Southwest with Beverly Carrick."  Beverly has been painting for more than 60…
…years and known around the world for both the beauty and timelessness of her artworks.  Hanging in private and public galleries and followed by many fans encircling the globe—her works instill awe because of her artistic brilliance and personal beauty.
We urge you to go to her Website NOW and view her work.  It is possible that you will find something you like and will want to buy it for yourself, a friend, a loved one, or a neighbor!  You will not be disappointed so please: do yourself a favor and go there IMMEDIATELY!
Thank you, the American Institute of Culinary Politics-Elemental News of the Day!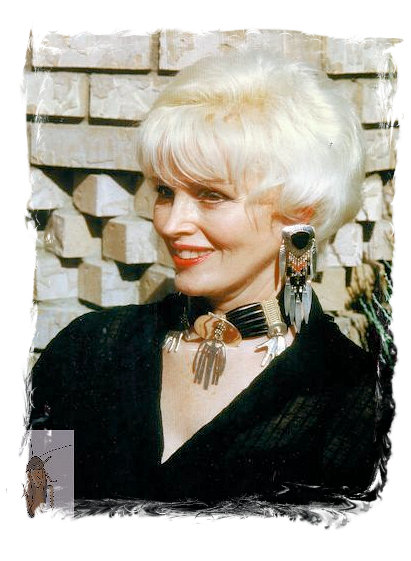 Beverly Carrick: The World's Greatest Artist (1927-2012)
Pictures #0001-1495
ALBUM OF THE DAY AT THE
http://AICPENDBLOG.COM
: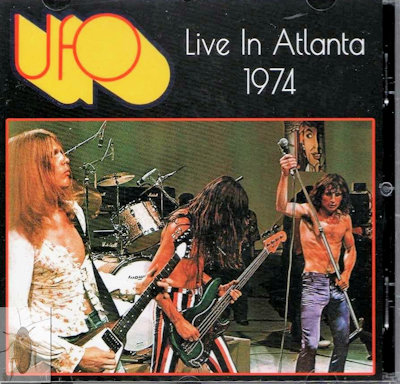 The archivists at UFO released another live gem from the long ago past, "Live in Atlanta 1974" on July 17, 2018.
The band features the quartet of Phil Mogg (vocals), Michael Schenker (guitars), Pete Way (bass), and Andy Parker (drums) and on the bonus tracks, Paul Chapman plays the second guitar.
Say what you will, UFO could put on a show and here, you get some important earlier tracks and a cover or two not performed in later years.  We hope you will visit whomever you do for the finest in rock music and giving it a good listen.
Once you do, you will be as hooked as we are.  Please enjoy.