Who is Reelecting Mitch O'Farrell? New GIS map Shows Contributions by Zip to Reelection Campaign
A thread

https://jimbotimes.com/2021/04/24/who-is-reelecting-mitch-ofarrell-new-gis-map-shows-contributions-by-zip-to-reelection-campaign/
An analysis of data from the L.A. Ethics Commission shows that at least 75% of funds for Mitch O'Farrell's reelection campaign for Council District 13 (CD-13) in 2022 are from outside of District 13.
At the end of 2020, O'Farrell's office reported a total of just under $110,000 in funds for his reelection campaign.
CD-13, made up of Atwater Village, East Hollywood, Echo Park, Elysian Valley, Glassell Park, Historic Filipinotown, Hollywood, Little Armenia, parts of Koreatown, Thai Town and Silver Lake, is up for an election on June 7, 2022 (
https://jimbotimes.com/2021/03/25/an-open-letter-to-mitch-ofarrells-office-in-cd-13-439-days-to-june-7-2022/
).
The choropleth map below, shaded from light to dark-red to highlight least to largest quantities, shows which zip codes have contributed the most dollar sums to Mitch O'Farrell's reelection campaign in 2022 as of December 31st, 2020.
Zip codes on the choropleth map represent donations in aggregated sums, meaning that zip codes do not represent individual households, but the total sum of donations from different households within the given zip code.
Council District 13 is roughly contained on the map by the red 90068 and 90028 segments to the west, the dark-red 90026 segment to the south-east, the red 90065 segment to the north-east, and the 90039 and 90027 red segments in the center.
All other segments highlighted on the map around these "flank" segments are not a part of CD-13 but are segments containing donors to the 2022 campaign.
Zip codes for Council District 13 are: 90004, ranging from Rampart Village to Hancock Park; 90026, where Silver Lake and Elysian Valley are based; 90027, including Little Armenia and parts of Los Feliz; 90028, or the Hollywood area; 90029, where East Hollywood and Thai Town are…
…located; 90038, representing Melrose Hill through Hollywood up to La Brea; 90039, spanning from north of Elysian Heights through Atwater Village; 90057, including Historic Filipinotown; 90065, for Glassell Park; and 90068, for the Hollywood Hills.
While households in zip codes for Echo Park, Glassell Park, and Hollywood form the top three areas for donations to Mitch O'Farrell's reelection campaign with nearly $17,000 between them, fourth in contributions are households from 90210 ($4,200), where Beverly Hills is based.
The only zip code not listed for donations to the reelection campaign was 90029 (let's keep it this way, East Hollywood).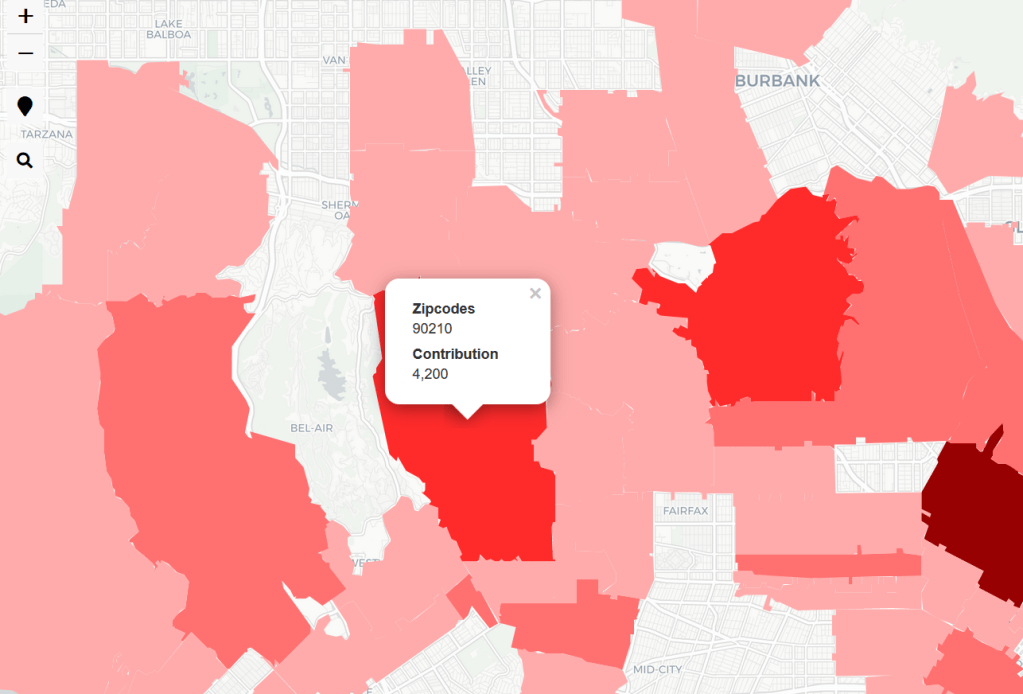 To the west of Hollywood, only ten zip codes, not including 90210, contributed nearly $15,000 to O'Farrell's reelection campaign in the roughly two months since the Council Member announced his intention to run for his third term as CD-13's representative.
O'Farrell publicized his intention to run for a third seat in an email to constituents as early as November 2020.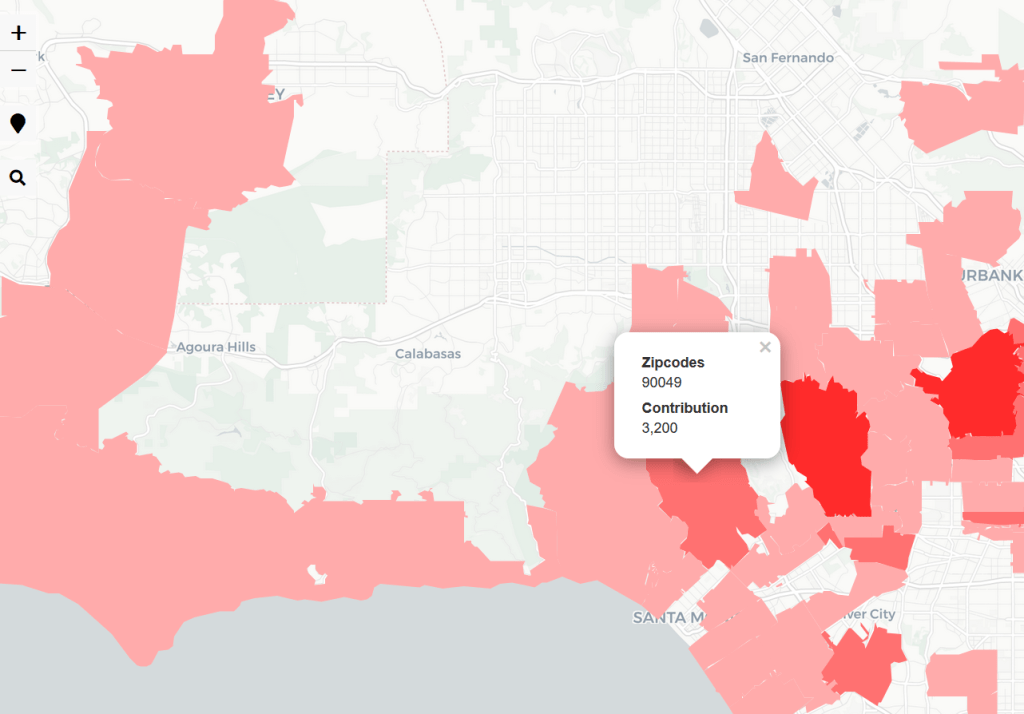 A total of 83 zip codes reflecting just under 200 donations for O'Farrell's reelection were included in the analysis, including zip codes as far out as Westport, Connecticut ($250), West Bradford Township, Pennsylvania ($1,600), and even Washington D.C. ($500).
At 75% of money from donors outside the district, O'Farrell's funds for reelection in 2022 virtually mirror the rate of "outside" donors when he ran for his second term for the office from 2016 - 2017.
In 2017, real estate investor Leeor Maciborski was fined $17,000 for a number of discreet donations from limited liability companies (LLCs) to O'Farrell's first campaign for the 13th district in 2013.
He was not listed among O'Farrell's donors list as of the end of 2020.
But accounting for just under $15,000 for O'Farrell's 2022 campaign are at least 24 donors identifying themselves as real estate developers or representatives. Zip codes listed for these donors were as far north as Santa Clarita, and as close to the coast as Manhattan Beach.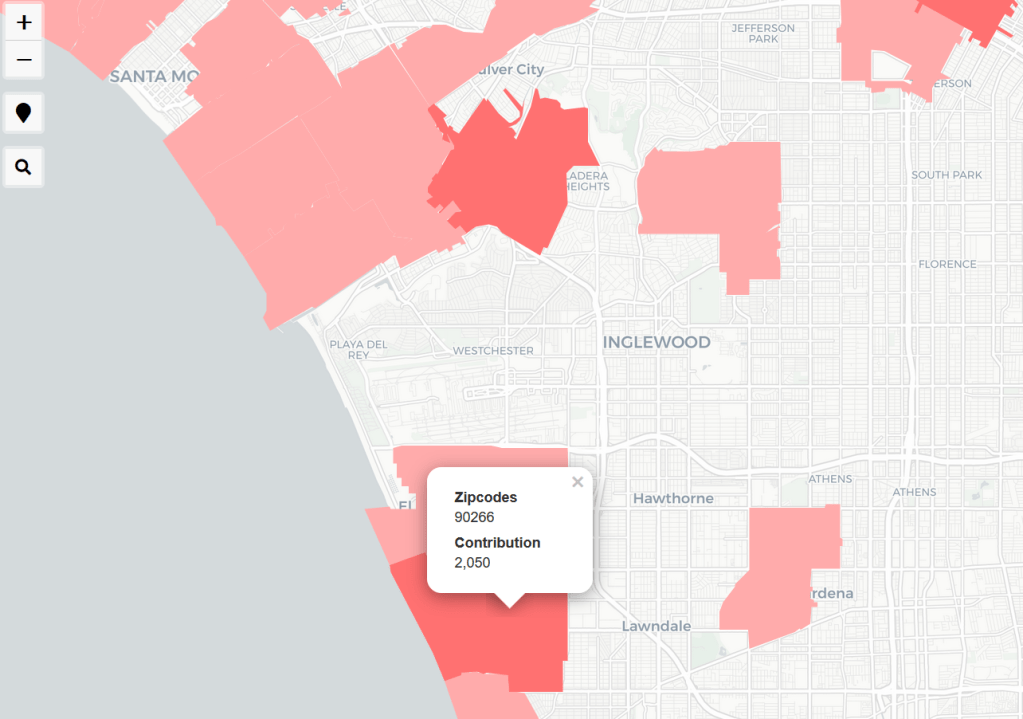 In 2019, after FBI agents raided former Council Member Jose Huizar's home in a bribery case involving him and a downtown real estate tycoon, L.A.
City Council voted to ban real estate developers from donating to candidates for political office while their projects are pending approval from the council.
However, the ordinance was called a "skeleton" of what was originally proposed by groups focused on getting money out of politics, and does actually not go into effect until after the 2022 elections.
This "late start" is why virtually all of the incumbents at L.A.
City Hall for elections in 2022 are enjoying head starts in finance against their challengers, ranging from tens of thousands more to hundreds of thousands of more dollars for ads, mailing campaigns, staff, and more.
The only other candidate in the race for CD-13 other than O'Farrell at this time, Albert Corado, has reported raising just slightly over $11,000 for the campaign. As Rob Quan, of the Unrig L.A. organization once put it:
It's likely for this reason that conspicuously absent from the O'Farrell reelection campaign's donation list are non-profit affordable housing developers, bus-drivers, cooks, nannies, groups representing street-vendors, tenants unions and renters associations, teachers, student…
…bodies, immigrants rights coalitions, advocacy groups for the unhoused, and more of the people who actually live in the 13th district but are exceedingly priced out of its boundaries and Los Angeles altogether.
Mitch O'Farrell has held the office for CD-13 since 2013, and is now seeking his third and final term for the district's council membership at L.A. City Hall. The previous Council Member for the seat, Eric Garcetti, held the office from 2001 - 2013.
Support for this map was provided by friends at the Institute of Digital Education and Research at UCLA.

J.T.