I have a
#LongRead
piece (8,600 words, oof) out breaking down why Canada and Europe, despite their vaunted public healthcare systems, have failed miserably at a rapid vaccine rollout, yet private-healthcare America and Brexit Britain lap the world.

https://www.jacobinmag.com/2021/04/neoliberal-state-failure-covid-19-vaccine-distribution
The debacle of the emerging Vaccine World War, and indeed the disastrous response to the pandemic more broadly, is primarily a story of neoliberal state failure.
As we parse explanations for the wide variation in vaccine rollout around the world, it's clear there's been a 4-decade-long hollowing out of Western *state capacity* that has left governments less capable of performing their first, foundational duty: protection of their citizens
Where there *has* been success, it is where there has been a partial or temporary reversal of this process of deterioration of state capacity, at least for this sector, or in locations where the fragilization of state capacity never fully took hold.
Boris Johnson bizarrely thanked "greed" and "capitalism" for the UK's vaccine success, but in both Britain and the UK, the results are the product of precisely the opposite: at least in the case of vaccines, a return to wartime/postwar-style command-and-control state authority.
It is a strange thing for this lefty to say, but thank god for Donald Trump's highly interventionist deployment of the Biomedical Advanced Research and Development Authority and its subsequent actions under the branding of Operation Warp Speed...
...Tory health minister Matt Hancock's supply chain micromanagement awakening after his PPE disaster last spring, and Joe Biden's aggressive use of the Korean-War-era Defense Production Act to in effect nationalise investment decisions and priorities.
Trump was such an omnishambolic disaster that it feels odd to credit him for anything positive, but Operation Warp Speed, BARDA and allied policy interventions will go down in history as one of the few things the West got right facing down Covid.

It was Trump's one heroic act.
Under OWS, direct funding and advance purchase orders removed the investment risk from vaccine development, and BARDA was backing research from as early as February 2020 before OWS kicked off.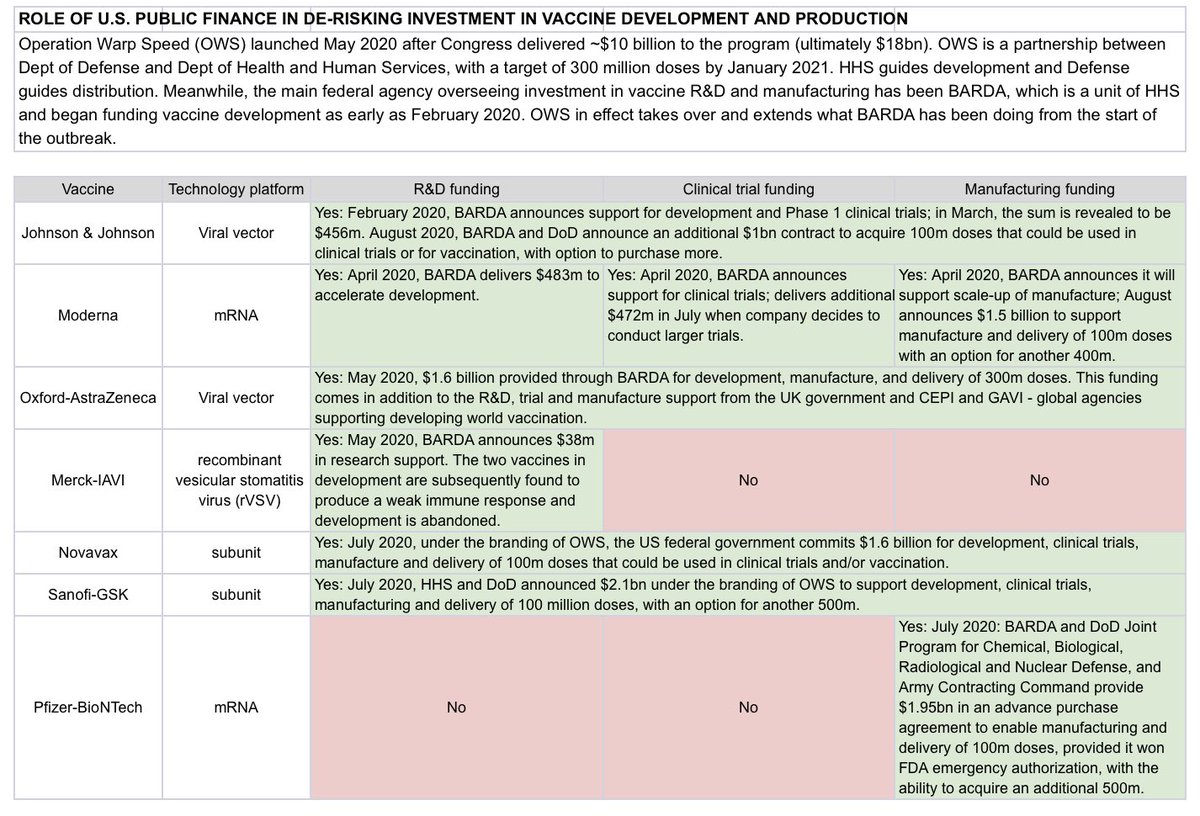 (The EU also spent a total of €3.6 billion on advance purchase agreements, but this is small pommes de terre compared to OWS's $18 billion.)
This de-risking by BARDA and OWS, and the advance purchase agreements in the case of those firms that did not participate in OWS, was crucial.

Even where there was no direct funding, it told investors that there was no longer risk in development.
OWS, BARDA, expedited regulatory approval, use of the Defense Production Act to prioritize contracts and in effect plan private investment, & operational supervision by military experts in supply chain management, delivered vaccines in months rather than the yrs that is the norm.
And by taking the mRNA vaccine platform from lab bench through to commercialization, industrial policy — not the free market — made this technology viable after years of languishing in university labs while risk-averse investors were nervous about backing an unproven innovation.
The incoming Biden administration to their great credit listened to logistics experts who had recommended an even more aggressive application of the Korean War–era DPA to supervise production and supply chains.
The DPA gives the executive the power to allocate materials, services, and facilities, and award contracts that take priority over any other contracts, "to promote national defense."
It is a wartime measure that in effect allows the government to appropriate from private decision-makers the right to allocate investment. And we are at war with the virus.