Lunchtime update from the Grenfell Tower Inquiry:
- Eddie Daffarn witness statement describes "heartbreak" at loss of Grenfell Tower community and feels he was "stigmatised as a trouble maker" by TMO in build up to fire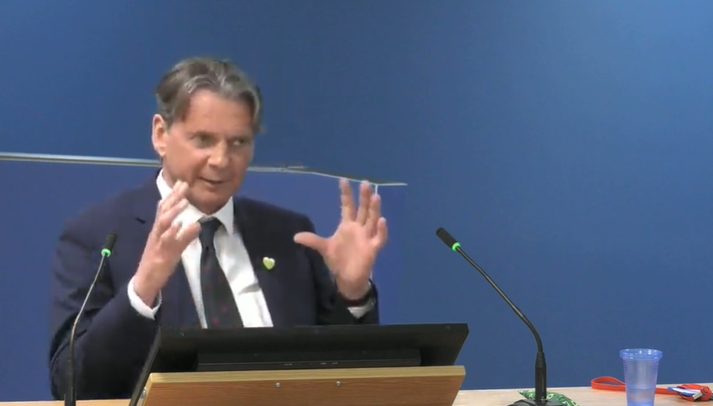 Several issues covered this morn, some highlights only in this thread. Started with discussions around the various resident groups in the estate: an Estate Management Board, the Lancaster West Residents Association and specific groups for the tower.
Mr Daffarn had been part of EMB up until its dissolution in 2013, but said he felt it had "no power" for "meaningful change". "You would sit in these meetings and the TMO would assault you with figures," he says.
Minutes from an EMB meeting in May 2012 show he queried whether the architects being appointed to refurbish the tower had any high rise experience. We now know they did not and were appointed without proper procurement process:

Says LWRA was "pretty much a non-functioning organisation" at this time, and this is why he helped establish the specific Grenfell Tower group in 2015. By this point, the EMB had been disolved
Explains a Grenfell Action Group blog, which he wrote with another estate resident, Frances O'Connor, was set up to create a record of what was happening. "We didn't have the power to change what was happening to our community but we didn't just want to let it happen"
Questioned about whether the language used was sometimes "strong stuff", he says it felt "absolutely, entirely appropriate for what we were receiving as victms of this organisation... looking back I don't think I would change a single word".
"The blog had its own personality, it was a way we could show some power and challenge people who weren't respecting us."
Asked why people complained via a local cllr rather than directly to the TMO he says: "They would have known that using the TMO complaints process was a complete and utter waste of time." Says after complaining frequently and not having it addressed, residents would give up
We also see what looks like a pretty sinister extract from a TMO board meeting in 2015, where they describe Mr Daffarn and the local cllr assisting him as a "negative force" and add there is concern "the unrest will spread to [neighbouring estate] Silchester"

Then move to some specific fire safety issues he raised. First, as the school next to Grenfell Tower was constructed in 2012, he raised concern that the removal of a car park could compromise fire fighter access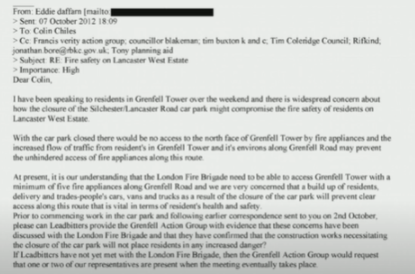 This complaint was regularly repeated down the years - with the blog posting images of emergency access spots outside the tower being used by other vehicles. We followed through several emails where it was raised, with TMO insisting its risk assessment said it was not an issue
We also saw a run of emails Mr Daffarn sent to the fire service in 2014 which raised particular concern about power surges in the tower, which he said had caused fires in flats and was not being properly investigated by the TMO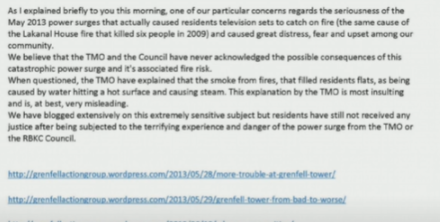 Said this episode increased a "general sense of unease" that health and safety issues with the tower were not being addressed properly. Also queried why there was no evacuation plan or assembly point in an emergency, to which he was told the tower had a stay put policy.
A lot of this questioning felt quite odd: there were several instances where the barrister Richard Millett pushed him on why he didn't ask certain things, or request certain documents from the TMO. In response to one such Q just before lunch he said:
"My explanation for that is this wasn't my full time job to be a risk assessor for Grenfell Tower... we did what we could... but that's why the email trail would drop off, because I didn't spend my whole life speaking to the LFB"
I think it's quite important here to say: Millett puts questions or lines of questioning put by various legal teams. We can never know which (if any) are from the TMO, RBKC or one of the corporates, which makes understanding the thrust of the investigation difficult sometimes
I think it's worth pulling some extracts from Mr Daffarn's witness statement also, which I'm yet to finish reading in full but I think get more to the heart of some of the concerns he had than the oral evidence so far.
Here, for example, he refers to a Rydon contractor dismissing a resident complaint by saying "I wouldn't mind if I were getting it for free".

Here, he describes how residents went without drinking water in the tower and the TMO failed to even deliver bottled water to residents

Here he describes the fears of the community being broken up and the estate demolished when he saw a 'decant policy' which meant they would not be guaranteed a home in the borough if it was 'regenerated'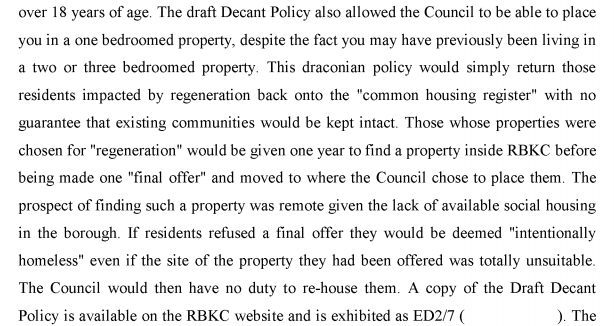 Here, he accuses the TMO of being institutionally biased towards him and stigmatising him as a trouble maker for raising legitimate concerns

And here, he records his "heartbreak" at the loss of the tower's community:

His evidence continues after lunch.