A parody of BTS on Chilean TV mocked the South Korean supergroup, associated its members with North Korea's dictator and made fun of the Korean language.
A clear message from ARMY, BTS's fan base, followed: Racist, anti-Asian rhetoric won't be tolerated.
https://nyti.ms/3dc3MmA
On the show "Mi Barrio," which aired on Saturday in Chile, comedians dressed up as BTS and introduced themselves by referring to Kim Jong-un.
Asked to say something in Korean, one spoke in accented gibberish.
https://nyti.ms/3g2KQIV
At a time of increased anti-Asian racism and violence around the world, outrage about the "Mi Barrio" episode quickly spread.
Some BTS fans linked the jokes to incidents of racism and xenophobia that have flared since the coronavirus surfaced in China.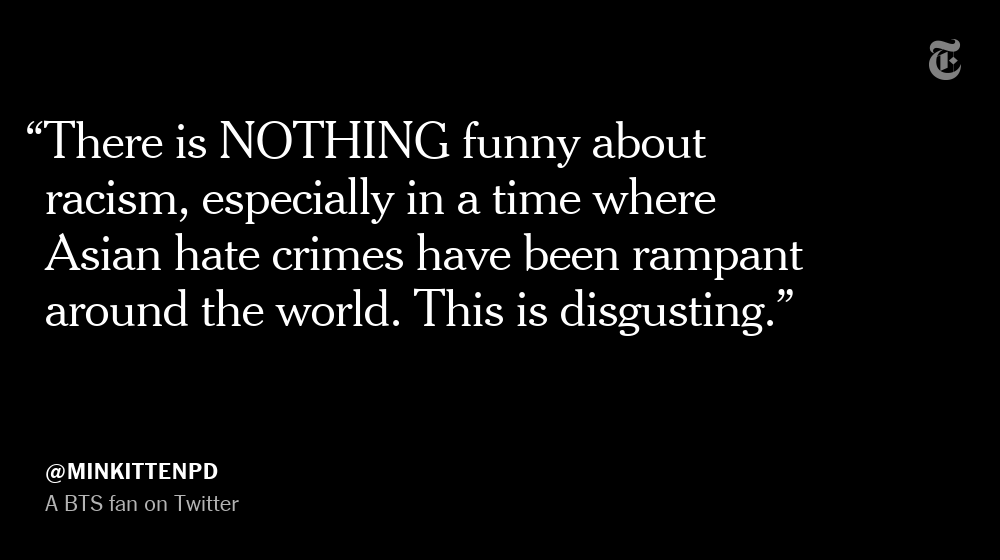 In addition to record-breaking runs at the top of the Billboard charts, dozens of platinum-selling singles and countless awards, BTS boasts a very powerful fandom. ARMYs use their might and numbers to promote BTS and rally for change.
https://twitter.com/nytimes/status/1316335245726113795
A Chilean BTS fan account pushed people to file a complaint with the National Television Council.

In a conciliatory, but not wholly apologetic statement, the show vowed to "continue to improve, learn, listen and strengthen our intention: to bring entertainment to families."
BTS has not commented on the "Mi Barrio" episode. But the group released a statement in March about increased attacks against Asians: "We stand against racial discrimination. We condemn violence. You, I and we all have the right to be respected."
https://nyti.ms/3g2KQIV