Two weeks later, there has still been no acknowledgement or disclosure of Brian Lilley's relationship from himself, the Sun, or Postmedia.
He continues to regularly write about the Ford government for the paper.
In August 2019, Postmedia's Calgary Herald published a message to readers on page A2 after journalist Sean Craig revealed that columnist
@LiciaCorbella
had been writing about Alberta's United Conservative Party despite having taken out a membership: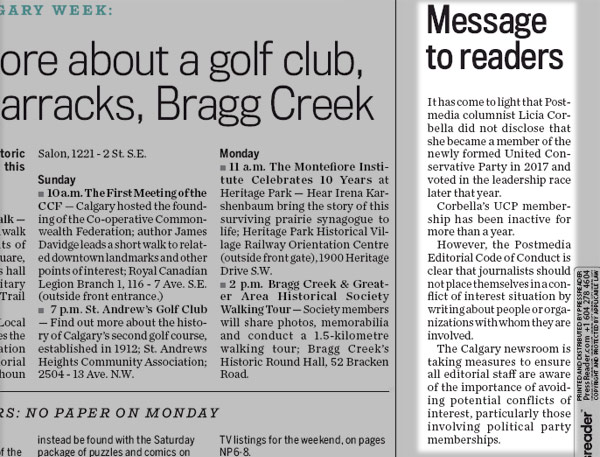 "…the Post­media Ed­i­to­rial Code of Con­duct is clear that jour­nal­ists should not place them­selves in a con­flict of in­ter­est sit­u­a­tion by writ­ing about peo­ple or or­ga­ni­za­tions with whom they are in­volved."
Postmedia did not respond to my questions about why it appears that the Lilley situation is being handled differently, nor how it squares with their editorial policies around conflict of interest.
"Oh, but it's the Sun," you might say. "They have different standards from the broadsheets."
"If she is writing about the issue, it creates the appearance of conflict," said James Wallace, the Sun's editor-in-chief at the time.

These days, Wallace is chief of staff to Premier Doug Ford.