BOOM. HUGE report here on the Republican Attorneys General Association and the meeting where donor corporations got access to *the top law enforcement officers of states* in exchange for cash - when they PLANNED THE INSURRECTION OF JAN 6.

https://twitter.com/BigElad/status/1364335691149303813
This is every kind of f**ked, but we're talking about a coup d'état, so to be expected.
- Planned the insurrection on the taxpayer dime
- Corporations were at a meeting including "war game" exercises against the election for $50k or more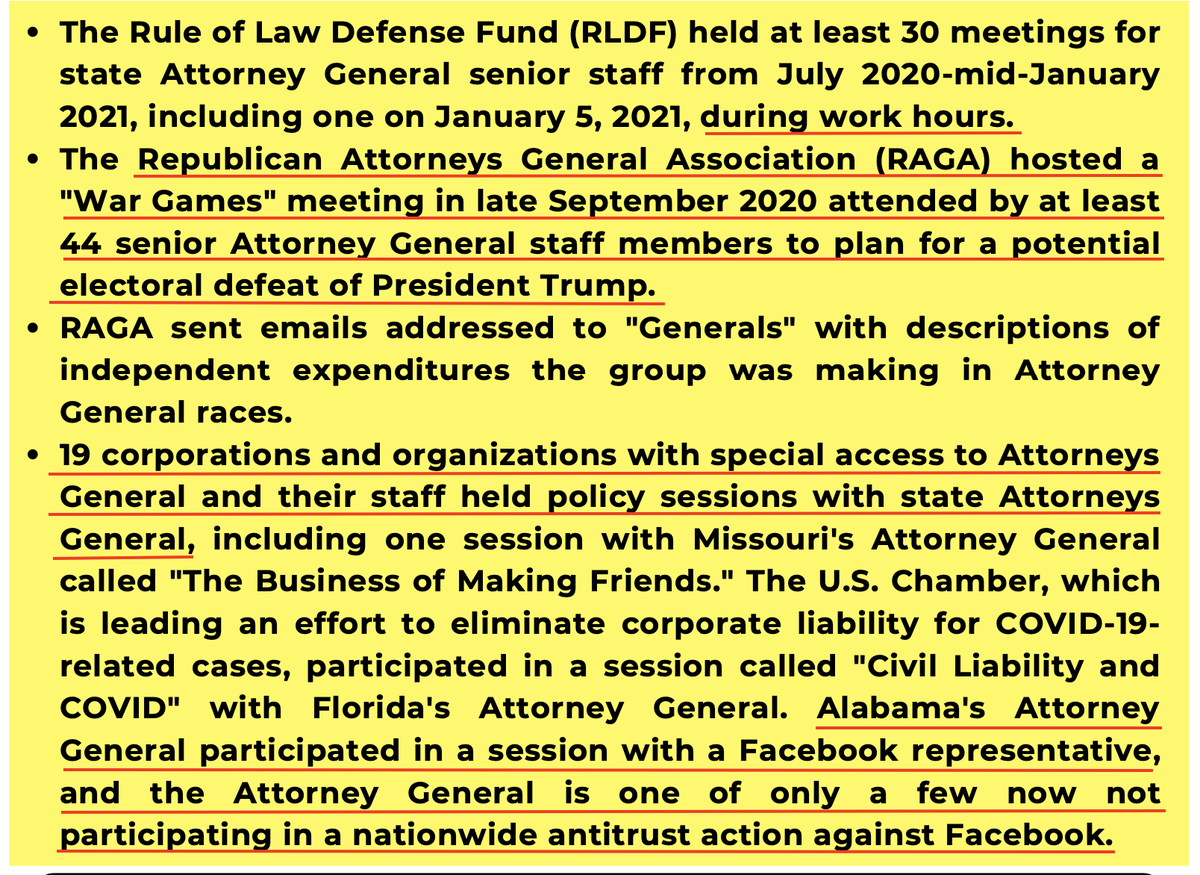 RLDF organized the robocalls to bring out the attendees who covered for the assault by Proud Boys, Oath Keepers, and other paramilitaries.
Alabama's Attorney General was buddied up with Facebook, apparently.

Bullshit, and consciousness of guilt.

So much is just insanely corrupt here, I'll just start with *since when can corporations lobby THE LAW ENFORCEMENT MECHANISM IN A STATE?*
Not politicians. THE FUCKING PROSECUTORS???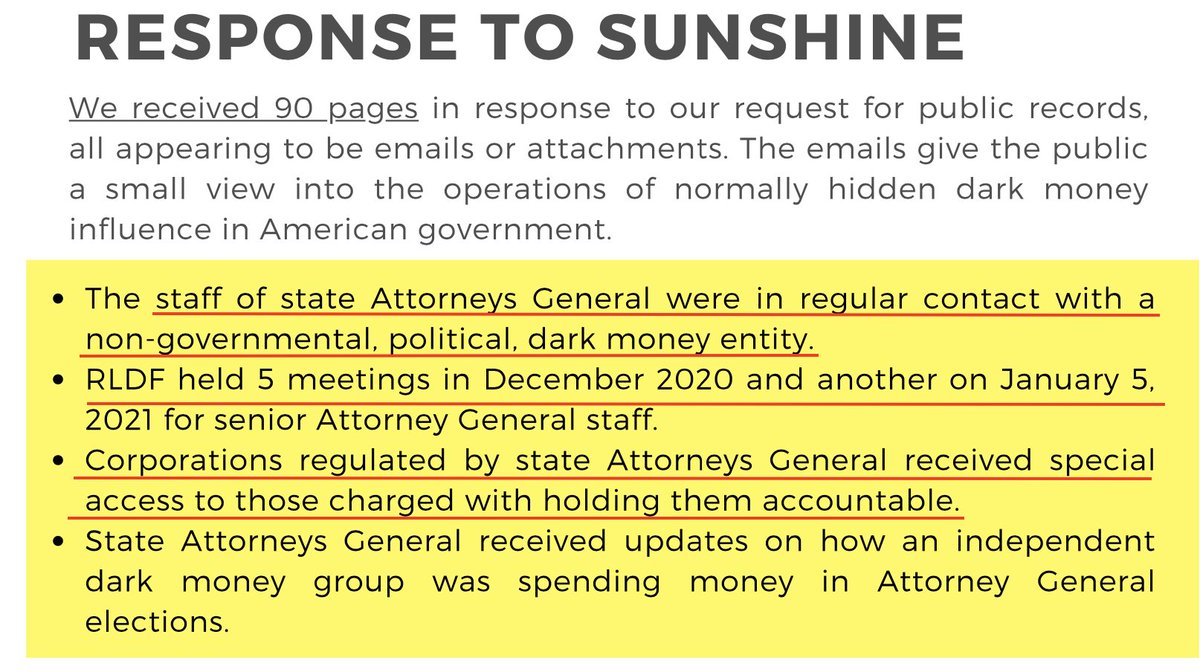 Several corporations ponied up at least $50,000 so they could be there when the Republican Attorneys General's staff prepared for the "defeat" of Trump.
YOU DON'T NEED TO PREPARE TO *LOSE* UNLESS YOU PLAN TO, I DUNNO, OVERTHROW THE FUCKING ELECTION?

These guys certainly didn't intend for an election to get in their way. They'd just openly politicize the Supreme Court on Twitter. And have WAR GAMES to plan for their loss.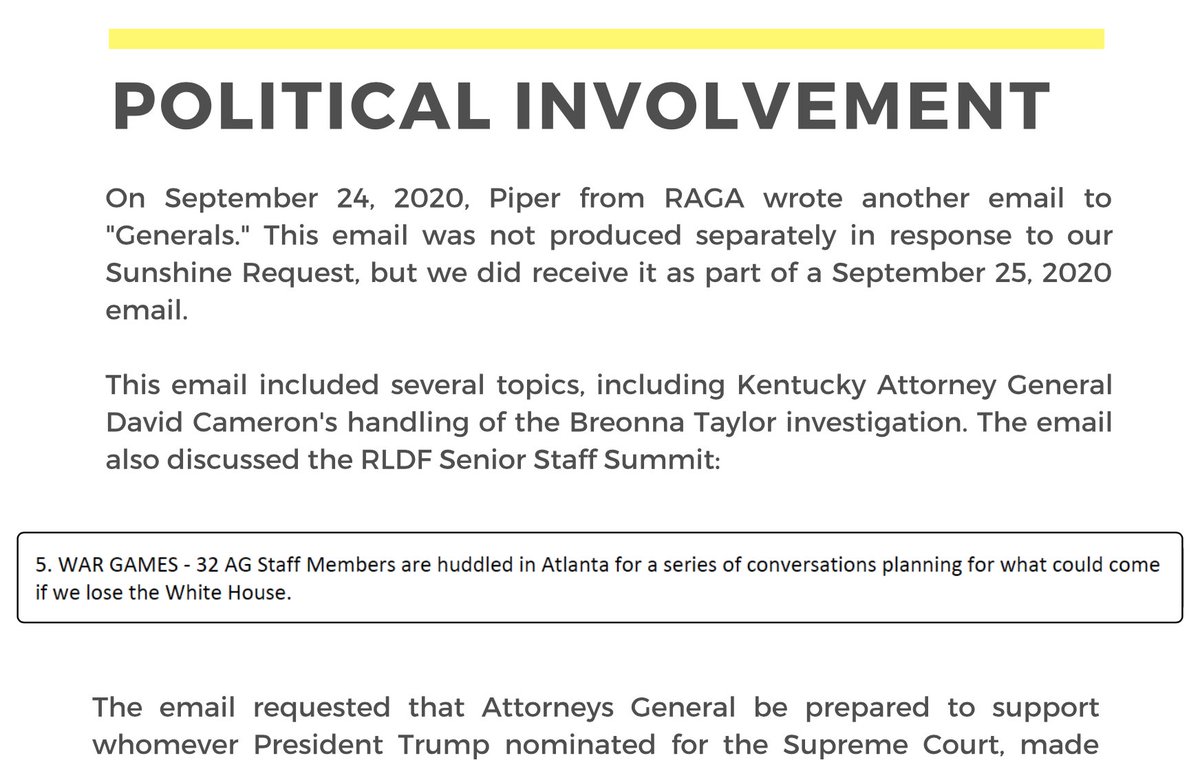 Which corporations were at this sedition shindig for $50,000+?
@comcast
@QuickenLoans
@cvspharmacy
@Lowes
@Uber_Support
@facebook
@thehomedepot
...
Each with a state attorney general! Uber took Paxton, the guy who was already facing 99 years in prison.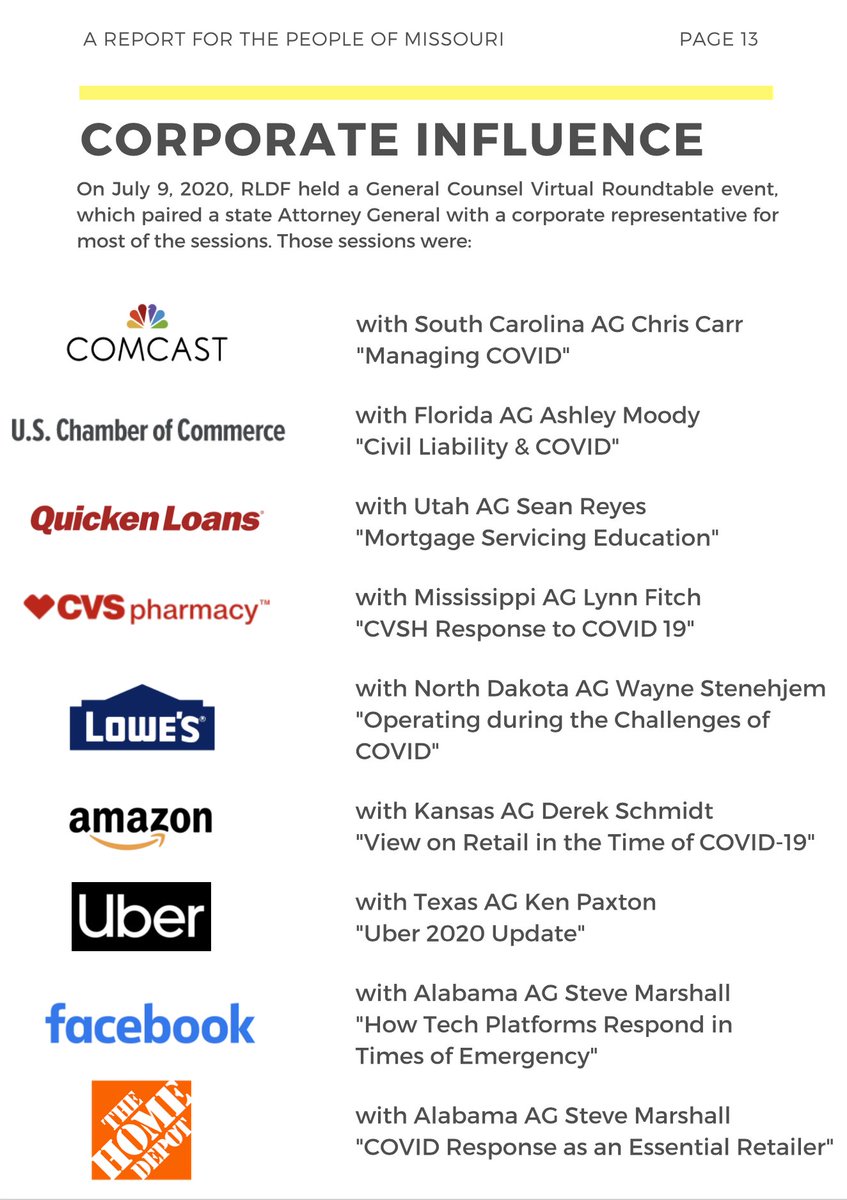 Each of these corporations apparently paid cash to have access to the state attorneys general who might prosecute them for crimes or hold them to regulations that protect the citizens of their state.
All this, plus WAR GAMES against an election.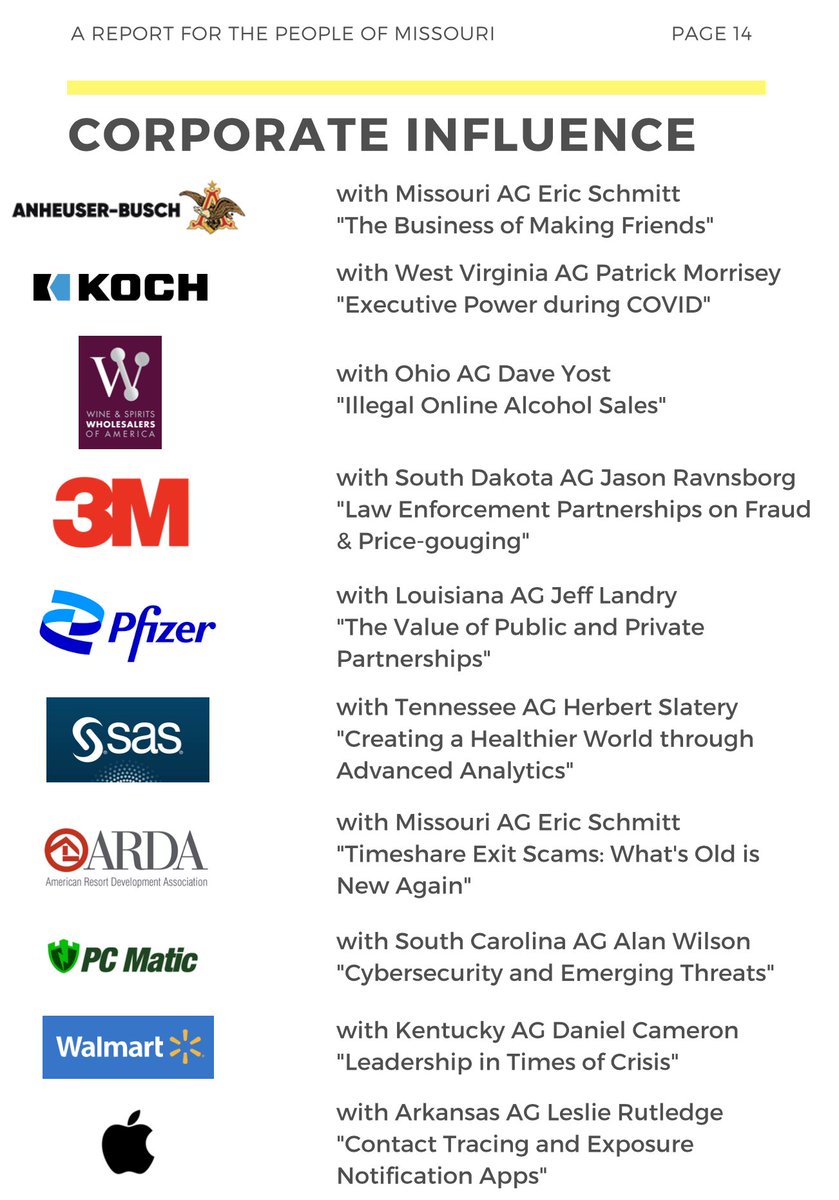 Boom.
Great work
@BigElad
.
I hope one of these emerges for EVERY state that had an AG that pulled this.
</>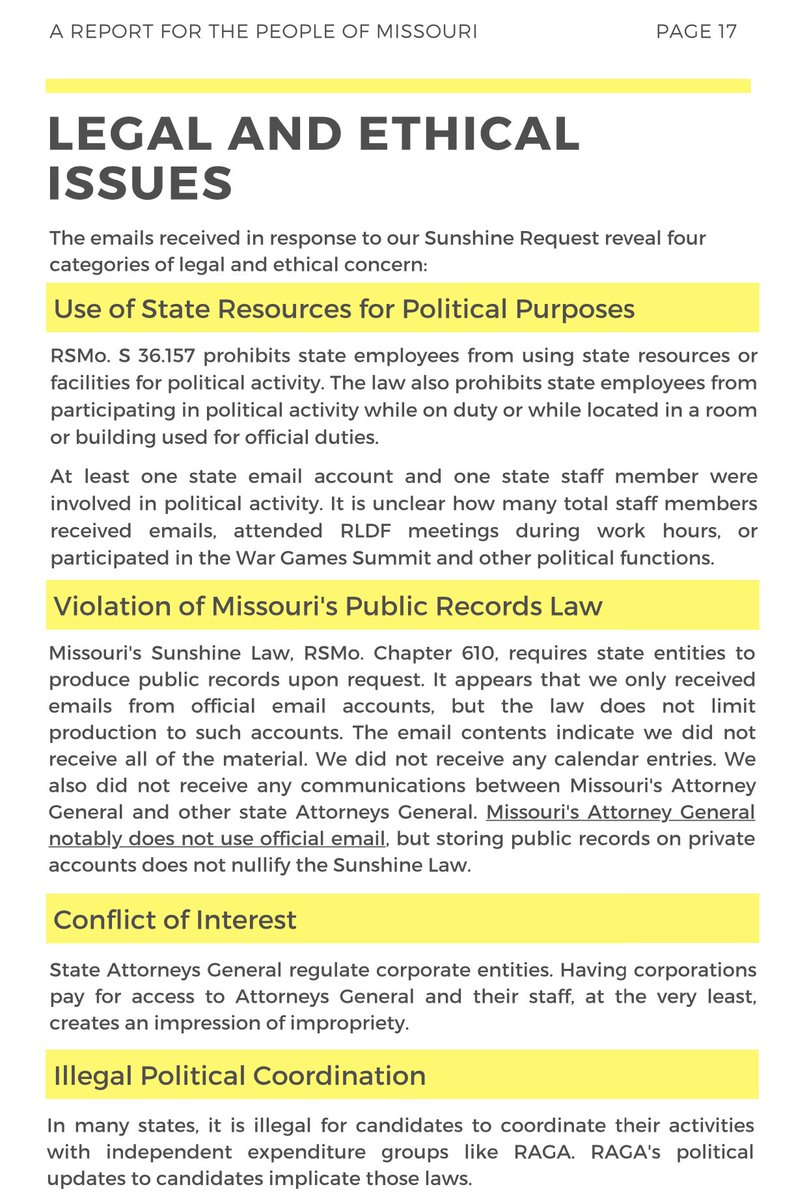 BONUS: RLDF, coup plotters, is led by Samatha Dravis, who works for Axiom Strategies/Clout, whose founder is Ted Cruz's campaign manager JEFF ROE - early huge customer of Cambridge Analytica.
Plus foreign agent for Qatar Pam BONDI.
https://twitter.com/ThomasS4217/status/1364439050212552705