If voting for elected officials every four years is supposed to teach Americans about their rights to choose in a democratic society, it's only logical for them to pursue even more ways to "get involved" in the shaping of their society.
But historically, in inner cities all across America, where Black and immigrant families have made their living and supported the growth of this country for centuries, regarding the issue of transforming their homes, streets, and neighborhoods according to their own judgments…
…and expertise, they've had little, if any choice in the matter.
Today an alternative to such an exclusionary process may be possible, but first the "old" has to be uncovered, if not recovered.
So here's how almost any city-goer with an internet connection can see the changes--or lack thereof--within their neighborhood over the last ten years in four easy steps:
I. On a desktop or home computer, go to Google Maps (
http://maps.google.com
).
II.
In the search bar, think of a familiar building or business and type in its address. For example, "Cafecito Organico (
https://www.google.com/maps/place/Cafecito+Organico+Silver+Lake/@34.0804908,-118.2844796,3a,75y,71.86h,93.52t/data=!3m6!1e1!3m4!1syBlZ4v6dBdHW4m8_Vn6jhA!2e0!7i16384!8i8192!4m13!1m7!3m6!1s0x80c2c742560f88c7:0x60bd65b67e99a915!2s531+N+Hoover+St,+Los+Angeles,+CA+90004!3b1!8m2!3d34.0803918!4d-118.2845876!3m4!1s0x80c2c742510c5819:0xeb0bec6c17fea43c!8m2!3d34.0804699!4d-118.2843344?hl=en
)," which is at 534 North Hoover street.
III. Once the image is done loading, find the transparent "legend" that contains the address, which looks like this: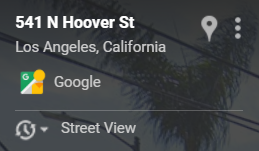 IV. Click on the tiny triangle pointing downward next to the "Street View" option. Select the year for a prior photo of the address in question.
You can now see some of your favorite intersections or old businesses from as far back as 2007, which is when Google Maps first started photographing cities to develop the GPS system we use daily today.
How does the Virgil Village, or LACC area look? Learn even more about the transformation of this community at This Side of Hoover (
http://instagram.com/thissideofhoover
) on Instagram.
J.T.