Good afternoon, UP Manila! The Dialogue of the League of College Student Councils (LCSC) with the Chancellor will commence shortly at 2:00 PM via Zoom.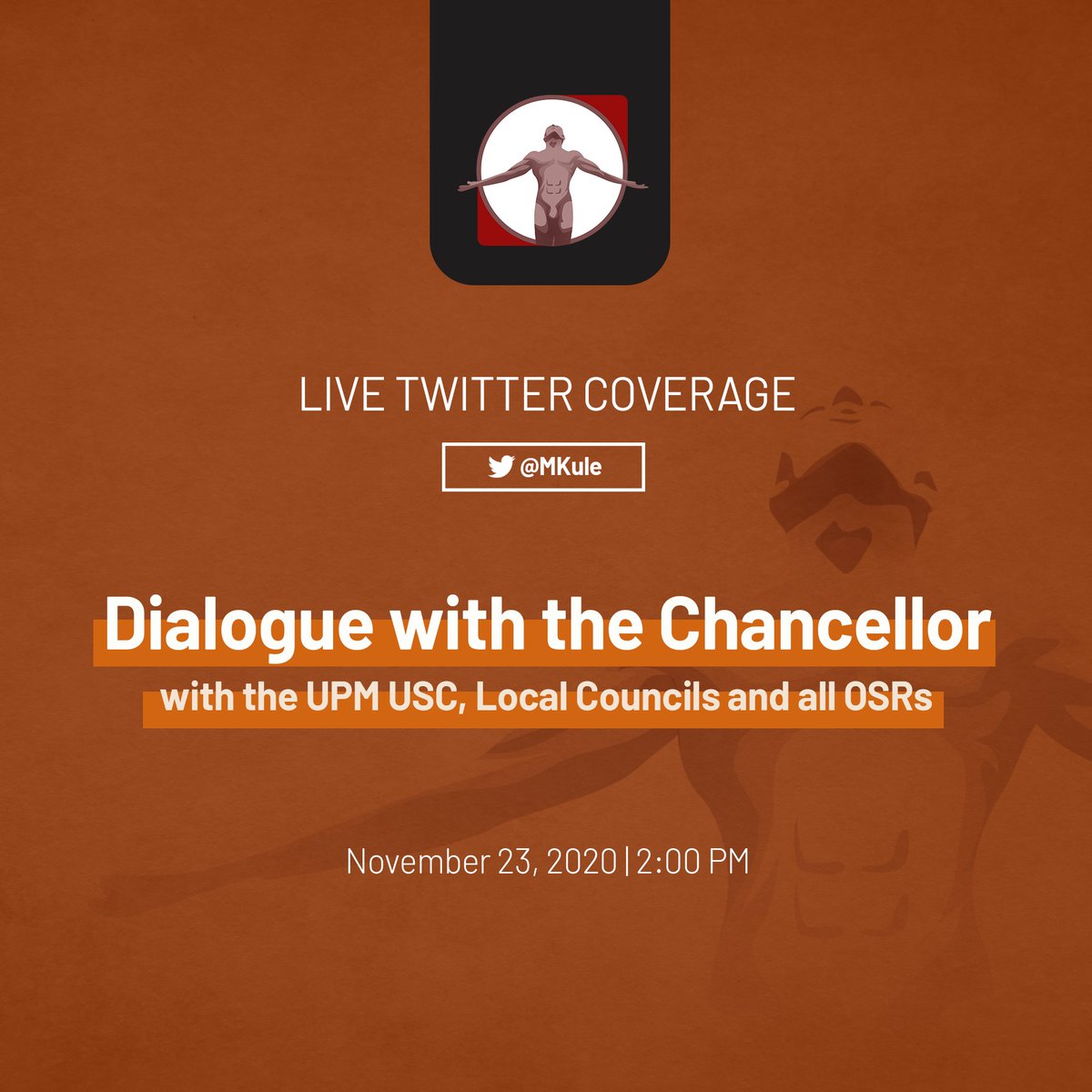 LOOK: Here is the provisional agenda of the dialogue.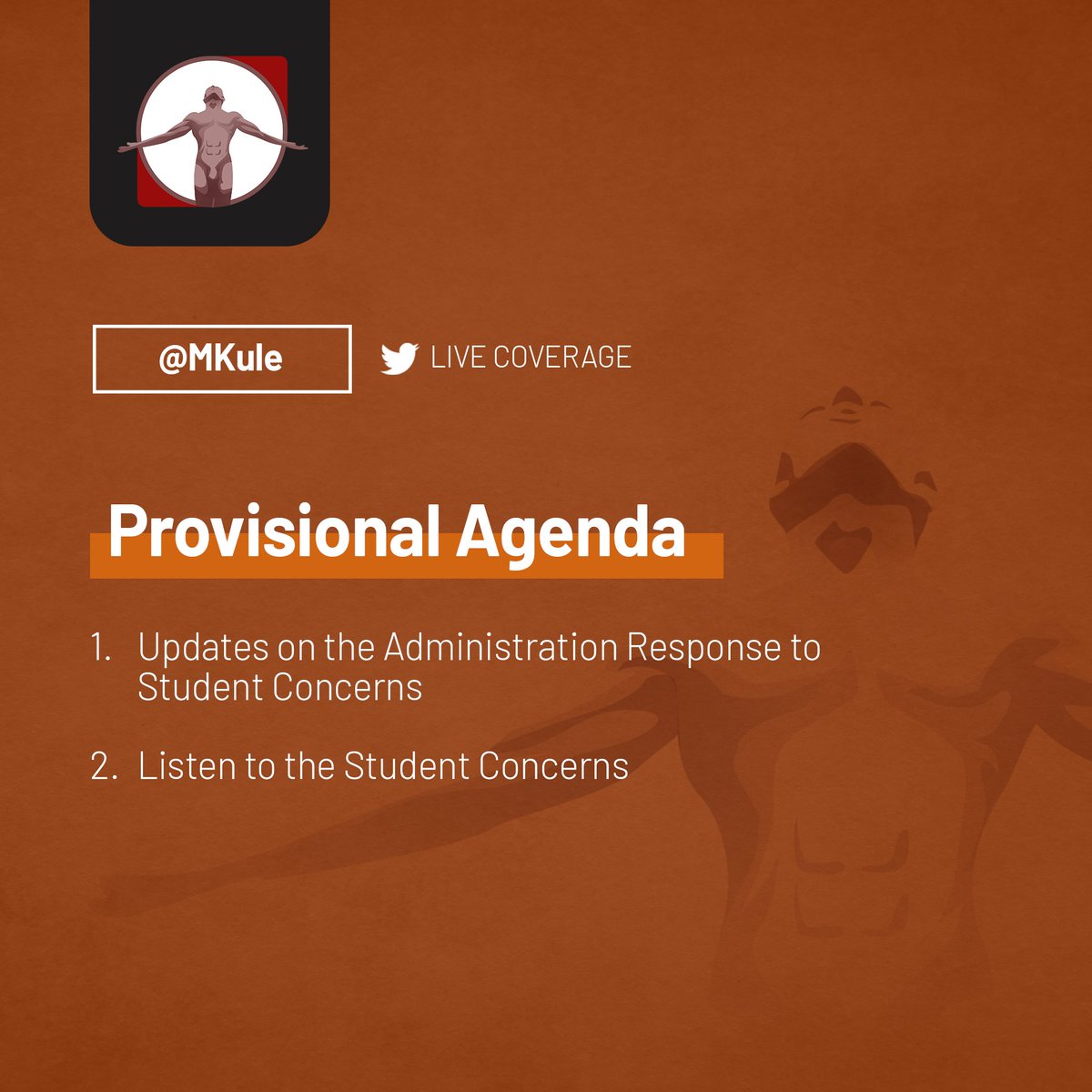 The online assembly has officially started. UPM Chancellor Carmencita Padilla is currently delivering her opening remarks.
PADILLA: I formally welcome all to today's dialogue. The last eight months have been challenging. We all have to make a lot of adjustments. Not only for students, but also for everybody. I do want to thank all colleges who are on board.
PADILLA: The challenge is personal, but at the university level, the first challenge is to continue the semester and for people to graduate. We are an academic institution. Next semester is the next challenge.
Padilla discusses UP Healthscape, the weekly newsletter of UP-PGH.
PADILLA: We are the Health Sciences Center and we have to respond to the needs of the patients. I am really happy that PGH ang NIH have responded. I hope you are reading the Healthscape.
PADILLA: At the beginning of the pandemic, everybody was anxious. Lahat tayo ay may responsibility. Remember that UP Manila is part of the system. We are meeting with the UP President on how we move as one.
PADILLA: Hindi ko naman masasalo ang lahat. Kaya kayo [students] ay importante. Hindi ko naman kaya mag-isa. Together, what can we do? I like to list them down and tackle them all together, which is why we are having this dialogue.
Vice chancellor Nymia Simbulan is now presenting the OCAA's report on actions of central admin and colleges of student concerns and welfare.
SIMBULAN: I have prepared a few slides for the student leaders to know what the University has been doing so far in the light of the pandemic and three typhoons that have hit us recently.
SIMBULAN: We have enjoined faculty members to make changes to recalibrate their course syllabi, if possible, make adjustments to their requirements, but still consistent with the attainment of the courses' learning outcomes stipulated in the syllabi.
SIMBULAN: Faculty members are expected to be compassionate to students affected by the typhoons. At the level of the college, there are several efforts taken.
SIMBULAN: On top of complying in Memos issued by the Office of the Chancellor, they have sent out extra coursepacks to students affected by typhoons.
Simbulan recounted some fundraising activities launched by UPM colleges, including the UPCM Pantawid Scholarship Program, and the UP Manila typhoon fund.
SIMBULAN: Some colleges submitted requests for the University to conduct face-to-face classes, for redesigned classrooms (like laboratories), and for the retrofitting of clinics for F2F classes.
SIMBULAN: The status of the system-wide request submitted to the IATF, the university is awaiting a decision [on what is] submitted by the UP system.
SIMBULAN: The chancellor created a committee composed of representatives from UP Med, PGH, and the Department of Family and Community Medicine to create a flowchart to be followed once we face problems related to COVID-19; on what to do if a staff has symptoms of COVID-19. (1/2)
SIMBULAN: I believe this has been disseminated through all the colleges through the college deans. (2/2)
Simbulan explains a flowchart which outlines the action steps that students can follow after determining COVID-19 contraction.
COVID-19 focal persons for students per college can be identified through college deans. Names of focal persons for students, faculties and staff are provided in the flowchart, which shall be disseminated among the students.
PADILLA: We have one coordinator for the whole UP Manila. For every college, one coordinator also exists. This was implemented 2 months ago. It was easier to organize. The problem sometimes is just apprehension.
PADILLA: Students should know this if ever there is any student in need. They need to only know 2 things: the phone number (155-200) or the name of the coordinator in UPM.
Dr. Blesile Mantaring, UPM Office of Student Affairs (OSA) Director, is currently tackling the issue on gadgets and connectivity among UPM students.
MANTARING: These were the requests for gadgets needed by all the students. From all colleges we have 445 requests; 144 gadgets were donated to students from the alumni.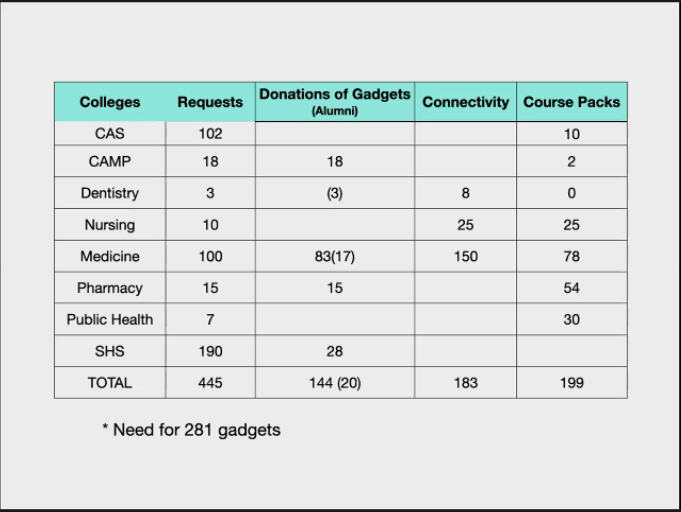 Mantaring presents a table of information bearing the number of requests, donations, and course packs provided for UPM students across colleges. (1/3)
Highest number of requests came from SHS and CAS, with a total of 190 and 102 requests respectively. In total, there was a need for 281 gadgets. (2/3)
20,000 pesos will be given to the students who will be approved in the Kaagapay program for them to buy their own gadgets. (3/3)
MANTARING: Kamustahan sessions were done by our guidance counsellors via Zoom meetings.

Mantaring recalls the numbers under these Kamustahan sessions: 18 sessions done involving 1160 students, a third of undergraduate students.
The local student councils are now presenting their concerns.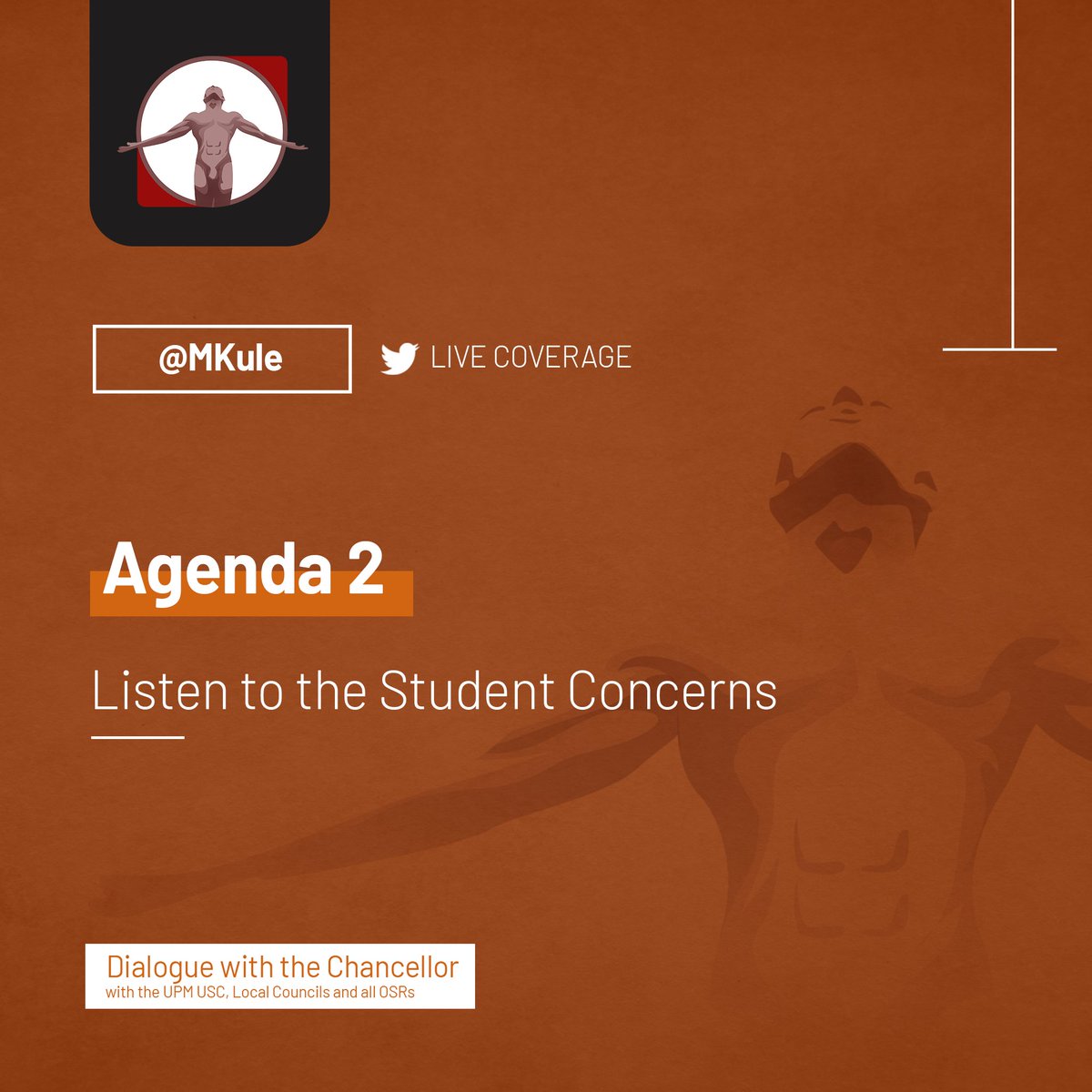 Samuel Madriaga, CAMP Representative from UPM LCSC, now presents the calls of the UP Manila studentry.
MADRIAGA: Systemic solutions are needed for the problems faced by the students. The first call of the student councils is for the admin to recognize the urgency for a systemic solution to solve the students' needs.
Sofia Teodoro, another representative from CAMP SC, outlined the college's calls to action: (1) Extend Deadlines, Extend the second semester; (2) Extend the second semester to address learning outcomes; (3) Implement academic break.
TEODORO: Adjust current grading system, as it is not reflective of the students body learning. Formative assessment is a much better mode of assessment.
Harlon De Roca, CAS SC Chairperson, is currently outlining the ways forward that were agreed upon in the College of Arts and Sciences.
DE ROCA: Given the context, CAS has agreed that it is very unbearable for students to continue their studies. We call for the end of the semester and pass the students in line of compassion for students.
De Roca also presents CAS demands to cancel all pending requirements, provide students an option to still receive numerical grades, and provide special consideration for graduating students. Stakeholders must also be provided with support and material compensation.
De Roca demands for the administration to heed the students' calls, and serve the people: compelling the administration to be compassionate, proactive in upholding the student and the whole stakeholders' well being.
DE ROCA: We want to reiterate to the UP admin the responsibility to create pro-student policies and hold students' democratic rights.
DE ROCA: [The administration needs to] be resolute in protecting constituents from state repression especially with the ATL and rampant red-tagging these days.
Jillianne Santos, CD representative, calls to
end the semester and mass promote all students in their compiled report.
SANTOS: The remote learning was hastily implemented in the first place.
SANTOS: Students must have an option to obtain numerical grades for scholarship or shifting purposes. [There should be] mass promotion for residents with minimal pending requirements.
SANTOS: Efforts and resources of UP Manila should be directed to the preparations needed for limited face-to-face classes.
The CD representative emphasized that all laboratory classes can be deferred and a completion period can be allotted for those classes once face-to-face classes are permitted.
SANTOS: Uphold honor and excellence beyond virtual classrooms. Focus efforts with the discontinuation of the semester!
Danee Mangila, representative from the College of Medicine (CM), started her speech by recalling that students sent a statement to the admin.
MANGILA: Since we have dialogue with you, MSC gathered other concerns from students. We made a statement since there are a lot of concerns with continuation of the semester, curriculum, and program.
MANGILA: There are lots of students in need of assistance and enduring problems with regards to electricity and internet connectivity. We informed the college.
MANGILA: There are problems with course subjects sequencing. Since na-move ang mga lab classes, (1st year students for example) don't have proper foundation for anatomy classes.
MANGILA: There is a concern about the request for consideration. Students ask why there is [still] a need to ask for consideration every time.
Danee Mangila emphasized their demands of having one proactive and systemic approach in dealing with calamities.
Ruth Abby Castiva, representative from the College of Nursing (UPCN) started her speech by raising the safety concerns of UPCN students on the fate of F2F classes for the second sem.
CASTIVA: Lumalabas na ang main concern ay ang exposure to the virus, since students will be conducting their clinical duties in PGH.
CASTIVA on Transportation: May mga students na mangangailangan gumamit ng public transportation, which poses a risk for contracting the virus. Some protocols require PCR swab tests.
Castiva demands that there ought to be a comprehensive plan in case a student contracts the virus, as well as a safety protocol during the conduct of F2F classes.
CASTIVA: Parents are still hesitant to let their children have their clinical duties in PGH.
CASTIVA: Limited ang capacity ng college namin para makatulong sa mga students.
JV Cabrera, the representative from UP Pharmaceutical Association Student Council (UPPhacSC), emphasizes the ineffectiveness of current learning and assessment methods under online classes.
CABRERA: Online assessments are no longer feasible. In the PhaSC, we call to end the semester. Based on the survey we conducted, 68.64% of students signed up. There is a need to end the semester and mass promote.
CABRERA: We propose that we start the formulation of bridging programs, [which will] happen at the end of the semester.
CABRERA: It is evident that is no longer effective. We cannot [turn] a blind eye on student concerns. We no longer serve the Filipino people if we neglect the health of students who are [our] future.
Franz Candido, representative of the College of Public Health (CPH), took this opportunity to echo the calls of our constituents.
Candido outlines their calls to action entailing their stance to end the semester: (1) Removal of deadlines; (2) Reform of academic system; (3) Effective implementation of bridging programs.
No representative for SHS satellite campuses were present as of the moment.
Prince Turtogo, Chairperson of the UPM University Student Council (USC), expounds on the calls of the studentry.
TURTOGO: [We] recognize the efforts of student councils in consulting and consolidating calls and demands, and organizing donation drives, not only for the students but also for the Filipino people who have been affected by the typhoon, on top of COVID-19.
TURTOGO: [We] also recognize the plans of the admin and their initiative to conduct consultation with us. UPM USC plans to coordinate with OSA to launch this type of consultation.
TURTOGO on the 'No Fail Policy' concern: Conditions right now (remote) heavily compromises not only students but teachers, as well as the quality of courses.
TURTOGO: Students sign up and express need for support and assistance. May ilang students na hirap tayong i-reach.
TURTOGO on Digital Divide: It may not be justified if students fail due to socio-economic conditions and psychological conditions.
Turtogo expresses USC's concern over students who are still overwhelmed by deadlines despite the typhoon's effects and the COVID-19 pandemic.
TURTOGO: "We were devastated by 4 typhoons while COVID-19 pandemic has not been controlled yet by the government."
Turtogo also explains that the pressure for students to pass requirements compromises their overall well-being, redirecting their focus from their own survival to their academic workload.
TURTOGO: Requirements are actually affecting the overall well-being, overall mental health of students. Hindi lang yung kanilang needs ang kanilang iniisip, pero ang [kanilang] compliance to many requirements, which is double to regular classroom setup.
TURTOGO: We believe the most efficient way to conduct classes is face-to-face (F2F) but we also recognize the struggle of the admin to provide resources for conducting classes such as engineering reqs, o kaya naman demand of students for housing, or transpo, etc.
Turtogo enumerates the general calls of students that lead to the "Duterte Act Now or Step Down" stance: (1) Provision of assistance to calamity; (2) Reallocation of budget; (3) Reallocation of national budget to medical actions. (1/2)
(4) Reducing the militaristic response; (5) Prioritize free nationwide mass testing and contact tracing; (6) Production of proper PPE; (7) Implementation of prepper policies to combat national crisis; (8) Uphold student rights to education. (2/2)
TURTOGO: At the end of the day, the lack of funding or resources or many various concerns we need... at the end of the day, it pushes us to adjust exponentially despite the lack of resources.
TURTOGO: I believe the student councils can help more on consultation of the open forum later on how to improve the proposed systems or proposed services on students. (1/2)
TURTOGO: On our end, the UPM USC and the rest of the SCs genuinely seek proactive response and support of the admin in order for us to serve the Filipino better. (2/2)
PADILLA: I want to thank all council leaders for sharing thoughts. Psychosocial support is a big priority for me. ⅓ of the population of students has been served by the OSA Counseling Program.
PADILLA: The OSA has conducted counseling programs for the students. I need to know if there are other students who need help. Right now, OSA is offering counseling offers. What are some suggestions on how and what else we can do?
PADILLA: Let me go to the concern about F2F classes. Actually pinaghahandaan namin F2F classes. This sem, there are [several] requests. There are 300 requests from Dentistry [since] kaharap naman nila ay mannequin.
PADILLA: For this semester, we are awaiting the decision of IATF. We submitted a request as a whole. Pinaghahandaan na namin 'yang next semester.
PADILLA: All issues about ending the semester. . . UP is a whole, UP Manila is part of a whole. We will release an announcement for the end of the semester, ma-e-end ba o hindi. (1/2)
PADILLA: But let me remind you that the flexibility and compassionate component are there. Kung may faculty na hindi compassionate, tell me directly if there is a faculty that is uncompassionate at mahigpit and I will deal with it discreetly. (2/2)
PADILLA: Eto lang mase-share ko sa inyo: very mixed ang feelings. We just have to balance these mixed requests. May other students na nag-p-plea na matuloy ang exams. There are some graduate students [na gusto matuloy exams].
PADILLA: Anything with classes. . . passing, numeric, i-part natin yan, kasi UP is about to come about with an announcement. Para di na lang gumulo. I heard you and I will review everything you submitted, I will summarize it and pass it to UP Student Affairs.
PADILLA: Suspension? May memo na kami. Bago mag-Ulysses, may listahan na kami ng affected. Sa Rolly, mga 100 ang affected. We want to know more to maximize help to colleges.
PADILLA: If there are any students left behind, we don't like that.
PADILLA: I assure you we are creating a community in UP Manila that is safe, eto rin sine-share ko sa grad [students]. [The situation in] UP Manila is unique. Kahit bigyan namin kayo ng Passing marks, di kayo makaka-graduate at makakapasa ng board.
PADILLA on requirements for passing the board: Maski pumasa kayo meron silang skillset na hinihingi. Gusto naming mangyari pumasa kayo, at the same time, there would be no problems with you taking the boards.
PADILLA: I just want to make a point at the level of the university, we want to make sure you learn the minimum, give a skillset to learn on your own. We also provide bridging programs. We have to make sure you have minimum skill sets to be productive people in society.
Simbulan responds to the recommendations of the different student councils, and emphasizes two points: (1) Request to requirements and deadlines; (2) Imposition of requirements by faculty members.
SIMBULAN: I think that it is the right of the students to discuss this with your faculty. Especially if you feel that the requirements are too much. We could discuss our academic concerns with our faculty.
SIMBULAN: Our faculties are compassionate and flexible enough to be listening to what the students have to say. Negotiate if you must. You can negotiate if there is a room for cutting down requirements.
SIMBULAN: It is very clear in the OVPAA memo, that faculty members couldn't impose any more requirements outside their approved syllabi and coursepacks. They cannot come up with other requirements that would only give additional burden to students.
The open forum starts.
FARRALES: Gusto sana maging mas proactive and admins sa pagharap o pagtugon sa pangangailangan ng mga estudyante.
Farrales emphasizes the need for reassurance from the admin that no student will fail this semester.

FARRALES: Maybe the chancellor can make a clear statement na "walang babagsak na estudyante."
PADILLA: Napag-usapan na ito ng mga chancellor. Can you wait for a few days? We will fight for you. I will be definitely behind you on that. Ok? Konting, konting hintay lang.
Salanguit from CPH SC shares UPLB chancellor's decision, points out important matters.
SALANGUIT: I believe po kasi na we need an urgent solution as well, prohibition of online graded assessment is the least that we could do. . . Not all faculties are compassionate or flexible as well.
PADILLA: If [may statements na] galing sa OVPAA, we've approved it already, and reviewed it as a team.
PADILLA: Kailangan ayusin is to have meetings with the deans and departments. They need to address those [departments] who show "less compassion."
PADILLA: Konting hintay na lang. Monday [ngayon], ang sagot sa karamihan ng concerns niyo will be probably answered by Friday.
PADILLA: All Pass, that will be easily addressed. Extensions, that will be addressed. Ang gusto ko malaman ay bakit may mga faculty pa na di pa compassionate and flexible.
Habagat Farrales from UPM USC asks for the UPM administration to release a statement regarding the red-tagging of its students.
FARRALES: Gusto rin namin marinig yung posisyon ng UPM Admin [tungkol] sa red-tagging at doon sa statement ng President regarding "defunding UP" because of the clamor for criminal negligence.
FARRALES: I really think that UPM should be vocal about it right now. Kami po sa Tulong Kabataan, we've been red-tagged kahit tumutulong lang kami just because we're students of UP. (1/2)
FARRALES: Recently naglabas din ng article from The Manila Times na nireredtag not only UPD but UP community na sinasabi na our professors are part of the CPP. (2/2)
PADILLA: Naresolve na namin yan when UP released a public statement. I will get back to you, naglabas na actually ang UP ng statement. I hear you, and I know where you are coming from. Let me address that part, na dapat hindi na-mi-misconstrue ang efforts niyo.
PADILLA: I hear you. I understand where you're coming from. Because you're helping the community, and you're being misinterpreted. Dapat hindi ma-misconstrue ang inyong efforts.
FARRALES: Naglabas [din] ng statements ang iba't ibang UP campuses. Actually, nakakamangha nga po ang statement ng UPV-- nagsalita laban sa vilification ng students at faculty. (1/2)
FARRALES: [Maybe] your office could also do the same for us. You being the highest official of UPM should speak against it. (2/2)
PADILLA: Sige, aayusin natin ang part na iyan. I don't want you to be red-tagged just because you are helping.
Jairo Tuazon from CAS SC: I would like to clarify the Memo for Suspension. Before we clarify, we would like to ask for the admin definition of enjoined? Because "enjoining" many things can be subjective in all definitions. What do you mean po by "enjoined"?
SIMBULAN: "Enjoined" means "required."
"Enjoined" is another term for "required." We could've used [the term] "requested" otherwise.
PADILLA: If there are faculty or classes that are given their own interpretation, can you reach out to us? There are some students who reached out directly, and we fixed it. Huwag mag-alala di nila malalaman sino nagsabi.
PADILLA: I will try my best, but if you have a problem like that, pls inform me immediately because I [would] like to solve it directly.
TUAZON on storm signals: Ano po ba susundin? [Announcements by the] local government po ba ang susundan?
SIMBULAN on suspension of classes:
Before the COVID pandemic hit, whenever the city of Manila suspended the classes we usually abide... Now with the remote learning set-up, we do not automatically follow announcements from the city government.
TUAZON: So the signal number depends on the geographical location of Manila or of the students?
SIMBULAN: Students. That is now on the part of the students to inform their faculty what signal number they are under, if they are in a province or area where the suspension or typhoon signal is level 2 or higher, but not necessarily in Metro Manila.
SIMBULAN: Always inform [your] professors [so they can] adjust their requirements.
Anne Lou Asuncion from CAS SC: You mentioned po that you will be providing yung learning assistance needs, laptops and connectivity. . .When will these learning materials be distributed to the students? Pwede po ba kami makahingi ng time frame?
MANTARING: For the laptops kasi, we're going to have a meeting this week. So I would know the number kung ilan mabibigyan ng computer.
MANTARING: The money allotted to CU, the budget allotted to UPM [is only enough for] 9-10 computers. We can't answer all the computer needs of students. We're still working on it.
De Roca from CAS SC asks for a clarification regarding the Memo on class suspension.
DE ROCA: Clarification lang po kay Dr. Nymia, since we're a National University, mag-a-apply lang ang suspension announcement kung galing lang sa Palace?
Simbulan on non-signal suspensions: We [will] come up with the earliest possible announcement.
PADILLA: There's the dilemma. Paano nga kung nasa Signal number 1 yung ilang students? There lies the compassion and flexibility of classes, just ask your professor na wala pa po akong kuryente. I am keen on those additional requirements, kasi bawal yon.
Khads Sarael from DSC: Kailangan namin ng statement or memo from UPM Admin regarding the reconsiderations. We are very tired of asking for reconsiderations from professors
SARAEL: Kahit na [some professors] are saying na they understand us, their actions say otherwise.
SARAEL: Kahit na we value competency, how can we focus on that aspect if we're not in the right mind to comply with academic demands?
SARAEL: Kailangan lang po namin ng assistance from the admin to release a statement para lang may paghuhugutan kami, kasi pagod na pagod na kaming lahat.
PADILLA: We already have a statement, kakausapin ko na lang sila. I will have a dialogue with the ExeComm. It is a process to know what is going on.
PADILLA: 'Yung given na appeal ninyo 2 weeks ago, I will look at it and find out.
Gab Torrecampo from CAS SC: Raise concern lang rin po, since there are students being left behind since the start of the semester. More students are being left behind every single day.
TORRECAMPO: And since this is an urgent matter affecting mental and physical capabilities of students, faculty and staff, we should make sure we are being heard at the BOR at PAC meetings. (1/2)
TORRECAMPO: If ever, we would like to have strong commitment for demanding the government for their past inactions. (2/2)
PADILLA: Huwag kang mag-alala, Gab. I am there to be your voice. We have a meeting tomorrow. There are some concerns that can be addressed very soon.
PADILLA: There are certain decisions wherein you have to agree as 8 universities. I have a list of all that you want. I will try my very best. I will tell you immediately if your concerns are being raised.
PADILLA: Sa buhay kasi, kahit 10 hingin ko, hindi ko masasabi na makakahingi ako ng 10, baka pito lang. I do hear your voice, and I do hear your arguments regarding that.
PADILLA: Nymia and the deans are reporting. Paano kami magkakaroon ng data for serving 30% for counseling? Kung may tira pa kayong concerns, tell me, pero may listahan na nga ako.
MADRIAGA: Would it be possible for us to have a [resolution] para sa mga deadlines and requirements for this week habang inaantay yung response ng UP system?
PADILLA: Kasi supposed to be naging flexible na tayo pati deadlines ng mga deadlines. I don't understand why we're still having problems with that. I think we really need to talk to the deans and the deans would have to talk to the students.
SIMBULAN: Why don't you [the students] negotiate first? Tell your professors that you can't pass this week.
PADILLA: Alam niyo kasi ang problema may mga students na nakikiusap na tapusin na this week. We're getting mixed requests.
Mary Angela Calaustro: I think when the students do not have the voice, it is the time for you to be our voice. We also have the limitations.
CALAUSTRO: Negotiations with professors, there are issues po sa mga seniors. We need you to meddle with this matter. We need our voice to be amplified.