CK Nayudu was born on this day, 1895.
I tried to post a couple of tweet threads but quickly realised that the people I follow have, between them, covered everything.
Let me still share one.
My favourite CK story is from 1947, when he was not a Test cricketer anymore.
+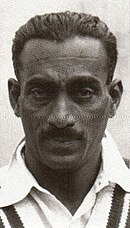 The Indians were playing selection trial matches ahead of the Australia tour – their first after Independence.

In the last of these, a 20-year-old Fazal Mahmood took 5/45. He was picked.

As we know, he would play for Pakistan, not India. The next few lines may explain why.
+
As for now, Fazal returned to Lahore (still in India).

The pre-tour was supposed to start in Poona on *August 15*, but riots broke out across India just ahead of that.

Fazal took a convoluted route (Karachi by road, Bombay by air).
+
It was a bold decision, for most of the Muslim population was headed the opposite direction.

The camp went ahead without much fuss. Fazal then took the train back to Bombay.

A Hindu mob intercepted this train. Their target was, among other Muslims, Fazal.
+
But Nayudu was travelling in the same train.

He picked up a bat and stood between the mob and young Fazal.

Fazal returned safely, first to Bombay, then Lahore.

Never another like CK. Captain for a reason.

So, who is making that biopic, and when?