WHAT YOU NEED TO KNOW: You can still request an absentee ballot in Wisconsin. When it arrives, fill it out, get a witness signature & address on the envelope, and *hand-deliver it* by 8pm 11/3. Find your local clerk or drop box location at
http://iwillvote.com/wi
BACKGROUND: The day before Wisconsin's April 7 state Supreme Court election, the US Supreme Court decided that absentee ballots could be *postmarked* on Election Day, and would still count if they arrived in next six days. 79k+ such ballots were counted. (Trump '16 margin: 23k.)
GOP-appointed judges on the 7th Circuit Court of Appeals, including Trump appointee Amy St Eve, ruled against relief for Wisconsin voters. As (also GOP-appointed!) Judge Rovner wrote in her dissent, "this court leaves voters to their own devices."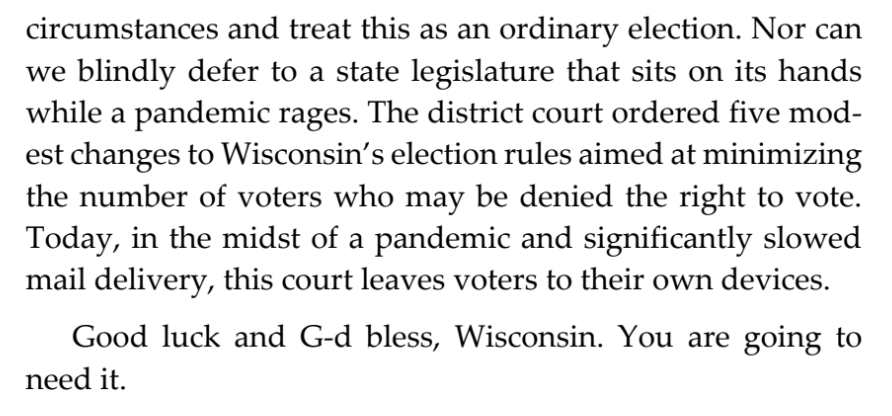 SO—here's what we're gonna do about this. As of this morning, 362,236 Wisconsinites had absentee ballots that they hadn't returned. We're going to make sure these voters know that their ballot MUST be in by 8pm on Nov 3 to be counted. & the best thing to do is return ballots NOW.
We're phone banking. We're text banking. We're friend banking. We're drawing chalk murals, driving sound trucks through neighborhoods, & flying banners over Milwaukee. We're running ads in every conceivable medium. Your donations help us run more of them.
http://wisdems.org/scotus
We want Wisconsinites to know how to vote so clearly that they dream about it, sing about it in the shower, and explain it to their kids. Vital messages: turn in your ballot today, & make a plan. As Milwaukee County Exec
@DavidCrowleyWI
and his daughter explain in this ad.
Digital ad campaigns are one thing you can keep expanding all the way to election day. We're testing and running a *lot* of ads, & expanding the most effective ones, tailored to different communities. This final-sprint work matters. Late money matters. Now even more than before.
Earlier today, the NYT pointed out that a case about voting rights in Wisconsin was awaiting a SCOTUS decision. But partisan justices decided they didn't even need to wait for Amy Coney Barrett to be seated before they made their choice.
https://twitter.com/nytimes/status/1320792647582289920
The confirmation of Amy Coney Barrett almost exactly coinciding with a Supreme Court decision that failed to side with expanding voting rights is a perfect encapsulation of the GOP's view of the courts: as a weapon against democracy.
To overcome this cynicism, we have to ensure that the public knows the truth that the GOP is trying to hide: if we use it, the people still have the power. When we vote, we overcome. Our ballots are our defiance. They smash norms? We smash voting records.
Your time. Your money. All of our lives. This—from now until 8pm on November 3—is our moment. Let's make the absolute most of it. Chip in here, sign up for some volunteer shifts, share this thread, and let's go, fight, and win.
http://wisdems.org/scotus