Thread:

Of late, Maryam Nawaz has been on a rampage against the entire accountability drive against her family. She loves to mention the now deposed Judge Arshad Malik as the pawn & the stooge who was blackmailed by Establishment/Imran Khan to sentence Nawaz in two cases (n)
A brief background:

In the light of SCP 5-member bench's unanimous verdict against Nawaz Sharif on July 27, 2017, the following 3 references were to be filed against him in an Accountability Court (AC):

(1) Avenfiled Properties;
(2) Al-Azizia; and
(3) Flagship Investment (n)
There were two ACs in Islamabad & the 3 references were filed in AC-1.
AC-1 was headed by Judge Muhammad Bashir who had been appointed in 2012 & his 3 year term had expired in 2015 which the then PML N govt, acting on IHC's advice, had extended for another 3 years (n)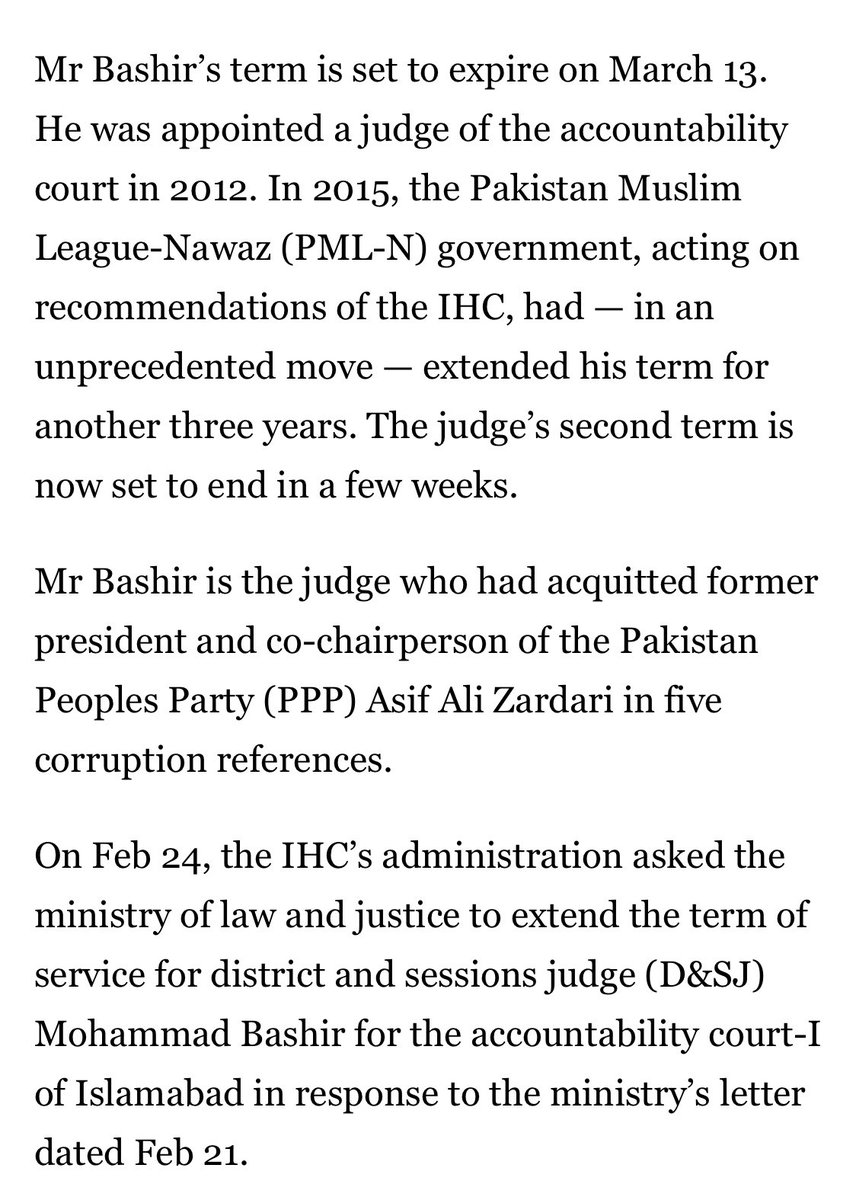 His second term was set to expire on March 13, 2018.
In the meanwhile, Law Ministry (under PMLN's govt.) appointed Judge Arshad Malik in the AC - 2 in March 2018.
(The following news item is from Dawn February 28, 2018 when proceedings against Sharifs were still underway)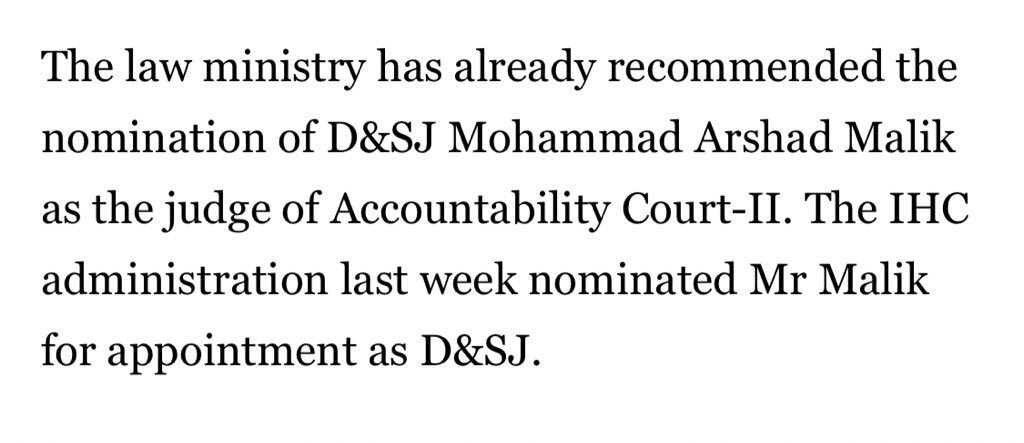 However, the term of Judge Muhammad Bashir was further extended & he decided the "Avenfield Properties Case" against the Sharifs on July 6, 2018 sentencing Nawaz, Maryam & Safdar to jail terms.

The remaining 2 reference were still sub-judice before him in the same court (n)
Thereafter, Sharif's defence counsel moved an application before the AC-1 Judge Muhammad Bashir to transfer the remaining two cases to another AC since he has already disclosed his mind in one case which could now impact the verdict in the remaining 2 cases (n)
The two remaining cases were transferred to Judge Arshad Malik who convicted Nawaz Sharif in Al-Azizia Reference & acquitted him in Flagship Reference.
The inquiry report rebutted his stance that he was under "duress" because of sympathisers of convicted criminal Nawaz Sharif.

The report further noted that he had acquaintance with Sharif's sympathisers &was always accessible to them who had certain demands from him (n)
It added that Arshad Malik:

(1) met Nawaz Sharif at his residence in Jati Umra after the verdict;
(2) helped Nasir Butt in preparing grounds of appeal against the verdict in which he had convicted Nawaz; and
(3) met Hussain Nawaz in Medina who (as per him) offered him bribe (n)
The plea of duress that was rebutted by LHC inquiry report was based upon "blackmailing" on account of an objectionable video film of the judge & serious threats extended by Nasir.
Follow the thread of events:

1) Arshad Malik is appointed during PML(N)'s govt in March 2018;

2) Sharifs themselves move IHC to transfer their 2 cases from Muhammad Bashir to another court which was inevitably Arshad Malik's court since there were only 2 ACs in Islamabad (n)
He acquitted Nawaz in one case & convicted him in another - the conviction may have been deliberately based on flawed reasoning to help Sharifs since he himself helped them to prepare grounds of appeal.

He met Nawaz & Hussain - His leaked video was in possession of Maryam
Now the question is who appointed Arshad Malik? Who got their cases transferred before him? Whom did he meet in Jati Umra even after the verdict? Who tried to bribe him in Madina? Who had his compromising video? Who leaked it? The circumstantial evidence points towards Sharifs