As we head into the U.S.
#election
, there will continue to be a lot of noise that may lead to near-term
#market
#volatility
, particularly since (as we've long argued)
#markets
appear to be able to only focus on one thing at a time!
Still, at times like this it's crucial to focus on more consequential factors that will drive
#markets
in the years ahead: in this case, the powerful combination of
@federalreserve
#monetarypolicy
and
#fiscal
rescue measures intended to keep the
#economic
engine on track.
So, while many will continue to be skeptical of the sustainability of this
#economic
recovery, we've been impressed by its strength, particularly in the
#interest
-rate-sensitive segments of the
#economy
, like
#housing
, which is going through the roof!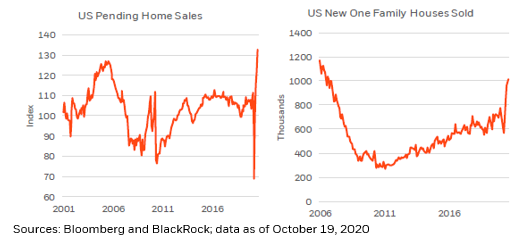 Indeed, on Tuesday we saw both single-family
#housing
starts and
#building
permits move higher, led by an 8.5% increase in starts in Sept. and a 7.8% gain in permits, and with
#permits
higher than starts again that bodes well for further increases in the months ahead.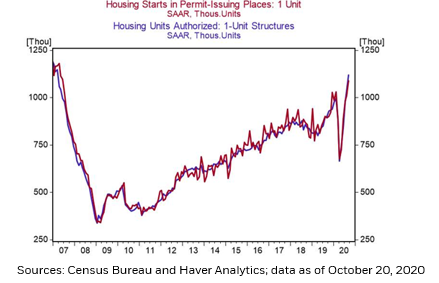 Added to this, existing
#home
sales spiked 9.4% higher in Sept., increasing for the fourth consecutive month, to 6.54M, with the single-family
#housing
segment up more than 20% over the year; the multi-family part of the market has looked weaker.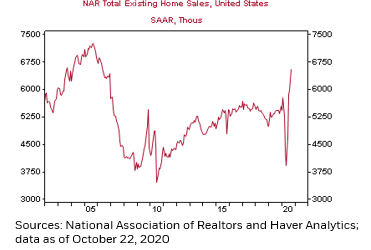 Fascinatingly, this surge in demand for
#housing
has met incredibly low
#inventory
levels, and of course extraordinarily low
#mortgage
rates, which has resulted in an impressive near 15% gain in median sales
#prices
year-over-year in Sept.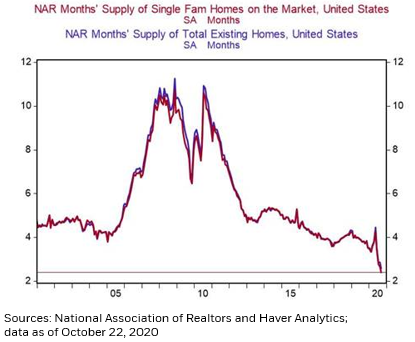 Finally, while
#housing
is clearly one area that is displaying remarkable strength, the
#inventory
story displayed there is also present in other
#sectors
of the
#economy
.
Indeed, as
#retail
sales surge, both retail and
#industrial
sector
#inventories
appear low, suggesting that if aggregate
#demand
can be maintained the
#economic
recovery likely has solid legs into 2021.