1/ Love .
@tntradioempire
, but listen boys: NOBODY puts tequila in the relief-pitcher spot.
Listen live, online, via streaming-& catch them on The Doctors soon!
We covered ALL
#COVID19
because this country is an epidemiologist's nightmare. Please see the thread.
4/Overall, our
#COVID
numbers are getting much worse.
In the spring, we had just 6-12 states with 1000+ new positive cases; on 10/15, we had 25 states hit that threshold.
This is not just "more testing"-more testing should = less cases.
It's a failure of us to act appropriately.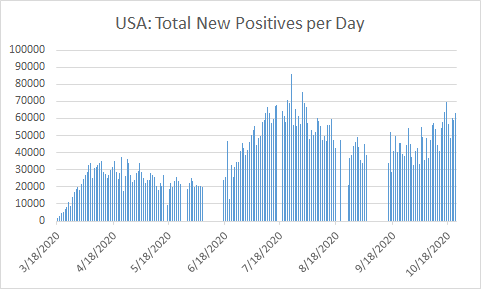 5/ First of all:
#WearADamnMask
!
EVEN IF YOU'RE OUTSIDE-
#WearAMask

.
The
#RoseGardenMassacre
happened *outside*-but NO one was wearing a mask!
If you're anywhere near someone not in your household,
#WearADamnMask
!
(do I need to repeat that hashtag?)
https://www.nytimes.com/2020/10/15/us/politics/chris-christie-face-masks-covid.html
7/Let me repeat this again: if you are with anyone not in your household, you need to be wearing a mask, indoors or outdoors.
Our laxity with this has allowed this surge to happen.
Countries w/strict policies now have more freedom than we do.
#WearAMask

https://www.vox.com/21523039/covid-coronavirus-third-wave-fall-winter-surge
9/ Also: quarantine is *14* days.
Not 7 days. Not 10 days.
It's not based on how you feel.

14 days.
https://www.cdc.gov/coronavirus/2019-ncov/daily-life-coping/contact-tracing.html
-
12/ Also: please stop shaming the people who do speak up when feeling ill or worried about exposure.
Coaches, teachers, parents, ADULTS: set a better example for our kids.
This public health crisis is more impt than a game.
Don't pressure kids to lie or hide symptoms.
13/ Also: please don't get mad at the scientists & public health experts.
We are exhausted. We are tired. We are trolled, name-called, attacked.
But we are still trying to *save lives* & save this country.
Get mad at officials who don't listen to science.
And
#vote

Last: YOU TWITTER FOLKS ARE AMAZING.
The flu uses the same resources as
#COVID
.
#SHOTWAVE
will save lives.
If you haven't gotten your flu shot, PLEASE get one asap.
I will con't to donate because we need to band together worldwide to help each other.
http://charity.gofundme.com/shotwave2020