1. One thing I have been pining about since the onset of this Pandemic is the need for cities, metros and states to develop economic recovery strategies ... to build back better ... as more productive, better job generating, more inclusive, healthier & resilient places ...
3. Our strategy takes a deep dive into a whole slew of data for the Bentonville-Fayetteville area of Northwest Arkansas, draws on detailed focus groups & interviews & more to develop a 7-point plan for helping to make the region more vibrant, equitable and resilient.
4. It's our hope that our effort will spur other city-regions & states to undertake similar efforts.
5. Here is a quick summary of our 7 principles. You can find the full report here:
https://heartlandforward.org/northwest-arkansas-economic-recovery-strategy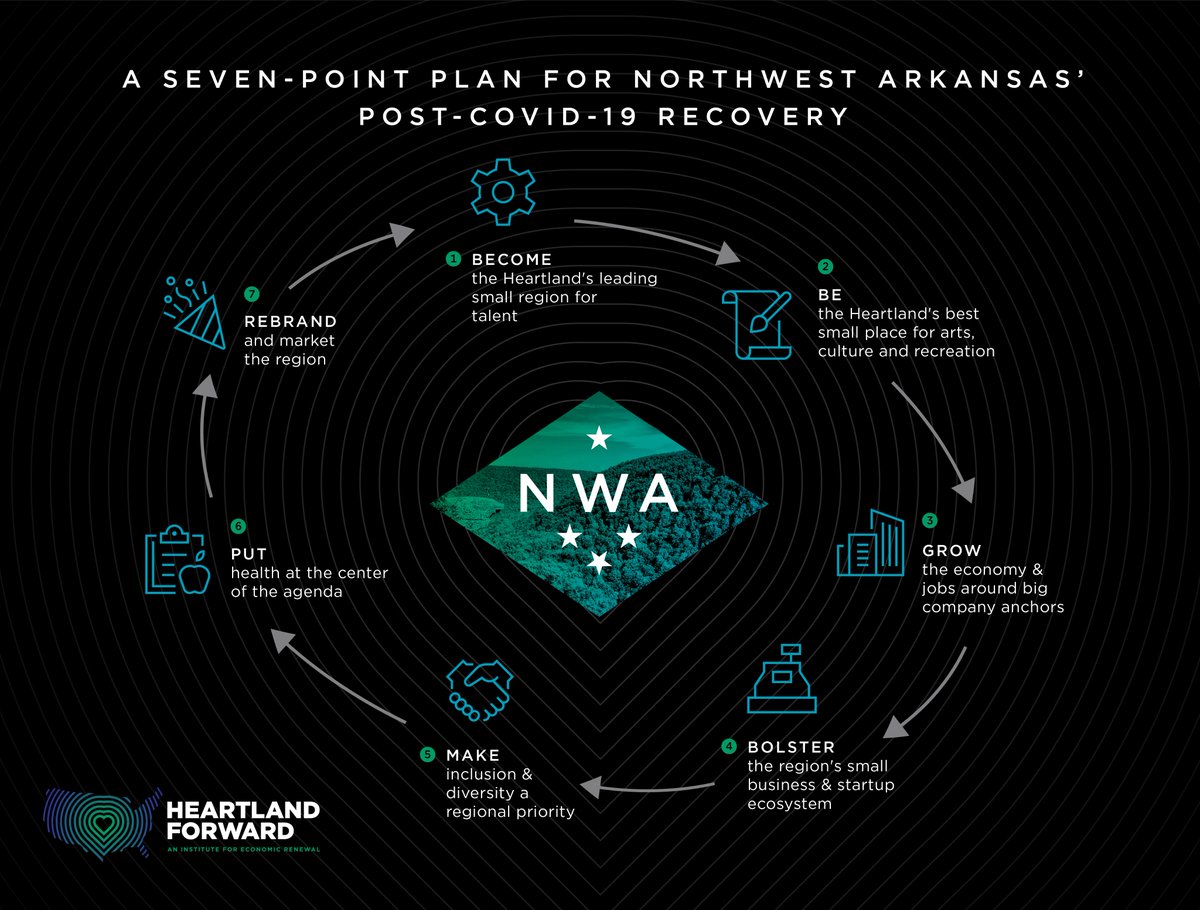 6. Principle No. 1. Become the nation's leading small region for talent:
Leverage the trend to remote work, capitalize on affordability, create a Talent Moonshot to attract the best & brightest scientists, techies, entrepreneurs, thinkers, doers & creatives from across the world.
7. Principle No. 2: Be the world's best small place for arts, culture, and recreation: Leverage signature investments in venues like the Crystal Bridges Museum of American Art and leading-edge network of bike trails and open spaces.
8. Principle No. 3: 3. Grow the economy and jobs around big company anchors: The region is home to three Fortune 500 companies, an enormous vendor community and can build upon world-class capabilities in logistics.
9. Principle No. 4. Bolster the region's small business & startup ecosystem: Increase tech transfer & entrepreneurship at the University of Arkansas, and buildout an ecosystem of startup companies. One area of focus - the outdoor economy.
10. Principle No. 5: Make inclusion and diversity a regional priority. This is a key principle and extends across all efforts & principles. Inclusion & diversity must be a priority in business development, talent at development, place-making, arts & culture- across the board.
11. Principle No. 6. Put health at the center of the region's agenda: Pandemic puts a priority on health. Northwest Arkansas is investing in new medical capacity & must put health & wellness at the top of its economic development agenda.
12. Principle No. 7: Rebrand and market the region: As a narrative of ongoing economic transformation ...
13. The point is that building back better requires a proactive and intentional strategy. We hope other cities, regions, states & provinces are inspired by this effort to develop strategies of their own.
14. Every community is different: And our strategy cannot simply be grafted onto other places. But our overall approach provides useful guideposts which communities - large and small, urban, suburban, and rural - can use to guide and inform their own recovery efforts.
16. One of the most important things to mention is I did this in my capacity as a fellow
@heartlandfwd
. This was not an outside consulting report. By investing in creating
@heartlandfwd
, the
@WaltonFamilyFdn
& region developed the capacity to this kind work. VERY IMPORTANT.