As per the IMD's data, till the week ending October 7 (see table below), large parts of Maharashtra had received 'deficient' or 'large deficient' rainfall. Latur, Osmanabad and Parbhani had rainfall departure of minus 99%, minus 94% and minus 62%, respectively.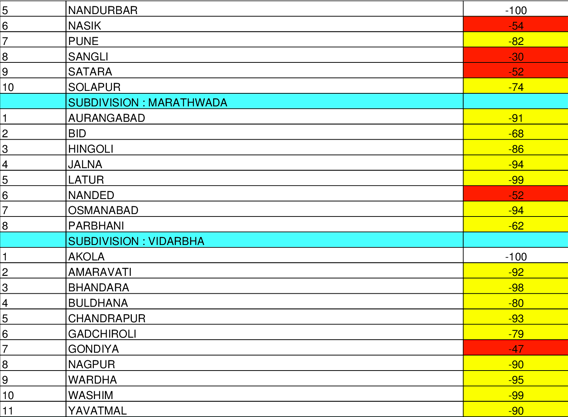 However, the very next week, the districts facing deficient rainfall were inundated due to heavy rainfall between October 8 and October 14. Latur, Parbhani, Osmanabad and Beed in Marathwada received 335%, 242%, 453% and 190% above their normal rainfall, respectively.
Overall, between October 8 and October 14, Vidarbha region recorded a rainfall departure of 295%, Marathwada 622%, and Madhya Maharashtra 102%. Maharashtra state received 131% above its normal rainfall in this time period.
In the month of October, from Oct 1 to Oct 16, as against its normal rainfall of 50.5 mm, Maharashtra has received 91.6 mm rainfall, a rainfall departure of 81% (large excess category). The highest rainfall departure has been recorded in Osmanabad district of Marathwada at 143%.