What if Biden is actually good at this and Twitter, whose cognoscenti insisted for the entire primary that he wasn't, is actually bad at this?

Just a thought.
Biden's extraordinary polling strength, which by the way predates the coronavirus outbreak, is as much a repudiation of the political elite's collective wisdom as Trump's victory was. We should be talking more about why the elites keeping getting the electorate completely wrong.
https://twitter.com/Yair_Rosenberg/status/1315667375216353284
Here's one obvious reason this keeps happening: A constant overemphasis on the votes and issues of the young, who don't typically vote, and an disinterest in the votes of seniors, who are most likely to vote. Trump won them in 2016. Biden is winning them in 2020. Take note!
https://twitter.com/Yair_Rosenberg/status/1315668570202943488
Old folks are not on Twitter. They don't drive the social media conversation. Most campaign reporters are young, and naturally gravitate towards the issues of their generation. But this leads to reporting that doesn't align with the driving concerns of much of the electorate.
https://twitter.com/Yair_Rosenberg/status/1315670155339460608
This is convenient, but wrong. Biden has been polling this well against Trump since late 2019. Other Democratic candidates like Warren and even Bernie (who polled pretty well) did not. This difference requires explanation if we are being honest and not projecting our preferences.
https://twitter.com/betaturn/status/1315671431112523777
Here is the straightforward disproof to the claim that "Biden is only winning because Trump is bad and unpopular": It's not just that Trump's favorability is awful. It's that Biden's favorability has shot UP as the campaign progresses and more voters see him. People like him!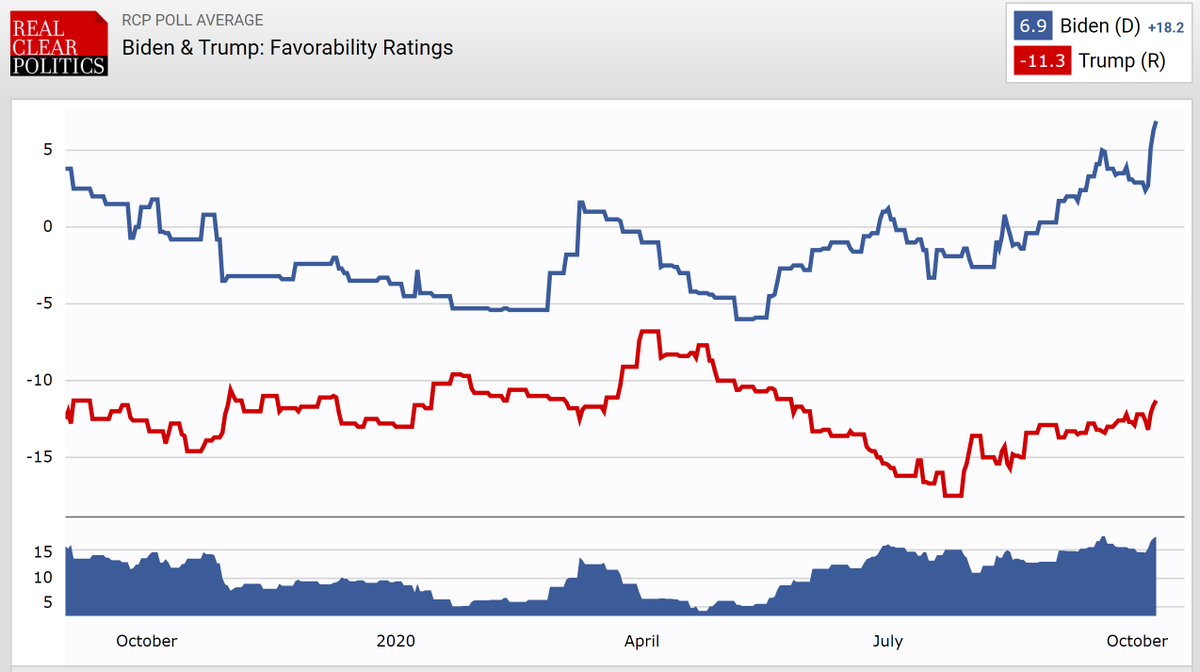 Stop and appreciate for a moment that Biden's favorability has gotten BETTER since the presidential campaign began and Republicans turned their weapons on him alone. Candidates typically go down once they are nominated and attacks and polarization kick in. Biden reversed gravity.
https://twitter.com/Yair_Rosenberg/status/1315675649596686337
This is a good time to remember the simple mathematical reason why it's more valuable to flip an existing voter than to try and turn out a new one: A voter for your opponent that flips to you is worth double (-1 for them, +1 for you), while a new voter is just worth +1 for you.
https://twitter.com/Yair_Rosenberg/status/1315702947037220864
Worth spelling this out because people forget: Biden had a big lead over Trump at the start of 2020, well before the coronavirus became an issue. He's winning on the virus, but not because of the virus.
https://www.realclearpolitics.com/epolls/2020/president/us/general_election_trump_vs_biden-6247.html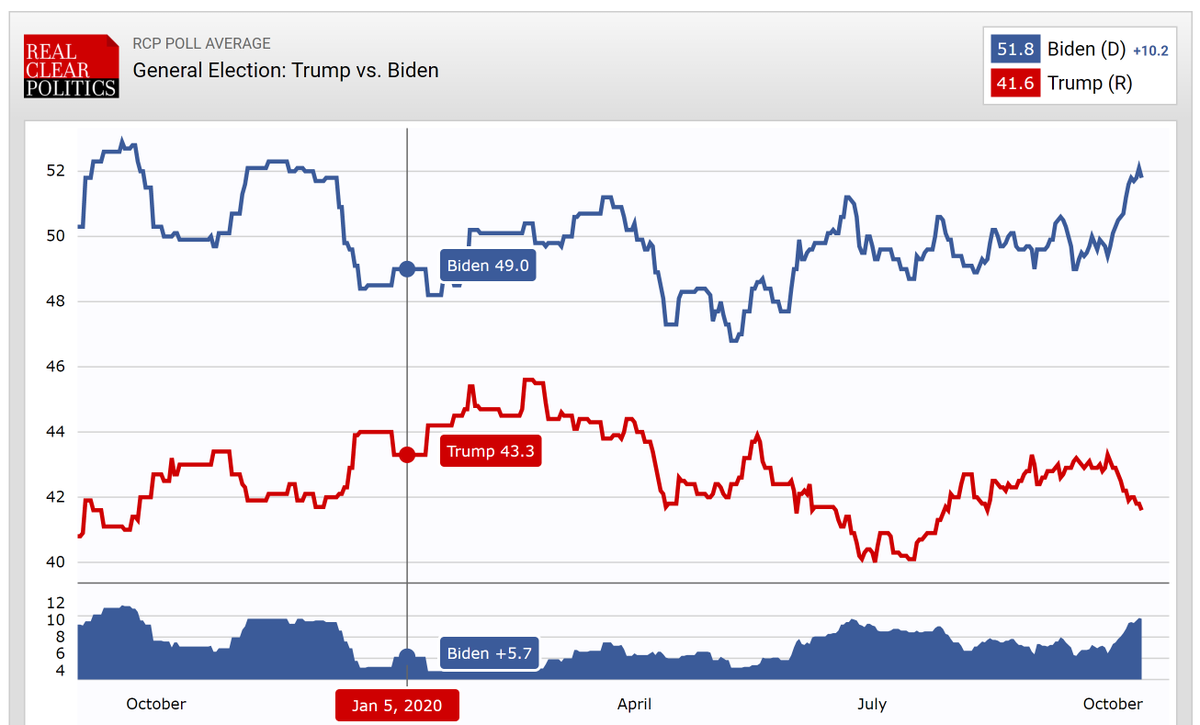 Postscript: It's fascinating to see people retcon in realtime how most elites and pundits felt about Biden. He was supposed to be a weak candidate coasting on name recognition, a problematic relic of the past whose support would collapse when exposed to a primary. All very wrong!