After 2 weeks of war, Russia brokers a humanitarian ceasefire (CF) following 10 hours of talks between FMs Bayramov and Mnatsakanyan in Moscow. Sides agree: CF due to begin around now at 1200 local time, 10 October 2020.
Further aspects to the CF to be 'additionally agreed'; parties to start substantive talks on the Basic Principles in Minsk Group framework and negotiation format to remain unchanged.
@ZaurShiriyev
warns we may be hoping for a ceasefire, but could well just get a truce, if that, as sides remain v far apart. AZ links CF to a schedule of withdrawals from occupied territories – one of the Basic Principles. Ilham Aliyev: this is ARM's last chance for diplomacy.
ARM insists that a CF is only abt humanitarian issues. Many in NK and along AZ side of Line of Contact urgently need humanitarian support. Humanitarian access to NK critical.
CF agreement, if it holds, indicates that goals have been reached and/or fighting too costly. On goals: little doubt that AZ operation changed the Line of Contact, but still no conclusive info abt extent of change
Maps circulating online suggesting major territorial changes but need to be v wary: Here is a map that was circulating during the *April 2016* war; real change in territorial was a lot less. Hard to gauge what public really believe given martial law restrictions on information.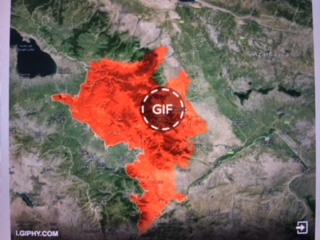 Mass mobilization + approval of war reduces political cost of war, though ARM has strengthened restrictions on domestic criticism of war effort. If CF holds true extent of losses will emerge, raising cost of new escalation?
On cost of fighting: perhaps approaching 1000 KIA (my guesstimate); >50 civilians are dead.
@emil_sanamyan
highlights that it just took 2 weeks for this war to reach a comparable attrition rate to the worst 1990s fighting in Jan-April 1994 after 6 years of conflict.
CF document's reaffirmation of Minsk Group, Basic Principles and multilateral diplomacy may indicate limits to 'regionalisation' dynamic between Russia and Turkey. Moscow not keen to accede to a Turkish bid for a duopoly on managing this conflict.
Great responsibility now for European powers to 1) support humanitarian aid and reconstruction; 2) remain focused on this conflict to ensure political momentum and avoid another period of drift, neglect and vacuum.
If CF holds, focal points for Minsk Group talks must now be: 1) upgrade of security and CF-monitoring infrastructure; implementation of May 2016 agreements on investigation mechanisms; investigation of alleged use of prohibited weapons + civilian casualties over last 2 weeks.
2) Serious commitment to negotiations on core political issues. Basic Principles incl: territorial withdrawals, peacekeeping, interim status for NK, right of return, NK-ARM corridor, opening of communications + transport links across the region, final status vote for NK.
Alternative scenario is fitful, stop-start escalations, repeated truces and CFs, more lives lost.