When Indian Prime Minister & Coal Minister announced commercial coal mining, they bragged that coal auctions will create 2.8 lakh jobs & Rs 20k cr revenue for states. So, I filed an RTI with Coal Ministry asking the basis of these claims.

Result: Coal Ministry has NO idea (1/n)
Specifically, I asked the Coal Ministry to provide me with a copy of the "report/study/ survey/ white paper/ consultancy report/calculation or any other methodology" used as a basis for calculating these employment & revenue generation claims.



(2/n)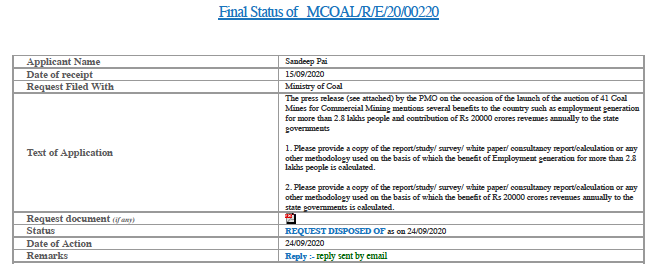 Coal Ministry said this & disposed of my RTI application. This means the Coal Ministry has no methodology on how these auctions will create 3 lakh jobs & Rs 20,000 cr revenue generation for states. It makes me wonder to what extent are "benefits" real? (3/n)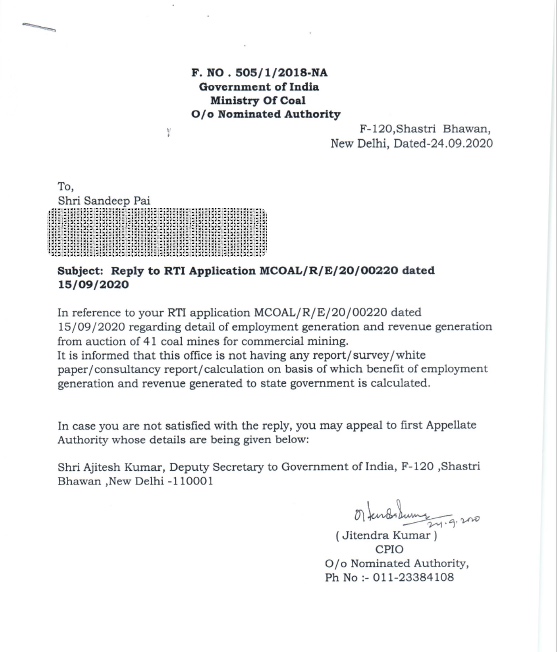 For such an important policy with serious climate, environment, and health implications for people & communities, the methodology for calculating the policy benefits should be transparent & made public. One should not even need to file an RTI. (4/n)
This is not about whether you are "For" or "AGAINST" commercial coal mining or you love RE or want to phase out coal. It is about how politicians and government can say anything and get away with it. No scrutiny is worrying (5/n)
States like Jharkhand, Chhattisgarh, Orissa etc, and various civil society organizations should ask the central government how exactly these auctions will bring socio-economic benefits. They should scrutinize the projected benefits. Ends (6/n)
Hindi daily Prabhat Khabar also published the story. Ends... (8/n)