#YogiAdityanath
is compulsory for
#UttarPradesh
.
#YogiForUP
.
Why...??
Those who are crying in the name of
#YogiJi
, please stay away from this thread, otherwise I will not be responsible for your heart attack. Deshbhakt read on

Development in UP...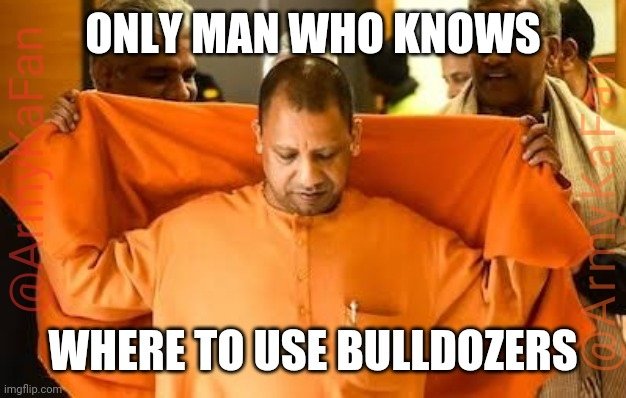 Elimination of land and mining mafia. Shut down of illegal slaughterhouses causing pollution.

Unnecessary govt holidays scrapped.

Victims of triple talak were heard and provided necessary govt help and aid.

Changes in Madrasa education system bringing Muslim children in the mainstream. More facility. Sabka Saath Sabka Vikas.

Investors summit held for bringing more investment.

Projects undertaken
Purvanchal Expressway 341 Kms
Bundelkhand expressway 296 kms
Ganga Expressway 596 kms.

2 airports till 70 years ie till 2017 in UP. Now 7 more added in 3 years. 12 more projects undertaken, which may take the total number to a staggering 21 airports alone in UP. Masterstroke!

Initiations for Kanpur and Agra metros for the people of both cities for improved transit.

Investors summit in last three years have received a staggering 4.68 LAKH CRORES as investment. 371 new projects implemented thr this investment. Wow!

The newly implemented projects above-mentioned will provide nearly 33 lakh new employment opportunities, direct as well as indirect. NEAT!

To further the pace of industrialization and development, another investors summit to be held in 2020. Investors contact UP govt for details.

System created for the pending payments of farmers since 2010.
Yes you heard it right SINCE 2010.

UP reached second in sugarcane and sugar production as a state. Record payment of 92,000 crores made to farmers.
Munderwa, Pipraich and Ramala received new sugar units recently.

105 new licenses for Khandsari units approved for the first time in 25 years. This led to increase of 27,800 CTD crushing capacity.
Target given by PM Modi ji to double the income of farmers by 2022 is on track in UP.

Soil health cards given to crores of farmers. This is the best use of technology and forward thinking by Yogi ji.

40-90% subsidy given to thousands of farmers through direct bank transfer for agricultural machinery. Achieved by making a custom hiring centre. Waah Yogi ji waah.

The Million's Farmer School scheme at Nyay Panchayat level, to give technical training to farmers for improvement in farming techniques. Amazing!

Fourteen new Krishi Vigyan Kendras established. Six new Science Centres proposed!
Too much technology Yogi ji, wow!

MSP implemented for the crores of farmers in UP. The main support for farmers growing pulses,oilseeds,wheat and paddy as these are the main crops.

Under the Pradhan Mantri Kisan Samman Nidhi, Rs.12,000 transferred directly to farmers accounts!
#Repect
!
Farmers loan waiver of 36,000 CRORES!
#Respect
!

Number of irrigation projects started in
#Bundelkhand
region for the benifit of 50 lakh farmers in order to irrigate 18 lakh hectares of ADDITIONAL LAND IN JUST THIS FINANCIAL YEAR!
Numbers speak for themselves!

Bansagar irrigation project which remained held for decades completed in just 3 years, for the benefits of the farmers in the region!

Other new projects include Arjun Sahayak, Bhavani and Bandai dam. Sarayu canal, Madhya Ganga canal under UP water sector restructuring.

A staggering 8,000 ponds created on private lands in Bundelkhand alone under "Khet Talab" scheme. 6,000 more to be achieved in the near future!
This is empowerment of the kisan in real sense!

Revival of Aami river in Gorakhpur, Odi river in Lalitpur, Gomti river in Ayodhya and Ganda river in Pilibhit. Excellent!

Under the Namami Gange project, the Sisamau sewer point has been closed. You might think what's the big deal. But this sewer point use to be a point of sewage which flowed 14 crore litres sewage into Ganga DAILY!
FROM FAITH TO DEVELOPMENT!
GANGA YATRA


UP had 12 medical colleges in 76 years. Now add 7 more MBBS colleges in 3 years. Foundation laid for 8 new more medical colleges. Also got approval from centre for 23 more. AIIMS to be set up in Gorakhpur and Rae Bareli.

Encephalitis has declined for the first time in children since last four decades. 56% decline in infection, 90% decline in deaths for the first time!
Dhanyawad Yogi ji!

Through "Operation Kayakalp" basic facilities like boundary walls, toilets, clean drinking water and electrification done in 92,000 primary schools. Amazing!

45,383 new teachers recruited.
Recruitment of 69,000 new teachers is in the last phase.

55 new govt colleges approved for secondary education.Initiative of Atal Residential schools in every Circle Headquarters for education of children belonging to laborers and deprived.


Women battalions of PAC established in Lucknow, Badaun and Gorakhpur. Pink Bus Service for women having female conductors and CCTV supervision.


41 new police stations, 13 new check posts and appointment of 1.37 lakh police personnel. Result, decrease in crime and criminals either are in jails or fleeing away!

Police commissioners for Lucknow and Gautam Budh Nagar. Result, dacoity cases decreased by 59.7%, murder cases decreased by 47.09%. Figures refer to 2019 vs 2016. Great!

No major incidents during 370 verdict and anti CAA protests. You know why


.

Budget of 5 lakh crores, biggest ever in the history of UP and India.
CM apprenticeship program and YUVA schemes for atmanirbhar UP!

State with highest e purchases via GEM. 9 awards under PMAY. 7 awards in MNREGA. 2 in Urban Mission. 1 each in Livelihood mission, Gram swaraj abhiyan and NIRDP.

Maternal mortality rate dropped by 30% in just 3 years. Highest award for Nutrition month.14 state bodies received cleanliness awards. Krishi Karman Award for highest oilseed production!
This is wow!

Reached no.1 place in production of milk,sugar, sugarcane and food in the country. Also number 1 in establishment and operations of medical institutions in the country.
This is the new UP!

Announcement of new film city in Noida with full support by Yogi ji. Imagine the pain of Bollywoodiyas.



Only handling rioters, shooting gangsters to dismantling illegal properties of criminals and goons,is not Yogi ji, imagine how little are thinking about the developmental face of Yogi ji.

Final note : Please tag and spread this to all your friends on Twitter. This is the development which Yogi ji is talking about. This is why the Congress, Left and Bollywood are defaming Shri Yogi Adityanath ji. They are flabbergasted to see the rise of Yogi ji.






THANK YOU YOGI JI



@myogiadityanath
@amitmalviya
@sudhirchaudhary
@threadreaderapp
unroll pls