#HathrasCase
: False narrative at the behest of vested interests gaining momentum, says UP Government in the affidavit filed in SC. Asks SC to allow CBI investigation to ensure that "false narratives do not interfere in the course of investigation".
@UPGovt
@myogiadityanath
#Hathras
UP Govt further states :
*Police took all necessary steps as per law.
*Extraordinary circumstances forced the extraordinary step of cremating the victim at night.
*Certain section of media and political parties attempting to incite caste/communal riots.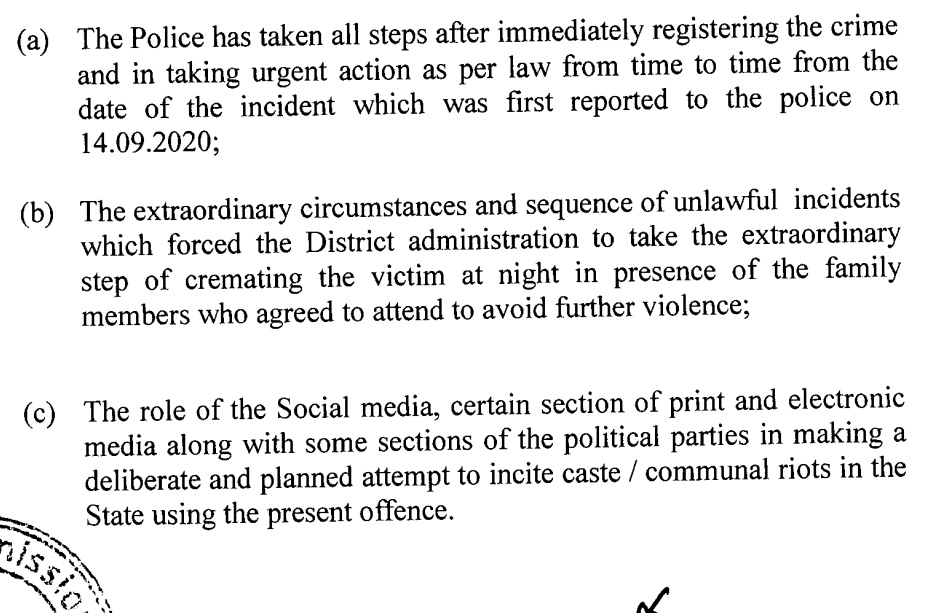 UP Govt tells that all four accused -Sandeep, Luvkush(19), Ravi (35) and Ramu (28) have been arrested under Sec 307(attempt to murder), 376D(gangrape) of IPC and Section 3(2)(v) of SC/ST Act and are lodged in Aligarh jail.
@UPGovt
@Uppolice
#HathrasHorror
#HathrasCase
: No signs suggestive of rape, UP Govt tells SC.
The provisional medical report of JJ Medical Hospital Aligarh did not have prima facie findings of rape.
The samples were sent to FSL Agra, which gave its final opinion ruling out rape, says the UP Govt affidavit.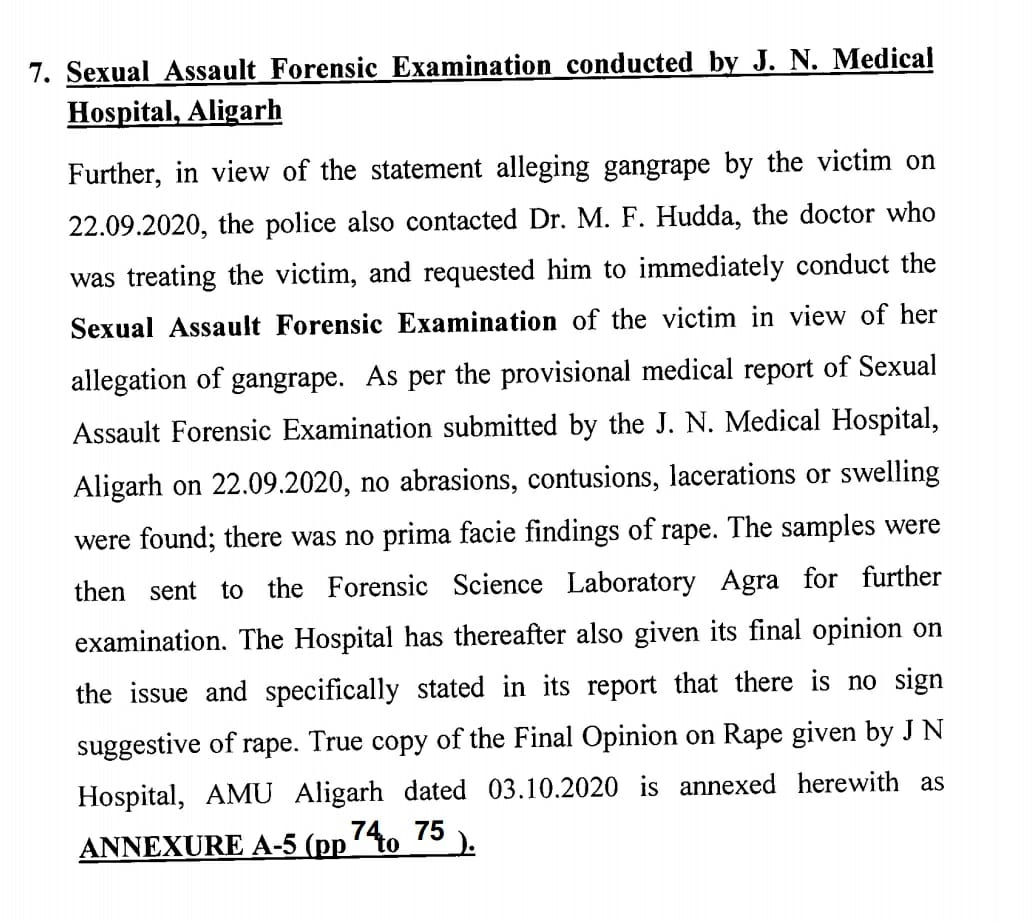 #HathrasCase
: Victim cremated at night with to avoid large scale violence in the morning. There were intelligence reports of the issue being exploited to give a caste/communal colour, UP govt tells SC.
@UPGovt
@Uppolice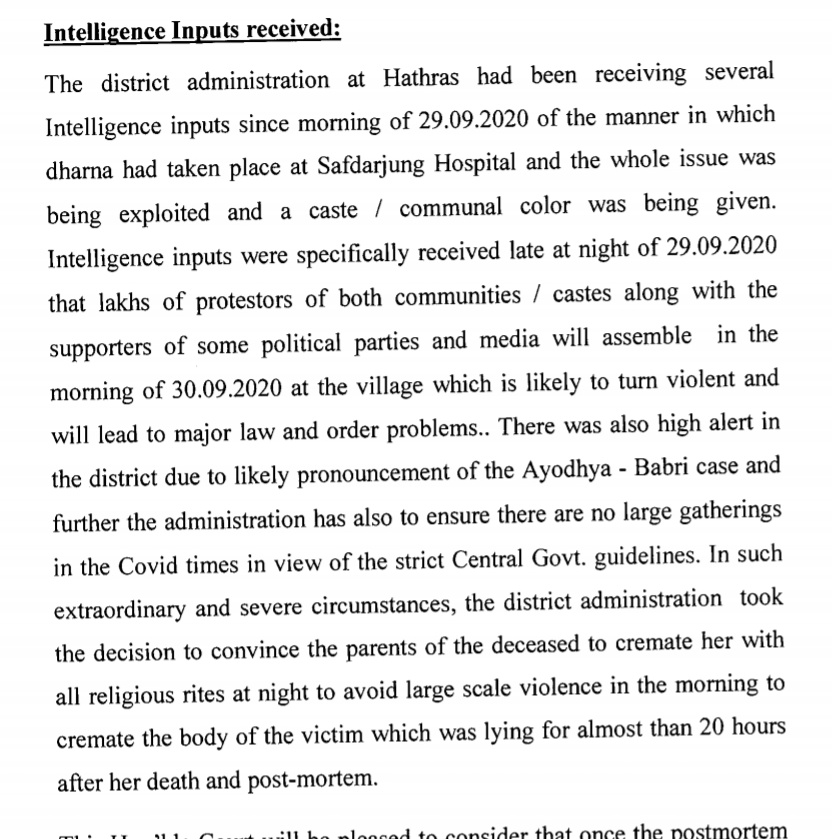 #HathrasCase
: After the death of the victim on September 29, offence of murder under Section 302 and Section 376A(causing death after rape) of IPC added against the four accused, UP Govt tells SC.
There has been a "vicious propaganda" in social media, certain sections of media with some sections of political parties to deliberately mislead the public to create caste/communal disharmony in the state, UP govt tells SC.
#HathrasCase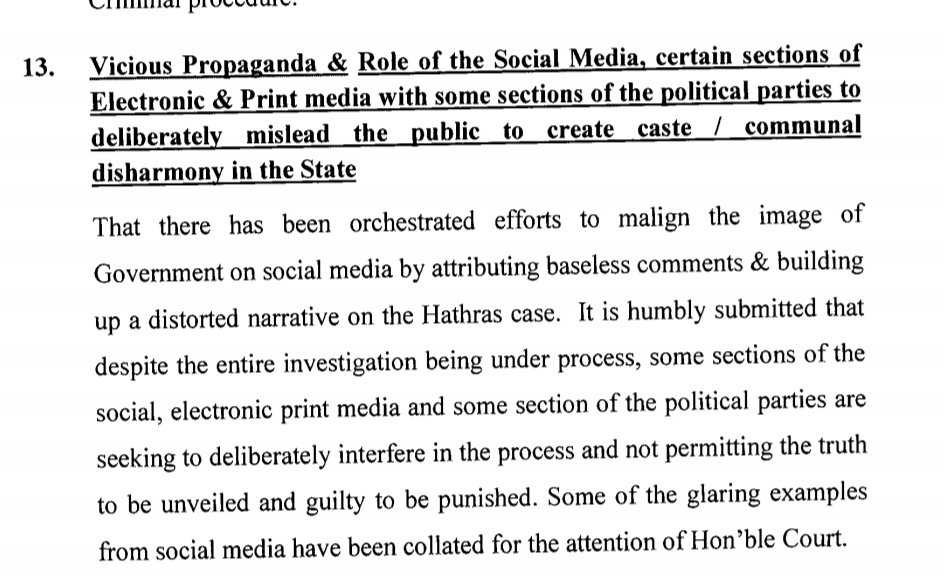 UP govt has requested the SC to direct CBI investigation not only into the
#HathrasCase
but also into the case relating to alleged criminal conspiracy to spread caste conflict by sections of media and political interests.