THREAD
Burner account
@CommanderData5
shows us the sheer genius of the Democrats.
Poor
@realDonaldTrump
doesn't have a chance!
First it posts this: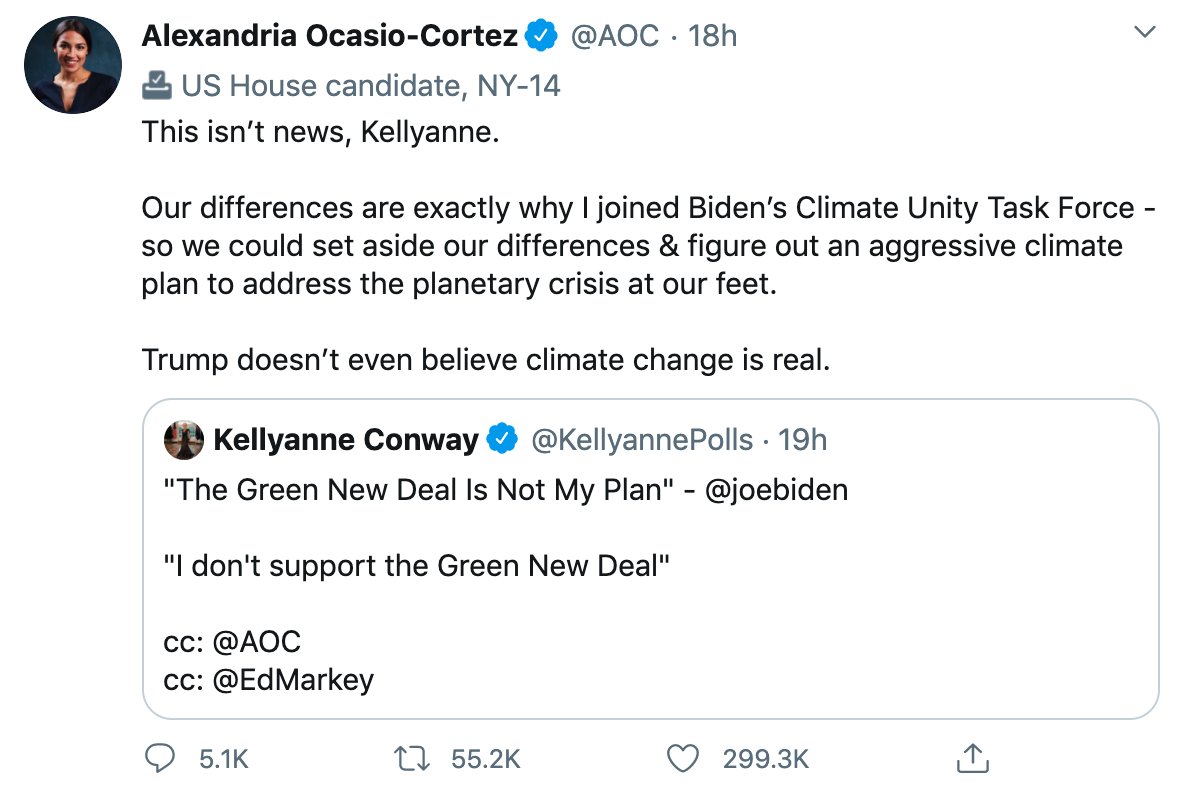 Two: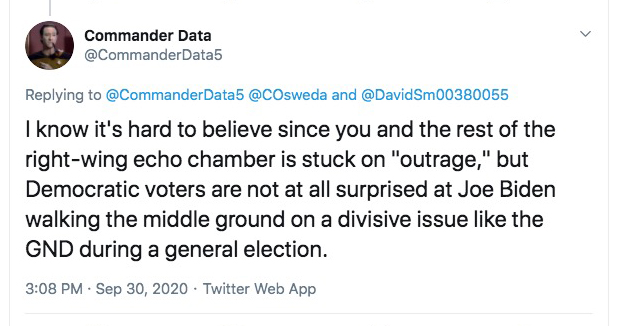 Three: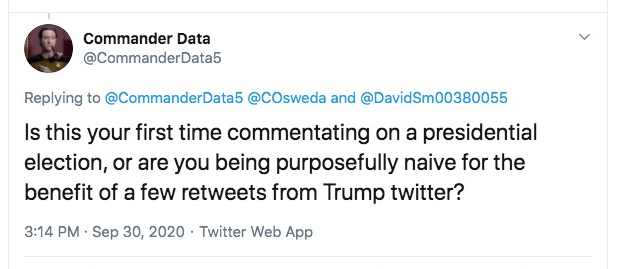 So we get a torrent of insults, in the midst of which the good commander doesn't notice that it just DID EXACTLY WHAT TRUMP DID!

Trump got Biden to say that Biden is lying to radical leftists.

So the good commander says, "OF COURSE Biden is lying to radical leftists!"
The good commander tells me I'm an idiot for not supporting a guy who lies to both moderates AND radicals.

So at the end of this EXTREMELY entertaining exchange, the good commander has agreed with Trump and explained why Biden is so untrustworthy that nobody can believe him.
This is how politics was during the pre-Trump era.

"Say whatever you need to say to get elected, then laugh at the rubes and rake in the cash for yourself."

The good commander tells me that we must RETURN to that approach to politics.
Why?

I've got a president who DELIVERS.

Why do I need to go back to the era of being a dupe?

The answer is, I DON'T.

None of us do.

Politicians are there to SERVE US.

TRUMP IS SERVING US.

He's doing such a good job that I'm going to keep him on.
Today was a blither maelstrom of stupidity.

We have the cognitively rigid conservatives saying, "Why wasn't Trump ineffectual? I'm disappointed that he wasn't a spineless mangina."

And we have people moping about the "death of civility"!
WHAT THE ACTUAL @#$% ARE YOU BLATHERING ABOUT?!

Trump is the LAST PERSON ON THE PLANET who should be civil.

After what was done to HIM, he'd be justified and in going out there in jeans, a T-shirt, and a MAGA hat and using nothing but profanity.
One of the worst things I ever saw in my life was a video taken in a bar the night some terrorists went nuts in London, and the helpless cops were waiting for the armed specialists to arrive.

The fat cops ran into the bar and told everyone to hit the deck. Then they left.
A bar patron WHO THOUGHT HE WAS ABOUT TO DIE shouted something insulting about the religion of the terrorists.

And the man filming SCOLDED HIM.

AND THE WORLD PRAISED THE "CIVILIZED" MAN.

Talk about the inversion of civilization.
Very little was said about the MURDERS committed by the terrorists.

But the scolding eunuch became a hero.

I would've tossed him out of the bar so that the terrorists could chop him up.

"Here: Go smoke the peace pipe with your buddies."
The Democrats ARE NOT CIVILIZED.

Trump is so civilized that he scrupulously avoids even the APPEARANCE of not submitting to the rule of law.

Going on a stabbing spree is NOT CIVILIZED.

Saying something disrespectful when you think you're about to die DOESN'T MATTER.
SCOLDING SOMEONE WHO THINKS HE'S ABOUT TO DIE IS NOT CIVILIZED.
But I have to thank
@CommanderData5
for illustration to total madness of the Democratic approach to politics.
Be as insulting as possible, and tell us that your candidate is 100 percent dishonest on every level.
This is how sociopathic con artists operate.

They say WE DESERVE TO BE CONNED for believing them.

Here's the problem:

Someday you'll con the wrong person.

And that person will make you pay.

Making a con artist pay is not nice, but it's highly civilized.
WAR is not nice, but in some cases it's waged in order to save civilizations.

THIS IS WAR.

For real.

Look around you. Those are REAL BUSINESSES being burned down or shut down.

BY LEFTISTS.
Democrats are using what's called the "scorched earth" strategy.

Destroy EVERYTHING.

Trump is using a VERBAL scorched-earth strategy...but his ACTIONS are exactly the opposite.

Democrats still don't appreciate the trouble they're in.
Trump has the most leverage any American citizen has ever had.

And it's because he CAUGHT EVERYBODY.

All that matters is that the old ways stop for good.

Demanding former presidents be put on trial is not reasonable.

AND YOU KNOW IT.
Remember:

Most of what Republicans did before Trump was FUTILE.

So you need to STOP sticking in your oar.

Trump won, so HE gets to call the shots.

We need to get back to business ASAP.

Biden doesn't matter. He's a flop.
After Trump wins, he'll make everybody forget how things used to be done.

This is an INTERIM PHASE.

If you can't hack it, go offline and wait for the future to become the present.

Let the rest of us enjoy the ride.

END
ADDENDUM:
I blocked the good commander because NOW it says that it was lying about Biden lying.
In other words, I did what
@realDonaldTrump
did to Biden and Wallace last night.
Don't fight the war on THEIR terms. Just steamroll 'em.