THREAD
Big picture, folks. Big picture.
@realDonaldTrump
is a big-picture guy.
You need to become big-picture guys and gals.
THIS DOES NOT MATTER.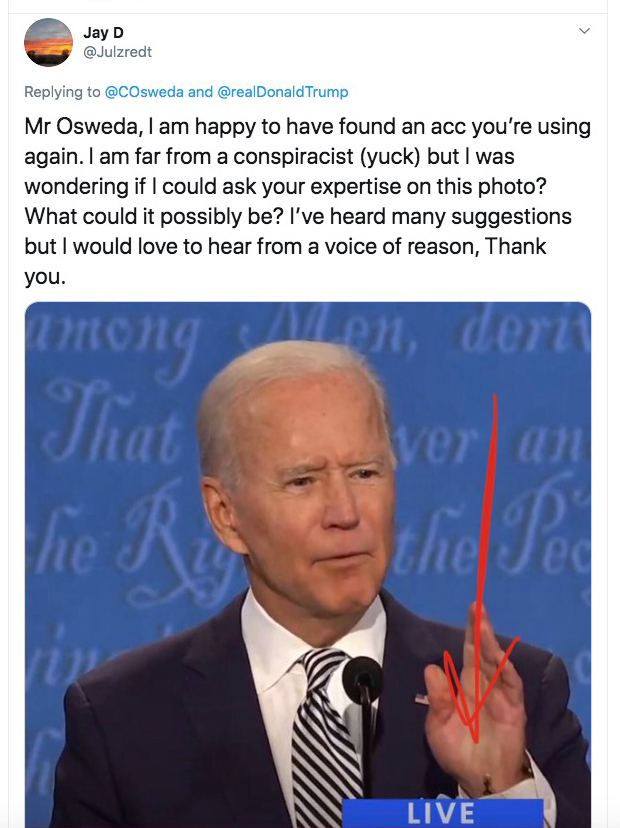 "'I have not taken off the rosary Beau was wearing when he passed, since then. It is my connection with him,' Biden said."
A transparent lie.

A simple Google search shows that Biden never wore a wrist rosary until after that interview.
BUT LISTEN VERY CAREFULLY:

It doesn't matter if Biden had the entire US Intelligence Community feeding him answers last night.

Trump DEMOLISHED him anyway.

Trump said it was FUN.
If you continue to wring your hands, you're going to miss out.

YOU CAN'T CONTROL ANY OF THIS.

Do not try to second-guess Trump.

You'll end up with egg on your face.

I'm getting all sorts of "shouldas."

They're ridiculous.
"Trump shoulda reminded the viewers of the historical connection between the Democrats, the KKK, and racism."

Absolutely not.

That's what YOU would've done, and they have an answer for that.
"The parties have switched. Racist Democrats became Republicans, and virtuous Republicans became Democrats."

Sure, it's a lie, but NOW you have to debunk THAT too.

THEY ARE CONTROLLING THE DEBATE.

They lead you into a maze of lies and futility.
Trump won in 2016 by smashing ALL the narratives, and he won last night by smashing THAT narrative.

Too many of you are STILL as easily manipulated as children.

Trump IGNORED the traps.

Best example:
Biden thundered in outrage at Trump mocking Biden's dead hero son Beau, and Trump simply said, "Well, I don't know Beau, but I know Hunter, and boy is that guy corrupt! Look at all his deals with China and his $3 million from Russia! What was THAT all about?"
BIG PICTURE.

Too many of YOU people want Trump to be as big a flop as Mitt Romney.

You know why Hollywood turns out so many dud movies?

They hire someone for a specific skill AND THEN TRY TO CHANGE THEM.

They homogenize a unique talent.
THAT'S WHAT YOU'RE TRYING TO DO TO TRUMP.

And it's all because you're fretting about what OTHERS mind think.

Fret about yourself.

Better yet, STOP FRETTING. It's repulsive. It's weak.

Former leftists LOVED Trump's performance last night because THEY'RE fighters.
Black Americans and Hispanics loved it because THEY'RE fighters.

Working-class white people loved it because THEY'RE fighters.

The left and right establishment and FRETTERS are the ones all upset today.

Last night was the acid test:

Either you get Trump, or you don't.
If you were not laughing last night, you're not a big-picture person, and you may never be.

It was THRILLING.

I enjoyed every second of it.

Trump dominated the entire night.

Nitpicking it is DUMB.

It's exactly like a massively successful military offensive.
The Battle of Mosul was pure genius.

That doesn't means the Iraqis suffered no casualties or killed zero civilians.

It's the nature of the beast. It's WAR.

But if you look at the big picture, it was stunning.

Same as last night.
Trump mopped the earth with the entire Democratic party.

If you can't see that, you need to work on your perception skills.

You can't see the world through a microscope.

You need to use a MACROSCOPE.

Your brain.

END