Tuning in now to
@sciencemarchnyc
's workshop event on the Intricacies and Intersections of Climate, Abolition, and Decolonization for
#ClimateWeekNYC
.
This is one of many great events that I encourage yall to tune into this week - not too late to visit
@ClimateGroup
for events!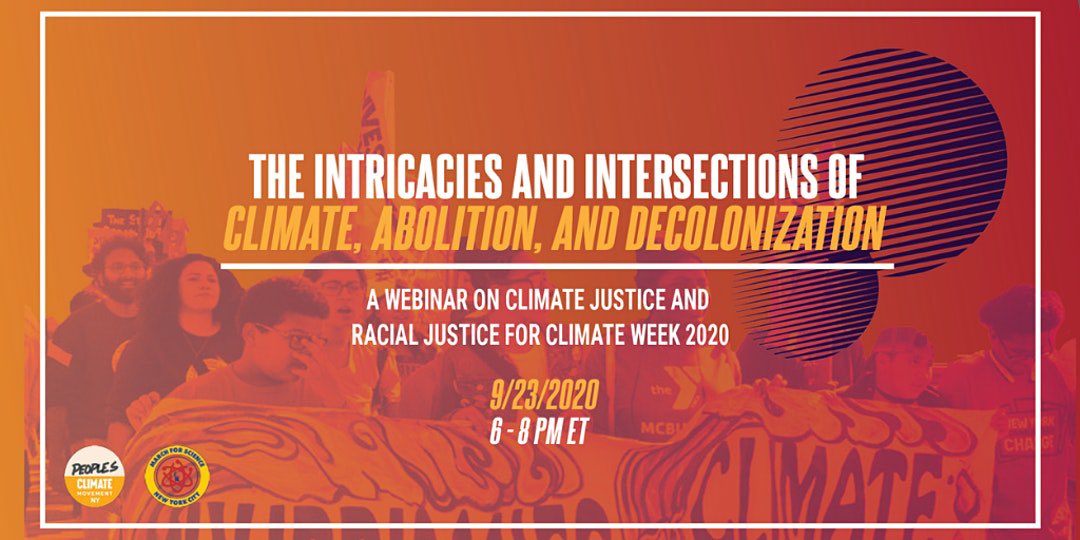 Laws have been created to keep Black, Brown, & low-income communities oppressed.
@TanzaniaHughie
urges us to
#VOTE
, say something when you see injustice - speaking up can save someone's life from an abuser or police brutality, & admit fault so we can push forward.
#ClimateWeekNYC
"See people as individuals and NOT as stereotypes from a movie." -
@TanzaniaHughie
#ClimateWeekNYC
#blacklivesmatter
It is not

the

job

of Black men and women to educate white friends and colleagues on
#decolonization
. Check yourselves, check your friends, check your mom! Well said
@TanzaniaHughie
.
#ClimateWeekNYC
Indigenous peoples have been excluded or spoken for, as if they have been victims, when they are well-equipped to speak for themselves & share their experiences.
Add'l, little funding has gone to Indigenous peoples (~95% goes to white-led orgs).
@MukaroBorrero
#ClimateWeekNYC
#GreenNewDeal
includes resolution that states a goal of obtaining "free, prior, & informed consent of Indigenous peoples for decisions that affect [them] & their traditional territories, honoring all treaties & agreements...& protecting & enforcing the sovereignty & land rights"
ICYMI:
@PCM_NY
March for
#climatejustice
thru
#racialjustice
demands:
1. NYC act on Resolution 864
2. NYC
#GreenNewDeal
3. Red Deal
4. Columbus Day

Indigenous Peoples Day
5.
#DefundNYPD
6. Invest in Black, Brown & Indigenous communities
7. Equitable response to COVID-19
What is abolitionist
#climatejustice
? What is a world where ppl are safe & have resources to thrive?
Part of decolonizing is regaining our humanity.
Kei Williams gives us all something to ruminate on in today's
@sciencemarchnyc
@PCM_NY
#ClimateWeekNYC
event.

@blackboikei
asks us to think:
What could NYC look like without Rikers Island?
We need to realize the importance of & return the land to the Lenape ppl as one (of many) steps to take in prison abolition and decolonization.
#ClimateWeekNYC
@sciencemarchnyc
@PCM_NY