Narendra Modi ji has been the Stalwart .
6 Years as PM of India & Many more Years to Come.

Born on 17th Sept 1950 NaMo Turns 70 Today in this Journey there has been Stories and Events that will definitely inspire Generations after Generation
1965 Kankaria ward secretary of the Jan Sangh in Ahmedabad

In 1985 Deputed by the RSS to the BJP

In 1988
Elected and organizing secretary of BJP Gujarat uni Secretary is electoral strategy was central to BJP's victory in the 1995 state elections.
In 1995
Elected National Secretary of BJP and was transferred to New Delhi where he was signed responsibility for the party's activities in Haryana and Himachal Pradesh Was promoted to the post of
General Secretary(Organisation)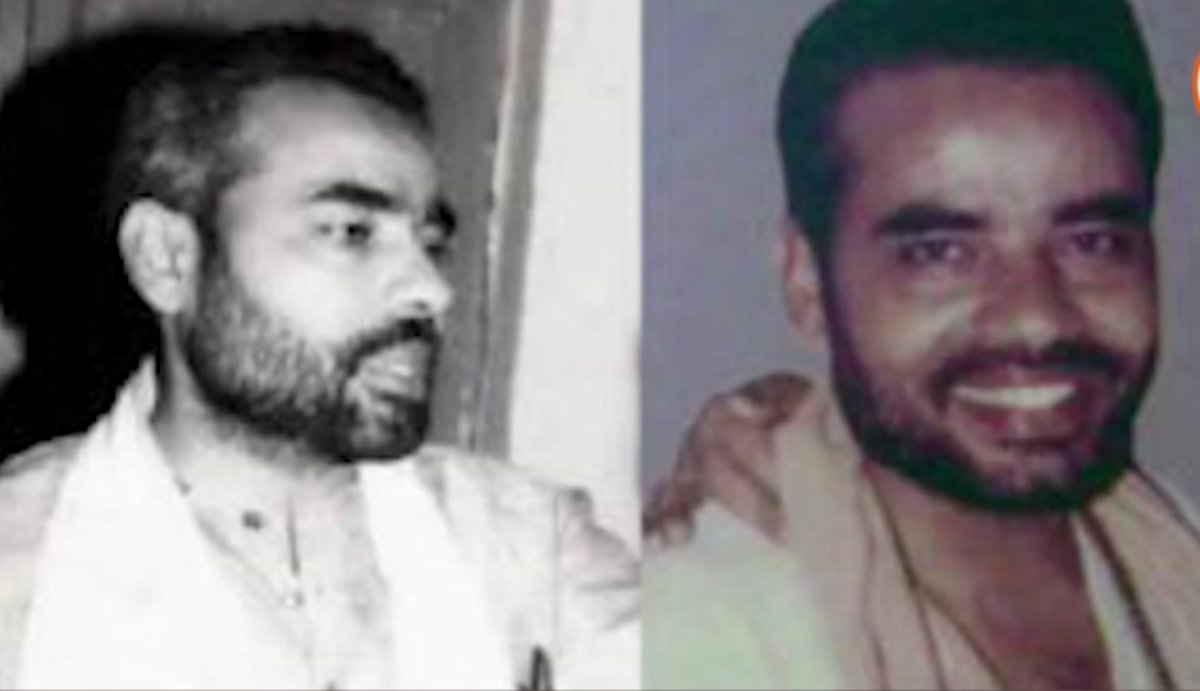 of the BJP's strategies were
credited as being key to winning
the 1998 elections
In 2001
He was Appointed the Chief Minister of Gujarat, with the responsibility of preparing the BJP for elections in December 2002
In 2002
Wins assembly elections, to become Gujarat Chief Minister
In 2007
Wins assembly elections retains Gujarat's Cm position
In this Time Congress Used power to Make ANYTHING THAT WOULD DO NARENDRA MODI to Trouble him for 2002 .

2011-12
Undertook a series of a part of a Sadbhavna Mission (Goodwill Mission),

In 2012
Wins assembly elections, fourth term Gujarat's CM

In 2013
Selected to head the poll campaign for 2014 general election Was appointed to the BJP Parliamentary Board
BJP announced Modi as their prime ministerial candidate for the 2014 Lok Sabha election
Major exit poll surveys predict modi led party will win 15th lok sabha election
On 26th May 2014
BJP Won with Majority and Journey of Sankalp se Siddhi .
Narendra Modi Became PM of India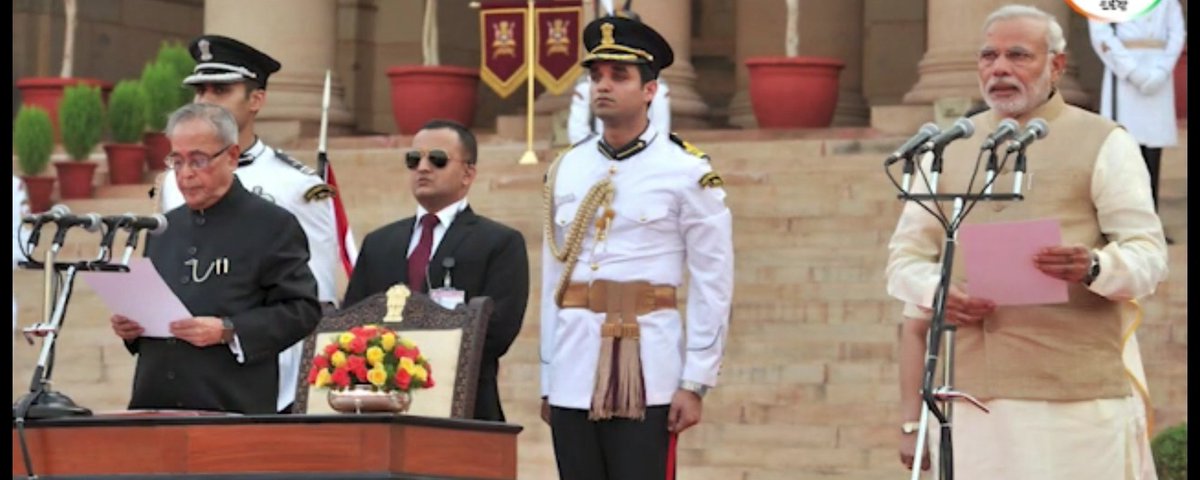 - After becoming the PM of India he has initiated several ambitious and important projects like "Swachh Bharat Abhiyan", "Make in India", "Clean Ganga" etc.
- He also tried to improve bilateral relations with other countries of the world.
He Emerged as World Leader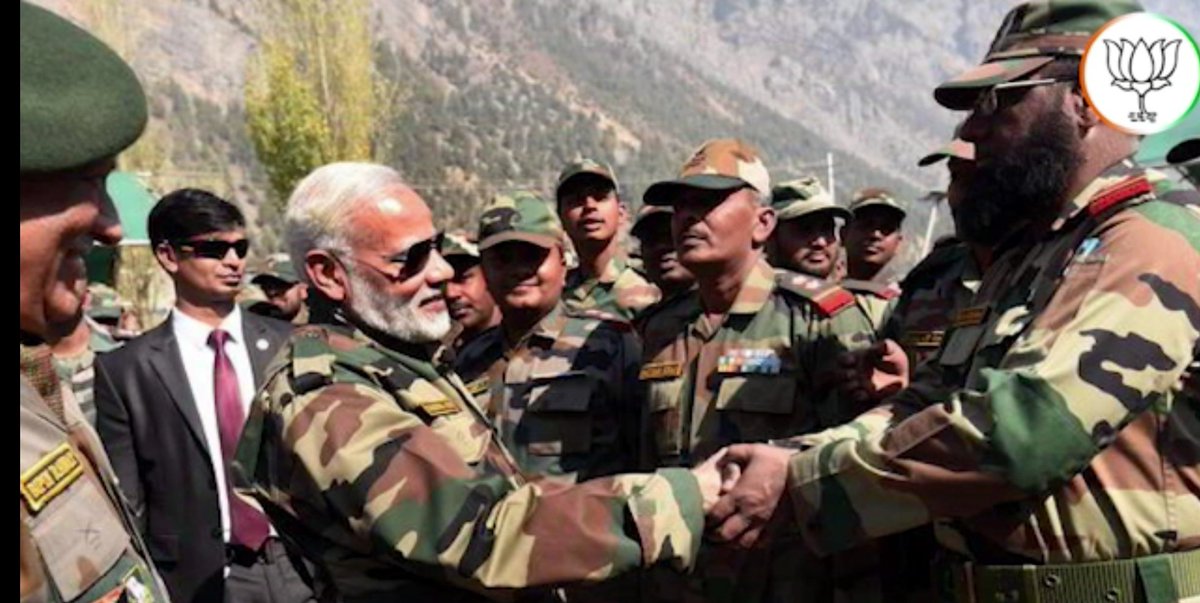 On May 23rd ,2019 He Became PM for Second time in row .
BJP won With thumping majority of 303 Seats in LS 19 .

On the Way Here Narendra Modi Won Many Awards as follows

In a survey conducted by India Today Magazine, he was named as the best Chief Minister in the country in 2007.
- In 2009, FDI magazine honoured Narendra Modi the Asian Winner of the 'fDi Personality of the Year'award.

- In TIME's Asian edition of March 2012, he was featured in the cover page.

- On Forbes magazine's list of the 'World's Most Powerful People' in 2014, he ranked at 15.
- In 2014, 2015 and 2017, he was listed among 'Time 100 most influential people in the world' by Time magazine.

- In 2014, he was awarded Indian of the Year by CNN-IBN news network.
- Time Magazine in 2015 released '30 most influential people on the internet'list and he was named as the second most-followed politician on Twitter and Facebook.

- In 2015, Modi was ranked the 13th-Most-Influential Person in the World by Bloomberg Markets Magazine.
- In 2015, he was ranked fifth on Fortune Magazine's first annual list of the "World's Greatest Leaders".

-  In 2016, a wax statue of Modi was unveiled at Madame Tussaud Wax Museum in London.
- In 2016 PM Narendra Modi was conferred with the Amir Amanullah Khan Award, the highest civilian honour of Afghanistan.
- In April 2016, he was conferred with the Saudi Arabia's highest civilian honour 'King Abdulaziz Sash' by King Salman bin Abdulaziz.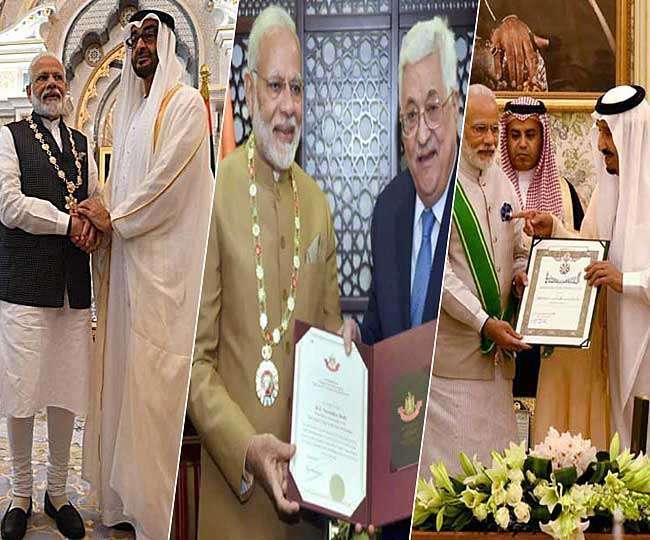 In 2017, the Gallup International Association (GIA) conducted a poll and ranked Modi as third top leader of the world.

- He ranked 9th in Forbes World's Most Powerful People list 2018.
- In October 2018, Narendra Modi received UN's highest environmental award, the 'Champions of the Earth' for policy leadership by "pioneering works in championing" the International Solar Alliance and "new areas of levels of cooperation on environmental action".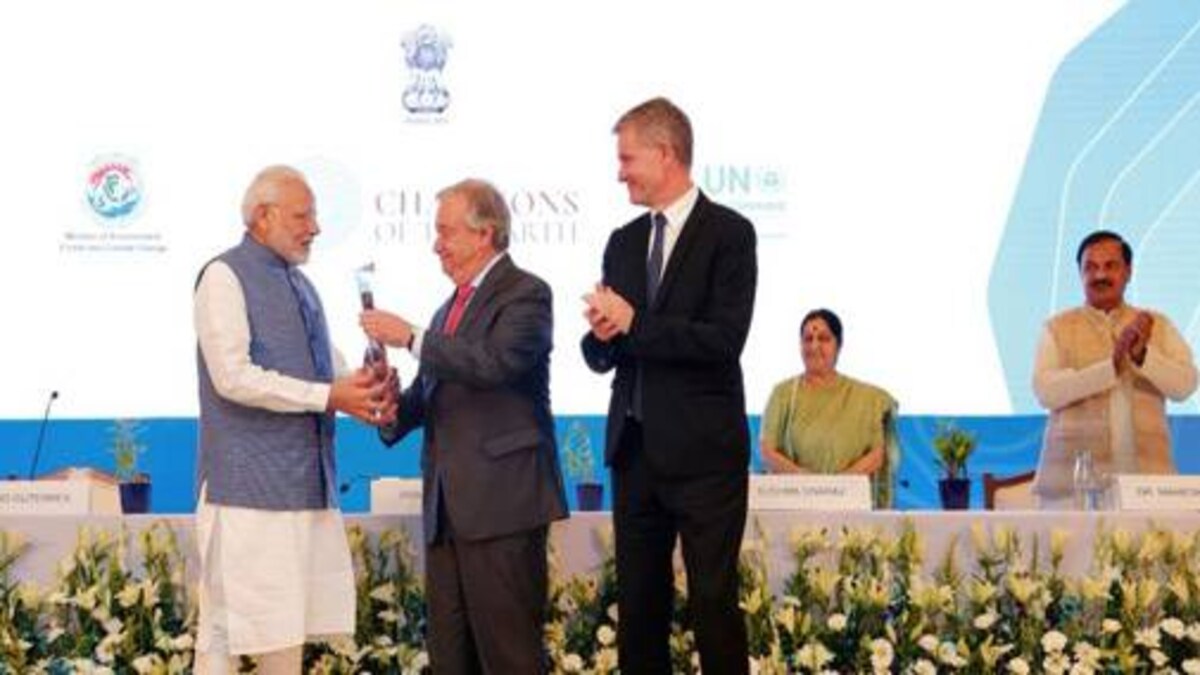 He was conferred with the Seoul Peace Prize in 2018 for improving international cooperation, raising global economic growth, accelerating the Human Development of the people of India by fostering the economic growth etc.  he is the first Indian to win this award
- On 10 February, he was honoured with Grand Collar of the State of Palestine; the highest civilian honour of Palestine for foreign dignitaries.

- The first Philip Kotler presidential Award is also received by Narendra Modi in 2019.
- On 4 April, 2019, UAE President Sheikh Khalifa has conferred on PM Narendra Modi, the Zayed Medal, the highest decoration awarded to kings, presidents and heads of the states. He received the honour in appreciation of his efforts in maintaining strategic ties with UAE.
Source

Jagran Josh
And other Outsourced Platforms