It's SEPTEMBER!! Which means
#Election2020
has officially begun!
So exciting!
10 States have
#EarlyVoting
or In-Person Absentee Voting in September:
IL KY MI MN MO MS SD VA WI WY
#MakeVotingPlanNOW
#VoteBlueToSaveAmerica
THREAD 1/4
#PostcardsforAmerica
Dates below for all States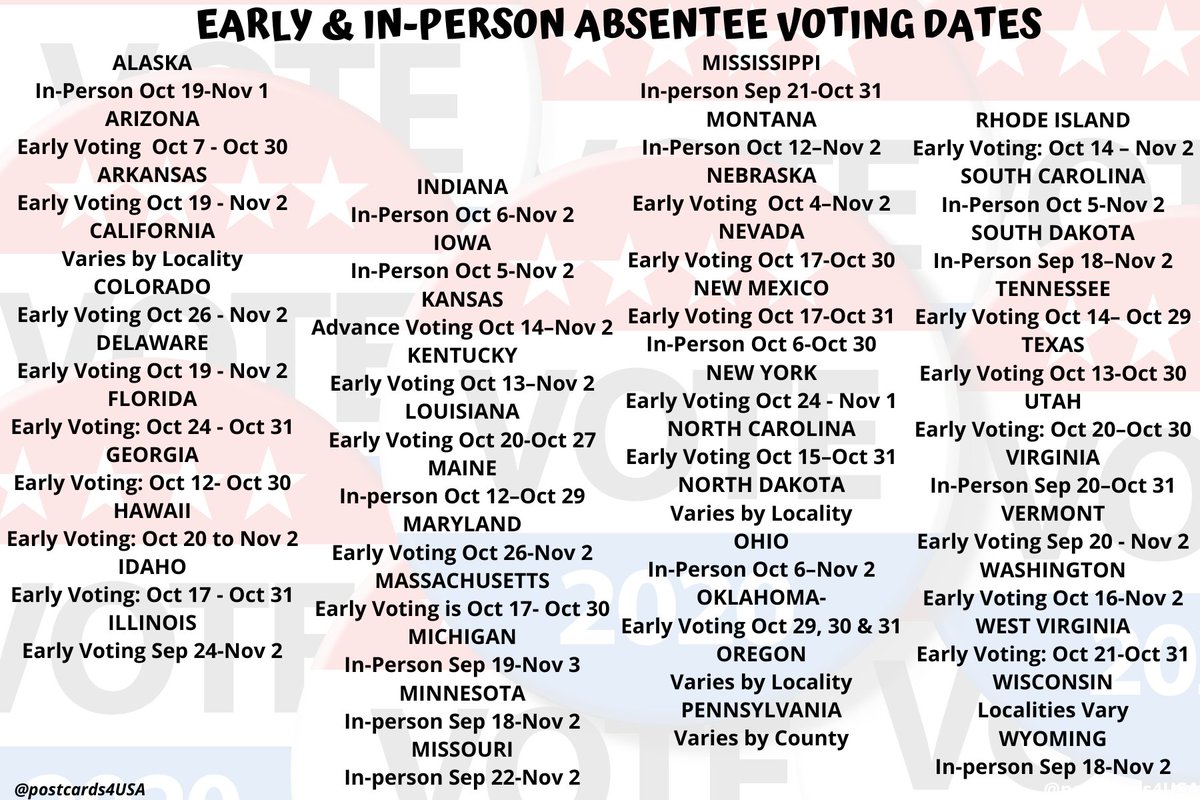 Planning to
#VoteByMail
?
In 34 States, you can Apply for your Absentee Ballot RIGHT NOW for
#Elections2020
AK AZ CA DE FL IA ID IL IN KS KY
LA MA MD ME MI MN MS NC ND NE NH
NV OH OK RI SD TN TX VA VT WI WV WY
#AbsenteeBallots
#AbsenteeVoting
THREAD 2/4
#VoteBlueToSaveAmerica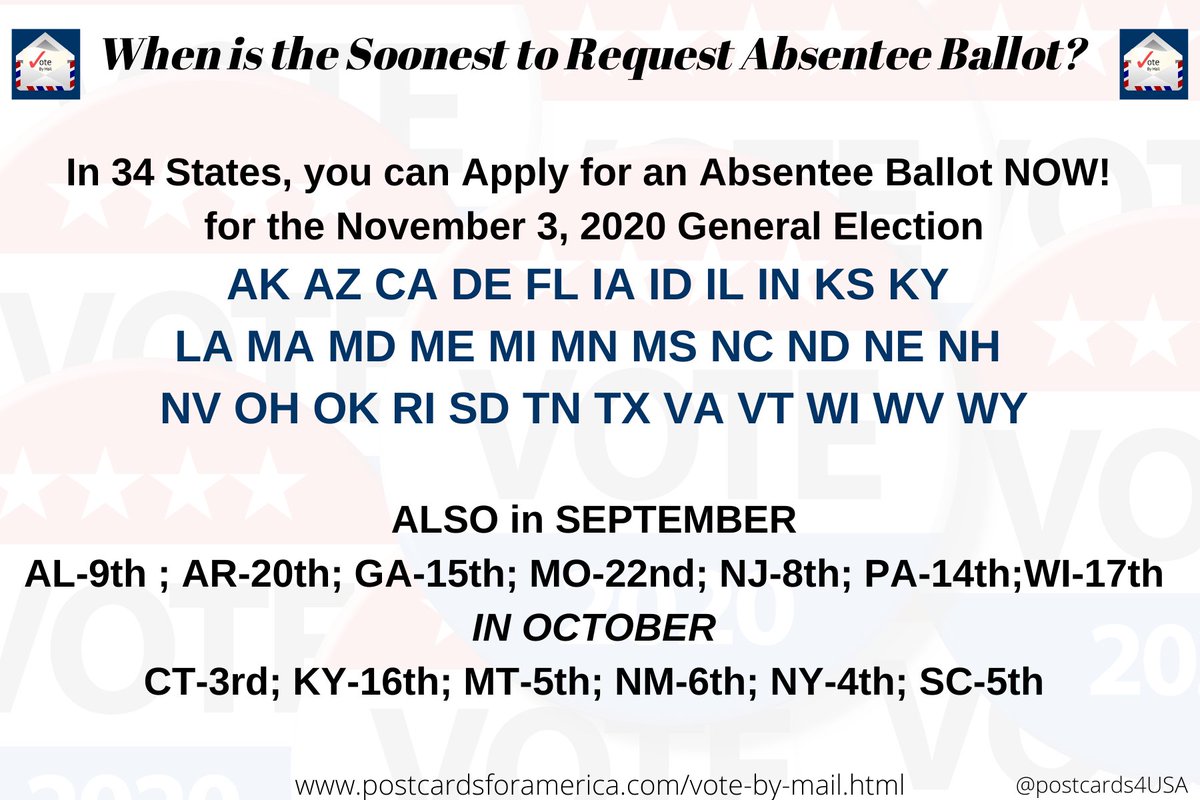 Concerned about
#USPSsabotage
and delayed mail?
Here are all the alternate ways to request your
#AbsenteeBallot
to
#VoteByMail
It differs by State
#VoteByMailEarly
Find all the info you need in dropdown menus by State here:
https://www.postcardsforamerica.com/vote-by-mail.html
#VoteBlue
THREAD 3/4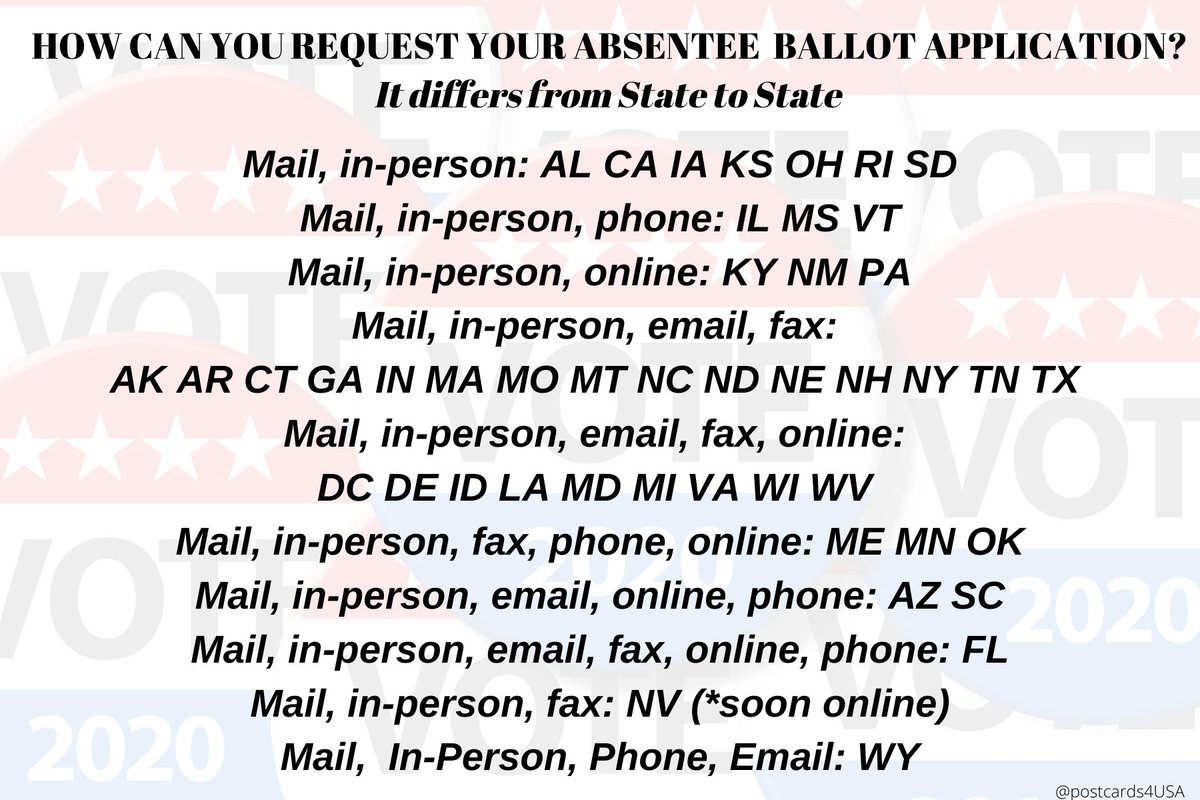 Also very important - don't forget to
#RegisterToVote
Here's all the Voter Deadlines by State
Check here to make sure you're registeerd.
https://iwillvote.com/
And keep checking weekly - a lot of States are pulling the
#VoterSuppression
purging tactic.
#VoteBlue
THREAD 4/4