So let me get this straight.
It's reasonable to loot and destroy businesses, because it's coming from a place of resistance and direct action, and those are more important than the products of someone's labor being stolen from them?
This is utterly insane.
https://twitter.com/nprcodeswitch/status/1299019650957742081
Oh, I'm not fucking finished. I'm going all-in on this shit.
Rioters are "questioning law and order?" Are children also just questioning authority when they throw tantrums? And theft is just "even distribution?" That's one logical step away from "pillage mansions."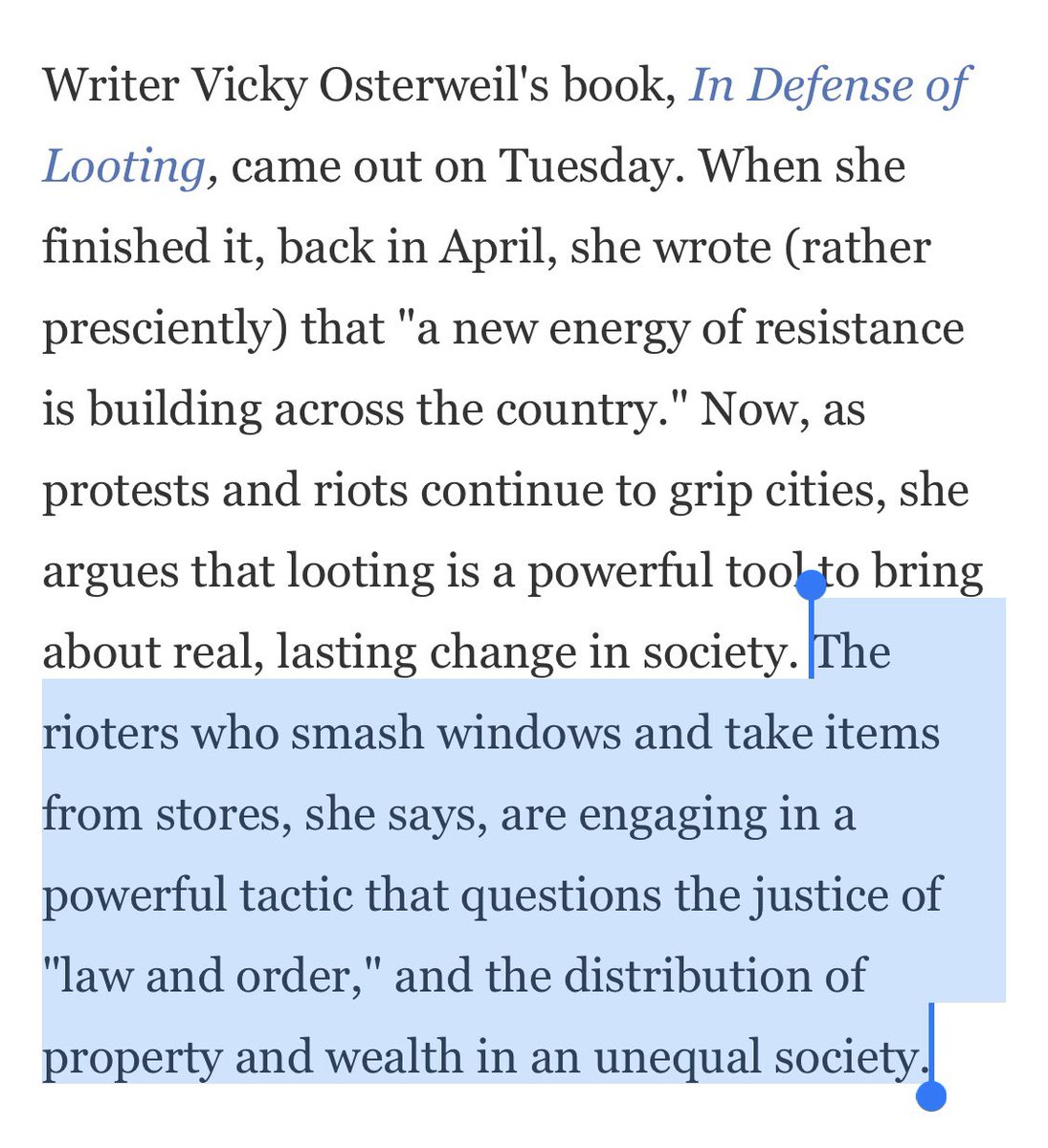 >I'm defending mass expropriation of property
>but not stealing it by force
IT IS BEING TAKEN BY FORCE
IF A WINDOW OR LOCK IS BROKEN, THAT'S FORCED ENTRY. IT'S A BREAK-IN.
STORE OWNERS AND EMPLOYEES ARE BEING BEATEN SO THEY WON'T STOP LOOTERS.
YOU DENSE, TARANTULA'S ASS.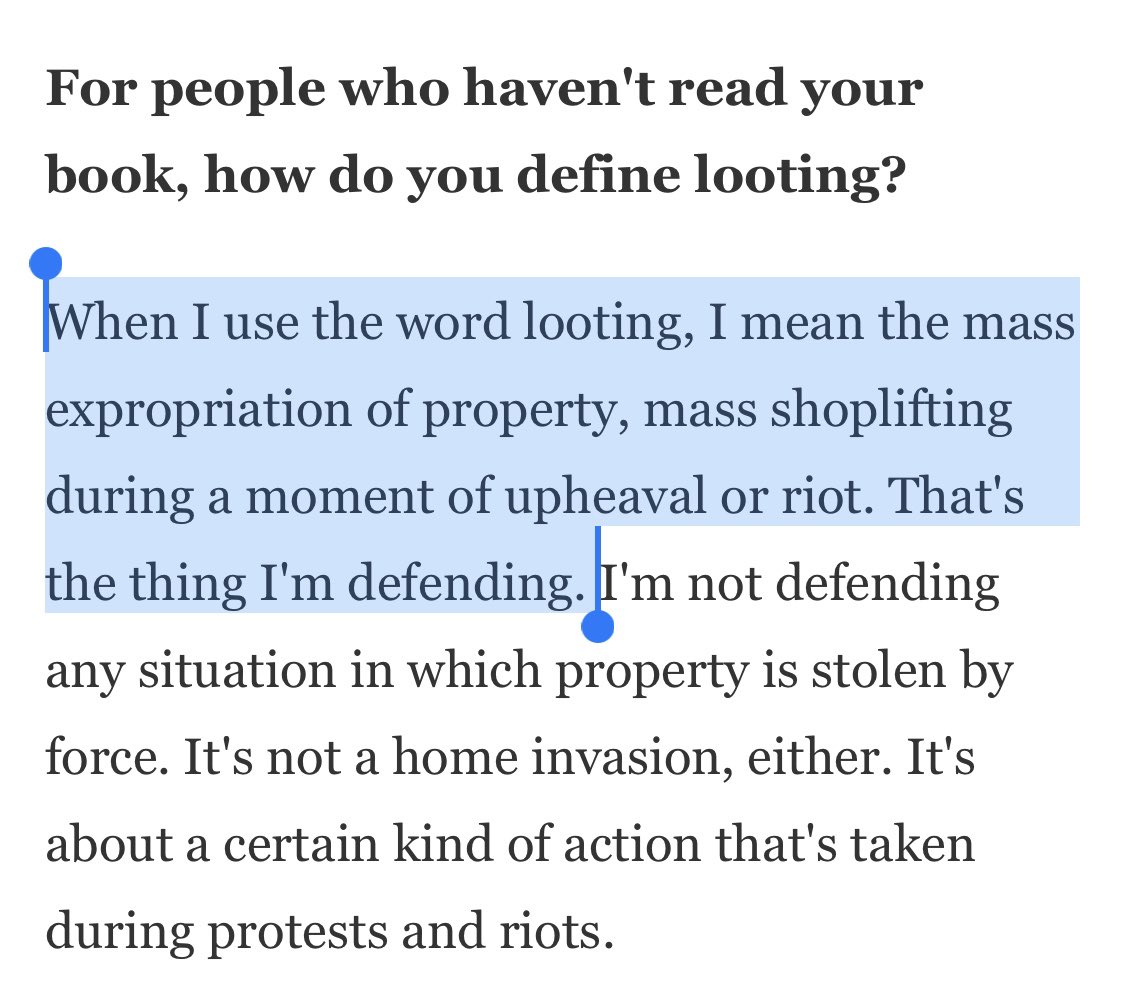 That's the fucking point of wages! The point of money! To give value to labor so you can exchange that for goods and services that are the product of others' labor!
Why the hell haven't the millions of others who lost their jobs resorted to looting, if it's morally justified?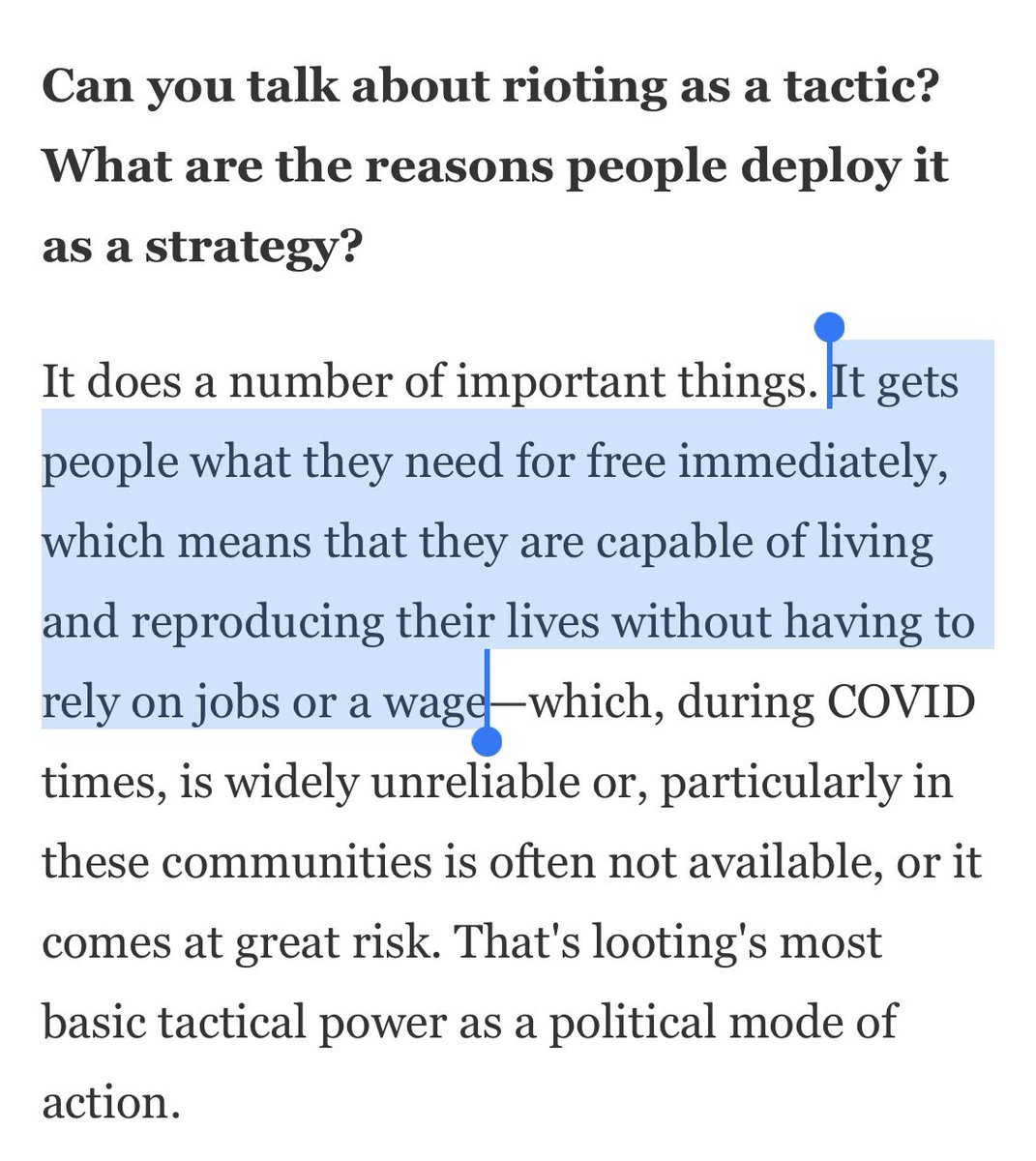 If you are capable of working, you must do so in order to eat and live. That's even a basic idea of communism—"from each according to his ability."
And no, you don't get shit for free just because the cops stop policing. That's not how "free" works. Someone else eats the cost.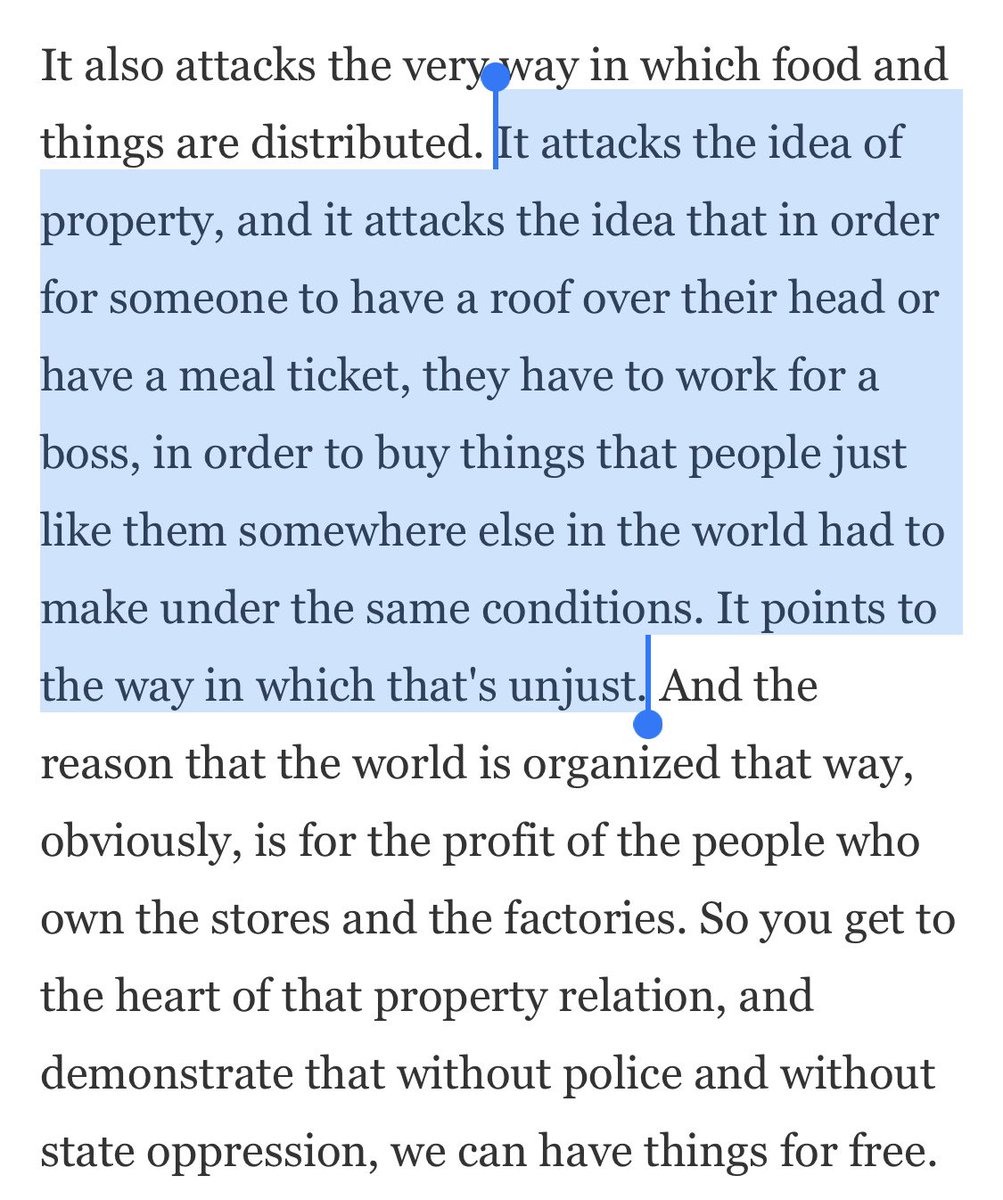 Are they ROMANTICIZING LOOTING?! "You can get a high from taking shit and destroying things, plus if you do it, you can say it's for a good cause, thereby challenging the social norms of property and law!"
Fuck you. Imagine this fucking logic justifying rape.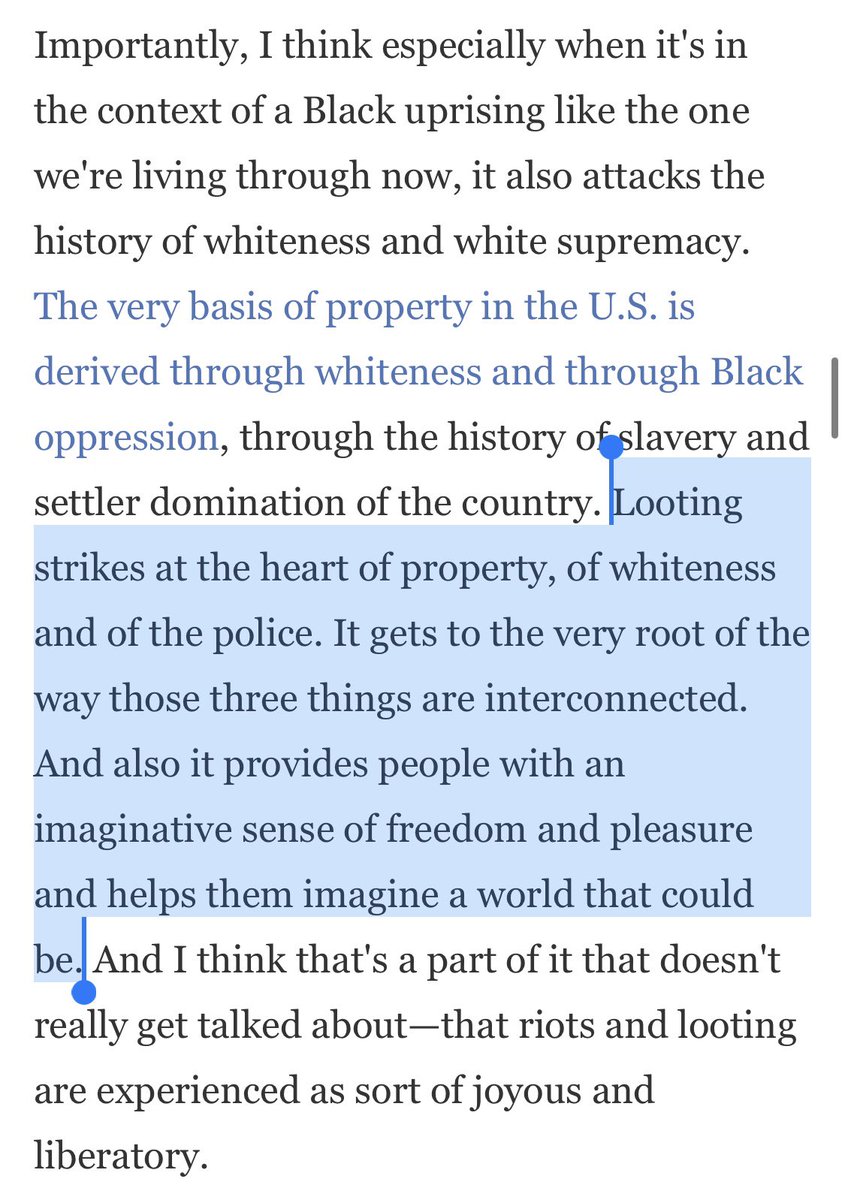 I'm a small business owner. If our store gets destroyed, we go out of business. Insurance doesn't cover damages from riots and looting.
If I go out of business, I lose my livelihood. Selling "just property" for "just money" keeps me alive. If that's taken, I'm hurt. Fuck you.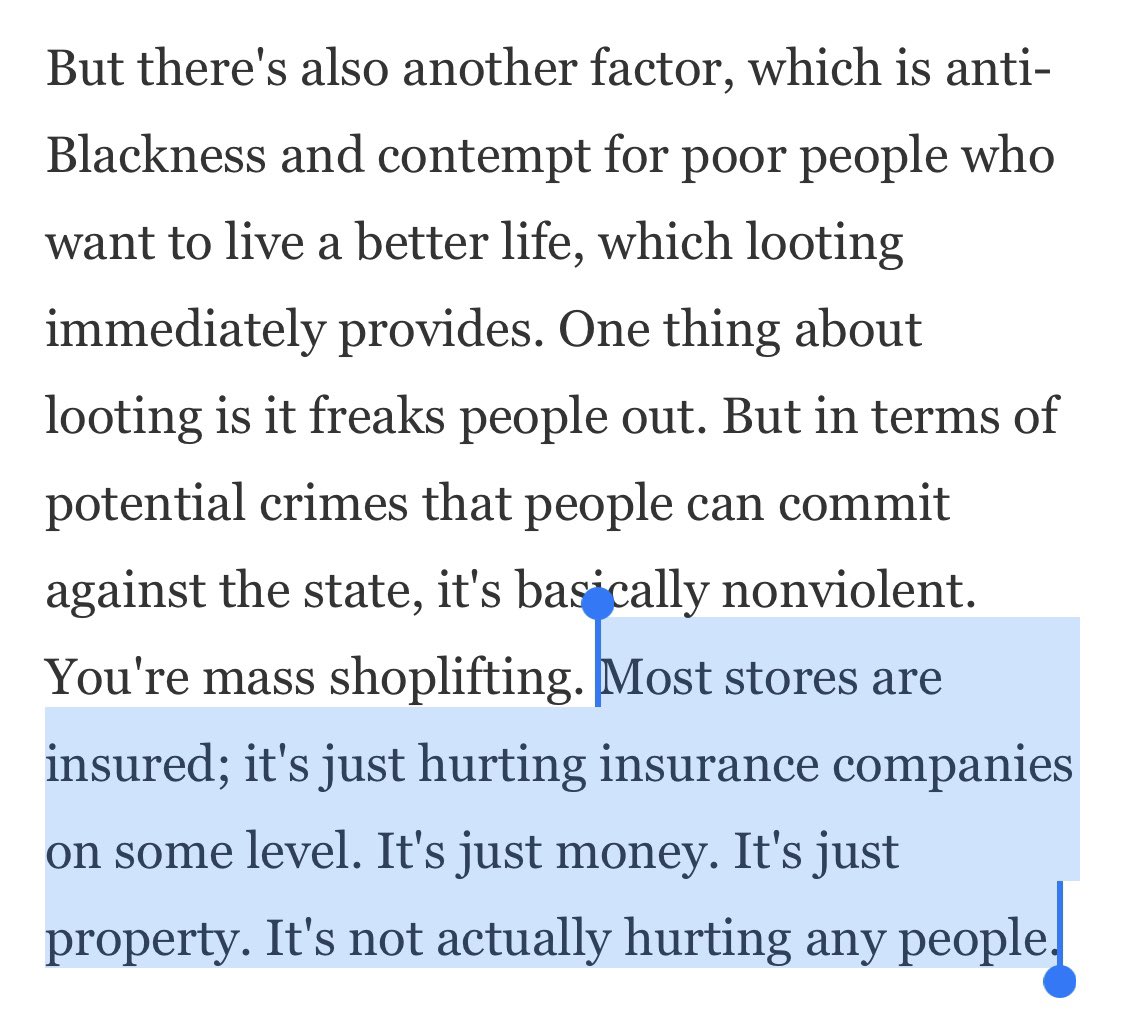 "Fuck them, they don't matter anyway!"
So the big box stores are fair game because they have too much money. And now small businesses are okay because they don't contribute to the community anyway? Even with outreach programs? With specialized goods and services?
Fuck you.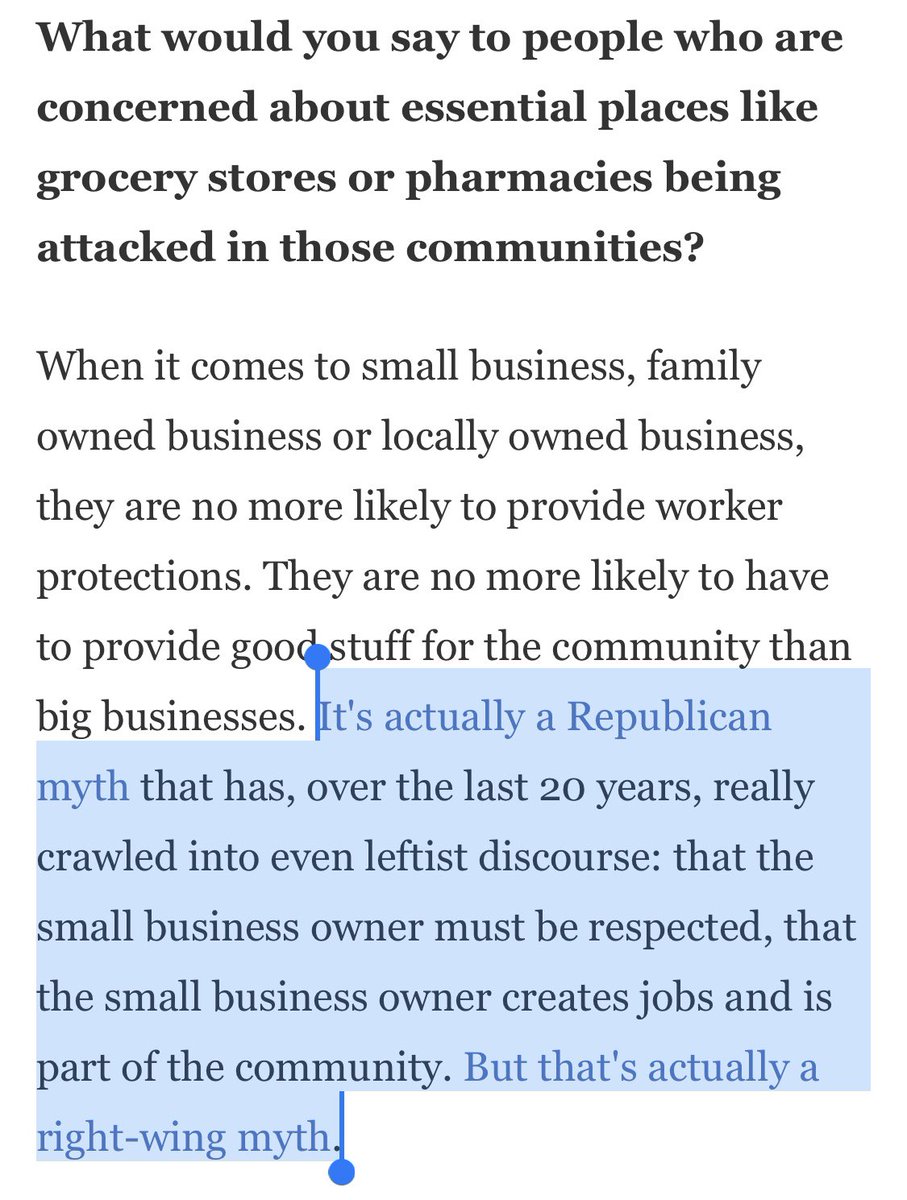 And this is where it turns to crypto-racism.
"Don't blame white people for what black people are doing!"
(Or, I suppose it's "give credit" instead of "blame")
Still painting the picture of black people as violent, irrational criminals. Doing the KKK's work for 'em. Fuck you.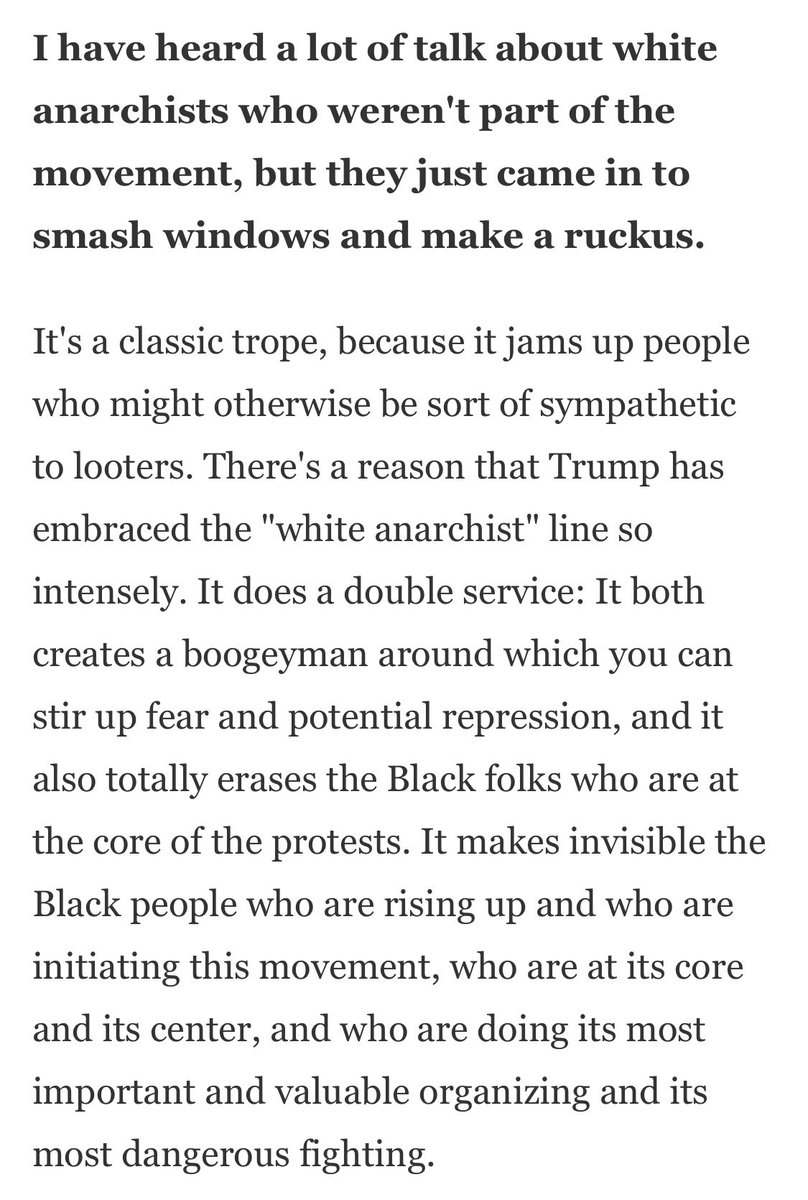 This whole thing, this WHOLE THING is infuriating.
I've actually had to fear for the safety of our business before. When we have cops come in and advise us to close for the day because they're expecting a protest that may turn violent, it's scary. It's like preparing for a storm.
And yet there are people like this asshole who say, "Yeah, I understand that you have to make a living selling shirts and hats and things in your store, but actually, tearing it up and letting people take everything in there is better for class relations. Aren't you an ally?"
Fuck that shit. Why the hell would anyone support a movement that would readily sacrifice them on the altar of progress?
Your quarrels are with police... so you take it out on businesses? Because stealing from them challenges police authority?
Or maybe it's part of the plan. Sending me and my family to starve teaches us that capitalism is evil, and forces us to stand with them.
...because we'd have lost our livelihood to the revolution, and would have nowhere else to go.
What these people are really doing is using the chaos of a riot as an excuse to get away with theft where they otherwise couldn't. They're breaking laws—social norms—because there are no longer consequences.
It's about wants, not needs. Selfishness, not community.
And if you defend looting as if it's some kind of social right, you're telling people like me that we don't matter—that our lives and livelihoods do not matter.