I followed conversations about online vendors/MSMEs, Balogun market prices & how many think it is unfair to compare both. There is nothing unfair. It is the reality of our market. I'll post a thread about Nigerian market competitive dynamics & pricing strategy for SMEs at 12:30pm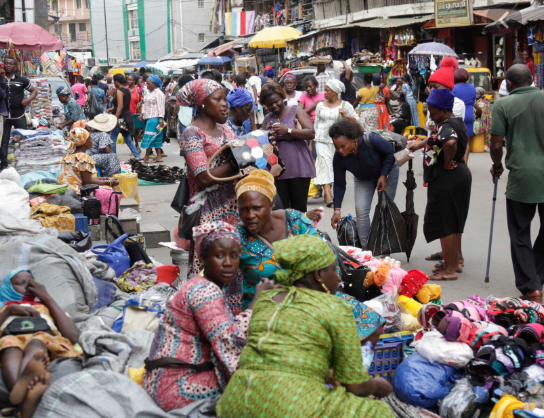 Brushing off consistent feedback about price, trust, quality and/or customer service is never a good move. Don't be fooled by influencers or your family & friends cheering you on that others will buy. SMEs don't have that luxury. But first, let's look critically at the dynamics.
First, the Nigerian market is NOT a rich market. It is a lower-class market. The overwhelming majority are poor, or poverty minded. The slim middle-class population are already over-served. Everyone wants to sell the same products to the same market at the same exorbitant prices.
According to Nigerian Investment Promotion Commission (NIPC), trade is the second-largest contributor to Nigeria's GDP. According to NIPC, the informal (Balogun) market is the primary outlet for most products and is geared towards the lower-income segment of the population.
So as a small business, your ability to appeal to a wider market, which in this case are both the middle class and the lower-income segments, should be a priority for you (except you are strictly into luxury products). So you must model your business along with market realities.
And what are the market realities? Balogun market. Mushin market, Oshodi, etc. Brushing off this reality is delusional and self-destructive. It is the contributor to the failure of many businesses in this economy.
Brushing off this reality: over-estimating the market and undermining the influence of the informal markets is a contributor to the exit of retail giants like Woolworth, Truworths Mr Price, and now Shoprite. Sadly you may not hear of the many MSMEs like yours that failed too.
So what should you do?
1. Recognise who your real competitors are – Balogun market. Balogun is your competitor. Not the fancy luxury stores (except again, you sell luxury). Stop getting angry that people compare your prices with Balogun. They will, because that is your competitor
2. Understand your market – your market is a largely poor market. Poor people will tolerate stress to spend less than spend more with no stress. Don't abuse them for it. Speak their language and communicate your differentiating factors and prices politely. It's part of branding.
3. Price Appropriately: Adopt a pricing strategy that aligns with your market reality. A good example is Chicken Republic. They understood their market and created N500 rice & chicken that has become their fastest selling unit product because it appeals to the mass market.
That was them recognizing that local Bukkhas are also their competitors. And they priced and competed at that lower end of the market. Remember that lower margins & higher sales are better for your small business than lower sales & higher margins (will do a thread on this later).
Also take your time to communicate the differences in your product, price & the market. Don't just shrug people off arrogantly by saying others will buy. It's better to stop marketing to an audience that won't or cant buy than to market to them & then shrug those who cant buy off
Word goes round and you don't want to be known to be proud or rude. You never know who won't buy today but will tomorrow, or introduce you to the client that will turn you around. This doesn't mean there are no totally bad clients or prospects.
4. Lastly, Commit to quality & reliability: People will relate more with your prices if it's reasonable along market rates PLUS other dynamics such as quality, delivery, reliability, etc. You can then mark up as you acquire more customers and they pay more because they trust you
Please don't be carried away with your allies. Feel the pulse of your market & respond accordingly. Many online sellers have failed because of this overconfidence that others will buy. OLX, Dealdey, Konga, all sold/exit, even Jumia still hasn't made profit. God bless your hustle.
Please don't forget to follow
@LagoSMEbootCamp
and
@ConsultCaladium
to join our community for further conversations about your small business and how to adapt in this volatile macroeconomic environment.