I gained over 12,000 followers in my first month using Twitter by following 6 simple principles.
You can easily do it too.
Time for a thread



1) Pick a clear topic, stay disciplined on that topic, and fire up the content engine.

My followers know they can expect tweets about the business and money behind sports, nothing else.

I also know threads get me the most engagement, so I doubled down and sent one each night.
2) Engineer Virality
Part of going viral is luck, but you can certainly increase your chances.
Before I tweet a thread that I think can go viral, I ask all the big accounts I know for a RT.
More will do it than you think & the combination of multiple RT's consecutively is a

3) Be prepared for your viral moment.
Each of my threads contain a link to my newsletter and profile visitors are greeted with it in my bio.
Take the tweet below, I got over 11,000 likes which resulted in thousands of newsletter subscribers.
https://twitter.com/JoePompliano/status/1286815973299957762
4) Make your value proposition super clear within your bio.
My bio reads "I write a daily email breaking down the business and money behind sports. Subscribe here:
http://readhuddleup.com
"
People visiting my profile know exactly what to expect from me - Make sure yours do too.
5) Pin your most engaged tweet.
This will automatically give readers a feeling of legitimacy when they visit your profile.
My visitors are instantly greeted with a clear description of the value I provide, my newsletter link, and a viral tweet for validity.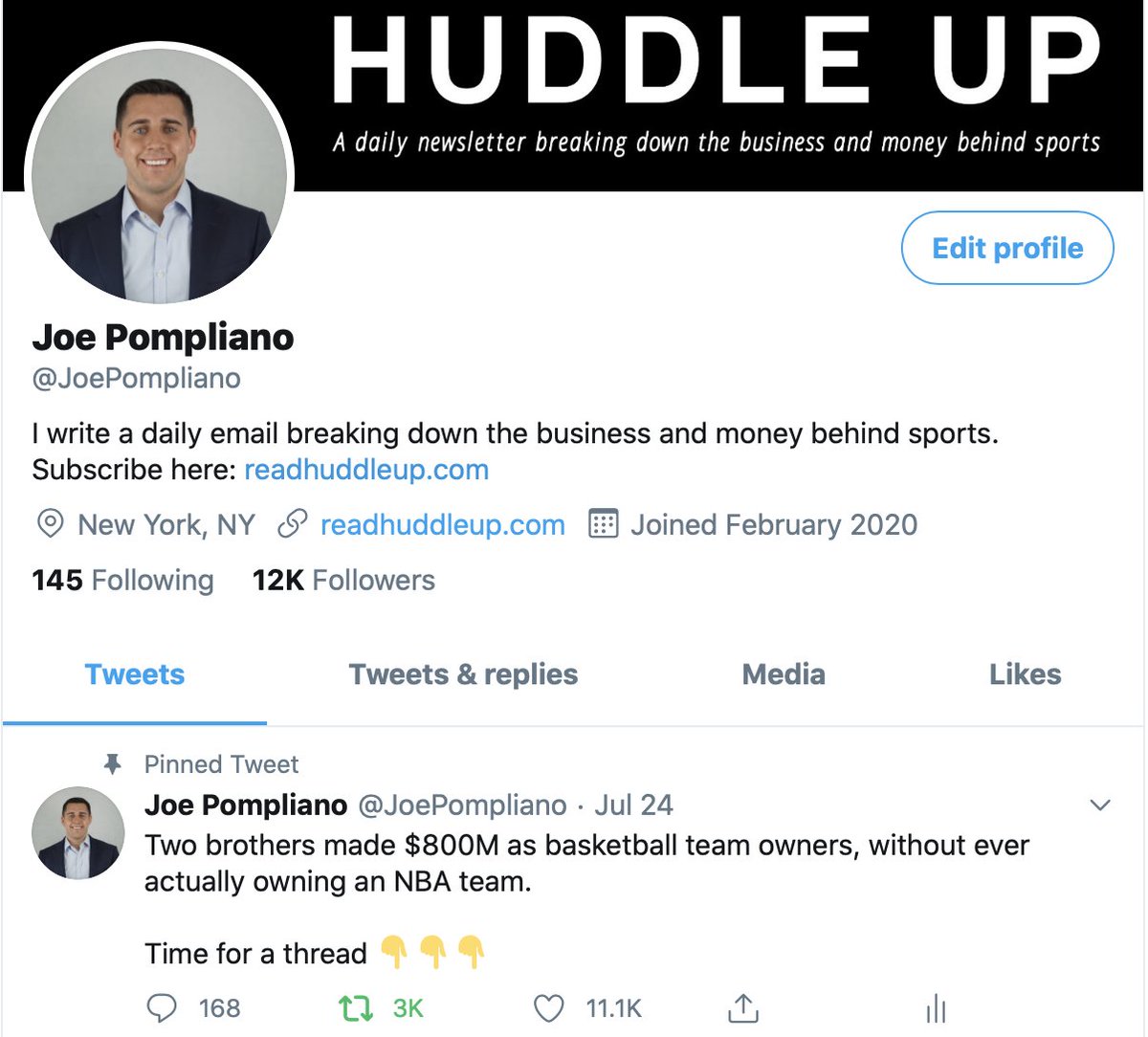 6) Ensure the quality of the content you share is something to be proud of.

A good tweet can inform, entertain, and surprise all at once.

My goal is to teach my audience something about the topic of sports with every word I use. Give more than you take.
7) Building up engagement is a hard and time consuming task, but these 6 principals will lead you in the right direction.

Ultimately, it's about executing your strategy correctly and, more importantly, consistently.
Lastly, I'd be a fool not to follow my own advice :)
If you learned something today and want to receive updates about the business and money behind sports, subscribe here to receive my free daily newsletter.
https://huddleup.substack.com