[PRASHANT BHUSHAN's PLEA AGAINST SUPREME COURT's SECRETARY GENERAL]
Top Court to shortly hear Adv. Prashant Bhushan's plea against Secretary General for listing contempt plea filed against him on the judicial side sans consent of Attorney General
@pbhushan1
#ContemptofCourt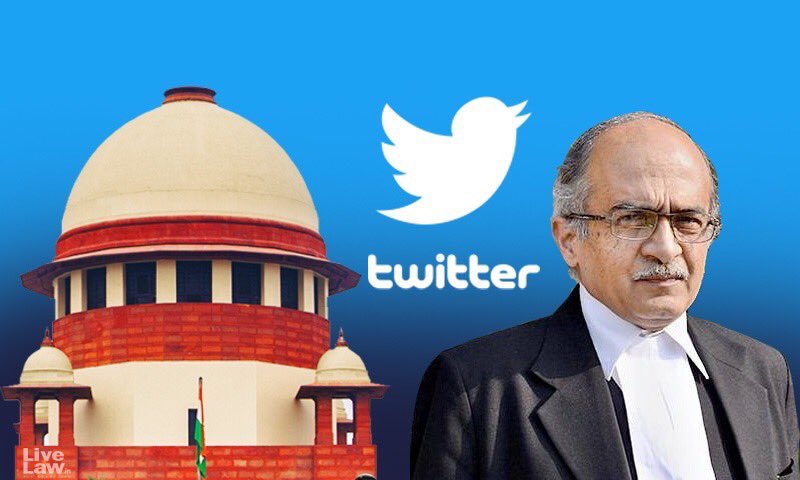 A bench led by Justice Arun Mishra will hear the plea which seeks recalling of the issuance of suo motu contempt notice "without following due process of law" against Bhushan as, it infringes his Right to life & liberty" as envisaged under Article 21 of the Constitution.
Senior Advocate Dushyant Dave for
@pbhushan1
"I have a prayer for your consideration. We are questioning Registrar General placing the complaint before the administrative side"
Dave: In the interest of Justice, we request item 17 be placed before another Bench.

Mishra J refuses to allow it.
"We are not obliging you on that"
Dave refers to the landmark "Antulay judgment"
"This is a very serious matter against Mr. Bhushan, and I urge your lordships to give it a detailed consideration. It's a serious matter of someone's liberty"
@pbhushan1
#PRASHANTBHUSHAN
Justice Mishra to Dave: "This plea of yours is also rejected"
Mishra J asks Dave to continue.

Dave: Without AG's permission, the petition could not have been placed before you on the administrative side.
Your lordships must take suo motu cognizance on your own, not that someone brings it to you like this.
Dave: Once the Petition is filed by citizen, and there were defects insofar as AG did not sign it, the Registry could not have touched the Petition. That's the error.

Mishra J: What makes you say that? Have you seen Dooda judgment?
Bench stresses on Dooda Judgment.

Dave says as far as suo motu contempt is concerned Dooda is fine, but there's an error as AG didn't sign it.

Mishra J: The verdict says it cannot be placed directly before the Bench, therefore it has to be placed on the administrative side
Dave raises questions on how the matter came on the judicial side. "We have no way of ascertaining" he says.

Mishra J :It was placed on the administrative side as per Dooda.
CJI could not come to a decision, hence it was placed before Ramana J on the administrative side.
Justice Mishra adds,
"Ramana J decided that this matter should be brought to the judicial side, therefore it came before all of us"
Dave contends,
"We have serious reservations that your lordships have not taken cognizance suo motu (at their own accord), or on the initiation of AG or SG"
Dave relying on a judgment to read and submit that:

"Petitioner could not move without consent of AG or SG"

Says this process is a "procedural safeguard"
"Before proceedings, AG must give consent. In this case, you have asked the AG to assist court AFTER taking Suo Motu Cognisance"
- Senior Advocate Dushyant Dave appearing for
@pbhushan1
Dave now going through different paras regarding procedure of taking Suo Motu Cognisance in terms of the PN Duda Judgement.
Dave reiterating this argument.

Adds:
"Suo motu means that your lordships should take it up on their own. Not that an Advocate (Advocate Mehek Maheshwari) moves a plea and you take it up"
Mishra J asks Dave to read another para.
"We can read it if you want"

Dave: No my lord, I've read it, I'm aware of the law.

Dave now Refers to another aspect of judgment

Mishra J responds saying "we have read".

Dave replies: Yes I know Milord, you've read everything.
Dave continues.

"What's the point of asking AG to be here when your lordships have recorded Prima facie findings?" he argues.
Dave: Please follow procedure. You receive 100s of such pleas (like that from Maheshwari), you must ensure that suo motu is taken up according to procedure.
"My submission is that Registry is proposing to deprive me (
@pbhushan1
) of my liberty, by not following procedure."
Mishra J asking Dave if he wants to make any other submissions.

Dave making some ancillary arguments regarding certain Rules.
Dave to bench : In light of Antulay's judgment, I pray you recall the suo motu contempt notice issued to
@pbhushan1
in the interest of Justice.
Mishra J on the suo motu contempt issue against Bhushan Asks Dave
"What do you say about these 2 tweets?"

Dave: There's nothing contemptuous about the tweets.
Dave: It seriously takes away a citizen's rights.
Let's look at the first tweet.

1st tweet was placed on administrative side, 2nd was not filed on administrative side.
Dave: The issue is -- each charge must be levelled separately under Contempt law.

"Charge of contempt be made out in separate petitions. It is not right on to mix the notices like this"
Dave adds,
"Your lordships may not combine Various alleged contempts in one and issue notice"
Mishra J: You've filed a very comprehensive reply. It's well segregated. Let's look into it.

Bench hints that the law has been followed.

"Justice Deepak Gupta dealt with these issues" says Justice Gavai.
Dave: Looking into the contentious tweets now.
Dave refers to the tweet relating to the
#CJI
's photo on a
@harleydavidson
bike.
"They do not scandalize the court. These are all facts"
Dave: As far as the other tweet is concerned, The registry did not serve me notice on this tweet. Lordships must follow procedure.
Bench: Does your client deny writing this? The tweet appeared in the paper

Dave: I'm not denying writing it. That's not the issue here. There must be a procedure that's followed.
Dave goes on to contend why
@timesofindia
published a tweet from June in July, when the Bench was due to take up the matter.
"It could have published that tweet mischievously. They should have been called"
Dave reading out certain precedents to buttress his argument that the present case is not a fit case of contempt.

"Rights under Article 19 cannot be 'controlled' under contempt law like this. Sometimes certain things may be unpalatable, I agree. However rights must be upheld"
"Citizen has a right to say that perhaps the Court has not done its duty in certain issues" Dave says.
Dave goes on to talk about how contempt law is invoked sparingly in UK. Refers to judgments by Lord Atkin.
Dave: Bhushan has single handedly contributed in assisting your court in developing jurisprudence to a great extent, especially in tort law. His contribution in developing jurisprudence is immense.
Dave: His comments are not out of malice. If he feels there were certain aspects where the court could have done something differently, it could be taken as a suggestion.
Dave: His criticism is not out of malice. It's out of love and affection for the court. It's not personal. We all want the court be stronger. This is what the constitution says regarding separation of power..citizen may question.
Dave: Please don't be sensitive about these comments. It's seriously affects right to freedom of speech and expression, and right to life.
Judgement being cited by Dave:
BP Sharma, 1953 scr 1169
1974 1 SCC 374
Dave contends that "Interfere or tends to interfere, obstruct or tends to obstruct administration of Justice" as contemplated for criminal contempt is not attracted.
Dave: Neither of the tweets can be said to cause Interference or obstruction of admin of justice
Dave: Tweets are not against the institution. They are not obstructing administration of justice.
They are against the judges in their personal capacity regarding their conduct. It's against their individual conduct, but they are not malicious.
Dave now refers to certain pieces over the years where judgements and judges have been criticised.

Highlights a piece in Indian Express article on ADM Jabalpur judgment where "extremely uncharitable personal remarks against judges were made."
Averring to this, Dave submits that the Court did not take such exception to criticism.

When Bhushan says 'history will remember', it's an attempt to encourage court to change its approach.