Supreme Court bench led by Justice Arun Mishra to hear Advocate Prashant Bhushan's plea against SC Secretary General for listing the contempt petition filed against him on the judicial side, without the consent of the Attorney General
@pbhushan1
#SupremeCourt
#contempt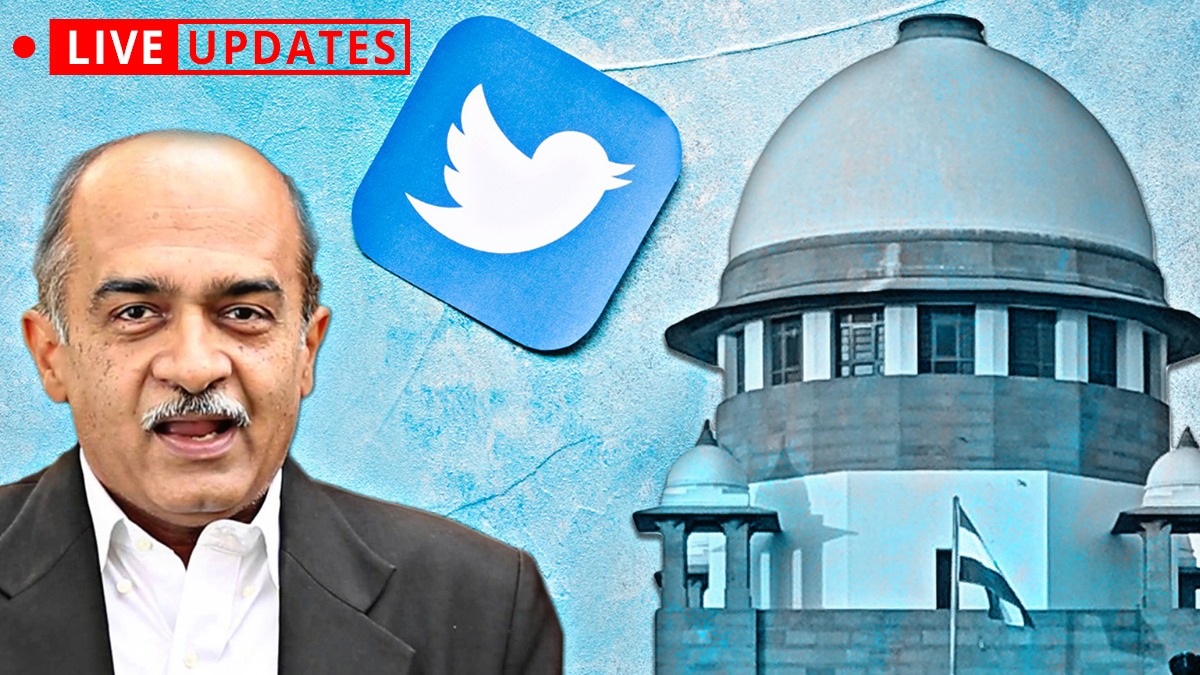 The petition has been filed In the wake of the Supreme Court issuing notice to Bhushan in contempt of court proceedings initiated against him, based on a plea moved by one Mahek Maheshwari.
#PrashantBhushan
Advocate Bhushan is praying for suo motu contempt notice to be recalled on the grounds that the notice "constitute an infringement of the Petitioner's right to life and liberty under Article 21 of the Constitution without following the procedure established by law."
Senior Adv Dushyant Dave for Advocate Bhushan argues that the complaint could not have been placed before the bench on administrative side without consent of Attorney General or Solicitor General.

Justice Mishra: court has "meticulously followed" the law.
Top court not inclined to grant Senior Adv Dushyant Dave's request to transfer his writ petition against placing of complaint against the tweets before the bench, to some another bench of the
#SupremeCourt
Dave: The first tweet was not contemptuous. It was only an expression of anguish. How can this scandalise the court?
Dave: Mr Bhushans contribution to development of the PIL jurisprudence is immense. He criticizes the court because of love and affection for the institution. He did not impute any motives. Please don't misunderstand him.
Dave: millions of litigants are waiting for physical hearing. That is what the advocate meant. In both the tweets the integrity of the judges was not questioned.
The Supreme Court has now begun hearing the Suo Motu contempt petition against Prashant Bhushan. Senior Adv Sajan Poovayya appears for Twitter. Dave continues submissions for Adv Bhushan. AG Venugopal too there on screen.
Dave: Both the tweets do not obstruct or hamper the administration of justice.
Justice Mishra: It is the institution which is important

Dave: The tweets are not malicious. It does not vilify the institution.
Dave reads a critique of the ADM Jabalpur verdict where the judges were personally criticized in an Indian express piece. "Even in that case though extremely uncharitable remarks about judges were made, no contempt proceedings were made out," says Dave.
Dave: The tweets by
@pbhushan1
is aimed at encouraging the judiciary.
Justice Mishra: do you think we have broad shoulders?
Dave: You usually have but may be not in this case
Dave: every case has a winner and loser

Justice Mishra: Nobody wins in this kind of a case. Everyone loses here. We are just examining if contempt has been committed or not
Dave: Your lordships have accepted in a full court order that the judges are always in public gaze and their conduct is in public..

Bench to resume after 30 minutes
Bench resumes hearing.

Dave: (refers to a UK SC case law) It is a right of every person to make a fair comment in the public interest.
Dave: To criticize fairly is a right. Please look at Spycatcher case in the UK where a paper carried a caricature of the judges drawn upside down. No contempt was drawn on this
Dave: Look at the observations by Justice PB Gajendragadhkar. "If judges decay contempt power will not save them. Like Ceasars wife a judge needs to bd above suspicion..."
Dave: Your lordships are working hard but you are exhausted as the executive is not able to provide sufficient courtrooms and judges. When things like this is criticized then it cannot be termed as contempt. The search light now has to be turned inwards...
Dave: No one can claim infallibility which includes the judges. Hundreds of people tweeted after the photo was clicked of the CJI riding the bike. Is the court going to charge all with contempt of court?
Dave: Administration of justice in this country stands on stronger foundation. The tweets did not attack the administration of justice.
Dave: on a plea filed by some one court cannot take suo motu cognisance. If that be so then court is acting on the behest of a party, in this case Mr Mahek Maheshwari. In fact SC order itself notes that the plea filed by him did not have AG or SG's consent.
Dave: If all pleas which are defective and taken up like this then it will open a pandoras box. Now kindly look at Mr Bhushan's reply:
Dave: The reply by Mr Bhushan is a preliminary reply as the plea filed against him was defective. Court cannot say administrative order is not subjected to judicial review. These are not suo motu proceedings . Very serious prejudice has been caused to Mr Bhushan.
Dave: Look at the coalgate scam or the 2G license scam. Mr Bhushans intervention led to unearthing so many facets. Mr Bhushan cannot be hauled up for contempt. Your Lordships need to be much large hearted than this
Dave: Perhaps you (bench) would have given him Padma Vibbushan for the work in the last 30 years !
I pray that you do not proceed in this case.
Dave: I beg and beseech you to not proceed in this case. Mr Bhushans tweet was a criticism. It needs to be taken objectively. If former judges can criticize the institute then why cannot Mr Bhushan?
Justice Mishra: Are you highlighting the press conference?

Dave: Holding of press conference was justified. Can whatever said then amount to contempt? Justice Kurien Joseph too had critiqued the system.
Dave: Hundreds who entered the Tablighi jammat were hounded as they tested positive for COVID19. The kind of hate that was generated was astounding. People were criminalized because of COVID. One word was needed from SC on this, but a case in this regard is yet to be listed
Dave: These are issues where anyone can be anguished. Mr Bhushan was anguished too. I get complaints everyday against the registry. If everything is opening up, why is courts still under lockdown?
SC: Is the bike in the picture political in nature?

Dave: (smiles)
Justice Mishra: why is the mask and bike been combined with justice?

Dave: We are concerned about his health. Bhushans tweet was not the first one. There are other amusing ones

Justice Mishra: I am not on Twitter. Let me confess. I am not technologically sound.
Justice Mishra: isn't the tweet an attack on the independence of the judiciary?

Dave: it was about judgment of this court.

Justice Mishra: you are basically asking us to ignore all of this as these were general statements
Dave: It would not be good for the institution to venture into this. There are some things which are best not spoken about.
Dave: Look at the sexual harassment case against the then CJI Gogoi. All the charges have been dropped against the lady and she has been reinstated now. These shows that she was speaking the truth then. Was contempt of court issued then??
Dave: When allegations are leveled against the highest court, SC cannot silence them. No one has raised their voice against you, but look at the sequel harassment case. Justice Patnaik's report has still not been disclosed. CJI sat on his own court on Saturday.
Dave: That CJI accepts a Rajya Sabha nomination and a grade security. If somebody talks about it then you cannot issue contempt against them. No institution should be free from criticism.
Dave: People were worried and concerned in the backdrop of these instances. Bhushan was talking about individual chief justices. In none of these cases, jusges like Justice Nariman or Justice Lalit was involved.
Justice Mishra: Justice Nariman has been part of several Constitution bench matters

Dave: I am talking about politically sensitive matters. I can give you a list of 50 cases

Justice Gavai: Justice Nariman was part of the Manipur case

Dave: That had Justice Gogoi too!
Dave: Even your brother judges have criticized the judiciary in a press conference

Justice Mishra laughs: You are again getting into the negativity

Dave: That is a trump card in my defense!
Dave: There is no criminal contempt against Mr Bhushan. You are the parents of over 130 crore Indians. All of us are looking at you. With this I rest my case. Perhaps one of my last cases before your bench (hints at Justice Mishra's retirement which is due in September)
Senior Adv Sajan Poovayya for
@Twitter
: I am an intermediary in this case. I should not be the originator of the content or select the recipient who tweets it. There are 50 crore tweets everyday and its not possible for us to look at all of them.
Poovayya: After your notice we withheld the tweets in question. If it was a regular petition we would not have come but this is a suo motu proceeding. I should not have been impleaded at all. Mahek Maheshwari impleaded me and thus I am in this case now
The three judge bench led by Justice Arun Mishra reserves order in the case.
Dave: Please hear AG Venugopal, he has been here since morning.

Justice Mishra: We have heard you at length. If needed we will hear him (AG).