Inspired by the recent topic
#BillClintonIsAPedo
, I would like to share with world the truth behind the Serbian province
#Kosovo
, today a partially-recognized state, yet protected by 1244 UN resolution and the constitution of Serbia.
#QAnons
Stay with me until the end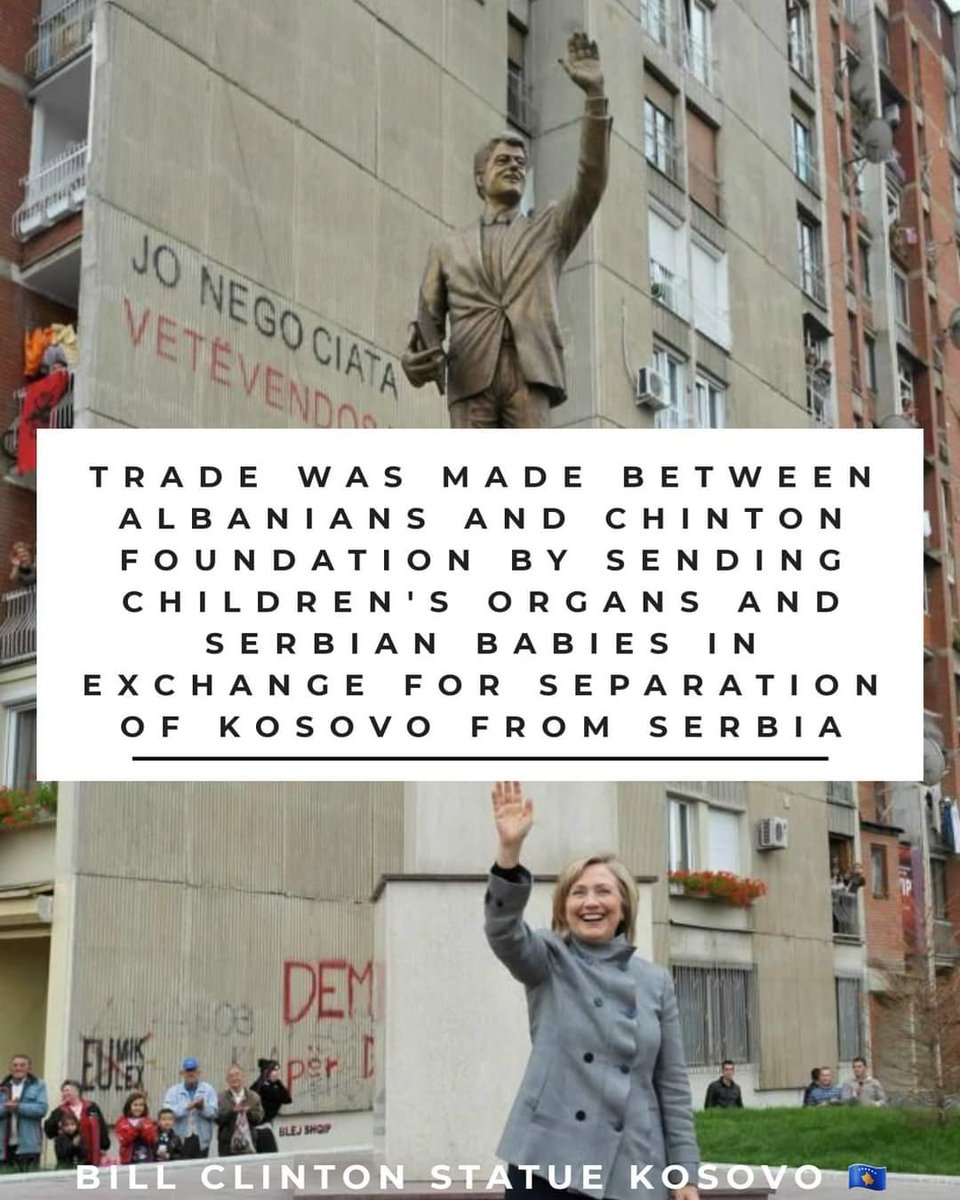 This story includes some of
the crimes against humanity done by KLA,
#ClintonCrimeFamily
and its administration, as well as the crimes of a
#deepstate
members who're still, 2 decades after, holding all the strings in the Balkan region, including
#Serbia
.
#BillClintonIsAPedo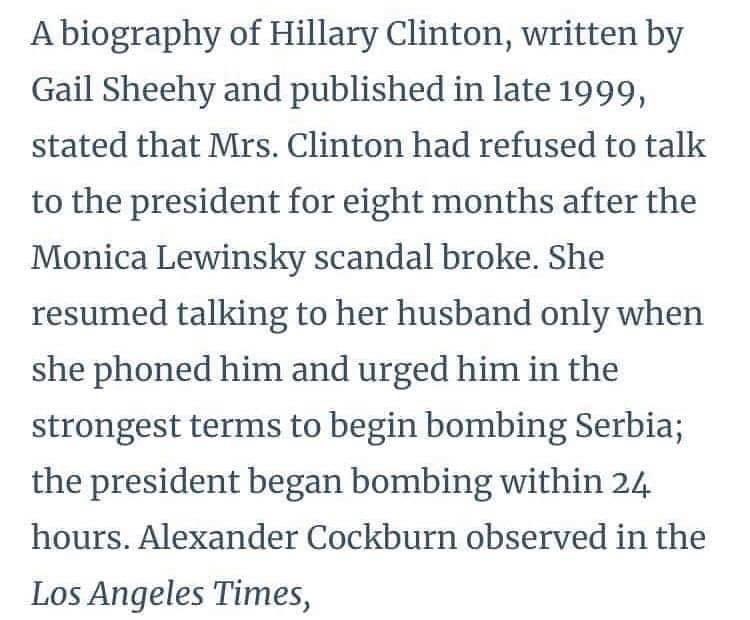 There was very well organized mass propaganda brought to you by the mainstream media which aim was demonization of Serbs in order to justify the
#NATObombing
.
The truth was completely different

1.
https://www.pri.org/stories/2011-03-27/kosovos-mafia-how-us-and-allies-ignore-allegations-organized-crime-highest-levels
2.
2.
Between June 1999 and March 2004. around 155
#SerbianOrthodox
 churches and monasteries were destroyed by Albanians.
Do you see similarities with recent events in the USA and around the world where
#Antifa
terrorists used to burn and destroy cities?

Never mind the legal technicalities, and the risks of adjudication: just go in there and grab it! 
Why Kosovo? Follow the money!

1.
https://www.antiwar.com/justin/j081600.html
2.
http://abouthungary.hu/blog/the-gravedigger-of-the-left/
3.
https://adarapress.com/2020/04/27/bill-clintons-freak-show-called-kosovo-is-doomed-to-fail-so-let-it-check-out-this-op-ed/amp/?__twitter_impression=true
4.
https://amp.theguardian.com/commentisfree/2010/dec/15/balkans-report-blairs-liberal-intervention?__twitter_impression=true
The full thread is here

https://threadreaderapp.com/thread/1290613653184577537.html
#BillClintonIsAPedo
#BillClintonPedoGate
#BillClintonPedoIsland
#ClintonCrimeFamily
#HillaryClinton
#GeorgeSoros
#DeepStateExposed
#Kosovo
#KosovoisSerbia
#QAnons
#QANONWORLDWIDE
#WWG1GWA
Mother Teresa was Albanian

https://twitter.com/lioninthegrass2/status/1290642681899646980?s=19
KLA terrorists, main partner of the
#ClintonCrimeFamily
, made its military debut in Feb 1996 with the bombing of several camps housing
#Serbianrefugees
from wars in
#Croatia
and
#Bosnia



#BillClintonIsaPedo
#QAnons
#QANONWORLDWIDE
#WWG1WGAWORLDWIDE
https://www.fff.org/explore-freedom/article/americas-benevolent-bombing-of-serbia/

"Perhaps Clinton, Albright and Clark found time to tour one of the five ISIS training camps in
#Kosovo
, providing instruction to scores of ethnic Albanian children in the fine art of
#Islamicterrorism
on behalf of the global elites"
#BillClintonlsaPedo
https://adarapress.com/2019/06/14/germany-arrests-isis-supporter-from-kosovo-as-bill-clinton-madeline-albright-and-wesley-clark-celebrate-their-war-crimes-with-kosovo-albanian-narco-terrorist-commander-in-pristina/amp/?__twitter_impression=true