SC bench headed by Justice Arun Mishra to hear the contempt case taken against Advocate Prashant Bhushan
@pbhushan1
in 2009 over his interview to 'Tehelka' magazine.
The contempt case was taken on the basis of a complaint by Sr Adv Harish Salve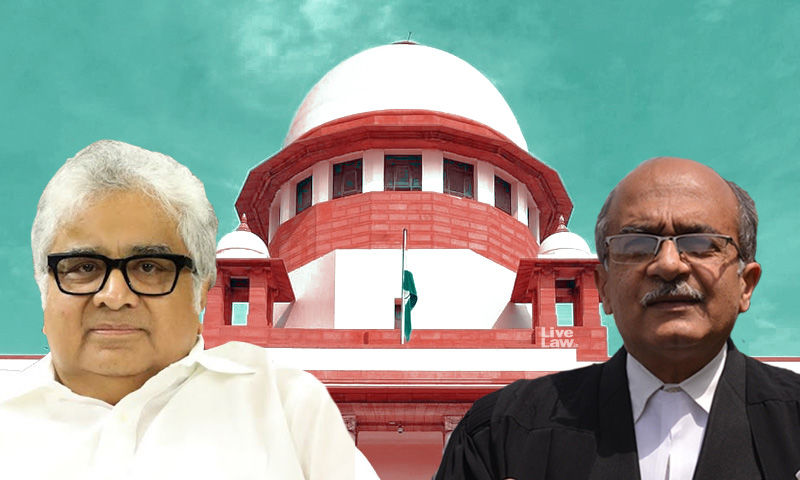 The subject matter of the case is an interview given by
@pbhushan1
to Shoma Chaudhury of Tehelka magazine in 2009, where he allegedly said
"half of the last 16 CJ's were corrupt."
Bhushan also said that he had no proof for the allegations as per Complaint.
#PrashantBhushan
On the last hearing date, July 24, Senior Advocate Rajeev Dhavan had sought adjournment to prepare for the final hearing. Senior Adv Ram Jethmalani, who used to appear for Bhushan in the case, had passed away last year.
Incidentally, the bench which is hearing the instant case today, had issued a contempt notice to
@pbhushan1
on July 22 in a suo motu case registered over two of his Tweets ——- On judiciary and
#CJI
.
Hearing commences.
Senior Advocate Rajeev Dhavan for
@pbhushan1
.
Dhavan begins submissions.

Justice Mishra says that we're all for freedom of speech. Then theres contempt. However, theres a thin line that you may have crossed.
Justice Mishra explains the issues involved around Bhushan's contempt case.
Says that it is about "saving the grace of system"
Dhavan says that Mr. Ram Jethmalani who appeared for Bhushan earlier had offered an explanantion for Bhushan's remarks.
@pbhushan1
#prashantbhushan
Justice Mishra says to Dhavan - "This is between you and me".

Hints at a hearing which may not be in open court.

The court is now muted.
Mics of the Bench are muted and Dhavan is seeking to reach out and speak to the bench. However, he is unable to do so.

Now, court staff tells Dhavan "Mr. Dhavan sir, please pick your phone"
Bench and Dhavan are speaking over the phone.

All mics have been muted.
Senior Advocate Rajeev Dhavan appears on screen but continues to remain muted.
Lawyers appear back on screen.

Visuals of the bench appear on screen.
Bench is currently not in session.
Bench assembles again.
The media room continues to remain muted out of the proceedings.
The 2009 contempt proceedings against
@pbhushan1
continues, sans open Court access.
Senior Advocates Rajeev Dhavan for Bhushanand
@KapilSibal
for Tarun Tejpal & Harish Salve, Amicus - continue to engage in the Off-camera hearing with a SC bench led by Justice Arun Mishra.
This hearing has ended.

The bench has appeared but the next matter is now being heard.

(More info awaited)
Following the off camera proceedings that ensued in the first half of the day, bench took up the issue in the afternoon and reserved its orders.
The bench has reserved orders in the 11 year old contempt case against
@pbhushan1
on the issue of
— accepting explanation rendered (in 2009) by Mr. Bhushan for his remarks Vs. carrying out a trial vis-à-vis
#contemptofCourt
against him.