i'm OFFICIALLY listening to all of BTS' albums for the first time


here's the beginning of the thread
i am gonna be reviewing them and ranking my fav songs from each album, fav songs in total, and fav albums
2 Cool 4 Skool: debut album
mm ok so the intro track was really fun but probably not one that i'd listen to unless i'm really feeling myself
oh holy shit We Are Bulletproof pt. 2 (idk where the pt 1 is?) is SO good holy fuck OH KY GOD THE CHORUS JUST HIT FUCK OMG
wait does RM stand for rapper man?? they just said it in the song
GOD DAMN this chorus is SOOOO GOOD holy SHIT
omg ok so We Are Bulletproof pt. 2 was so fucking good and i'm definitely gonna stan this song
hm ok so Skit: Circle Room Talk is kinda odd? idk why they're talking or really what they're saying but this is fun
oh fuck No More Dream is CRAZY skemkdnf i love the swelling of the beat and FUCK THAT CHORUS HIT SO HARD
oh FUCK those background vocals are CRAZY holy shit i love it
this interlude is very nice and calming mm
oh FUCK Like is so amazing and i'm only lile 30 seconds in holy shit
omg i REALLY love this song
ok Like is DEFINITELY my favorite so far and i'm honestly upset that i only have 1 minute left wtf i don't wanna stop listening
wait no i'm already on the last song????? no????? i don't want it to end yet??
Circle Room Cypher is SO fun!! i don't know if i'd listen to it all the time but it's really nice hearing them just have fun and be friends

THEYRE JUST HAVING SO MUCH FUN THIS IS ADORABLE
that was so cute!! ahhh
ok so my ranking for 2 Cool 4 Skool is: Like, We Are Bulletproof pt. 2, Interlude, No More Dream, Circle Room Cypher, 2 Cool 4 Skool (the intro song), and Circle Room Talk. i loved all of the songs!! i'm upset that the album was only 20 minutes long doe :(
ok so the next one is O!RUL8,2? which is a real fun name lol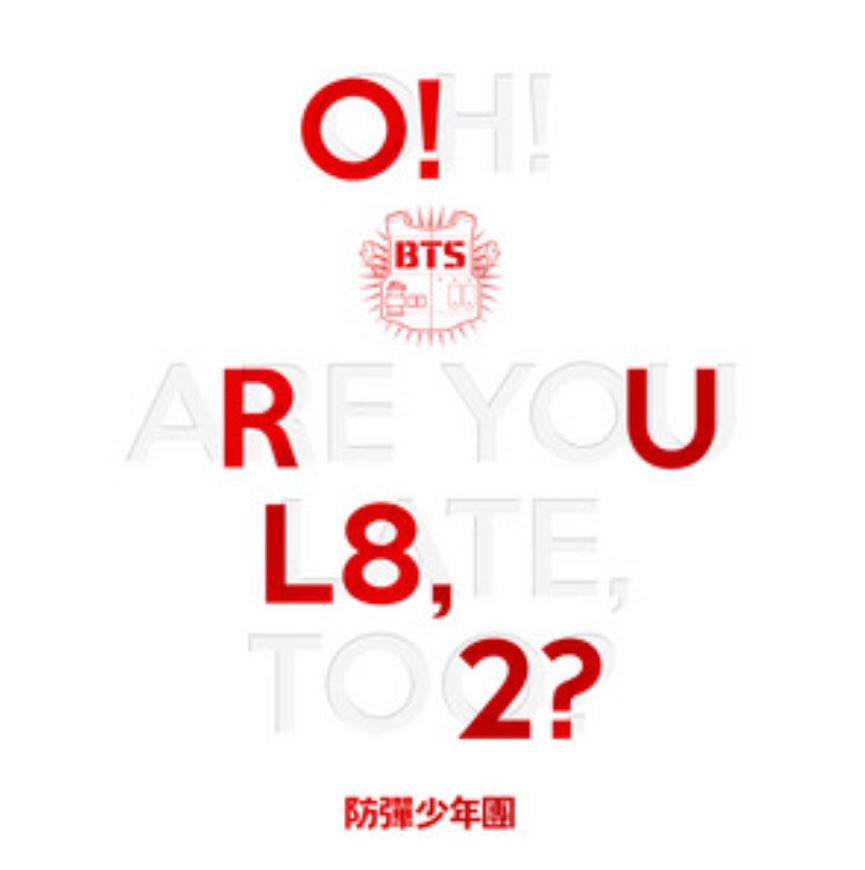 omg this intro is so inspiring??? OH SHIT AND THE BEAT JUST CAME IN HOLY FUCK HES RAPPING SO FAST ONEOFJFJDDJND
holy fuck N.O is really intense yet also kinda... comforting??? it feels like they're talking right to me??? this is very fun OH FUCK THEIR VOCALS IN THIS PRE CHORUS FOHFJFNROFNR HOLY FUCK THE CHORUS SKNDIDDIBR
holy FUCK THIS IS SO GOOD
catch me screaming "everybody say NO" everyday
I WAA NOT EXPEXTINF THAT BEAT CHANGE
omg the guy's voice (RM?) in We On is making me Think thoughts
omg their choruses are so good holy FUCK OENDKNDKDN THE SONGS ARE SO DIFFERENT BUT THEYRE ALL SO GOOD
i don't even know what to say because We On is just so good????? good lord i'm gonna struggle in ranking this album
ok i'm on Skit: R U Happy Now? and i'm actually really glad that they put in this skit because i get to hear more of their relationships
OH THE TRANSJTION FROM THE SKIT TO IF I RULED THE WORLD WAS SO SEAMLESS KSNDORNIRNR
If I Ruled The World is SUCH a vibe omg
i can't wait to blast this song in the car and just make everyone fall in love holy fuck
HEY OH HEY OH OH
gosh this chorus hits SO hard i just wanna vibe to it all the time
it's such a great vibe i'm-
IF I RULED THE WOOOORRRLD, I'D DO IT ALL!!
gosh i'm so scared for when i have to rank these HIMTIFNFIT HOMY FUCK COFFEE JJSY STARTED PLAYING AND ITS SO GOOD
GOD DAM COFFEE HITS ID DJDDKDN
BAAAABYYY!!! BAAABYY!!! TONIIIGHT
gosh these vocals are so amazing
OMGOSH THE GUITAR RIFF IN THE BACKGROUND OF THE DKDNODNDJD FUIFKF FIFNF FUCK THOSE BADKTROUND VCIWLDBDJBDIR
THIS IS AI AKAOZNF
COFFEE WAA AO FUCJING AMAZING KSNODFNK OKG IM LITERALLY NEED TINPAUSE RHE ALBUM IM CRYING I NEED TO LISTEN AGAIN THAT WAS SO FUCKING GOOD
the way i literally started crying and had to relisten to coffee because it's one of the best songs i've ever heard-
ok Cypher pt. 1 is really nice but it's not like my favorite (i'm still coming down from the high that Coffee gave me)
i'm not like a huge fan of rap without a chorus so Cypher pt. 1 wasn't necessarily the best to me but i know others really like it and that's all that matters mm hm
PH SHIT THE INSTREUMENTS AJS RHE VOCALS AIDJODRIDJD RFUCKDKDNDJDB FUCK ATTACK ON BANGTAN IS AI FUCMING GOOD JOLY SHIT
THOS IS GONNA MAKE MR TUCKING KSDIRDOMRIR ITS SO GOOD WTF
i'm so upset that i've been sleeping on BTS for this long i-
GOD DALNEODNDIDNTJR THIS SONG IS SO AMAIZNGJ EHAY THE FUCK
THEY CANT KEEP DOING THIS TO ME OMG THEIR SONGS ARE FANTAATIC
wait WHAT IM ALMOST DONE????? NO???? FUCK OK AT LEAST THERE ARE A BUNCH MORE ALBUMS THANK GOD
PALDOGANGSAN IS SO GOOD TOO????? HOLY FUCK WTH BTS DO THEY NOT HAVE A BAD SONG????
NO FUCK IM ON THE LAST SONG
omg FUCK NO I CANT HAVE ANOTHEE COFFEE MOMENT LUV IN SKOOL IS SO NICE TOO FUCNFICK GFUCK
WHY IS LUV IN SKOOL SO SHORT NO COME BACK
OK FUCK THIS IS HARD BUT MY RANKING FOR O!RUL8,2? IS: COFFEE, ATTACK ON BANGTAN, LUV IN SKOOL, IF I RULED THE WORLD, N.O, WE ON, INTRO, PALDOGANGSAN, CYPHER, AND THE SKIT BUT THIS WILL DEFINITELY CHANGE WHEN I LISTEN AGAIN
god DAMN that album was amazing
ok so quora says that Skool Luv Affair should come next and so that's what i'll listen to (spotify gave me a bunch of standard edition albums and i was confused) but first!! i missed Path on their first album so i'm gonna check that out now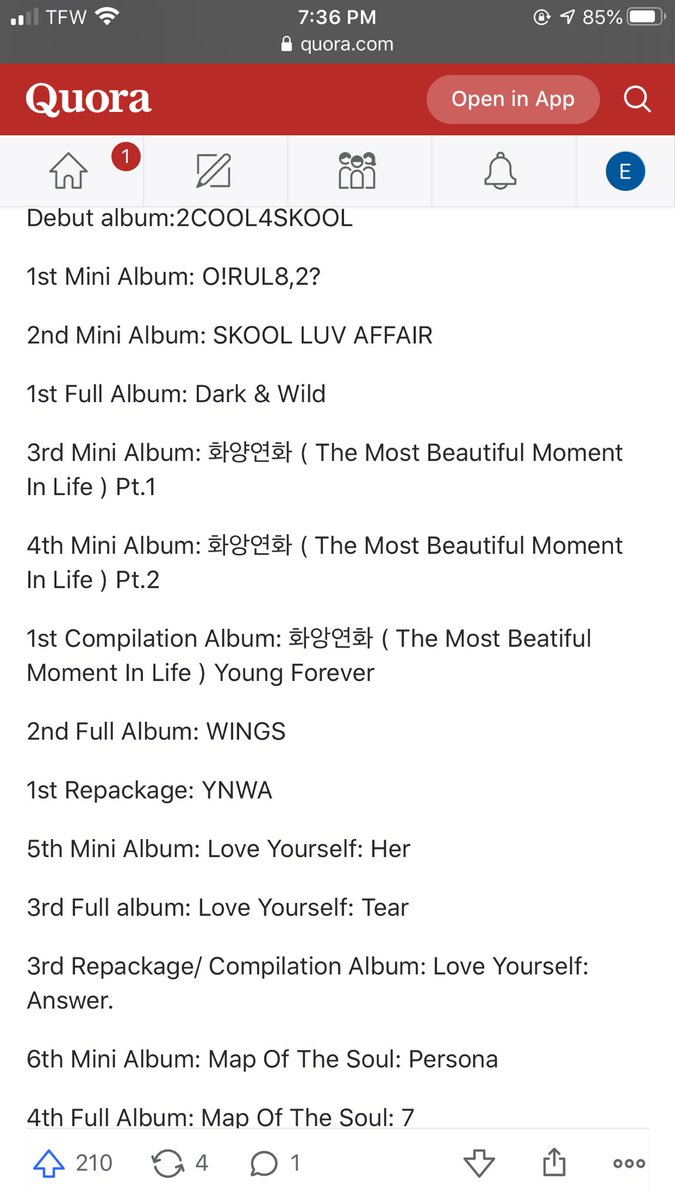 i can't find Path on spotify? so i'll have to just send in my review of it after i listen thru youtube
OK FUCK PATH WAS SO SO SO GOOD!!?????? I FEEL SO LIKE??? HURT THAT ITS NOT ON SPOTIFY????? WTF?????? OMG
do i listen to the special edition or the normal???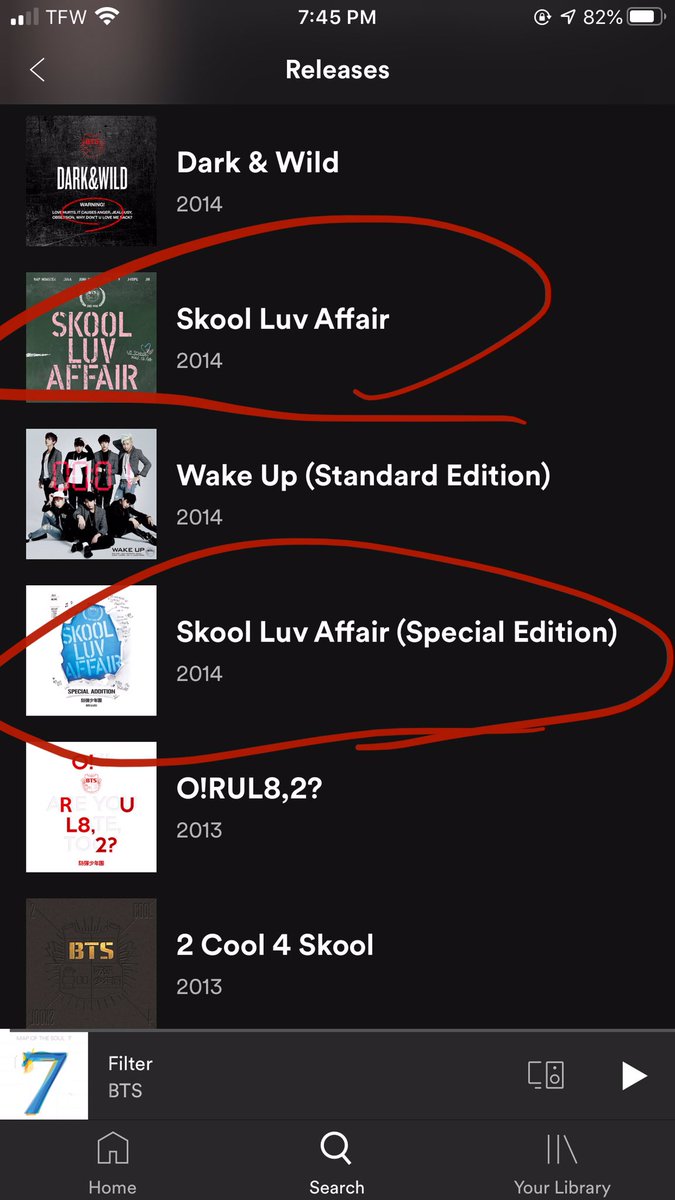 also i wish spotify would just play the songs in album order instead of skipping all the way to the last (?) album

OH FUCK FHE HARMONIZINF IN MISS RIFHT IDNDJDNFJ IM LOVING THE VIBES SO FAR
IEODJDODJD FHE CHORUS HOLY FUCKSJ DIDNDIDJD (I THINK ITS JUNGKOOK SINGING THR CHORUS? IM TRYING TI FIGURE OUT THEIR NAMES THROUGH THE SONGS)
HILTNRIRJDJ THIS SONG IS SO SO SO NICE WTF AND JTS INLY THE FIRST TRACK KSNDKDNDK IM GONNA HAVE ANOTHER BREAKDOWN IF THEY KEEP THIS UP
KDNDOD IM LOVING MISS RIGHT I DONT WANT IT TO END
YES RHEYRE LDMDODDJ HOLY SHIT THEYRE REMIXING LIKE??? THIS WAS ONE OF KY FAVS AND I GET TI HEAR IT AGAIN????? FUCK SKDNDKDND
THE WAY JUNGKOOK(?) SAID PRETTY WOMAN AT THE END OF THE CHORUS FUCK FUCK FUCK
MMM THIS REMIX IS SO GOOD (i think i like the original better buT FUCK THIS IS SO GOOD TOO)
AHHH THESE ADLIBBED VOCALS FUCK ME U P
PU DIDNDJFJFFN CK THE WAY THE VEAT CHANGED IN SKOOL LUV AFFAIR DKNDIDJDJRNRJD FUCK FUCKRBDINER ONG THIS IS SO GRETA
OKG THEY CHANGED IT AGAIN FUFKFNFIDJFBFB
TBISBIS AO ND OOKDMDIDNDK ITS SO GOOD WTF
IM SO HAPPY IM LISTENING TO THEM
PU FUCK BOY IN LUV DKNDDID THIS ISNDKDNF WHAT THIS IS HITTING SO HARD
MY MOUTH IS LITERALLY GAPING OPEN YHIS IS SO HMGKRNFIND
HIKY DHIT FJNDIFJFOKG
IM FREAKING OUT BOY IN LUV IS SO AMAIZNF
I CANR THIS IS SO FUCING GOOD
ahhhh einskdjrjr the cocksosndornofrifjrjr
I FORGOTTO CAPITALIZE IM SO
BOY IN LUV 11/10
that skit was cuuute a very nice break
MMM WHERE YOU FEINTUCK I JUST HIT MY HEAD ON THE WALL SIDNFJNFOFJF HUT ANYWAYS WHERE YOU FROM IS SO NICE
MMMMM THE CHOURS MDFKF JUST HIT ITS SYCH A NICE VIBE
MMMM RM SOUNDS SKENDKDN FUCK THE WAY HE SAID FALLING IN LOVE DIFIFNF AND THE BACKGIURND VICKSBSOMFNFIFNFJD FUCK FUCDBDBD
AHHHHHHHHHHHHHHH
WHERE YOU FROM WAS AO GOOD MMM OH JUST INE DAY JSHUSBIUD IT DJUSTE DBDIDND
PU TUCK TJD DIND THIS CHORUS FUCK FUCK FUCK OKG
HIKY FUCK JUST INE DAYNSKDDODJRNT JSJ CHORUS
HOW THE FUCK AM I SUPPOSED TO RANK THESE SONGS WHEN I AM IN LOVE WITH LITERALLY EVERY SINGLE FUCKING ONE OF THEM
FUCK ME FOR SLEEPING ON BTS WHAT THE FUCK THEYRE AMAZING AND IM NOT EVEN HALFWAY THROUGH THEIR DISCOGRAPHY
NO DONT YOU DARE FUCKIFN END NODJDBDIDNDF OH KU GOD THE VOCALS FUCK FICKNFICKV
PLEASE DINT END OMG
"can you please stay with me" YES ME @ THIS DUCNING SKNG FONFIFNFJF TOMORROW JUSY STARTED AMD FUCK
AHH I LOVE THE FILTER THEY HSVE OVER THEIR VOICES IT SOUNDS SI FUCKINF COOL OH KU GOD AJD KOWNITS GONE AND THEIR COUCES SOUND EHEN BETTER ITS SO SMOOTH
PH FUCK ME UP RM OMG FUCK
YES THE FILTER IS BACK THAT MEANS THE CHORUS IS COMING DUDKFNFKDNFB
mmm theFICHEIDN I WAS GONNA H WORD OVEE HOW SOFT THEY SOUNDED AND THEY CAME BACK AND DUCK RUCK RUCK TUCK ITS SI GOOD ITS S O GOOD
AHHHHH HHHHHHH THE VICKAS DUFKFNFIDNFJRNIFR BTVISKD VOCALS FUCK ME UP
OH FUCK THIS CYONER ISKDKDKD THHIS CUOHER OH KU GOD THE BEAT JUSY FHANGED WHAY THENFURKFJNFKT
HOT TSH IT RMv????))))383!:8762 whay thr fugjeodnd AHHHHH I CANT EVEN RYPE IM FREAKING OUT
IDHDIDJDODJDKDID FUCK FUCKFNCUKCJFOFJFJDID UOFHFIFJFOFJF IKSJDJDJD THE BEAT CHANGE IS THIS SUGA FUCK ND ICK FUCK DIDNDIDNORBRO MG
IS SUGA THE M?????3&:'skein FUCK ONGOTNOFJDBD F US FUCK FUCK SUGA??????? I RECOGNIZE FEOM THE SKITS?????? IS THSI HIM
OH MY GUVK GIFNFOFNFIDJD R FHCK FUCK FUCK THIS CHOHER IS AMAZING I CANNOTNPROCCESSSSSSS
OH SPINE BREKABERITNORNFBFFUFKFNFJ FUFKC FUCKFNFUCK SPINE BREAKER IS AMASOKG TOO SO FAR AT LILE 30 SEXONDS IN FUCK
HILY NOTHERHFICKTKFJT SPONE BREKSENR CJVB CHORUS???????? FUCK?????
THE FUCKING LALALALALAS
MMMM RM FUCK ME UIDJRIRJR FUCK THE CHORUS IE BACK I WAS TOO DLOW HUT TUFKRNRKDNRNFODNDIRJRIR FUCK F K FUCK WOWAHH WOAHHH WOAHH
PH MY GOD THE VOCALS WHAT THE FUCK
RUCICKKFOFNDKDJFK YCIMESINEIENE
NO WHY IS IT ENDING NO WHAYRNIDBR JO WHAY THE FUCK
LETS JUMP JUMP JUMP JUMP
LEGGO OH OH OH
YES RM YOU CAN BE THE ONE
MG I THINK THISBIS SUGA????? FUCKFNCINFIFDJE AHJNNEJEBDJ
NO IM ON THR LAST DODNDODNFTHE PIANO THE VOCALS TURKCINDOFJF FIFNF FUFKC I GIVE IT TO UOUUUUU
THERE IS GENUINELY NO WAY I CAN FUCKING RANK THESE SONGS THERE IS JOT A SINGLE SONG I FEEL ANYTHING OTHER THAN LOVE TOWARD SDJMFIFFOF FUCK HIS VOCALS PUTPOSE KDNDKFNFJT
THIS IS MAKING ME SO EMOTIONS
FUCK NO ITS IBER JOW I HSVE TO RANK THE SONGS
FUCK FUCK FUCK OKAY UHMM MDMJDNFF BOY IN LUV, SPINE BREAKER, OUTRO PURPOSE, FUCK FUCK UCK I CANT THEYRE ALL AAMZINF THEYRE ALL WAMZIJF TJEBDIRNDJNRJR I LITERALLY CANNOT CHOOSE A FUCKING FAVOORYE
OK SO THE NEXT ALBUM IS DARK & WILD I THINK SO IM GONNA LISTEN NOW LMK IF I MISS ANYTNING
PH FUCK THESE INSGREUMENTS AT THE START IF WHAT AM I TO UOU PH!!!!! RM!!!! FUCNFIFFNIDND
OK I GOT DISTRACTED AND HAD TI PAUSE FHE SING BUT ITS VERY VERY GODJ DIFNFJFN FOH FUCKC IDND IN ID RITS HULDING UO HIS INTENSE VICALS I CAN FEEL FHE FUCKIFN ELOTIKN HOMY DJDDNDIDND FUCKC
HILY DUC F NFKD FJF HE SGOIFN TMFDND IN IFNF
MMM DSNGER IS STARTING OUT SO NICELY
THE CHORUS IS HITTING SND ITS JD DJDJDNDE
DUDE I LITERALLY AM JUST IN AWE I FANT THINK IF WORDS THIS IS AMAIZNF
FUCK ME IP THSIE FUCKING VICALS AND EVERYTBJNG AND GUTIAF AND DRUMBSAND DJDKFNF
MM WAR OF HORMONE OH FUCK ME F IF KFJFOFNR TJD MI EHAT THE SHIT THIS IS?????? DUCK?&:&::8:'e
HELLO HELP HELLO HELO TELL KE WHATNYOU WANT RIFHR JOW
IM FUCKING FREAKSING O IT THIS IS SHITTING SO HARD O MHBTKFRIR OH KU FUCK THISNIS HITTING ITS SI FUCKINT GOOD
FUCK WHY IS THIS SI FUCKIJG GOOD
HIP HOP PHILE??????????vNSSJEKEENEKNF
PATIENTLY WAITIJF FIR THE CHORUS THERE SHE DUFKING IS SKNDODDIDNRJR
ARE THEY SAYINF HIP HOP HUP GOPRBDIRND IN KRNRIRRITJR FUCK THEIR MINDS OMG
YOURE ALL WATCHING ME TURN INTO AN ARMY LIVE
oh SHIT is this gonna be a soft song omg
THE BUILDING IP FINDFIJF OH FUCK LET ME KNOW IS HITTING FUCKNFUCKFNFJRNOH MY GOD?????
GIRL LET KE KNOW!! GIRL LET KENKNOW!!!!!!
THEYVE GOT MY GAY ASS SCREAMING "GIRL LET ME KNOW" I- KEND ODJDJRENRRB
MMMMMMM THIS PIANO OH FUCK THE GUITAR IH FUCK TIRNDJSISNDRHE VICLANS SANSDNDDNDJD
NOOOO I JUST WANNA KNOWWWWWW
HIKY TUFK HOW FUCKING HIGH IS HE SNGIJG JEUSEIERNEOEER
oooooihhhhhhhh this piano in RaiN OH THE SWEELNUP KDDOEMSKMEDKNDND FJF F MMMMM
THSKDNIDJR THIS CHORUS????? HILY TUFK LGMFLEMSOWKDNFR
THESE INSTRHEABSTALS FUCK FUCK FUCK ITS SI GOOD
IM SORRY IF
[email protected]
BUT FUCK ME IP BTIDNRI THEYRE SO GOOD PLEASE IF UOU LIKE MUSIC YOULL LOVE BTS
this is gonna get me in my FEELS i fuckijg LOVE RAIN
PH THE CUPJEE IS NEXT I CAND WAIT
OJHH KH THCMFNFLSMEOD FCUKC DIDEKNESJNSOAKS AHOSNSI
WHO IS THIS MAN????? I DONT RECOGNIZE HIS VOICE???? I JUST STARTED LOSTENING TO THEM DONT MAKE FUN IF ME??? ITS 2:30 IN THE SONG WHI IS HE SKDNORNDJRNR HESNDKDNDJE
zKMA IM OAMSOAWNENNDISO
OH MUDUCNFKF THAT WA SAI GOOD
ANS DJDNDJ THIS INTERLUDE SOUNDS SO SEXY
WHY IS IT SI SHORT
COULD YOU TURN OFF YOUR CELL PHONE JNWOWJEIDJ IM LOVINGNKSJE MK IEJEI CHORUS
OHHHH WMABRRASED I LOVE THE SATRUINF vvvvksksjeeobIR STARTING SO GOS EODNEORNIH FUCK
OMG EMBARRASSED????? THATA HOW IM FEELINF FOR JOT LISTENING TO THEM EARLIE EHR IS DJNR DFJDJD THE CHORUS JUST HIT FUCK DUCKFNFIFNIFND
OH??? MY??? KEELD DJDNDJDNJF
THIS ALBUM IS SOMEHOW EVENE BETTER!??? THEY MEEP GETTINF BETTER ANS THEYRE ALL AMAZING??????
WOAH RHE START IF 24/7=HEAVEN?????? HDODNDOSNSODJID FUCK
I THINK ABOUT YOUA LL NIGHT IFLRL SOSKSIDND D
THE WAY HIS VOCSL???? I THINK ABOUT YOU AaLL NIGJT GIR IRL
FEEL LIKE INDONT WANNA SAY NO MORE??????
OH MY GOD THIS SING IS ANAIZNFJF 247=HEVANEN IN ODDID
IF THIS DIESNT PLAY AT THE GATES OF HEAVEN THEN I DONT WANT IN
i'm not the BIGGEST fan of Look Here







it's still really good BUT 24/7=Heaven is still playing in my head
PU SHIT 2ND GRADE MSMEKDRKEK RUFKC FICKDJDND FJDNDJD HOLY SHIT??????
MMMMMM FUCI EK DODNDJDDKD 2ND MF GRADE
THIS IS SI GOOD????!! 2ND GREZE?):&!::83'keje
OH MY FUCKJFOSSMPAKSODJD DFYCIK
ITS JUST SI BF UCJING GOOD WAIT MO WHY IS IT OHER WHY DID UOU EJD JONEHSHDODNDOR WHY IS IT OVER
OH???? OUTRO???DO YOU THININIT MAKES SENSE?????? OH DODNDODKDNR THEJDNN IN DIDNFUCK FUCKBFUCK EXPLAIJ IT EOWNSODNIDN
IM GONNA STOP LISTENINF FOR A BIT BECAYSE I MEED TO WAT AND APPARENTLY TWITTER HATES ME
ok!!! i'm back from my break!!! i'm gonna continue reacting to all of their songs!! i'm about to start The Most Beautiful Moment in Life pt. 1 (that's a fucking amazing album name omg)
wait this sounds so pretty i- OH????? THIS IS SOUNDING SO SAD???? INTRO TRACK???? OMG???? TBIS IS GONNA BE T H A T ALBUN HUH???? IM SO WXCITED AND HAPPY TO HE LISTENING AHAINSKDNDODNDID YTJMDKEKDNFUCK
OU KU MF ODNDKDJODJDJD GODNDI FJY HIMY SHIT?????? HDKFNFJNFDJBD
OKG ??!!:'jdkdkdjd THIS IS SO GOOD WHAY THR RIFNFINDIFNF HIMY FUCKING SHIT THERES SO MUCH EMOTION OMG WNDNIFNFJR AND TJISID JUSY THE FUCKING INTRO
OK IM STILL LEARNING JOW TO FIGURE OUT WHO'S SINGING AND RAPPING BUT I KNOW I HAVE SUGA, RM, AND JUNGKOOK DOWN AND FUCK THEY DIS SO AMAIZNF THAY CHEIDNDIDJ THIS CJORUS
THIS BUIKEIDNDIDNFUCK THIS CHORUS IS SO AMAZING
HILTNFUCKFIFJID THEIR VOCALS ARE SO FUCJING AMAZING WHAY THE FUCK OMG DOE IDNDJDNRJR IM LTJERALKY
OH???? HOLD ME TIGHT SOUNDS SO SWEET SI FAR???? OH THESE VOCALS ???:!4&44&; I CAJT WAIT
FUCK THIS CHORUS OMG WHO IS SINGING TJEKDMRKR THIS IS SO AMAZINODNEIRNR
PJSIDBDID WHO IS RHIS????? AFTER THE CHORUS????? ONFKFNOFR OMG???&3'dnrodnr TBIS SOUNDS SO NICE!!!?
HOW CAN YALL HAVE FAVS WHEN THEYRE ALL SO FUCKING AMAZING WHAY THE FUCK I LITERALLY AM IN LOVE WITH ALL OF THEM
WHO THR FUCK JUST SANG THE CHORUS AFTEE SUGA (i think?) SNEDKDJOD OMG THAYW AS BEAUYUFKL
honestly i love the fact that they have skits like lsmdkdodr that's so adorable to me
HIS LAUGU WHO JUST LAIGJED FOSINE THAY WAS SO CUTE
OH FUCK THIS SONDJRFID TJIS IS STARTING OFF SO STRONG??? DOPE???? OMG THISKEKRNRORNR
KEKDODJ THE FUCKING INSTREUMENRAL DKNDDKJRR
OMG TKSKDJD THIS IS SO FUCNJT NICE?????
THESE INSTRUMENTALS ARE SO FUCKING AMAZING WHAT THE HELL
THIS SONG IS SO NICE???? WHY HAVE I NEVEE HEAED ANY OF THESE SONGS BEFORE WJAY RHR FUCK THEY WOUPD FIR SO PERMFJRKDNRBROMG WHO JUST SAID "I GOTTA MAKE IT FIRE BABY" THAT WAA SO DODNODNDJD
so far, the only thing that i don't like about their songs is the fact that they end
THIS CHORUS IS SO SEXY OMG I WOSNDKDNDNDKD HOLY FUCK
IM IN LOVR WITJ THIS OMG BOYZ WITH FUN FUCKNEKEMEKDND
I LOVE HOW THIS WENT FROM ME RANKING THE SONGS TI JUST ME FREAKING OUT BECASUE THEYRE ALL AMAZING
TGIS STARTS SO NICELY??? CONVERSE HIGH OMG DKNDID I LOVE THIS ITS SO SOFT OH NORBERKKND RJF RIT T THE COHRUDBEI THE CHORUS????? FUCKRJDIRNODJR HORNRORN
WHO IS RAPPING AFTER RM????? OMG I LOVE THRIDHEI THE WAY HE SAY VROOM VROOM OH HEJDOJR WHOS SINGING THE CHORUS???NDIDDIDNDIR
OH EKRIR THISBSOUNDS LIKE SUGA FUCK ME DKDNKR RJFTN
OMFOFFKFN WHO IS SINGING THE CHORUS???? I CANT TECOGNIZE??!? IN MOVING ON??? FUCK DIDJDDJRR
wWAIR IS THIS THE SAME LEESON SINGING THE SECOND CHORUS OR IS IT A DIDFERENR DUDE??? ILEEKRKEK THEYRE ALL SO RLSNROR ONG SUGA NOLY FUCK
WAIT THIS SOUNDS LKKE IDNDODNF FUCK FUCK FUCK I CAND REMEMBER FUCK ITS JUNGKOOK I THINK HES SINGING LIKE THE CHORUS BEFORE RM AND FUCK RM SLUNDS SO KDNDKFNFJNDR MMM
omg this sounds so soft and cute omgmofjfjrkfnt i swear if i have a breakdown AGAIN OH FUCK THESE VOCALS
"LOVE IS NOT OVER" PLEASE THATS SO CUTE OMG
WAIT THAT WAS THE END HOW DID I LISTEJ FOR 31 MINUTES ALREADY?????
OK NOW IM ON THE MOST BEAUTIFUL MOMENT IN LIFE PT 2
WHO IS THIS??? IS THIS A LIVE RECORDIJG??? WHAT THRJFJDNDJR FUFKRKRJR
THIS IS SONINTENSE OKG I EODNDODNDODN THIS IS AMAZING I NEED TI HEAR THIS IN A MOVIE OR SOKETBING WHAY THE GMFUCONEIFBR
ok i adore ONGKNOTNFIRJR RM THIS DNEDINRJR I WAS GONNA SAY I LOHE THE SYART BUT THEN HE CAME IN AJD FUFKRKRKDNFJRNJFR
WHO IS SINGINGJNG OMGJEKDNRORNR TJR FUCKING CHORUSBEOENDJEODE JEUSBDOJENDINEKE HIMT SHIT WHAY THE FUCK THISBIS AMAOZKNG RUN RUN RUN!!!!!
THIS IW SI NICE???? ITS SO MOTISJEODNRORRK AHHHHHHHH
THESE FUCKIJG VOCALS IM GONNA CRY
wait omg this sounds so adorable and soft




OH MY GOD BUTTERFLY WNSKDEMIDRKDO THISBIS SO FUCKING BEAUTIFUL IM WCTUALLY CRYING THIS IS SO BEAUTIFUL
WHO WAS FHAT AFTER SUGA??? WHO SAID STOP OMG HDJDJDOD FUCK EVERYTHING IS SWELLING THIS SONG IS SO ORETTY
FUCK RM WAS SO LERFECT EVERYTHIJG IS SO PERFECT THIS SONG IS HEWDKFKRNRKFR ISRKENDN AHHHHHHH THIS IS AMAZING
LIKE A BUTTERFLYYYYYYYYYY
BTW HI YES I CAN SEE FHAT PEOPLE ARE REPLYING BUT MY LITTLE THING HAS BEEN THAT I DONT RESPOND UNTIL AFTER I FINISH AN ALBUM SO PLEASE KNOW IM NOT IGNORING YOU IM JUSY SUPER FOCUSED AND IN LOGE WITH TBIS I LOVE EVERYONE YOURE ALL SO NICE MWAH
OK NOW IM GONNA PLAY WHALIEN 52 IM SO EXCITED I KNOW ITS GONNA BE AMAZING
PU GUCKSNIXDK IS THIS SUGA IT SOUNDS LIKE HIM MKSNDODKD FUCK HES SO GREAT IFNFOFNFOD AHHHHH OKG IT JUSYEMDKDKD FUCK I CAN FEEL HIS EMOTIONS
GOD
[email protected]
THIS SONG IS SO NICE OSNDODR DNE WHAT????? WHYENDKD NO MORE JO MORE BABY JO KOREnnmsksdoendkf FUCK WHO WAS THAT LIKE BEFORE THE BEFORE PART OF THE CHORUS
THIS SO IS AO SO AO NICE HOW THE HELL CAN I CHOOSE A FAVORITE AJHJJ
OMG???? WHO WAS RHAY AT THE START OF MA CITY FOUNDIF OH FUCK THIS SO SOKDMDOR "CITY OF THE FLOWER" THASTS SO METAL
THIS IS SO FUCKIJG GOOD OMG??????? KNEIDNDODJBFUCK
IS THIS SUGA?????? WHINSAID IM A D BOY??? IDK WHAT THAT MEANS BUT FUCK IF HE SAYS IT THEN I AGREE ODNDKNRBR WHO THR FUCK JUST WENR YEAH YEAH THAT WA SSO FIFNFOJRF OMG OMGOMGOMGOMG MGOG MEJEHEYRSMDJ
LALALALALALALALA THIS IS SO SOSNOS SOS DKCHRKDJR RHF DIDDI BF UCK ME UP OH AND THE LAUGH AND THE END
OH FUCK???? SILVER SPOON????? HOLY SHIT???? THIS SKDKDNDKD
THE WAY RM SAYS BANG BANG???? OMG?????
OK I HAD TO MOVE OVER TO THE WEBSITE BC MY TWITTER APP CRASHED


BUT F U CK ME SILVER SPOON WAS SO AMAZINGDKNDODDK
ok again i may not be able to vibe with the skits as well as i can with the songs but they're still so cute


i love just hearing them be like best friends and have fun



ew emojis look so gross on web app
AWWW THE WAY THEY LAUGH WITH EACH OTHER THIS IS SO FUCKING CUTE
AUTUMN LEAVES????? DONDIDNDOFKF TNIS IS SUCJ A NICE SOUND OJ IS THIS SUGA???? KDNKDFOFNDKDDK FUCK ITS SO?? I DONT KNOW JOW TO DESCRIBE???? JUST SO OJEDKNDID THE HARMONIZIJF SND THE SWELL AND THE BEAT OMG AND THE SM DDKMDKF JTS SO MELEKDNR
IS THIS RM???? WHAT THE FHCK DKEODJDOFKF OMGGGG
WHO IS SIFNFIFND WJO IS SI IJF TJR CHEISJDODJR AFTEE NEVER NEVEE DALL YEAH DIDNDJ THE FUCJING CHROUS ONG JENODEOFR
WHY IS THIS SO FUCKIJG GOOD THIS CJORUS HITS SL HARD
AHHHHHHH THE PIANO AS RHEY WHISPWE NEVEE NEVEE FALL
WAIT IS THIS THE MAST SONG????? HAHDNDIDFI WHAT HOW THE FUCK
OH??????
WAIT OKG THE FUCKING CHOIR (?)IN THE BACKGROUND AND THEIR LEADIJG VOCALS OH FUCK IT JUST GIR SILENT IS THAT RAIN DROPS??????
HELLO SORRY I HAD TI TAKE MU MEDICINE SO IM RESTARTING HOUSE OF CARDS




UFH THE FUCKIJG VOCAL LINE???? THIS IS SO BEAUTIFUL AND THE WAY THAT THEY USE SILENCE TO IMPROVE THE IMAGERY OF IT???? AND THEN ENDBDJDNIDJD FUCK FJF FINDIFNFJFF OMG
I CAN FUCKIJG FEEL TJE WAVES OF EMOPTIMSNDD
THE DUCKI MELDNDKDNFN THE FUCKING EMOTIONS IN THIS THE WMOTIONS IM FEELING I AM NOT OKAY
OK IVE EITHER REPLIED TO OR LIKED SLL MY NOTIFS NOW BACK TO STREAMING MMMM OK SO NEXT IS THE MOST BEAUTIFUL MOMENT IN LIFE: LIVE FOREVER
FUCK I MEAN YOUNG FOREVER
THIS ALBUM IS SO LONG I CANT WAIT
ALSO AGAIN I WONT BE REPLYING UNTIL I FINISH THE ALBUM DJDNDONDIFN FFUCK THIS INTRO IS SOSNSISJOSNDICNING GOOD
THE WAY HE SAYS GOD DAMNIT UGHR DJNDID DODMDOKDND IFJCF ANS THE EMOTIKNS I CSN FEEL THEM COMKNG OUT FJDKD IN IFNF
I THINK SOME OF THESE SONGS WERE ON THE LAST ALBUM BUT I DONT CARE BECWUEE IT GIVES ME AJ EXCUSE TO HES RTJENTOFIR FUCK I FORBOT JOE MUCJ THIS CHORUS HITS SNEODNDODNR I NEED U GIRL
god THESE FUCKING VOCALS
ugh rm sounds so so so so nice in this AH FUCK DIDNDIDND MMMMMMM
ALSO AGAIN IM REALLY SORRY IF THIS IS ANNOYING BAHA IM JUST REALLY LOVING THEM
IM TRYING NOT TO POST MY REACTIONS TO THE SONGS IVE ALREADY HESRD BC I DONT WANT TWITTER TI GET MAD AT ME AGAIN
MMMM FUCK SUGA SOUNDS SO NICE IN AUTUMN LEAVES FICNFINFIFJFNF FUM FUCK FUCK
OTS SO HAED NOT TO POST MY FREAKPIT NEVAUEENSKDNKDNRNR IM SO FUCKIJG IN LOVE LILE OM FUCKEJNRODNFKF BUT I DONT WANNA GET TWITTER MAD FJFKFNFOFF PLEASE KNOW IM LITERALLY FREAKING OUT OVER EVERYTBING FUCK
PH SOMEOJE WAS TELLING ME ABOUT THSI IM SO SORRY I FANF REMEMBER YOUR MNAME BUT FUCNFNFOFNDOJ MY FUCKFNFIFJ FUCK BUTTERFLY PROLOGUE MIX IS SISNFJDRIRN R
I FUCJING LOVE THIS BUTTERRRRDLYYYYYYYYYYYYYY
UGHHHHH RUN IS SO FUCNING GOOD INDIDNDIRNORJRR ITS JDJDK OMG FUCK ND JCK FIFNFJDNDJDBD
MMMMM MA CITY NFKDNFI FUCK IT SLINFD DMDMDOEKKEKEE I FORJRJEEKNEORR FUCK ME UP
IEDIDNFIDJD FUCKC SILVER SPOON IS SO FUUCKING INTENSE GOD FUCK I WOSNDKDKD JUDT IMAGINE SEEING THIS LIVE???!?? FUCK RNDKDNFKDNF
UGU FUCK DJDNKDNDKD ITDNSO GOOD LILENITD SO FUCKIJG GOOF EJAYTNRH RUfjOKEODNDK
IK HONESTLY SO UOSET THAT I NEVER LIDTENED TO THEM EARLIER UGH IVE ROBBED MYSELF OF SUCH AMAZIJFNTALENT
SOMEPEOPLE HAVE HAD THIS FOR YEARS SND IM JUST NOW LOSTENING FUFKFNFIFNRIFHFI
IM NOT SLEEPING UNTIL IVE LISTENED TO ALL OF THEIR ALBUMS
HHOLYN SHIT BURNING UP (FIRE) ISNSO NICE ODNFJRJF THE FUCKING LAKALALALA I FUCKING LOVE LALALALALA KDDKD
BURN IT UUUUUUUPPPPP
I CAND WVEN BEGIN TO GOING BACK TO TYPING NORMALLY WHWN THEIR SONHS MAKE ME SO HAPPY
SAVE ME?????? ARE THEY OKAY???? KEKDNDKD OSBAHH OH FUCK I CAN FEEL THEM I HEAR THE PAIN IN THEIR VOICES "I NEED YOUR LOVE NEFOTE I FALL" SKDNDKENDN
PLEASE SAVE ME TONIGHT???? BABY???? ARE LSMDDKNDKDNPLS

NOT ME CRASHING MY TWITTER APP AGAIN

EPILOGUE???? UGHRIFNFIFJF THIS VCOJEBDIDNF HMMGMMFT MM it sounds so nice and calm but i feel it swelling oh and the fucking cracked voice

FOREVERREE????? WE ARE YOUNG!!???!!&/&/988
THIS IS GOING TO MAKE ME CRY PLEASE
AHHH I REMEMBER THIS ONE FROM EARLIER!!!!! CONVERSE HIGH MM DKDDKDNDJ
OK I WAS WAITING TO TWEET UNTIL GOT TO SONGS I HADNT HEARD ON TJE OTHER ALBUMS SO IM READY TO FREAK OUT SOME MORE
FULL LENGTH HOUSE OF CARDS??????? MSNSNDDKNDJD
IUGJ ITS SKDKDNDKDKNF FUCK ME UP I
PH FUCK
[email protected]
BILT TJGKC TJDND THESE FUCKING VOCALS JEISNDODJD ISJDKEIENNE OMG
AHHHHH LOVE IS NOT OVER EXTENDED I CKSNOFFKDNDKR
UGH ITS SO PERFRCT IT SO DODNDODNRKRN FUCKKKKKKKKK
ok i have no idea what "urban mix" means but OH I WAS WISNODJD SITTING HERE THINKING OF WHAY TI TYPE AND IFNFIT ITS HITTI IF KE ONFKFIFRBIGHHHHH I NEED U IS SO FUCKIJG GOOD
I NEED YOU GIRLLL THIS SIDBIDDN FUCK I STILL DONT KNOW WHAT AN URBAN MIX IS BUT ITS SO FUCJIJG FOOD
UGU T IN IDNR THE FUCKING AMAZING VICALS THR RASPINESS UGH DJDNODNDOFNRKNDDINRODNE R
ANOTHER REMIX!!!! OJ I HEKSNDODJRNT I HEANRIRFINRIR I NEED U GIRL JDNIDNRRJDJEOEEORNR FUCK THIS SONG IS SO FUCKIJG GOOD UGH
THIS IS SUCH A GREAT REMIX??? IM NEVER USUALLY A FAN OF REMIXES BUT THIS???? OH MY GICKBRKFNFJFFB
RUN BALLAD MIX??? THEY MADE IT A FUCNJNG A DKD DN FIDNDIDN
UGHHHH TGISBIS SO FUCKING PRETTY????? THEY MARE RUN INTO A BALLAD AND ITS SO GORGEEOUS WJAHRORJFOFJJF UGHHHHH
NO FUCKING WONDER THEYRE THE BIGGEST BAND IN THR WORLD????? HOLY FUCK IM LIKE 7 ALBUMS IN AND NOT ONE BAD SONG
BUTTERFLY ALTERNATIVE MIX?????? OH LDJFO IM SO FUCKING EXCITED ITS ALREADY STARTING SO BEAUTIFULLY
i could vibe to Butterfly all night i swear-
i'm literally, like, feeling nothing but euphoria from this remix UGH it's so perfect
OK!!!! i'm on the Youth album now!!!! it has Japanese versions of songs and i'm!!! so excited!!!!! the boys are so talented i- LIKE THEY HAVE MULTIPLE SONGS IN DIFFERENT LANGUAGES????? FUCK AHHHHH OK IM GOMNA START
TGIS INTRO AHHHHHH
KDKDNDKDJD ITS SO SWEET AND SO INTENSE SND SO FUCK RFJBFOFBFJDND IN
NDKDODNDODN THE DNDKE IT ENDED WITH "YOUTH" FUCK TJAY FORNFOR OMG OMGOMGOMGOMG IM SO RUFKING EORNFONEDCITED FOR TJE WLBKM
I CANR BELIEVE I GET TI LISYEN TO RUN IN JAPANESE TMSKDNDKD FUCK THIS IS SO NCIE
tYHIS JDN ITS SO NICE I CANNOT UGNNRKF THE BOYS ARE SO TALENTED



AND NOW FIRE IN JAPANESE????? JFLCNFOFNFIFN
THEYRE SONFUCKING TKDKDNRKRJFKDEKNR
THEYRE SO TALENTED
I DONT KNOW WHAT CHOU YABEE MEANS BUT IF IT MEANS I CAN LISYEN TO DOPE AGAIN THEN ISDOJDODJD
ISNSKSOJD GOOD DAY IS SO NCIE
THIS IS SI CUTE OMG




PLEASE IM?????? YOU CAN LEAN ON ME???? LAY ON ME???? LEAN ON ME????????$99!/'ap
WAIT NO I WANT YOU TO BE LONGER
SAVE ME IN JAPANESE KSML??????? AHHHHHHHHHH
THIS SONG IS SUCH A BOP
FUNTAN SYOUNENDAN KDNDIF (i kept checking to make sure i spelt it right

) ITS SO GOOD SKNDFINFJF
OH!!!! WISHING ON A STAR??????
THIS IS ?$&3'dormsos
THIS IS SINRUCNING FJFNIFFNCUTE
WISHING ON A STAR IS SO FUCKING ADORABLE
IF TWITTER EVER BANNED KEYBOARD SMASHES ID BE FUCKED
AHHHHH I WANNA HE CLOSE TO YOUR HEARU SKDDKDNDJNRT
BUTTERFLY???? JAPANESE VERSIONSOANSLSMSKDDKDNOF FFUCK FFIBDS AHHHHHHH
IM THE NUMBER OKE BUTTERFLY STAN
THE CHROUS????? KDNDKNFKDND FOR YOUUUUUUUUU
FOR YOU IS SO PRETTY I CANT
I NEED U!!! BUT IN JAOANESE);HFUDITFU
THE PIANO SIUBDS SI DISTABT YET RIGHT HERE???????
ok so i was told that You Never Walk Alone is like a repackaged version of Wings and so should i skip over Wings if all the songs on that album are in You Never Walk Alone?
ok so i've decided that i'm not gonna skip bc i wanna get every song

even doe i'm being told that every song on Wings is on You Never Walk Alone
oh FUCK the NDODMD WOAH!???? THE INTRO IS SOONDING SO FUCKINT OJ FUCK TJE BEST SND TNRIRR I WAS GONNA SAY SOMETHING HUT IT KEEPS GETYINF BETTER
OK TELL KE IF
[email protected]
BUT THIS IS JUNGKOOK AT THE START VERSE OF BLOOD SWEAT & TEARS?
OH MY FUCK THDINDIDJRIF THIS IS SO FUCKIJG GOOD
THE WAY THE BEAT SLOWLY SWELLS AND THEN BABSNDND AND THEN DRIPS ANS THEN THE CHORUS AND THEMFNFKFNFJFNF THIS IS VERY NICE
wait this is sounding very cute




"you make me begin" AWWWWWWWWWW
wOW THESE VOCALS
WAIT DID HE JUST SAY YOU MADE ME AGAIN????????? LIKE REBORN??? AKNDODNDD THATS SO DJDNDIDJ THATS LIKE ETHEREAL KSSODMDND
oh my goodness the start of lie is so pretty ooH WHO IS THIS????????
HILY FUCK THESE VOCALS IM KDNDLA?????? JEEEEEEEZ WHAT THE FUCK OMGGGG
this is literally so beautiful like i just wanna close my eyes and let his voice capture me
WOWOOWOWOWIW LIKE LIE IS SO FUCKINF PRETTY WHAT
PH!????? STIGMA IS SO PRETTY???? I LOVE IT ITS SO CUTE WHAT SINDINRIFNDJR
THISBIS SO CUTE OMG
AHH THESE VOCALS ARE SO PRETTY KDMFKNFIFFJR
omg first love is just so... fuck i don't even know??? it's like so heavy???? omg i love this wtf
REFLECTION IS SUCH A VIBE
WAIT IS HE SAYINF I WISH I COULD LOVE MYSELF??????? BB NO SJDNDID I LOVE YOU WHAT JONOMG TJDNDK THATS SO SAD WTF
WOAH MAMA IS SUCH A DIFFERENT VIBE BUT IRS SO UPBEAT O LOVE THIS
THE RECORD SCRUB THINGS ARE SK NICE I LOVE THAT
oh also i switched over to the You Never Walk Alone album bc everyone said it has the same songs as Wings + 3 extra so it'll just be easier for me (i'm real tired mm hm)
HEY MAMA KLSMDIDJDJ THIS IS SO JICR DINDIFNDWJAY THR FUCK I CAN SEE THIS PLAYING IN A PARTY SCENE IN A MOVIE
PH????? AWAKE SOUNDS SO SAD??? BABY NO :(
MAYBE I CAN NEVER FLY????? MAYBE I CAN NEVER TOUCH THE SKY????? NELDNDJDNFOFN YOURE A STAR :(
OH MY FUCK I LOVE THIS SO MUCH
UGHHHH THIS IS SO SAD BUT SO GOOD FUCK ME
oooooooooo i OOOOO I LOBE LOST SO FAR IM ONLY LIKE 40 SECONDS IN BUT FUCK KT KEEPS GETGJNG BETTER WND HETTER
OH ITS SAELLING IF RIDNFOH FUCK YESSSSSS FUCK YES
OH MY GOD YESSSSS TBIS IS SO FUCKING GOOD
oooh i can feel a build up coming mmmmmmmmmm OH UES ITS COMKNG ND DKDNND AHHHHHHHHHHHH YES YES TE ST FUCK RID DJDBDJBD FIDDJDNDK GOD FHSHW AS SK FUCKING SATISYING
AHHHH ANOTHER CYPHER I CAND WAIT
PH FUCK ME THISBIS SO GOOD SO FAR
OHHHH RUCKFNFJFJD AY TUCKIJG BEST DROODNFJF OMG YEHABDIDNDJDFN
this cypher is so fucjing amazing omg
WAIR WHAT???? AM J WRONG???? BSKSNDKDNDJ WWHAT THIS SOHSIDDNDDK WHAT WHAT WHAT THIS SOUNDS SO FUJCNFJFBJFBFJD MMMMMMMMMM FUCK ME
THIS IS A MASTERPIECE
HILT FUCK THESE FUCJING VICALS AHHHHHHHH
THESE SONGS AR WALL SO FUCJJNF AMAZINF
oh shit 21st XENTUDGH BF IRL OH KDBDJDNKDNDJDN THE FUCKING CHANGE THDNDKDN THISNIS SI GOODMbbbbn
21ST CANTHRYG FIRL GINTI TNIS IS SO F IF MOMG GOOD
TGIS OS SO FICNJJGG GKD DKD OMG???!!!!!!
iIM LITERALLY KNFICNCIGN G TND DDJBDKDND
NWAH
I NEED TI LISTEN TO THIS AHAIN IM LIKE FICKNEKDNDKD EONESN DD TBISBSKNSOFNF FJD D FOINFODD!???!!!???
OK I LISTENED AGAIN IT EAS SO GOOD NOW OM ONTO 2! 3!
ok my phone crashed so NOW i'm onto 2! 3!