I'm unable to understand why people like to dig up old graves and talk about a century old issues and try to re-ignite that old fire. I don't like talking about it but since the issue has come, I thought of formulating a thread on the site's history.
https://twitter.com/mssirsa/status/1287273608708931584?s=20
Shaheed Ganj mosque was located in Naulakha Bazaar in Lahore. The mosque was originally named Abdullah Khan Mosque and it's construction was completed in 1722. There was a public square near the mosque, where criminals were punished during the tenure of Nawab Zakaria Khan.
Zakaria Khan was a Mughal governor of Lahore in the 18th century. At this place in 1745, Bhai Taru Singh was martyred by Zakaria Khan when he had his head scalped alive rather than cutting his hair and converting to Islam.
Bhai Taru Singh ji had been imprisoned for providing shelter and food to Sikh rebels who had been fighting against the Mughal oppression and trying to establish a Sikh rule. To read about this martyrdom in detail, refer to this thread:
https://twitter.com/amaanbali/status/1276108857891188741
In 1762, the Bhangi misl Sikh army conquered Lahore and occupied the mosque, together with the public square. The Muslims were not allowed to enter and pray, although the Sikhs were given the right to pray.
The Sikhs built a gurdwara called Gurudwara Shaheed Bhai Taru Singh in remembrance of Sikh martyrs in the courtyard but never used any mosque building. In 1935, Sikhs announced that they would demolish the Shaheed Ganj mosque building in the Gurudwara complex.
This created a lot of sensitive atmosphere in Lahore.
Dr. Ishtiaq Ahmed explains this issue in his book : The Punjab: Bloodied, Partitioned and Cleansed.
Mian Mustafa Kamaal "Pasha", an Arain Muslim born in 1928 in Lahore (named after the great Turkish leader), tells that his father, Mian Ferozdin, said in a speech that the governor of Punjab - Sir Herbert William Emerson was actually Amer Singh and so he was favouring the Sikhs.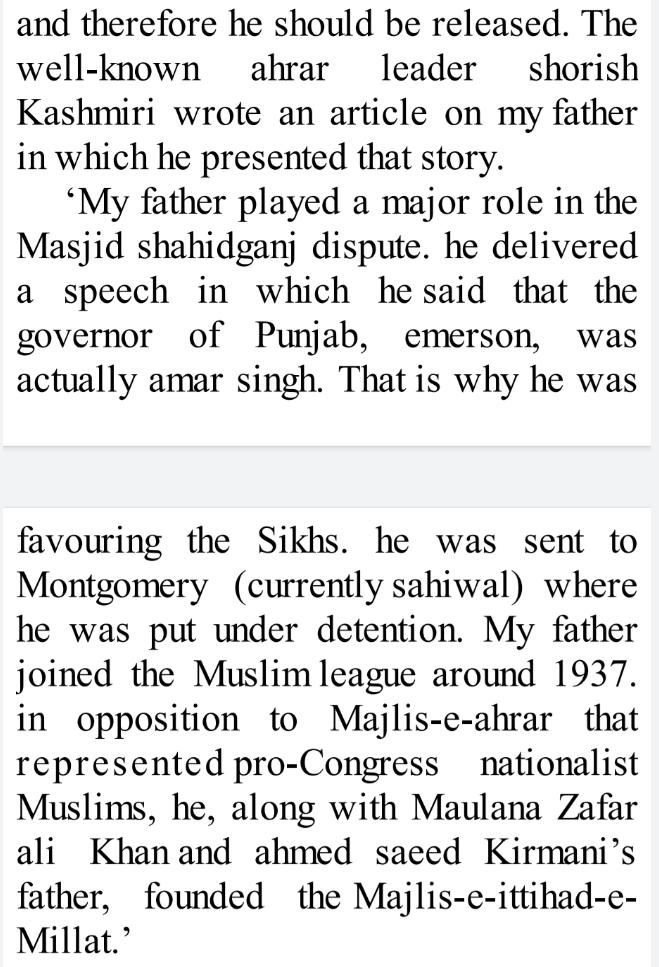 The judgement of Bombay High Court on 2 May 1940 on 'Masjid Shahid Ganj Mosque vs Shiromani Gurdwara Parbandhak' recognized the building as a Mosque but maintained that the Statute of limitations has passed since the property has been occupied by the Sikhs for more than 170 years
Since 2012, the Market committee of Naulakha Bazaar has encroached upon more than 90% land of Gurdwara by constructing a Mazar inside the Gurdwara complex and separated the Gurdwara by cloth partition leaving just 18 to 20 square yard of land out of original 600 square yard land.