Impacts Of Using Native Forest Biomass For Energy
12 Facts
http://forestsandclimate.org.au/threats/impacts-of-using-native-forest-biomass-for-energy-fact-sheet/
Burning forest biomass for electricity creates a carbon debt that will take decades or even centuries to repay - if the forests are actually allowed to recover to their carbon carrying capacity.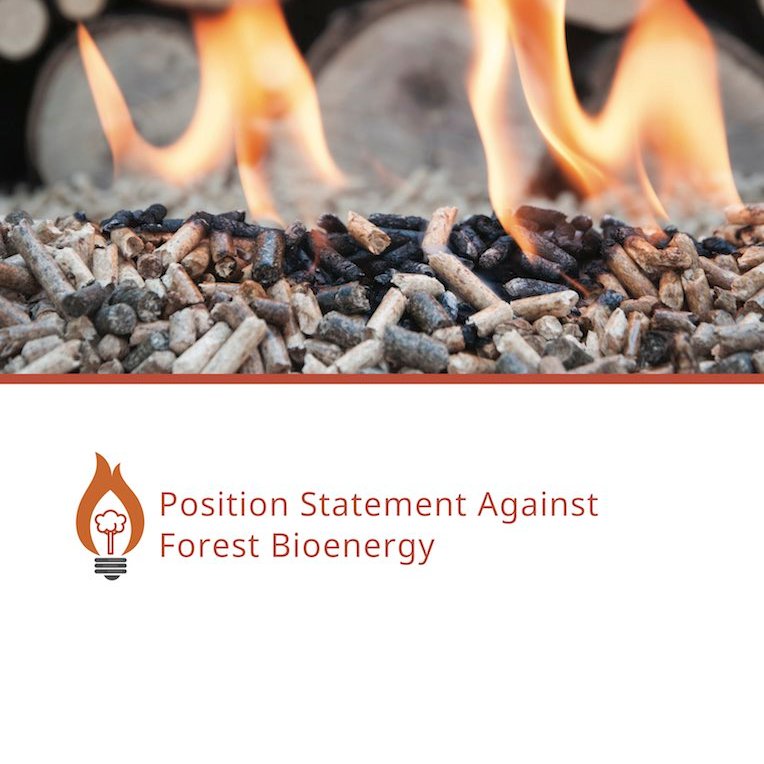 1/12 EMISSIVE
Burning forest biomass for electricity production is more emissive of carbon per unit of energy produced than is burning coal.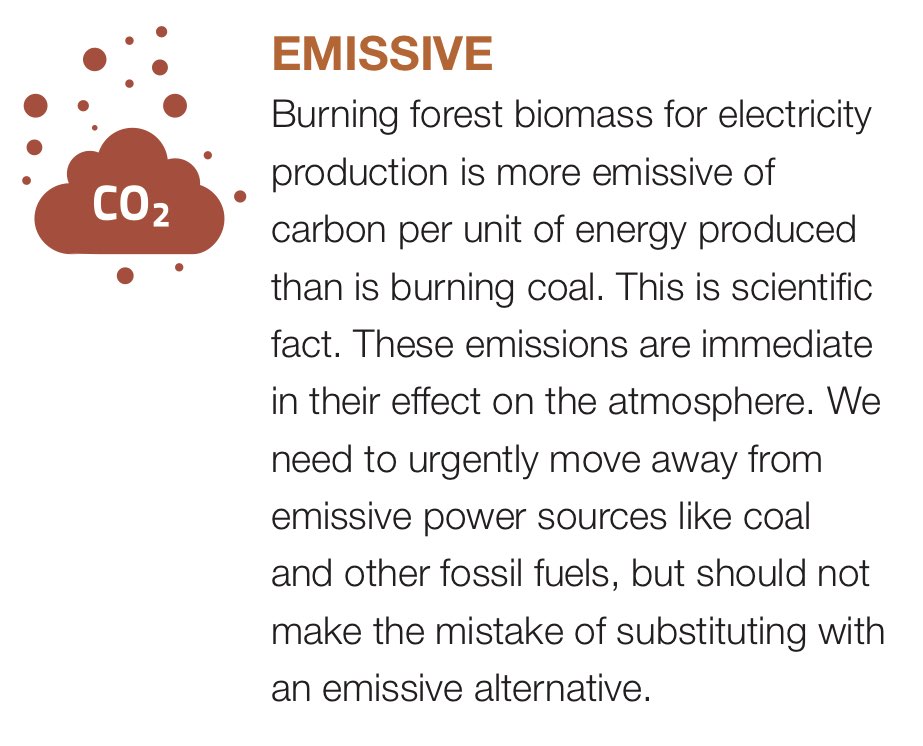 2/12 CREATES A CARBON DEBT
The simplistic claim that the large greenhouse gas (GHG) emissions generated by combustion of wood biomass are recovered by subsequent regrowth of forests ignores the crucial point that such regrowth takes time...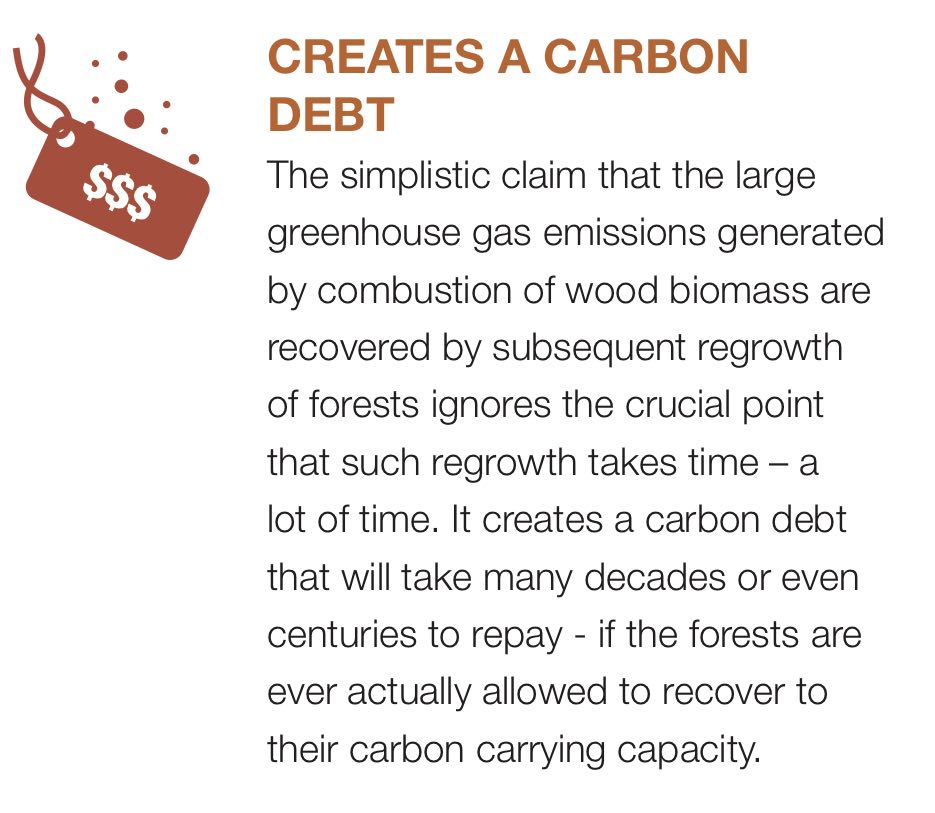 3/12 TIME MATTERS
We have only a short time in which to turn around human induced climate change, hence targets for 2030 and 2050 in the Paris Agreement.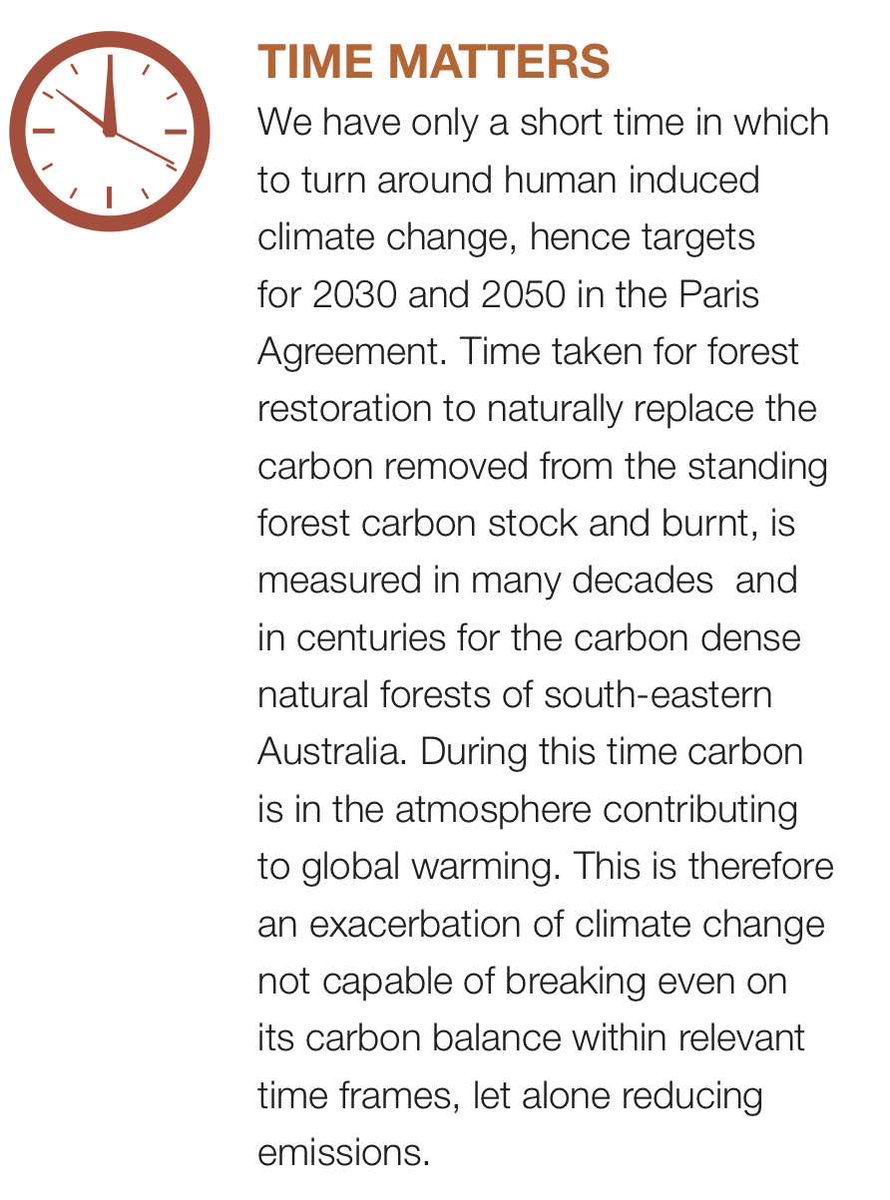 4/12 VITAL CONTRIBUTION OF FORESTS TO REMOVE CARBON FROM THE ATMOSPHERE IS UNDERMINED
To successfully restrain climate change to 1.5 or 2 degrees of temperature rise it is vital to achieve two things: deep cuts to GHG emissions and removal of carbon from the atmosphere.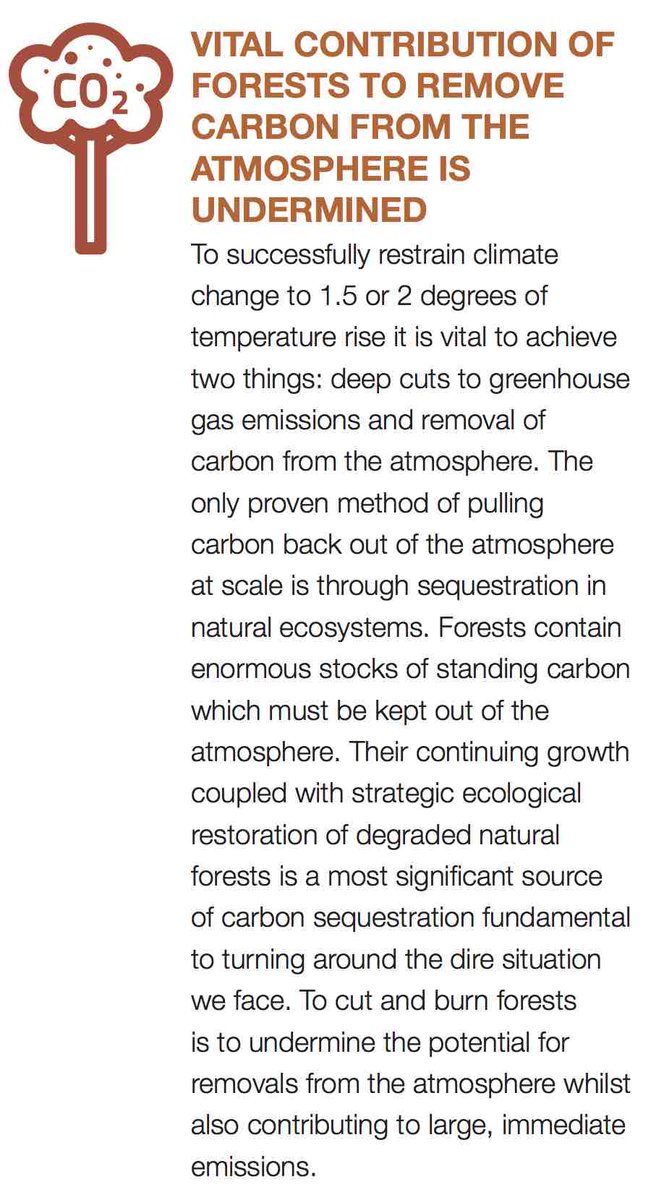 5/12 NOT CARBON NEUTRAL
On top of the simplistic claims that growing trees make burning forest biomass innocuous, the carbon accounting rules developed for the Kyoto Protocol and the way they have been applied has also enabled a false perception of carbon neutrality.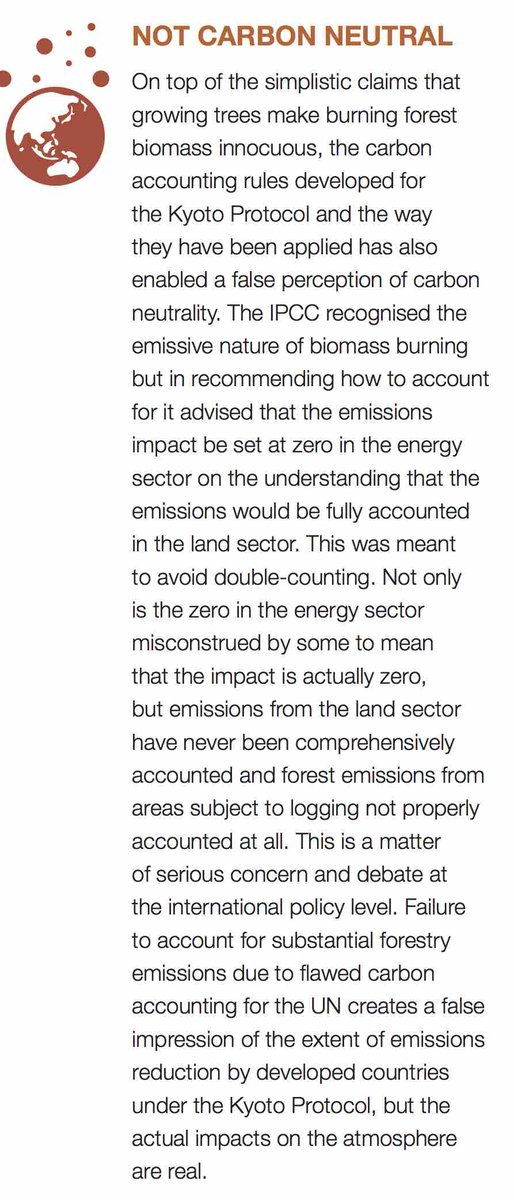 6/12 NOT WASTE
Wood biomass often claimed to be simply cleaning up 'waste' or 'residues' is misleading. Large volumes are required on an ongoing basis. The feedstock comes directly from logging operations in the forest and is at volumes much larger than those of sawlogs produced.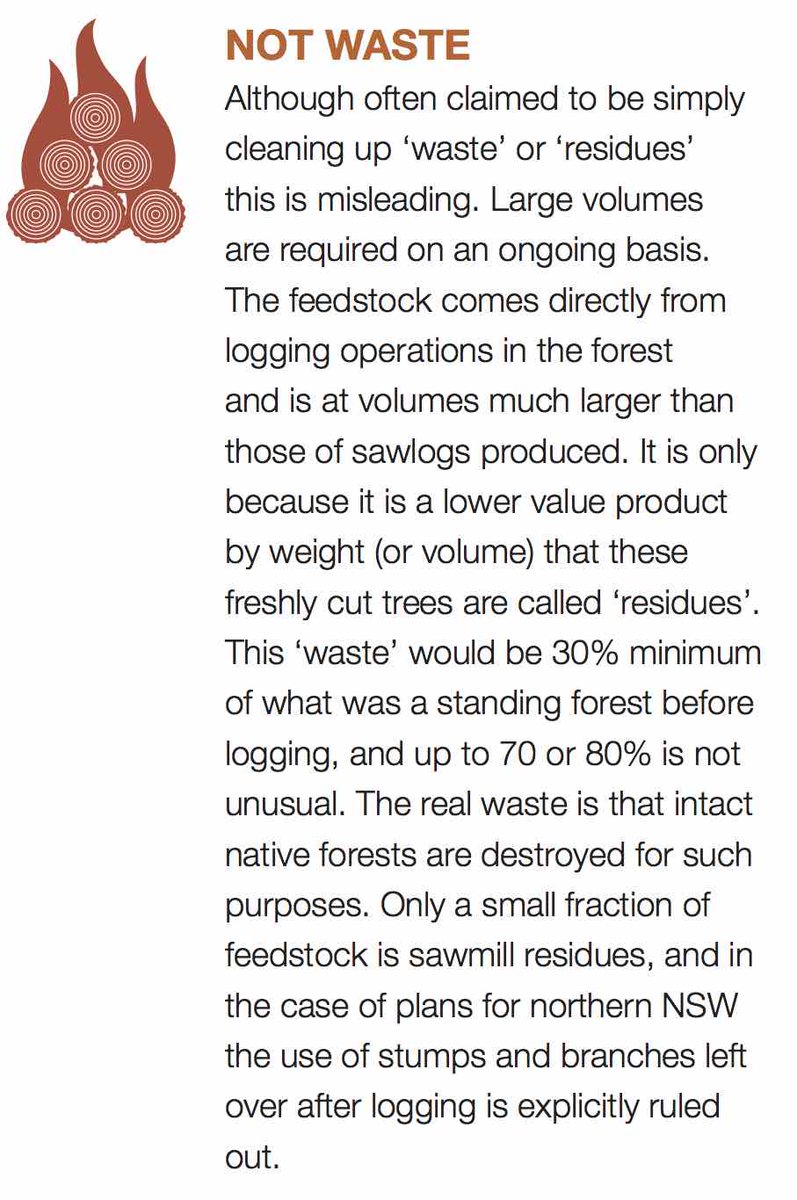 7/12 UNSUSTAINABLE, INTENSIFIES LOGGING
Native forest logging in Australia is not ecologically sustainable as evidenced by the increasing levels of endangerment of forest dependent species and of some forest types themselves.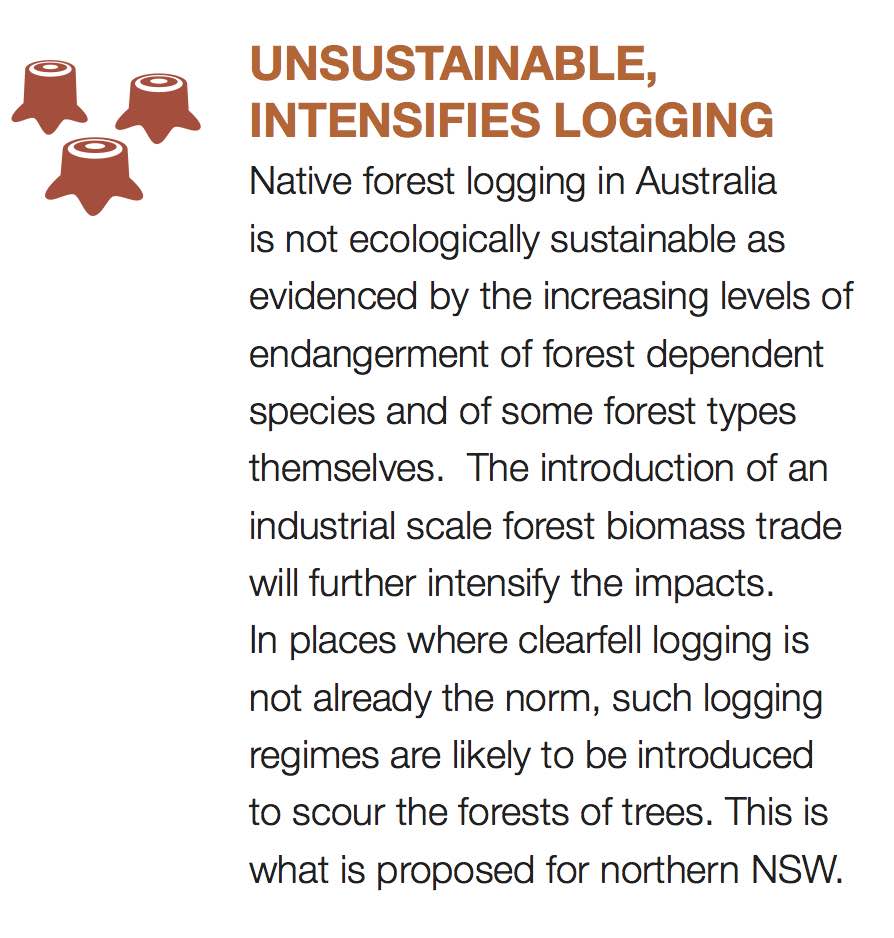 8/12 DEEPLY UNPOPULAR
Opinion polls have consistently shown strong community opposition to burning forest biomass for energy. It is at least as unpopular as woodchipping.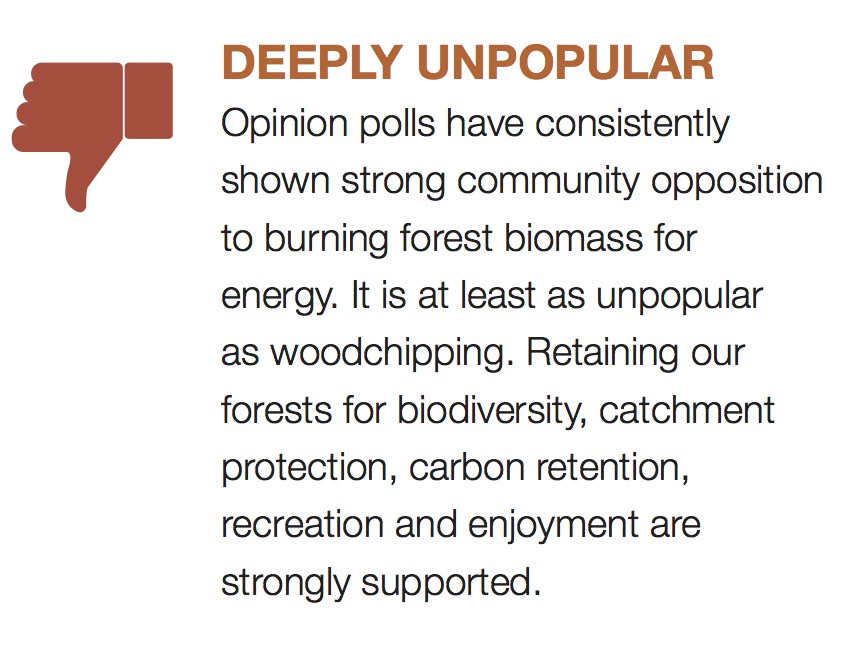 9/12 THE 'NEW WOODCHIPPING'
Following the collapse of the export woodchip industry, forest biomass burning initiatives are designed to provide a substitute and thus entrench native forest logging when the other prospect is to end it.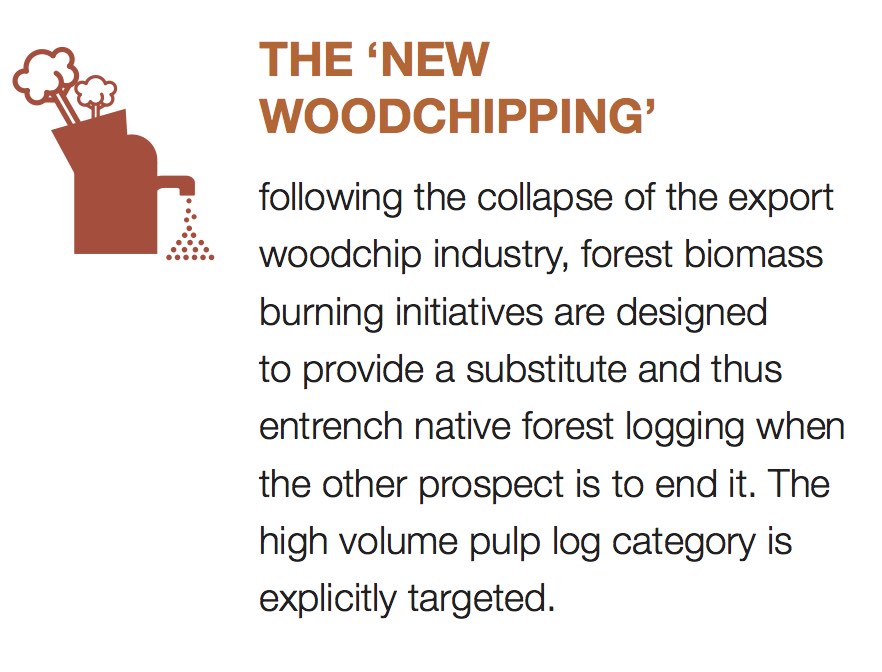 10/12 UNECONOMIC, REQUIRES PUBLIC SUBSIDY
The reliance of biomass burning on government subsidies or other forms of support should be taken into account. Government subsidy is the hallmark of this energy source all around the planet; in fact it drives the industry.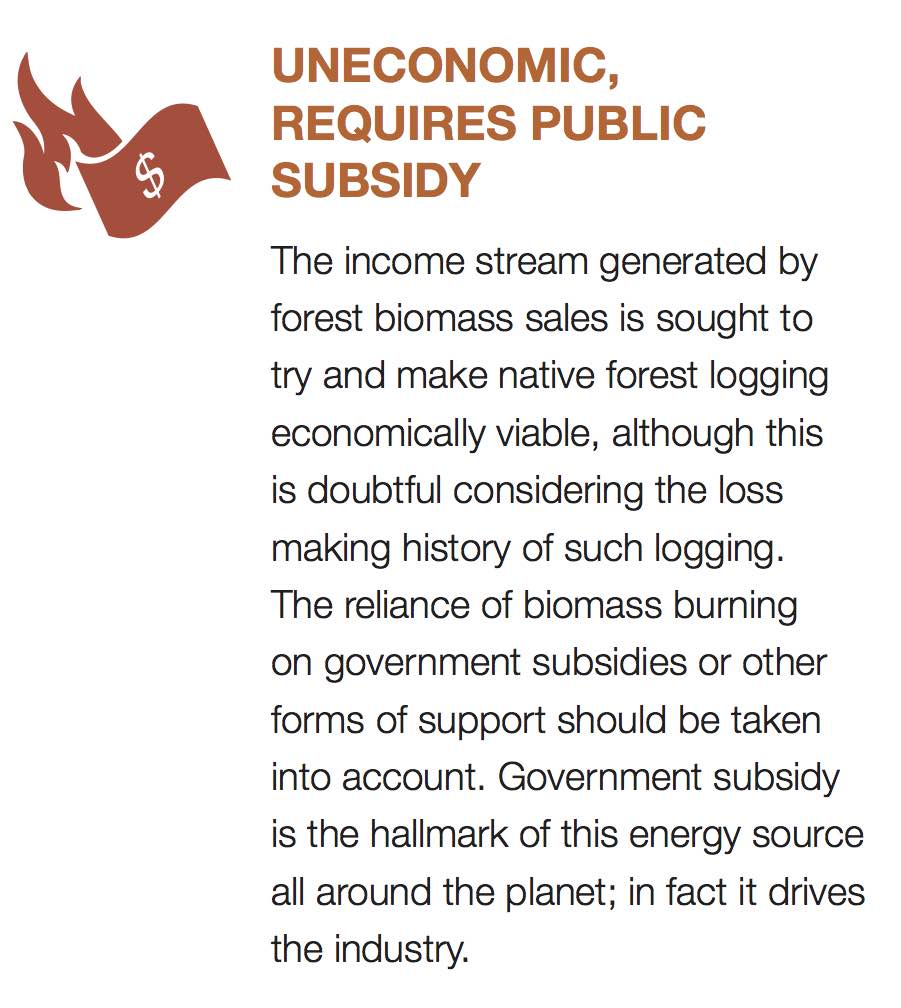 11/12 DESTROYS BIODIVERSITY AND RESILIENCE OF FORESTS TO CLIMATE CHANGE
The prospect of continued destruction of the biodiversity of our native forests is alarming. The loss of iconic species such as regional koala populations, the Swift Parrot, Leadbeaters possum, the Numbat..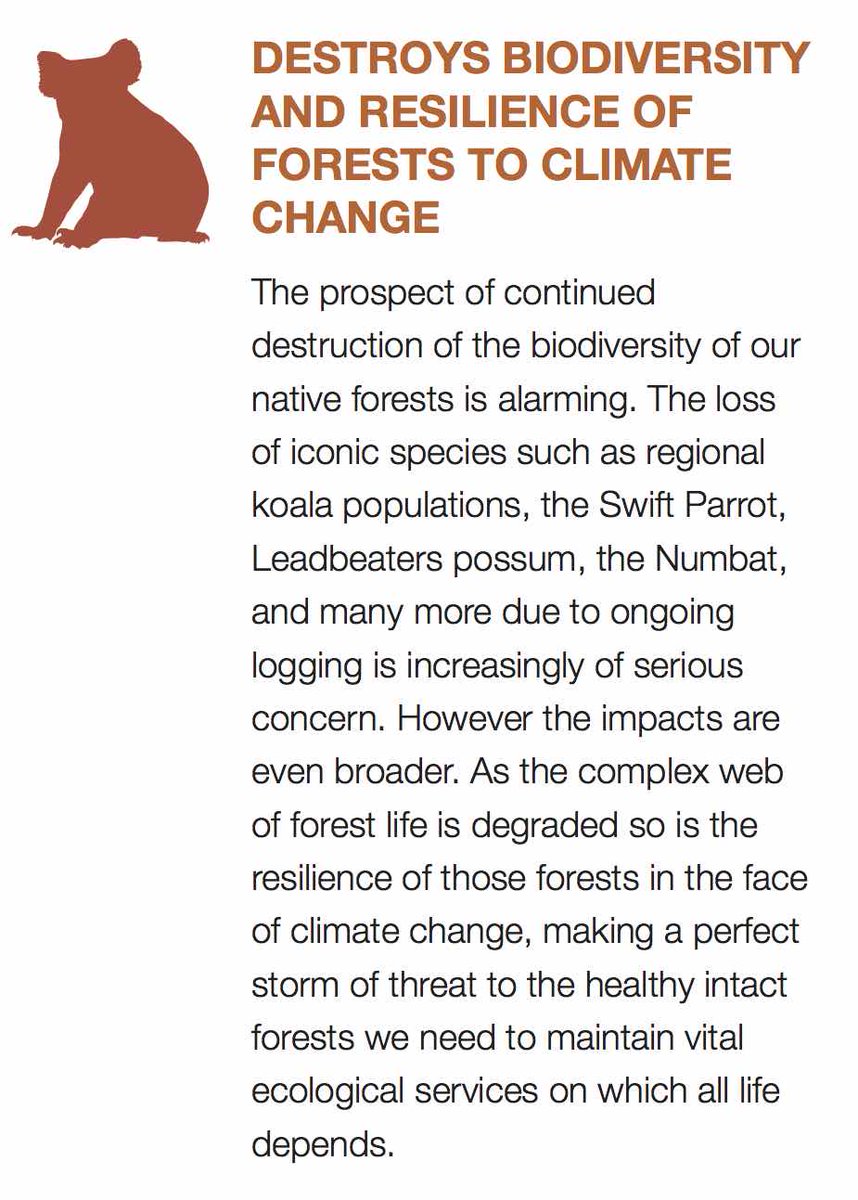 12/12 DISPLACES GENUINELY CLEAN, RENEWABLE ENERGY TECHNOLOGIES
Subsidies directed to biomass burning can displace those available to solar, wind and other energy solutions, especially within a limited renewable energy target.