[PAYMENT OF ADR DUES BY TELCOS - PLEA BY DoT IN TOP COURT For STAGGERED PAYMENTS]
SC to shortly hear a plea by the Department of Telecommunications for staggered payment of AGR Dues by Telecom companies.
@DoT_India
#AGR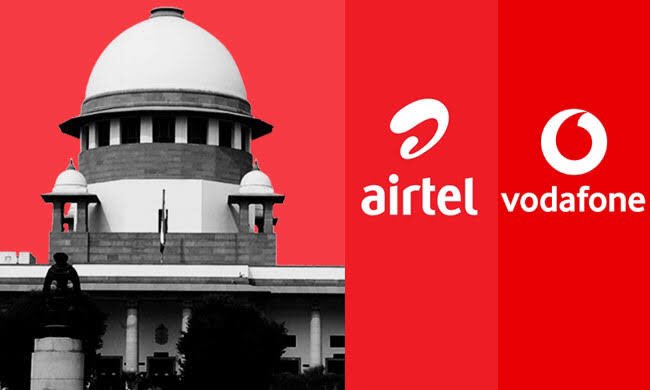 On June 11, the bench had directed the telecom companies to file affidavits explaining the time needed by them to clear the dues on account of the AGR verdict and also pulled up the Centre for 'misusing' its October 2019 verdict by levying dues on PSU's.
#ADR
#Telecom
On June 18, a bench of Justices Arun Mishra, S. Abdul Nazeer & MR Shah had directed the telecom Companies to file their audited balance sheets of 10 years before Court.
Bench assembles.
Justice Mishra: What have you filed Mr. Rohatgi?
Sr. Advocate Mukul Rohatgi (for
@VodafoneIN
) : Detailed affidavit as directed on the last date. Includes details of income tax reports. We have suffered huge losses wrt operaations in India.
Rohatgi for Vodafone: My entire revenue in 2010-2011 was 43000 crore. This is revenue, not profit. Many heads covered under "Revenue".

Rohatgi apprises the Court of economic issuesa faced by Vodafone since its operations began in 2006.
Rohatgi: Several columns indicate profit and loss. My lords take note that 2010-11 revenue is 43000 crore while expenditure is 36000 crore.
There are also other expenses mentioned in the table of affidavit.
Net loss of 2857 crore in the first year and so on.
Rohatgi: 6 lac crore revenue gone, 1 lac equity has also been washed away.
Out of this, we have paid some 65000 crore as
#AGR
Justice Shah: This demand of
#AGR
existed for a long time.
Rohatgi: In our understanding of AGR, we succeeded.
Justice Mishra: Did you make a liability in accounts for this last year?
Rohatgi: Yes I (
@VodafoneIN
)
Justice Mishra: What was your liability? We want to see your audited statements. We want to see the liabilities which have been constituted.
Justice Mishra: We want to catch hold of you (Vodafone). Theres so much liability on you. How should we catch hold of you?
Rohatgi: Have hidden nothing from court.

Justice Shah: That is not the point. How do you guarantee payments for your liabilities? No bank is willing to extend it either.

Rohatgi: That is true. Despite running operations in India for all these years.
Rohatgi: I have paid my dues. Have paid 8000 crore.
Justice Mishra: You are a foriegn company. Difficult to rely on you.
Rohatgi: No foriegn company is
@VodafoneUK
. Indian company is Vodafone india
@VodafoneIN
.
Justice Shah: If you have faced so many losses, why are you running your businesses here?

Rohatgi: Our consumer base is huge.
Justice Shah to SG: What is the question of Self-assesment now? Why is there a difference in self-assesements?

Justice Mishra: We will reject everything and ask everyone to pay right now. Why are these self-assesements being done?
Justice Mishra: This self assessment is being done in blatant contempt of our orders.

Justice Mishra pulls up SG for orders of re-calculation that have been initiated by officials.
"What nonsense is this? How can this be done?"
Justice Shah: There are umpteen number of correspondences which suggest an impending re-calculation.

SG: Nothing like this. We never did anything like that. Let me apprise the Court of the facts.
Justice Mishra: Such big hands, that are going against our orders.
We will cut them short.
SG: I have never used the word re-calculation. I did not even open my mouth today. Mr. Rohatgi has started his arguments today. I did not even open my mouth.

Justice Mishra: Re-calculations were mentioned.

SG: I am very clear on that there were no Re-Calculation claims.
Rohatgi : I am not seeking re-calculatuon either. Let me make that very clear.

Justice Mishra: You tell us your liabilities and then we'll hear this nonsense.
Rohatgi for Vodafone: Undisputed GST credit of 8.2k cr can be paid more by us.

Justice Mishra: How will you secure the dues? Any assets?

Rohatgi: GST credit of around 80 billion rupees is the only asset. Govt can retain it.
Senior Advocate Kapil Sibal for Hughes Communications: Ready to Pay
#AGR
dues. Only Seeking time to do so.
Singhvi: Bharti Airtel paid 180 billion rupees after court order on telecom dues.
Justice Shah: We are not here to decide what is due and what is not due. You want to reopen the entire prayer?
SG:
Liabilities of Airtel are Rs. 23980 Crore.
Justice Mishra: Give us liabilities of all.
SG: All are given in Affidavit.
Vodafone
#AGR
dues: Rs. 58254 Crore.
After this chart was filed, many have paid more.
Singhvi says payable AGR dues differ for bharti airtel as is being claimed by the Govt.

Justice Mishra: No permission for re-assessment/ re-calculation.
Singhvi: Please at least see the chart.
Justice Mishra: No Mr. Singhvi, no no no! We will go by the definition of
#AGR
.
Senior Advocate Arvind Datar for Tata Telecommunications making submissions.
Justice Mishra: Not going to hear you on merits.
Justice Mishra: You people have earned so much money. No payments made. What is happening in this country? Tell us if you want to say anything on Instalments and security. This exercise you people are doing is not permissible - we won't allow exemptions.
Justice Mishra: We will have to impose very heavy exemplary cost on you people. This is contemptous. I am warning you Mr. Datar, the costs we impose will be over and abover any court's impositions.
Justice Mishra: Don't try to wriggle out of this. This can never be permitted in the Country.
Justice Mishra: This country is suffering due to you people for over a decade.
Justice Mishra: Not happy with your Mr. Datar.

Datar: Maybe its fault of my advocacy.

Justice Mishra: This is about your client. Every time you come and ask for a re-opening of our judgement.
Justice Mishra: We are not on accounting right now. We are only on instalments and security.

Datar: We can only pay if we make money.

Justice Mishra: You don't deserve to be heard even for a moment.
Senior Advocate Mohan Parasaran for TATA.

Justice Mishra: You people must come up with how you will play. What you people have done to this country - in terms of paying rightful Public Revenue.
"I'm worried about those companies which have no assets in this country."
Be reasonable, Justice Mishra tells lawyers for Telcos.

You people belong to this country. It is also your responsibility to secure these payments, Mishra J says.
Parasaran says a reasonable period for payment will be 7-10 years.
Senior Advocate
@KapilSibal
: We have never questioned AGR. We have paid 40 crores out of 155.
Rohatgi: We accept the dues of 58000 crores. crores
Justice Mishra: We are obliged to you!
Rohatgi: I just want to say that the only way of complying with this
#AGR
judgement is by allowing payments in staggered fashion over 20 years.
Justice Mishra: are you threatening us? Your tone sounds not so good.
Justice Mishra tells Rohatgi: Talk as a former Attorney General. Not under shell of your client.

Rohatgi: We are in deep waters. 15 years time is reasonable for payments.
Singhvi: 15 years is a reasonable time for payment.
Singhvi: losses due to covid.
Justice Mishra: If anything, you have benefitted from the situation.
SG: We stick to 20 years requirment for staggered payment.
SG: Well thought out decision of allowing staggered payments over 20 years - prevents the economy from going haywire.
Court asks govt to give details on Reliance Communications' insolvency.
Justice Mishra says will examine bonafide of Reliance going into insolvency (as large amount of
#AGR
dues remain).
Justice Mishra: No objections to our judgement will be entertained.
Justice Mishra:
- All companies - RCom, Sistema Shyam Teleservices, Videocon to to submit their Insolvency details within 7 days.
- Need to ensure IBC not being misused by companies to escape liabilities
- Order reserved on timeline of AGR payments in staggered fashion by Telcos.

Matter to be head on August 10.