The Supreme Court Bar Association is hosting a Farewell function for Hon'ble Mrs. Justice R. Banumathi of the Supreme Court of India.
Live updates of the function will be available here.

AG KK Venugopal: It is indeed a sad day that one of our beloved judges is leaving us today. As a district judge, she had some great judgements to her credit. In one case, involving a murder by a Baba, she did not hesitate to give him two terms of imprisonment of 32 years.
AG KK Venugopal: She rendered great orders as a High Court, and coming to the Supreme Court, she presided over the Nirbhaya. I have had the privilege of arguing before her in multiple occasions.
AG KK Venugopal: We are losing a good judge; a great judge. So, all I can say is, "bon voyage". I know you love your family, you've spoken about your grandchild. But, I hope you come back to legal work soon.
Sr. Adv. Dushyant Dave, Prez of SCBA: My Ladyship, I must confess, that the Court will have a serious vacuum without you and the Collegium will find it difficult to fill it up. The Bar will miss you, as in you we found an independent Judge who was always willing to listen to us.
Dushyant Dave: Bedrock of our democracy is the rule of law. Therefore, judges must be independent in order to uphold the rule of law, and, in you, we found a fiercely independent judge who gave multiple dissenting opinions.
Dushyant Dave: As member and later, President of Tamil Nadu State Judicial Academy, you contributed immensely. You recognised and advocated social justice under the Constitution. You also authored various handbooks and books.
Dushyant Dave: The Bar is really grateful about the way you treated members of the Bar; the affection that you showered on us, even while being firm with us with your decision making. Specially the younger members of the Bar, whom you treated with utmost respect and kindness.
Dushyant Dave: I must deviate and mention some contribution of the Bar to the Supreme Court, such as procuring land for the SC in Pragati Maidan. I am mentioning, with sadness, this contribution because it's not right to only mention one's own achievements.
Dushyant Dave: The Bar is standing alone, not being supported or cared for by the Bench. The Court has left the Bar to fend for itself. COVID-19 is the greatest challenge to humanity. We are also dependent on others. Members of the Bar are suffering immensely.
Dushyant Dave: We've had suicides of young lawyers, with the loss of two lady lawyers in the past one week. The SCBA and generous members of the Bar are trying to help. We have helped hundreds, but there are more who are waiting. Our resources are limited.
Dushyant Dave: We are doing as much as we can to help reduce the suffering of the members. Their families are suffering, their clerks are suffering. There are thousands of people who are dependent on this institution for their survival.
Dushyant Dave: It is becoming very difficult for us in the institution to do anything more. We believe the solution is in the hands of the Supreme Court and the Hon'ble Judges, and they must do something by talking to the stakeholders, and SCBA is one of the most imp stakeholder.
Dushyant Dave: But, so far, no branch, much less an olive branch, has been extended to the SCBA or these members. Considering the health and well-being, a just balance must be found to have a virtual and physical court side by side.
Dushyant Dave: If this does not happen soon, the damage will be irreversible. I am not willing to accept the argument that one HC gave that justice is not an essential service. I beseech and plead that something is done to restart the institution.
Dushyant Dave: In you, the Bar found someone who was really a friend. Today, when you are leaving us, we are feeling quite sad. Fortunately, you are not leaving Delhi and I hope you will join us, maybe by way of arbitration. We wish you lots of happiness and success. Thank you.
Justice R. Banumathi commences her farewell speech.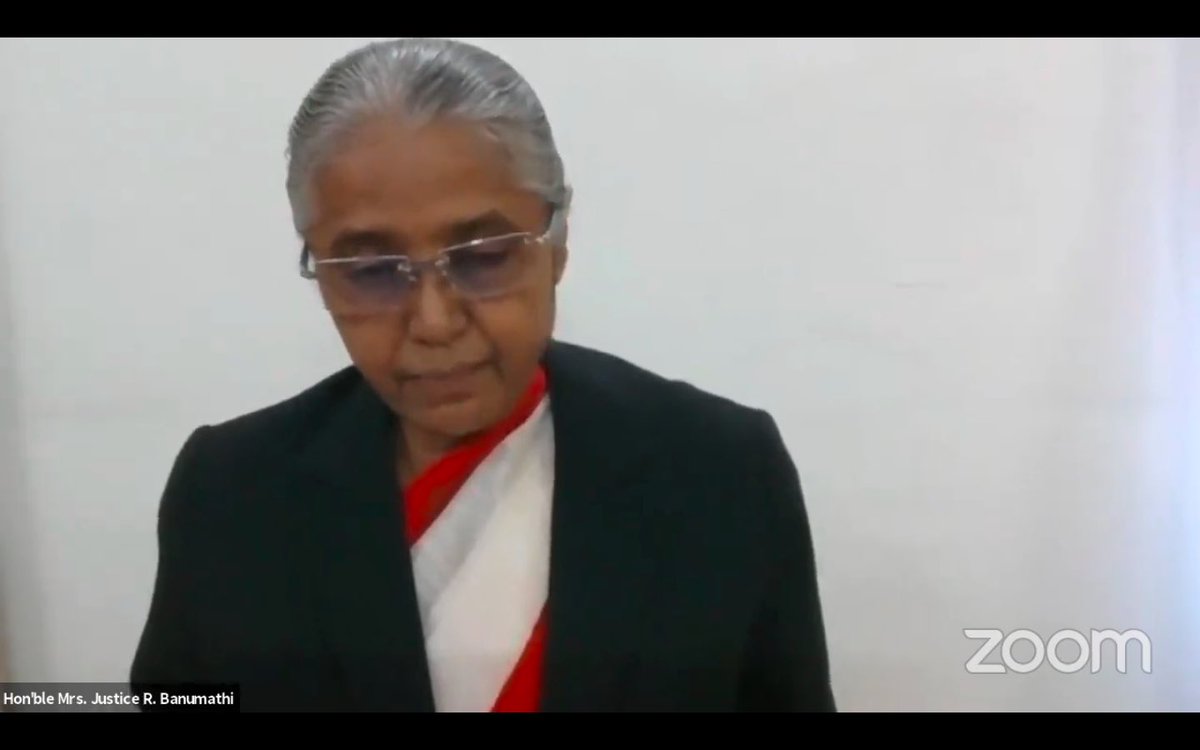 Justice Banumathi: I thank you all for sparing some time on a Friday evening while it's raining outside, and sharing some good thoughts, good words about me. Thank you all very much.
Justice Banumathi: I have served the institution for more than 3 decades. Today morning while I was talking to my brother and sister judges, I was sharing something about my personal life. I was born in a very small village, in a backward district in Tamil Nadu.
Justice Banumathi: I lost my father in a bus accident, when I was of 2 years age. In those days, we had to file a suit for compensation. We mother filed the claim and court passed a decree. But, we couldn't get the amount due to complicated procedures & lack of assistance.
Justice Banumathi: Myself, my widowed mother and my two sisters; we are victims of court delay and its procedural lags. We did not get the compensation till the last day.
Justice Banumathi: Though I am a Hindu, I believe in the gospel of Jesus. By the Grace of Jesus, I got educated and came up in life. I got into the Tamil Nadu higher judicial services at the age of 33 in 1988 and served the institution for over 3 decades.
Justice Banumathi: During my judicial service, there were mountains of obstacles for no reason. Yet no human hand could prevent what Jesus Christ has ordained for me in my life.
Justice Banumathi: The technology present today wasn't there when I entered the judiciary. In the present day, everyone speaks of pendency of cases and they pass a lot of comments saying that the pendency is affecting the economy of the nation.
Justice Banumathi: I want to strike a positive note that various initiatives have been taken by the Central Government, State Governments and the judiciary to aid in the accessibility to justice and to ensure more efficiency of the system.
Justice Banumathi: With more citizen-centric services such as copies of judgements/orders, easier accessibility of cause list, e-payments, mobile apps etc. are all arms meant to increase accessibility and transparency of the system.
Justice Banumathi: Law is expanding in all the spheres. From traditional litigation such as property matters, law is now found in all commercial avenues. Lawyers must be a fountain of information. I must tell all lawyers that they must keep reading & increasing their knowledge.
Justice Banumathi: My sincere thanks to my husband, K. Ganesan, who is a lawyer in the Mofussil courts, who always encouraged me to take up law and pursue the legal profession. My husband is a person of highest integrity & he provided unwavering support to me throughout my life.
Justice Banumathi: My husband provided me the pillar of support to maintain honesty and integrity throughout my service. My sincere gratitude to my sisters; both made lifetime sacrifices to support my endeavours and always stood by me in difficult times. They're here.
Justice Banumathi: My Family has provided the greatest of support to me and I am ever grateful to all of them. I am grateful to all my brother and sister judges of the Supreme Court, the State of TN. I also thank the SCBA and all lawyer of the SC.
Justice Banumathi: All the lawyers who appeared before me, came thoroughly prepared & they brought their best. It is necessary to say that if I hurt anybody, please do not take it to the heart as I did not intend it. I probably wanted to encourage you & so I raised my voice.
Justice Banumathi: I only wanted to encourage you and help you learn. Other than that, I had no intention to hurt anyone. I also fondly remember all members of the Bar of the Madras HC and all the districts where I worked as a judge.
Justice Banumathi: I thank all the Registrars of the SC, the library staff and all the staff of the Registry of the SC. I must put on record that all my law clerks, & everyone associated with me, did a wonderful job in helping me. I also thank my personal attendants & my driver.
Justice Banumathi: I must also thank the media and press attached; they were all diligent and sincere in reporting orders of the SC. I need to state that they were very disciplined while being present in Court when they made reports.
Justice Banumathi: I have performed my duties true to the book, and to the best of my abilities. These are very difficult days and Bar members across the country are suffering a lot. I try to extend monetary relief as much as I can, but it is a pittance amount.
Justice Banumathi: At this point, regarding physical courts, that is a decision to be taken by the Committee of Judges. But, we must wait for sometime, because more than appearance, we must understand that it is more of a life concern.
Justice Banumathi: COVID-19 is dangerous and very fatal. Let's hope that a vaccine is developed soon and we get some good news. Let us all collectively pray for the nation that India will come out of this and the situation becomes normal.
With a wish for everyone's safety and well-being, Justice R. Banumathi concludes her farewell speech.