133 years old photo of office of American Singer's Sewing Machine Co. in
#Mumbai
was taken in 1887 AD. As Gujarati was number one city language of Mumbai at that time, signboard seen is in Gujarati & English.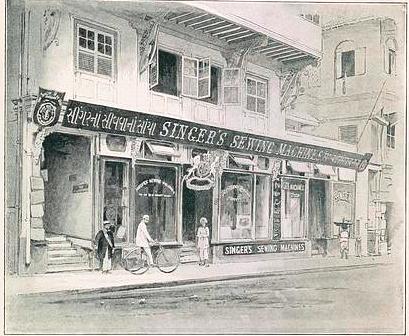 Today on followers' demand we repeat our old tweets on the historic relation of Gujarat/Gujarati with Mumbai which was once capital of Gujarat & it was developed by Gujarati people.
Mumbai was under rule of Gujarat Hindu kings & Muslim Sultans. In 1430 AD Gujarat Sultan Ahmedshah army under Zafarkhan command won Thane,Mahim, Mumbai, Konkan from Bahmani Sultan. Gujarat Sultan Bahadurshah gave it to Portuguese in 1534. They gave it to British in dowry in 1661.
Mumbai rulers were Gujarat Sultnat 1430 to 1534, Portuguese 1534 to 1661 and British Crown & East India Company from 1661 to 1947.Mumbai was capital of Gujarat as part of Bombay Presidency during British rule from 1818 to 1947,after freedom as part of Bombay State in 1947 to 1960
In 18th & 19th centuries, Gujarat trader communities Parsi, Bhatia, Vanik, Lohana, Meman, Khoja & Vora developed newly founded Mumbai and Karachi.Most of public works,charities,hospitals & religious places of Mumbai done during 18th to early 20th century were by Gujarati people.
359 years ago in 1661 AD during the rule of Portuguese, the population of Mumbai was 10000 only. Most of them were fishermen.240 years ago in 1780 AD, the population of Mumbai was 47170 of which Gujarati Brahmin 177, Vanik 1637, Bhatia 290, Surati Patel 39 & Parsi 3087.
119 years ago as per Mumbai census of 1901 AD, GUJARATI was number ONE city language. It was spoken by 26% of the population, Hindi was spoken by 15% of the population & Marathi was spoken by 6% of the population.
Source of Mumbai languages - Gazetteer of Bombay Town & Island published by Bombay Presidency government in 3 volumes in 1909.Its digital edition was published by Maharashtra government in 2007.
Here is page from Chapter 3 Population-Languages of 'Gazetteer Bombay City & Island' published by Maharashtra State Government in 2007 AD.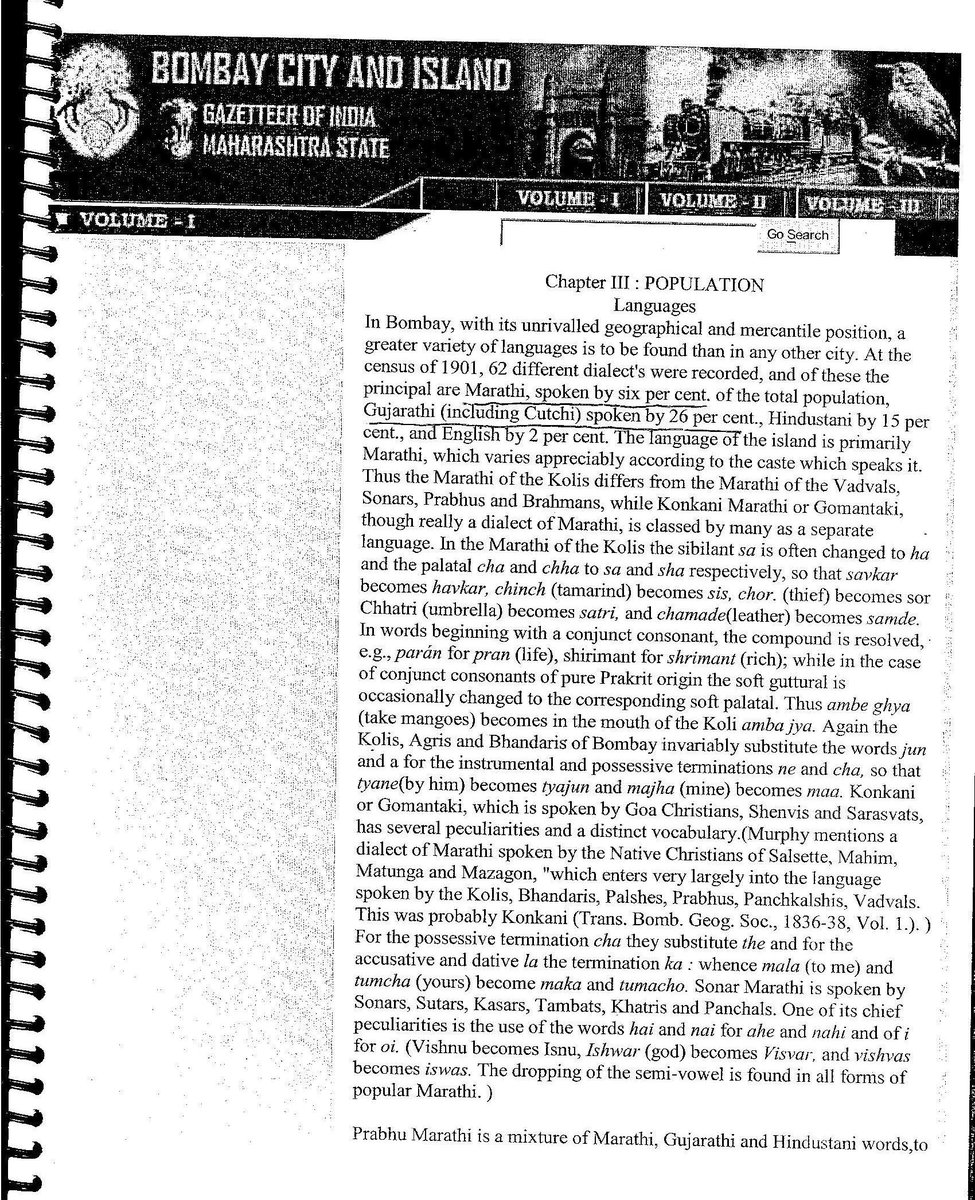 Maratha power won Gujarat from Mughal in 1758.Maratha ruled Gujarat for 60 years. There were 2 Maratha powers in Gujarat-Pune Peshwa & Baroda Gaekwad. In 1818 British won Gujarat from Maratha & put it under Bombay Presidency which capital was Bombay (now Mumbai).
In 1758 Mughal rule over Gujarat ended & Marathas came into power. Famous Hindu temples ruined by Muslim rulers were rebuilt in Maratha time.Somnath temple which was damaged 9 times by Muslim invaders was rebuilt by Maharani Ahalyabai Holkar of Indore state in 1788.
Two Maratha power Peshwa & Gaekwad of Gujarat were not at good terms & hostile to each other. In 18 century, Ahmedabad city had 2 Maratha rulers-Pune Peshwa & Gaekwad. City was divided like Berlin in two separate zones. It was chaos. In 1818 British took Ahmedabad from Maratha.
In British rule India was divided into 8 provinces-Assam, Bengal, Burma, Madras, Bombay, Central Provinces, United Province's & Punjab. All 28 states & 8 Union territories of India, Pakistan, Bangladesh & Myanmar are made from these 8 provinces. Gujarat was in Bombay province.
Gujarat has been existing since very ancient time. In 1818 British won Gujarat from Maratha. They made Bombay Presidency from Gujarat, Maharashtra, Karnataka, Sindh & Eden. After independence it became 'Dwibhashi Mumbai Rajya' which bifurcated as Gujarat & Maharashtra in 1960.